When it comes to unravelling mysteries, the stand-up comedian Trevor Noah seems like the right mystery to unravel. He has made bold steps in the right direction that has boosted his career and has given him an edge that is taking him places in his chosen profession. In a country that is thick with a very strong mix of race as well as the craziness that comes with it, Trevor Noah's comedy does not seem to lack the substance that is valid enough to amuse his audience and keep them laughing all the time. Of all the epic talents that South Africa has given to the world of stand up comedy, Noah is the funniest and is currently topping the list of the funniest comedians in South Africa. He is already a huge deal in South Africa. In a few short years, he's risen from amateur clubs to being a head-liner capable of selling out large theatres for his one-man shows. All this, in a nation where stand-up comedy is still a maturing art.
See Also: Get To Know Sello Maake Ka-Ncube Better
Trevor Noah's Early Life and Family Details
Trevor Noah was born on February 20, 1984, to a black mother Patricia from Xhosa and a white father Robert Noah of Swiss-German descent, whose union was illegal during the apartheid. He was born 10 years before apartheid ended and as such, in reference to his birth on Leno, he says "I was born a crime."  When he was little, his mother walked ahead of him and pretended not to know him whenever she saw the police ("I felt like a bag of weed,"), while his father, he says, walked on the other side of the street, waving to him "like a creepy paedophile." His mixed-race heritage, including his experiences growing up in a Soweto township, and his observations about race and ethnicity, are frequent themes addressed in his comedy. Despite the fact that people address him as a half-caste, he still prefers to be black and for this, South Africa will always be proud of him.
Trevor Noah has two step-brothers – Andrew and Isaac whom his mother had with her second husband, Ngisaveni Abel Shingange.
Career
He began his career with a cameo role on the SABC3 soapie Isidingo, in 2002. After his stint on the show, he spent two years hosting an educational show for SABC2 during which time he started hosting his own radio show on Yfm called Noah's Ark. From Yfm, he became very involved in the South African comedy circuit and has performed at various comedy festivals. In 2007, he hosted the SABC1 celebrity gossip show, The Real Goboza and also hosted SABC's sports show, Siyadlala.
He took part in the SABC2 reality dance competition 'Strictly Come Dancing 4' but lost to actor Emmanuel Castis, coming in as the first runner-up in the grand finale.
Between May and August 2008, he was the co-host of the SABC1 interactive dating game show, The Amazing Date with Pabi Moloi. He hosted the 3rd annual SAFTA Awards at the State Theater in Pretoria on Saturday 7 February 2009.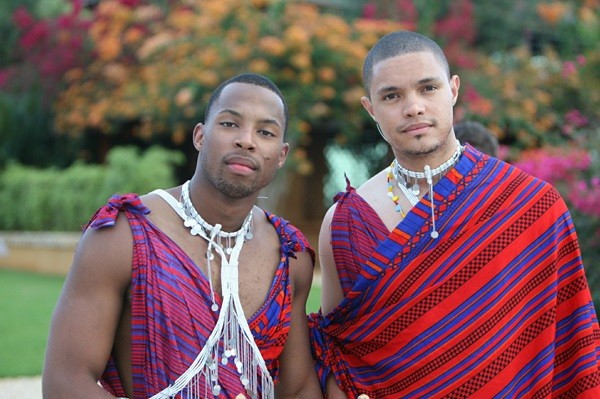 READ: Hidden Facts About President Jacob Zuma
Along with Eugene Khoza, Trevor Noah was the host of the e.tv reality competition series The AXE Sweet Life in 2009. He hosted the 15th Annual South African Music Awards (SAMAs) at the Sun City Superbowl in 2009. He was invited back to host the SAMAs in 2010.
Trevor began hosting his own talk show on M-Net in August 2010, entitled 'Tonight with Trevor Noah', based on international shows such as The Tonight Show with Jay Leno, The Late Show with Conan O'Brien and satirical fare like The Daily Show with Jon Stewart. The show moved to DStv's Mzansi Magic channel in the second season, which premiered on 5 November 2010.
On 6 January 2012, Trevor Noah became the first South African stand-up comedian to appear on The Tonight Show and on 17 May 2013, he became the first to appear on Late Show with David Letterman.
In 2012, he was the spokesperson and consumer protection agent for Cell C, SA's third-largest cellular provider.
Comedy
Trevor Noah's comedy emerges from his layered outsider status: mixed race—not black nor white nor Indian nor "Colored" (the official apartheid ethnic category made up of the mixed descendants of the Dutch, British, Malay, Indonesian, and native Africans). The title of Noah's one-man show, The Daywalker, refers to a fib his family employed to explain his light skin to the rest of his Soweto township: he was albino, but an unusual one—an albino who didn't have to worry about a sunburn.
Net Worth and Career Achievements
He is a big shot and has made a lot of money with his talent. Trevor's net worth estimated at $13 million was garnered over the years through his comedy shows and his other endeavours. He reportedly earns $4 million as his annual salary.
Trevor Noah's success is quite remarkable as he is reported to have sold more DVDs than any other stand-up on that continent. Fans recite his performances verbatim, share his clips globally and have followed him in legions on Facebook and Twitter.
Most recently and to the surprise of his excited fans, Trevor Noah was announced as the successor to Jon Stewart as host of The Daily Show. It was no easy feat considering the height at which Americans have placed the Daily Show With Jon Stewart but Trevor Noah has won the hearts of many and is still set to win more and to fill in properly, the massive shoes that Jon Stewart has left behind.
The Daily Beast called it the hottest job in America. Indeed, there's an intrigue and interest to see what he does in the role. Despite the reservations on the part of the audience in America who feel that he might not do well outside South Africa which is his usual audience, it is still believed that if he was chosen, there was a very good reason for that.
Quick Facts
Trevor speaks up to six of the 11 official languages in South Africa. This is one of the distinctive marks that makes him able to thrill his South African audience better. But when he has to perform outside South Africa, it becomes a bit of a challenge to try to adjust to his audience's setting and their surroundings since they are not from his world.
Understanding the person of Trevor Noah and his personality may not be as easy as everyone thought. Starting from the illegal circumstances of his birth that should have marred him but made him stronger instead, to the fact that most of the time people look at him strangely for wanting to be black rather than white. But through all of the controversial differences surrounding him, he is still a strong personality whose infinite hard work has earned him a spot in a fast-rising lane to more fame and popularity.
Trevor Noah Girlfriend or Is He Gay?
First things first, Trevor Noah has dated a lot of women and is definitely not gay, contrary to some public gossips.
He is straight and as a matter of fact, has a girlfriend named Jordyn Taylor. Jordyn is a singer who performs in the United States. Before Jordyn, Noah dated Dani Bagel also a singer.