Commonly known as Wits University or just Wits, the University Of Witwatersrand is a multi-campus public research university in South Africa that is distinguished internationally for its excellent research, high academic standards, and commitment to social justice. A nod to this is the fact that a number of university ranking bodies have in the past placed it as the highest-ranked university in South Africa and Africa as a whole.
Situated in Johannesburg, the institution uses its strategic placement in the economic and industrial heartland of the African continent to interact with both the public and private sectors, civil society, and other social agents to effect much-needed meaningful change in society. It boasts of having produced more millionaires than any other university in the country.
History of the University Of Witwatersrand
Founded in 1896 in Kimberely, Northern Cape Province, South Africa the University Of Witwatersrand began as the South African School of Mines. By 1904, the institution changed its name to Transvaal Technical Institute and moved to Johannesburg, its present location. Two years later, the institution underwent another name change, this time to Transvaal University College. A new campus was subsequently established in Pretoria in 1908 although the two campuses in the two cities later separated to become separate institutions in 1910.
The Johannesburg campus reincorporated itself as the South African School of Mines and Technology while its Pretoria counterpart held on to be called the Transvaal University College. This name remained until 1930 when it became known as the University of Pretoria. The South African School of Mines and Technology, on the other hand, changed its name to the University College, Johannesburg in 1920.
In 1922, the University College, Johannesburg was granted full university status after being incorporated as what it's now known today as, the University of the Witwatersrand. At this time, the institution had six faculties, thirty-seven departments, seventy-three academic staff, and approximately one thousand students. From that time onwards, the number of students enrolled in the school has continued to increase, from about six thousand students in 1963 to over sixteen thousand by 1985.
As of 2018, the University of Witswatersrand has five faculties: Commerce, Law and Management, Engineering and the Built Environment, Health Sciences, Humanities, and Science, with over forty thousand students enrolled in the school. About 63% of that population is studying for an undergraduate degree while 35% are working towards their postgraduate degree. The remaining 2% are Occasional Students.
How To Apply Online
Applications to the University of Witwatersrand can be easily done online. Prospective students can do so by visiting the university website – https://www.wits.ac.za/ or using this link Wits University Online Application to access and fill the form. The status of the application can further be checked on the Wits Online Application page.
NB: You can either download the form from the website or fill it online. Some courses offered by the school, however, only require an online application.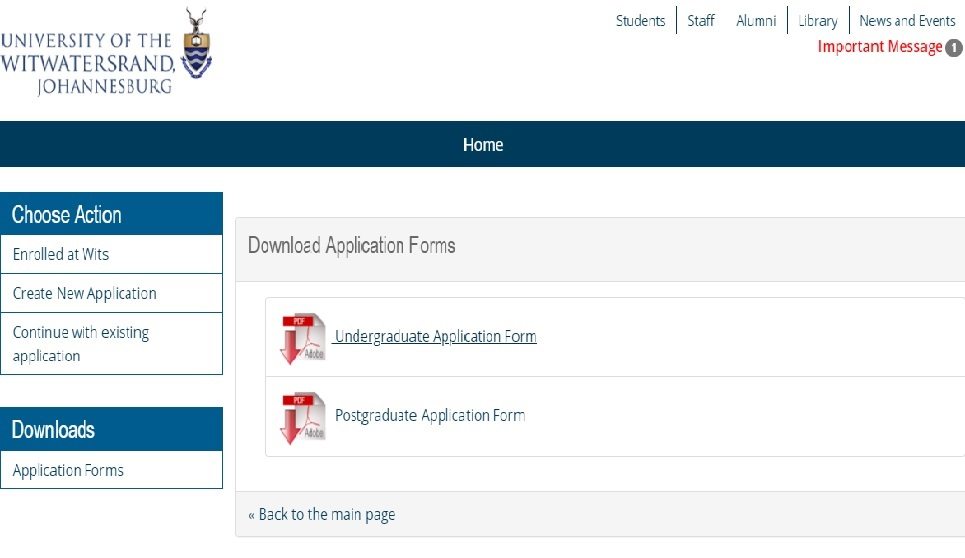 Proceed to the "Create New Application" option on the website of the school and provide information like your bio-data, RSA ID, marital status, and cell number among other things. If you had already started an application, you can always continue from where you stopped.
Wits University Admission Requirements
The University of Witwatersrand offers admission into a wide range of programs at both undergraduate and postgraduate levels. Each course at both levels in the university has its own specific admission requirements in addition to the general requirements that include a school-leaving qualification (The National Senior Certificate, Foreign School-Leaving Qualification, The National Certificate) and an Admission Point Score (APS)
Specific requirements for admission into Wits University can be found in the admission section of the school's website – https://www.wits.ac.za/study-at-wits/.
See Also: Check Out The Top Performing Schools In Western Cape
Courses Available at the University of Witwatersrand
The University of Witwatersrand offers over 3,600 courses that are spread across its five faculties.
1. The Faculty of Commerce, Law, and Management: This offers various undergraduate and postgraduate degrees in accountancy, economics, management, and law.
2. Engineering and the Built Environment: This faculty is made up of 7 schools; Architecture & Planning, Chemical and Metallurgical Engineering, Civil & Environmental Engineering, Construction Economics & Management, Electrical & Information Engineering, Mechanical, Industrial & Aeronautical Engineering, and Mining Engineering.
3. The Faculty of Health Sciences: This faculty offers undergraduate degrees in medicine, dentistry, nursing, medical and health sciences, occupational therapy, physiotherapy, and pharmacy. There is also a graduate entry medical program, master's courses (science and medicine), and a Ph.D. program.
4. The Faculty of Humanities: This faculty is made up of schools of Social Sciences, Arts, Literature and Language Studies, Human and Community Development, and Education.
5. The Faculty of Sciences: This faculty is made up of schools of Mathematics; Chemistry; Physics; Statistics and Actuarial Science and School of Computer Science and Applied Mathematics; Animal, Plant and Environmental Sciences; Molecular and Cell Biology; Geography, Archaeology and Environmental Studies; and Geosciences.
For more details, visit the following link – https://www.wits.ac.za/faculties-and-schools/