Known for its residential campus that provides an active residential life, the University Of Stellenbosch is a public research university in South Africa that stands as the joint oldest institution of higher learning in the country. Situated in the Western Cape Province town of Stellenbosch, the university has gone a long way to cement its reputation as a world-class institution thanks to its high ranking in research output, student pass rates, and rated scientists, all of which have culminated in it to be recognized internationally as an academic institution of excellence.
How To Apply Online
Applications to the University of Stellenbosch can be done online on the Institution's website. Admission into the school is open to both national and international students who are seeking to take either undergraduate or postgraduate studies. It is also open for full-time, part-time, and special students.
Admission Requirements
For one to gain admission into the university, there are general requirements to be met. These include obtaining a National Senior Certificate (NSC) and taking part in the National Benchmark Tests (NBTs). There are also specific requirements to be met for each program.
Meeting these requirements, however, does not automatically guarantee one a place in the university. This is as a result of a large number of applications received by the institution.
Read Also: Top 5 Places To Get A Free Quality Education In South Africa
Courses Available at the University of Stellenbosch
The University of Stellenbosch offers about 150 courses from its 10 faculties that include the Faculty of Agric Sciences, Faculty of Arts and Social Sciences, Faculty of Economic and Management Sciences and the Faculty of Education. Others are the Faculty of Engineering, Faculty of Law, Faculty of Medicine and Health Sciences, Faculty of Military Science, Faculty of Science, and the Theology Faculty.
History of the University Of Stellenbosch
The origins of the University Of Stellenbosch can be traced back to 1864 when the Stellenbosch Gymnasium was founded. At the time, the institution did not have any room for tertiary education until around the 1870s when the government prioritized education by providing generous subsidies and staff, as well as ensuring that it was not allocated to be purely a secondary school.
Stellenbosch Gymnasium went on to acquire its first professor in 1874 as it went through enormous changes that saw both it's capacity and staff increase rapidly. By 1876, an academic senate was inaugrated and the first master's degree was awarded two years later. In 1881, the institution was renamed to Stellenbosch College before later changing to Victoria College in 1887.
On the 2nd of April 1918, the date it acquired university status, the institution again changed its name to Stellenbosch University. This was largely made possible due to the generous donation of £100,000 by wealthy Stellenbosch farmer and philanthropist Jannie Marais.
Since that time when the university could only boast of having over five hundred students and forty lecturers, it has since grown in 2013 to accommodate over nine hundred lecturing staff and twenty-eight thousand local and international students that are enrolled in either the school's undergraduate or postgraduate program in any of its ten faculties.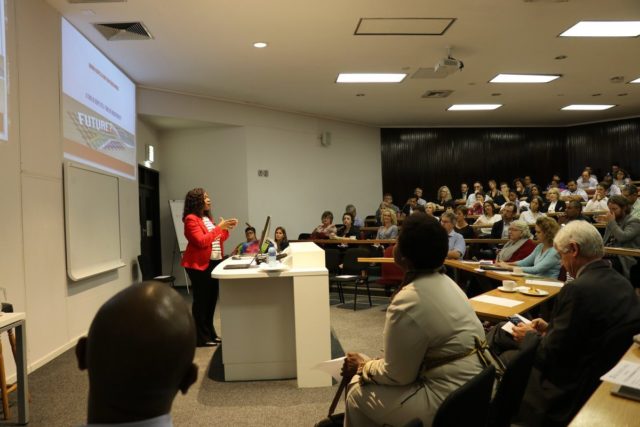 Facts About the University of Stellenbosch Business School (USB)
The University of Stellenbosch has a business school (USB) whose MBA program is highly ranked. In the 2011-12 edition of the Aspen Institute's Beyond Grey Pinstripes survey, the MBA program ranked 65th out of 100 MBA programs from various leading business schools around the world. It is further the only business school in South Africa and Africa as a whole to appear on the Top 100 list.
The business school was able to achieve this by being the only business school in Africa at the time to earn Triple accreditation. Its first accreditation came from the European Quality Improvement System (EQUIS) in 2001, then the Association of MBAs (AMBA) in 2002, and lastly from the Association to Advance Collegiate Schools of Business (AACSB) in 2012.
Situated in Bellville, halfway between Cape Town's central business district and Stellenbosch, USB was founded with fourteen MBA students in 1964. By 1989, the institution had close to six hundred students, a figure that has since gotten close to one thousand three hundred students spread across its different programs.
The business school's programs include:
1. Postgraduate Diploma in Dispute Settlement
2. Postgraduate Diploma in Leadership
3. Masters of Business Administration (MBA)
4. MPhil in Development Finance (MDevFin)
5. MPhil in Future Studies (IFR)
6. MPhil in Management Coaching (MCoach)
7. Doctor of Philosophy in Business Administration (PhD)
8. The university also offers various short courses (USB-ED)