Tshepiso Magashule is a South African businessman who is best known as the son of Ace Magashule, one of South Africa's leading politicians and Secretary-General of the country's ruling party, African National Congress (ANC). 
Being the son of an influential politician obviously comes with a lot of perks, however, it also comes with a good dose of stinging controversies – especially when you are successful and the public thinks you are enjoying what is meant for the masses. For Tshepiso Magashule, he has immensely benefited from his father's wealth and political power.
Through his father's political influence, Tshepiso has landed juicy jobs, huge political contracts, all of which have contributed to his lavish and flamboyant lifestyle. He seems to live a very private life and nothing much is known about him despite the fact that he has a very rich and popular father.
Unfortunately, his efforts to be private have been thwarted as he has made headlines for several controversial reasons. That shouldn't come as a surprise, considering the fact that his father whom he benefits from has also been on the headlines for the same issues.
Summary of Tshepiso Magashule's Biography
Full name:

Tshepiso Gift Magashule

Gender: Male
Ethnicity: African
Nationality: South African
Sexual Orientation: Straight
Marital Status:

Married

Tshepiso Magashule's Parents:

Ace Magashule (father) and

Seipati Magashule (mother)

Siblings:

Thato Magashule (brother), Thoko Alice Malembe (half-sister)

Occupation: Businessman
Famous for: Being the son of Ace Magashule
Not Much Is Known About Tshepiso Magashule's Early Life
Tshepiso Magashule's exact date of birth is not known but he was born to popular South African politicians, Ace Magashule and Seipati Magashule. Like his date of birth, many other things about his early life like the primary and high school he attended, as well as the university he studied at and the exact course he studied are not known as well. Although not much is known about him, we know he was raised alongside two siblings, Thato Magashule, his brother, and Thoko Alice Malembe, his half-sister.
Owing to the fact that Tshepiso is the son of Ace Magashule, a wealthy man who became the elected chairperson of ANC's Northern Free State Region in 1991 and has been actively involved in politics to date, one would expect that he and his siblings must have had a very comfortable childhood. It is also expected that he must have attended the best schools. We hope to reveal more about Tshepiso Magashule's early life as we uncover them.
He Started Working For The Gupta Family In 2010
Tshepiso Magashule was employed as a consultant to the Gupta family in November 2010 and benefited so much from his relationship with the Guptas. The family which is known for their closeness to Jacob Zuma which earned their relationship the name 'Zupta' took Tshepiso Magashule and of course, Zuma's son, Duduzane Zuma (who started working with the family in 2009), on a three weeks luxury vacation to New York, Venice, and Italy in 2011.
In December 2015, Tshepiso Magashule and his brother, Thato, went on a vacation to Dubai and their luxurious vacation was fully funded by the Gupta family. With all these benefits, Tshepiso was not earning as much as Duduzane. While Duduzane Zuma earned a salary of R300,000 per month, Tshepiso, on the other hand, earned R90,000.
Aside from the expensive vacations and his R90,000 salary, Tshepiso Magashule was also living in an expensive mansion in Johannesburg which was owned by the Gupta family. According to Mxolisi Dukwana, Ace Magashule used his son to transact business with the Guptas, under the guise that he (Tshepiso) was working for the super-wealthy Indian family.
Tshepiso Magashule Was Evicted From His House Which Was Owned By The Gupta Family
With the fall of the Gupta family through the #GuptaLeaks scandal which exposed the several messy and fraudulent dealings of the Guptas with the Zuma family and other powerful members of the country's political class, attention was turned to their assets and how they were acquired. There was a raid by the South African government on the properties of the Gupta family which were being seized and auctioned for sale by the Government.
This also affected most of their staff who occupied the properties, including Tshepiso Magashule. He was evicted in 2019 from the Gupta family's property in Saxonwold, Johannesburg, which he and his family lived in. This came after he had resisted the eviction for months.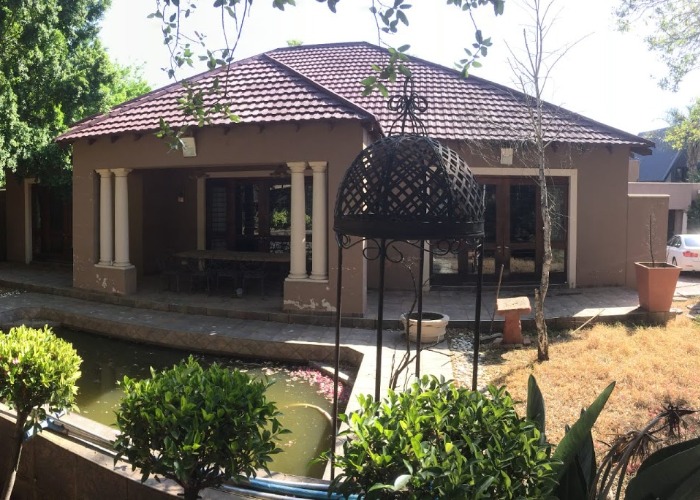 The luxurious property has a double garage, dining, kitchen, entrance foyer, lounge, three bedrooms, TV room, one master bathroom, one normal standard bathroom, a garden, swimming pool, and staff quarters. The controversial Gupta family was said to have purchased the house in 2011 at a cost of R3.2 million, but after Tshepiso was evicted from the expensive house, it was auctioned and sold for R2.6 million.
Tshepiso Magashule Received Contracts To Supply COVID-19 Related Essentials In 2020
During Ace Magashule's two tenures as Free State premier, his family was never awarded any contract and did not do business with the provincial government in a bid to avoid controversies. However, after Ace left office, his sons, Tshepiso and Thato Magashule were awarded a contract to supply COVID-19 essentials to the Free State provincial government in 2020.
Tshepiso's company, Motheko Projects, was awarded the contract to supply liquid soap and face masks worth R2,290,000, while Thato, who was the director of Marvel Deeds was, was contracted to supply hand sanitizers worth R427,221. Awarding these contracts to them raised a lot of dust, and their father was accused of being the mastermind behind his sons being awarded the contracts.
And while so many people were practically struggling to feed in the middle of the pandemic, Thato bought a BMW X7 worth R2 million in August 2020. Although they did not say the exact source of the money he used to purchase the automobile, it is believed that Ace Magashule's sons have other sources of income from which they could be able to buy a vehicle of that worth.
Meet His Known Siblings
Tshepiso Magashule has two other popular siblings, but just like him, detailed information about their childhood is not known. Thato Magashule is his younger brother and he also has a half-sister named Alice Malembe. She was born in the late 1980s shortly after her father, Ace Magashule, went into exile. However, in 2011, with the help of Cyril Ramaphoa, who was the ANC chairman at the time, the duo was reunited.
Following their reunion, Alice's net worth has increased exponentially as it has been reported that she has received several remunerations from property deals and a string of other businesses she has been involved in. Despite the fact that there were other higher bidders, she was able to acquire a Botshabelo Petrol station, at an estimated cost of R2.8-R4 million. The deal had the fingerprints of Ace Magashule all over it – or so it is thought.