Zandi Nhlapo and Bob Mabena started dating in the late 2000s. While their relationship lasted, they had a daughter named Khomotso Masana Mabena and even got engaged. However, for some reason unknown to outsiders, they parted ways in 2012.
The death of ace broadcaster Bob Mabena in June 2020 elicited a lot of sympathy across the length and breadth of South Africa. It also resurrected some old ghosts following a moving tribute from renowned TV presenter-turned-business woman Zandi Nhlapo. Nhlapo and Mabena were crazy about each other back in the day and had a child together. They also got engaged but never made it down the aisle, with the aftermath unraveling in some scandalous circumstances.
Such circumstances were enough to dampen the spirits of weaker mortals, but Nhlapo picked herself up. She was able to consolidate her respected career on the TV screens and expanded her business enterprises. She also forged on in her personal life and is now the granny of three beautiful granddaughters. All this means that Zandi Nhlapo can afford to be generous and magnanimous in her feelings towards her ex-fiancée.
Zandi Nhlapo and Bob Mabena Were Both Divorced When They Started Dating in the Late 2000s
The chequered love history between Zandi Nhlapo and Bob Mabena dates back to the late 2000s, when they began a relationship after suffering through the pain of divorce of their first marriages. On Nhlapo's part, she was previously married to popular nightclub owner and beauty pageant organizer Ralph Zikala. Their marriage lasted eight years and produced two beautiful daughters, namely Ntando (b. 1997) and Nyeleti, before they sadly called things off around 2005 – 2006. Zandi would go it alone with her daughters for the next few years, but fortune smiled on her when she began dating Bob Mabena.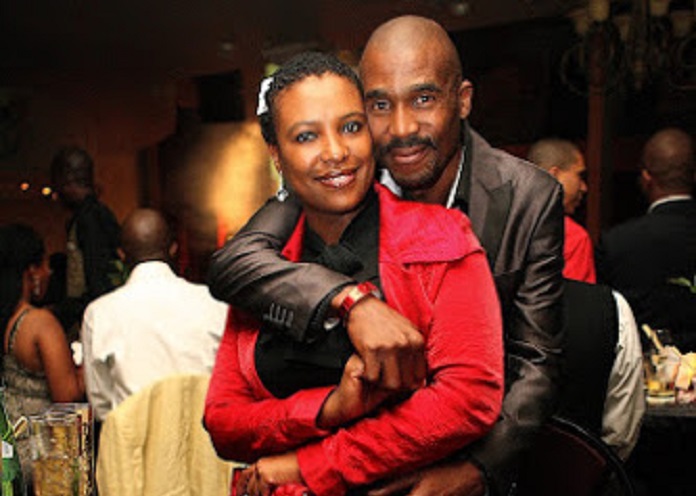 It is not exactly known how she and Bob met, but it is possible they ran into each other in the course of industry events, given that they both have experience with broadcasting. Either way, they took a shine to each other and began dating as Mabena finalized his divorce from his wife, Zandi Nzalo, in 2009. Mabena and Nzalo, a communication guru, who had held several prestigious positions in companies such as Mnet, had been married for 20 years, but things later soured, and they divorced. He then found love in the arms of Zandi Nhlapo.
While Their Romance Lasted, They Welcomed a Daughter and Even Got Engaged
Zandi Nhlapo and Bob Mabena would sustain their relationship for the next few years, during which their romance blossomed. Their love grew in leaps and bounds, and they also supported each other's endeavors. By this time, Nhlapo had stepped away from her showbiz career and delved into the business world. She cut her teeth working for a branding logistics company. She then founded her own marketing communication agency known as Liquid Image Consulting Company.
Similarly, Bob Mabena did well on his own part. He continued making waves as a radio presenter and hosted a popular breakfast show on Kaya FM. He also served as director of MRC radio for the likes of Gagasi FM and Heart FM, and all this gave him the impetus to set up his own radio consultancy firm, Endowmedia, in 2010. He and Zandi Nhlapo were a power couple in their own right, and their joy was further completed when they welcomed a daughter. They named her Khomotso (meaning comfort or consolation), which happens to be her father's middle name.
Zandi Nhlapo and Bob Mabena Called off their Engagement Four Years Later
Khomotso must have brought a lot of comfort to her parents, but it wasn't enough to stave off problems in their relationship. They, therefore, called things off around 2012. No official reason was given for the split, but we can surmise that Zandi Nhlapo and Bob Mabena called off their engagement because the ace broadcaster had fallen out of love with his fiancée. She herself retained some feelings for him and found it hard to move on. He had no such problems and commenced a relationship with a businesswoman named Eucharist Hadebe in 2012.
The new romance was a bitter pill for Nhlapo to swallow, so when she ran into Mabena and his new lady at a restaurant in October 2013, all hell let loose. As the story goes, Zandi Nhlapo was dining in a Johannesburg restaurant when Mabena and Eucharist walked in arm in arm. Nhlapo accosted Eucharist and accused her of stealing her man. They traded insults, and Eucharist reportedly attacked Nhlapo and beat her up. The two ladies would eventually be separated by bystanders and quickly left the restaurant. As you can imagine, such a scene amongst notable personalities generated many headlines, and the media hounded both ladies' camps for explanations.
However, they remained mum and refused to discuss aspects of their private life with the media. They rather choose to battle it out through the instrumentality of the law. Zandi Nhlapo complained of assault against Eucharist at a police station. At the same time, Eucharist responded in kind by opening a case of harassment against her at a different police station in Johannesburg. Criminal charges would later be instituted against Eucharist, but it never made it to trial. Both parties must have wisely agreed to let bygones be bygones rather than further providing cheap entertainment for the public.
Nhlapo and Mabena Moved on But Remained in Touch Because of Their Daughter
Given the way things ended between Zandi Nhlapo and Bob Mabena, it was obvious that the lady became heartbroken in the process. She did not allow this to derail her for so long. She resurrected her TV career in 2013, going on to host a celebrity cooking show on e.tv. She also continued her strides with her lucrative branding and events management company and additionally went on to set up a hair salon that caters to little kids known as Mini You Mini Me. Zandi Nhlapo may not have been so lucky in the love department. Still, she has three gorgeous daughters and three cute granddaughters. She is also in remarkable health, looking quite younger than her age, and doesn't forget to count her blessings.
The TV personality also rebuilt cordial relations with her ex-fiancée (who married Eucharist in 2015). They regularly communicated on their daughter's welfare, so when news broke that Mabena had passed away in August 2020, Nhlapo was quite pained. She paid her ex-fiancée a moving tribute on Instagram, thanking him for giving her the most beautiful gift in the form of their daughter. She described their relationship as a very passionate one in which they loved hard and fought hard. Such deep sentiments unsettled some people, and they bashed Nhlapo on Twitter, calling her disrespectful for saying such things about a married man.
However, others defended the TV personality, maintaining that she and Bob were together for years and had a child together, which means that no one should dictate how she mourns. On her own part, Zandi maintained that she would not be bullied, coached, or policed into remembering Bob. According to her, they never stopped communicating passionately about several things even after he got married. Given such sentiments, Zandi Nhlapo and Bob Mabena were certainly on good terms at his death.