In the latter part of 2020, Mzansi's notable TV personality, Katlego Maboe, became South Africa's most searched individual in 2020 on the world's biggest search engine, Google. This was following the expose of a now-viral video, where he was confessing to cheating on his partner and baby mama, Monique Muller. The video also revealed the name of his partner in the said act as Nikita Murray. And unsurprisingly, the name "Nikita Murray" followed in a close second on the ranking of 2020s most searched persons on Google in South Africa. What a way to be famous!
This exposition made Katlego Maboe, Nikita Murray, and Monique Muller the names on everyone's lips, as everyone had an opinion on the matter, including Katlego's employers. Before now, the dashing TV star was mostly known for his work as the host of the SABC breakfast TV show, Expresso Morning Show, and his job with South Africa insurance giant OUTsurance.
Following the ugly event that played out on social media, both companies relieved him of his duties, pending the outcome of the investigation into the event. Of course, Maboe, of all people, should have known that reputation is what sells in the entertainment and television business.
Months have passed since the unfortunate incident played out, and we are still left with several unanswered questions.
Katlego Maboe's Ex Exposed The Scandal By Posting His Confessional Videos Online
It only took a viral video, uploaded from a mobile phone to kick-start the shit-storm. As the 'play' button of the revealing video, showing Katlego Maboe clad in a navy blue bathing suit, was clicked across South Africa and beyond, it triggered a conversation that would change the lives of two families forever.
The issue began when Monique Muller, Katlego Maboe's estranged baby mama, was diagnosed with a sexually transmitted infection (STI), which she claimed was destroying her chances of being a mother again. Upon getting the results, she realized she had been infected by her partner and decided to confront him, demanding the truth. She would do this while recording the whole process.
As seen in the video, Maboe admitted to cheating on her but was reluctant to spill his partner's name. However, with the threat of not seeing his child (Phoenix Maboe, a son he sired with Muller) anymore, he caved in and gave the name of his side piece as Nikita Murray. There were also accusations of physical abuse, which suggested that the playful Katlego had been abusing his partner physically. Even though he denied ever abusing Muller, it never stopped the conversation.
Perhaps the high point of the entire matter is Monique Muller's decision to post the recording on social media, which began a series of accusations and counter-accusations, court cases, police arrests, social media apologies, and press statements.
He Claimed the Affair With Nikita Murray was a One-off
Many have wondered how long the affair between Katlego Maboe and Nikita Murray had gone on, considering that the truth only came to light following his erstwhile partner's decision to confront him. While it is true that there was an affair between Maboe and Murray, the former suggested in the viral video that it was merely a 'fling' and not a continued affair. He said he had sex with Nikita just once in his hotel room. The hotel's location is not known, neither is the exact time the incident occurred also known at this time.
Katlego Maboe Lost His Jobs on account of the Ugly Event
As a consequence of the unfortunate turn of events, two major companies, which Katlego Maboe was known to be associated with, pulled the plug on their contracts with him. Before the cheating and abuse scandal, The father-of-one worked with SABC as the host of their breakfast show, Expresso Morning Show, and worked for the OUTsurance brand in advertising for eight years. He is the face of the 'Chencha' jingle on their television adverts – for which he is widely known.
However, that did not do enough to spare him as soon as the cheating and abuse story broke. The next morning, the spokesperson for OUTsurance, Natasha Kawuulesar, put out a statement where she told Channel 24 that the company has been made aware of the developing issue surrounding Katlego Maboe and have contacted him with the view of giving him time to sort himself out. She also said that the company's top priority was to take down all their adverts which featured the TV presenter.
Natasha issued a follow-up statement to IOL Entertainment, where she made certain clarifications on the nature of the relationship between Maboe and the company – in an attempt to disassociate themselves from any negative backlash that might follow. She stated that he was not a part of the company but was only doing a paid job on a professional basis. The statement read:
"It is important to note that Katlego is not an OUTsurance employee or a permanent contractor to OUTsurance. He is a professional actor who is paid on a campaign-by-campaign basis. Katlego has received his full compensation from OUTsurance for all past as well as the current campaign in which he was featured.

"This includes performance as well as full usage fees for the entire campaign.  We also want to clarify that Nikita Murray is not a current OUTsurance employee. She last worked for the company in 2018. Katlego and Nikita met independently and not via any relation to OUTsurance."
On their part, Cardova Productions, the producers of SABC's Expresso Morning Show, put out their own statement the same morning, stating that they condemn acts of abuse and violence against women and are inclined to take the allegations seriously until an investigation is conducted. Furthermore, the statement revealed that Maboe would be relieved of his duties as The Expresso Morning Show host.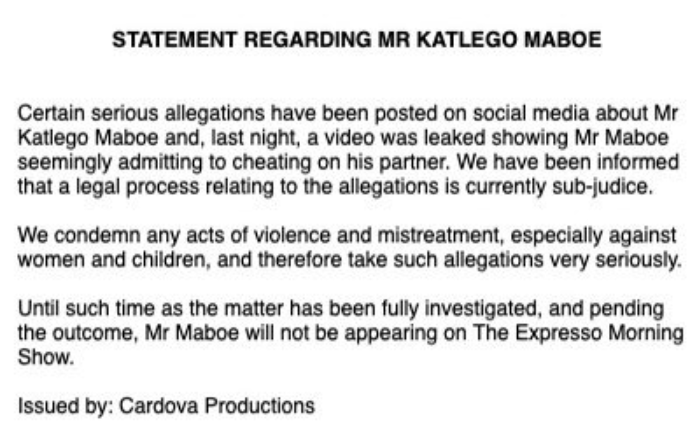 An Online Petition Seeking Katlego Maboe's Reinstatement Garnered Over 75,000 Signatures
Following the termination of his job with both SABC and OUTsurance, there was a public outcry on social media, condemning the TV presenter's treatment. The hashtag 'Bring back Katlego Maboe' started trending online and a petition signed by over 75,000 people asking for Maboe's reinstatement at both jobs. The petition insisted that his personal life has nothing to do with his professional life.
The petition to bring Katlego back to the TV screen said the presenter's life had nothing to do with his personal life.
"If OUTsurance doesn't bring Katlego back, this petition will be signed by South Africans to boycott OUTsurance until [they] bring the poor guy back on our screens again. This young man deserves a chance because he was not drunk, abusing any woman or taking drugs in the eyes of the public."
As of the time of this writing, Katlego Maboe has been reinstated.
What Was Said About The Physical Abuse Allegations
On his part, Katlego Maboe stated that he had let his estranged partner, Monique Muller, and family down. He posted the statement on his social media handle. In the statement, which he captioned 'TRUTH,' he admitted to letting them down in such a trying time.
He, however, insisted that he is innocent of the allegations of domestic violence leveled against him and that he has zero-tolerance for abuse against women – or anybody for that matter. This assertion has been questioned following Muller's brother Seth Muller's statement, which confirms that he actually physically abused Monique Muller.
Seth Muller took to his Instagram stories to post about it, saying Maboe's lawyers have threatened to lock him up for telling the truth about his sister's abuse.
#katlegomaboe also accused of domestic abuse… pic.twitter.com/oPcCBe0TV9

— RedLive (@RedLiveRSA) October 23, 2020
Monique Muller had at one point obtained a restraining order against her son's father, and when he violated the order, he was arrested to that effect. She confirmed this in a yet-to-released tell-all interview with YouTube channel GoBinge. Some part of the 1-minute teaser from the interview shows an emotional Monique discussing the abuse she suffered from Katlego. Both parties are still in court at the time of this writing, with the matter yet to be decided.
Nikita Murray's Family Has Stood With Her Through The Scandal
Upon hearing the name of the woman Katlego Maboe cheated on his estranged partner with, social media CIA's searched who she was, and they found out that Nikita Murray is a married woman. Even though she switched all her social media accounts to private mode, tweeps could find that she has a husband named Matthew Murray and a son named Jack Murray.
Although her current job is unknown, she is believed to have worked with OUTsurance, which is probably where she met Maboe. It is, however, not known if the affair happened while they worked today or afterward. It was also revealed that Nikita Murray underwent a test to ascertain her sexual health following allegations that she was the one who infected Katlego with the STI, which Monique accused him of passing on to her, and the results came back negative.
Mathew and Nikita Murray's family has since released an official statement through their legal representation – Vincent Bergh of Liquor Law and Business Consultants – saying that the family is in shock following the revelation in the viral video while also questioning its intended purpose. The statement did not fail to mention that Nikita Murray's marriage is still intact – even better.
The Family's Statement Prove There Was An Affair Between Katlego Maboe and Nikita Murray
Even though it is not mentioned in the statement categorically, what the statement showed – more than anything – is the Murrays' acceptance that, indeed, there was an affair. First, the need to undergo a test after the accusation proves the fact. Second, the issue of cheating was not addressed, only the issue of the STI. This is a way of accepting an affair, but she did not infect the embattled TV personality. Lastly, the statement claims the family has tried to deal with what was revealed in the video. This shows the Murrays believe the content is true; if not, there should be nothing to deal with.
There May Be More To This Cheating Scandal Than Is Already Known
If Katlego Maboe claimed he must have contracted the destructive STI from his side piece, Nikita Murray, and by her tests, she has proven to be free from any STI, which throws up three scenarios that are likely to explain the unfolding events.
First, there is a possibility that Nikita Murray is not Katlego Maboe's only side piece, which means he must have contracted the disease from someone else. If that be the case, he would have to do a lot more soul searching to ascertain the guilty party – even though it may be entirely unnecessary to name another lady at the moment in time.
Second, Nikita Murray may be guilty as accused but had herself treated for the infection before the story of her affair with Maboe became public knowledge. Possible, right? Of course, it is!
Third, it is also possible that Monique Muller may have been the unfaithful partner after all! Shocked??? What if that is the case and she couldn't admit it to Katlego but instead confronts the hapless guy who feels guilty about his affair and then confesses to it? Just what if?
Anyway, all these are possibilities thrown up by the fact that the chief suspect tested negative for an infection she had been accused of spreading. At the moment, the question remains: Who is the source of the STI?