Trevor Noah is currently in a relationship with a British-American actress named Minka Kelly but before her, he dated Dani Gabriel (his first known girlfriend) and Jordan Taylor.
Born when giving birth to someone like him was a huge crime, Trevor Noah has risen to become a renowned international comedian, host, television presenter, writer, and actor. His fame has grown across his native country, South Africa, to the United States, where he is popularly known as the host of the American satirical news program, The Daily Show. With all of this fame, you would naturally expect that many women will be happy to be associated with him as his girlfriend. Well, Trevor Noah has proven to be a faithful man who keeps only one girlfriend at a time.
Since his rise to fame, the South African comedian has been linked with three ladies only – Minka Kelly, Jordan Taylor, and Dani Gabriel. His last two relationships with Dani Gabriel and Jordan Taylor looked like the perfect couple goal, with all the love and support they showed him until the news about their breakup struck. But what has remained common is that all his breakups have been amicable, proof that he treats his ladies well and their breakups have been mutually agreed upon. What a lot of people want to know now is Trevor Noah's current relationship status.
Trevor Noah's Dating History
To all ladies hoping that Trevor Noah is still very much available for a relationship, the handsome, rich, and mixed-race comedian Trevor Noah is taken, and his current girlfriend is a hottie who will be very difficult to attempt a competition with. She has been linked with big names in Hollywood like John Mayer, Donald Faison, Josh Radnor, and others.
When you properly walk through Trevor Noah's dating history, one thing that you will quickly observe is that the TV personality always dates high-profile ladies. But to clear the air on that, he made it clear that he does not go for celebrities in an interview. Instead, he goes for ladies who are real.
Despite being good at making a joke out of anything, one thing Trevor Noah obviously does not joke about is his relationships. While they last, it always looks serious, and the support the ladies have for him is usually undeniable. Also, Trevor Noah has a good eye for ladies, as he has maintained a very high standard of beauty with the ladies he dates.
Trevor Noah Is Currently In A Relationship With Minka Kelly
Trevor Noah's girlfriend is Minka Kelly, a British-American actress who has been active in Hollywood since 2002. She has featured in popular movies and TV series like Legends of Tomorrow, Charlie's Angels, Parenthood, The Roommate, and many more.
Unlike most of the other relationships that Trevor Noah has been into that are usually loud, he initially managed to keep his relationship with Minka Kelly private. However, in August 2020, rumors about their relationship broke out. Many people have attributed that their relationship was private at first due to the COVID-19 pandemic as they had to stay indoors. This analogy has earned them the title of 'Quarantine Couple.'
Albeit from the looks of things, that assumption is not correct because the COVID-19 pandemic is now being managed better, and people are now allowed to go out, but Trevor still does not upload pictures of Minka Kelly, neither does she. Also, neither of them has come out to confirm nor deny the relationship rumors openly.
But keeping their relationships private has also not been very easy for both of them because they have been spotted on several occasions together. Reports have it that they met through mutual friends, and Trevor Noah's girlfriend had always had a crush on him, so when he got to know, he did not waste any time shooting his shot. Also, their excited friends have let the cat out of the bag a few times.
Minka Kelly And Trevor Noah 'Broke Up' in May 2021
Despite several reports that the relationship between Trevor Noah and Minka Kelly was serious and no public show of affection to serve as proof for how serious their relationship was, there were reports that the couple went their separate ways in May 2021 after one year of dating privately.
Like you already know, neither of them has come out to confirm the relationship rumors; on that same note, neither of them spoke out about their breakup. But according to the report, the two went their separate ways because their work and career commitments were different, and they needed to give each other some space.
After the breakup, Minka Kelly went on to live her best life, finding solace in traveling around to keep herself busy. At the same time, Trevor Noah continued with his show on Comedy Central and living his life as always.
Trevor Noah And Minka Kelly Got Back Together And Are Spending More Time Together
After about a few weeks of being separated, the couple sparked rumors that they were back together when they were spotted kissing at St. Barts. In June 2021, they were spotted in New York City on several occasions having a good time. They were spotted taking a walk, biking, and dining at a restaurant, looking all cozy and happy together. People didn't need them to confirm that they were formerly in a relationship and were back together before spreading the news that the high-profile couple was back together.
Elle reported that the couple was now taking things step by step and figuring out the future of their relationship. There have also been reports that Trevor Noah bought a house with six bedrooms and 12 bathrooms in December 2020, where he and Kelly share.
Trevor Noah's First Known Relationship Was With Dani Gabriel
The relationship between Trevor Noah and the beautiful South African physiotherapist, Dani Gabriel, was absolutely couple goals. The massive support Dani showed the comedian was undeniable. She was always retweeting his jokes and celebrating his career wins. Also, the couple displayed a lot of PDAs.
Unfortunately, we do not know how the couple started dating, but we know that she was his only known girlfriend while in South Africa. They started dating sometime around 2014, and she always created time from work to go on tours with him. This may have been possible for her because she was working as a self-employed physiotherapist.
Aside from always being proud of his girlfriend and taking her on tours, Trevor Noah was always fond of uploading really romantic pictures of himself and his beautiful girlfriend on vacations and generally having a good time. When it comes to how much they were open about their relationship, it is just the opposite of what he currently shares with Minka Kelly. There were even rumors that they were engaged, but Dani debunked those rumors and did not allow them to fly.
Dani Gabriel And Trevor Noah Broke Up In 2015 After He Had To Move To The US
After four years of dating and supporting  Trevor Noah's dream, he got a major breakthrough in his comedy career when he was chosen to take over The Daily Show from Jon Stewart in March 2015. His beautiful girlfriend took to Twitter to celebrate him, saying she always knew he was a winner, but little did they know that was going to bring their relationship a step closer to the end – and it did.
Following his new job with Comedy Central to host The Daily Show, Trevor Noah moved to the United States. But because Dani Gabriel was already an established physiotherapist in South Africa, and her family and friends were also in the country. Hence, it was difficult for her to move to the United States with Trevor Noah.
As a result, the once happy and beautiful couple had to go their separate ways in 2018. Although Dani Gabriel tried to maintain that she was fine with the split, losing a boyfriend like Trevor Noah was not an easy pill to swallow for her, but she did.
Dani Gabriel Still Supports Trevor Noah Despite Their Separation
Dani Gabriel's split with Trevor Noah may not have been easy after dating him for about one year, but it was amicable. The separation was scandal-free, something Trevor Noah should be very grateful for. Dani Gabriel says she is very supportive of him, but the major difference here was that she was no longer retweeting his jokes and showing how supportive she was in public.
According to her, she does not have to explain how supportive she is to anyone because she does not need anyone's validation. After their break up, she still had their picture on her Facebook wall, and her relationship status on Facebook was still 'dating.' When Daily Mail approached her, she changed everything. His new job may have played a role in their breakup; nevertheless, she was still very proud of him and happy for his career growth.
Another twist in the relationship between Trevor Noah and Dani Gabriel was that he never took her to see his mother despite being in a relationship with her for a year and living in South Africa.
Before His Relationship With Minka Kelly, Trevor Dated Jordan Taylor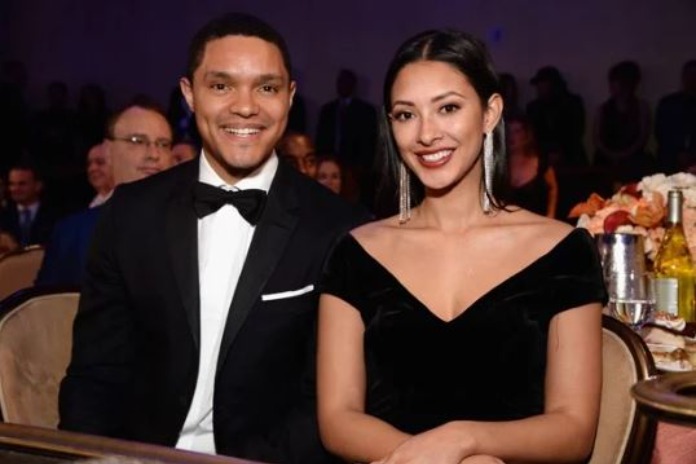 After moving to the United States and ending his relationship with Dani Gabriel, Trevor Noah got into a loud relationship with Jordan Taylor, an Albanian-American, who is a renowned singer, songwriter, and model. Their relationship started in 2015, and they were both open about it. They were spotted at several places together and even attended red carpets and award nights together.
Reports had it that they met at one of his comedy shows. Their relationship looked so perfect. At the 2018 MTV Movie Awards, where Trevor Noah won the 'The Best Host' award, they were together looking all perfect. However, no one suspected that they were growing apart.
Trevor Noah And Jordan Taylor Called It Quit After Four Years Of Dating
In 2019, they called the relationship quit on the basis that they had grown apart. The beautiful model and singer took to Instagram to let her followers know that she was no longer in a relationship with Trevor Noah. She went on to add that despite that things didn't work out for both of them; she loves him. When a follower asked if their split was a bad one, she went philosophical.
Mama Patricia Revealed Trevor Noah Was In A Relationship That Almost Killed His Dream To Become A Comedian
Before going into comedy, Trevor Noah used to be in a relationship with a lady who always wanted to control him. According to his mother, Mama Patricia, Trevor Noah did not like the controlling attitude of the lady in question, whose identity is unknown. Still, he had to bear with it while the relationship lasted.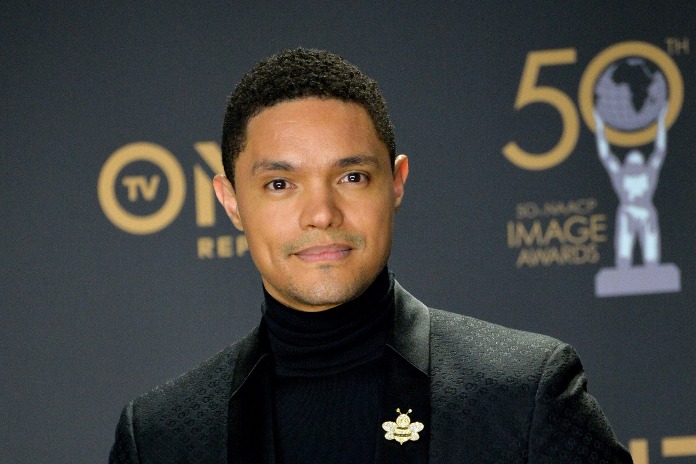 In an interview in 2013, Trevor Noah himself also made mention his ex, who was over-controlling. He narrated how he told her about his desire to get into comedy, and she told him not to be stupid that he was not so funny. And while the relationship lasted, he took her advice.
After their relationship came to an end, he decided to start doing everything that he could not do while he was in his relationship with her, and comedy, which he is now famous for, was one of those things.
Has Trevor Noah Ever Been Married?
No, Trevor Noah has never been married, and when asked at an interview about marriage, he said he did not know when that would happen, but he is just enjoying what he has in the present. One thing common in Trevor Noah's breakups is that it has been amicable, which is something to applaud. None of his ex-girlfriends has come out to say anything nasty about him, nor has he tried to talk them down in public after their breakup.
Also, most two out of three of the ladies he has dated are celebrities, and we know celebrity breakups come with scandals like cheating allegations. This has not been the case with Trevor Noah, who has never been caught on that web; rather, most of his ex-girlfriends still show him love and support even after their breakup.
Well, if there should be anyone who should know how not to treat a lady, it should be Trevor Noah, who grew up watching his mother go through hell at the hands of his stepfather. With that experience, he learned first-hand what emotional or physical abuse does to women by what his mother went through.