What's your take on gospel music? Are you a part of the 87% of South Africans who do not listen to gospel music, or do you fall into the 13% that love gospel music? Whether or not you love gospel music, there should be that gospel artist you just can't resist moving your body or humming his or her song whenever it is being played. Like secular music artists, most gospel artists have also had their fair share of ups and downs in the industry before coming to fame. Most of them have had to grind it hard, releasing songs after songs that never made it to the spotlight. In this post, we will be discussing the top 20 most loved South African Gospel artists who have since moved from a place of relative obscurity to gain national recognition. So if you would like to learn about their journey to fame, success, and net worth, you should absolutely continue reading.
1. Benjamin Dube
Benjamin Dube is a multi-talented music artist and speaker whose songs and messages have been a blessing to the lives of many. Unlike so many other music artists, Benjamin Dube didn't have to struggle to become famous as his family had already paved the way for him. This is not to say he did not have to work hard. As early as the age of 7, Benjamin Dube was already singing with his family internationally. Dube was born in 1962 into the Dube family, who formed a gospel music group which they named the 'Dube Family Singers.' At that early age (age 7), Benjamin Dube was already a part of this music group and joined them to travel worldwide to minister to people through music.
After over 20 years of singing with his family and traveling worldwide, Benjamin Dube decided to settle down in South Africa to face his church and growing music ministry. Since then, he has released several award-winning albums. The music minister also created a music group with his three sons, dubbed the Dube Brothers. Benjamin Dube has released many Spirit-filled and edifying gospel songs that have blessed South Africans and non-South Africans alike. Many Benjamin Dube's songs have ranked number one in the list of best South African Gospel music and have won multiple awards.
Some of Benjamin Dube's most popular tracks include:
I Feel Like Going On (2000)
Celebration (2007)
Spirit Of Praise, Vol. 3 (2011)
Healing in His Presence (2012)
In His Presence (2013)
Renewal in His Presence (2013)
Sanctified in His Presence (2015)
Victorious in His Presence (2017)
Spiritual Celebration, Vol. 2 (2017)
Glory in His Presence (2019)
Worship in Isolation (2020)
After almost five decades of hard work, Benjamin Dube has a net worth of $6 million. His Instagram account serves pictures of his beautiful home and luxurious cars. Benjamin Dube has been divorced twice and is presently married to Mapila Thabile Dube.
2. Rebecca Malope
Rebecca Malope is another sensational South African gospel artist. On her Instagram bio, she calls herself the 'Queen of Gospel.' If you have ever been under Dr. Rebecca's ministration, you will agree that she deserves that title. She is a songwriter, singer, and presenter who has been in the South African music industry for over 30 years. She has won various awards like the OKTV award for the Best Female Artist and the DSTV Viewer's Choice Award in her music career.
Born Batsogile Lovederia Malope on June 30, 1968, in Lekazi, South Africa, she was regularly singing in her local church. Her journey to fame started when she and her sister moved from Lekazi to Johannesburg. Rebecca joined a music group, and they auditioned for the Shell Road to Fame competition in 1985 and were accepted to become contestants in the competition. However, their joy was cut short when they were eliminated from the competition.
The following year, in 1987, Rebecca auditioned for the same competition, this time as a solo artist – with the help of music producer and future collaborator, Sizwe Zako – and won in the category of Female Vocalist. However, winning the Shell Road to Fame competition did not automatically launch the gospel's African queen into fame. She struggled to get a career breakthrough and even switched genres and became a secular artist for a while – just to remain with a record label. She switched back to gospel music, and the decision was well-received by fans. She has remained active as a gospel artist for 30 years, during which time she has released over 30 albums, sold over 10 million copies of her albums, and received a plethora of awards.
Some of Rebecca Malope's most loved projects include:
Lord You Are Good (2019)
Uzohamba Nami (2010)
Uzube nam' (2009)
Uehovah Ungumadida (2009)
Hlala Nami (2009)
Somlandela (2009)
Shwele Baba (2009)
Siyabonga (2005)
Obviously, 2009 was her biggest year – in terms of the number of albums released. To crown her effort, her album Uehovah Ungumadida won the South African Music Awards in the category of the 'Best African Traditional Gospel Album.' The album Uzohamba Nami, which she released in 2010, was nominated twice for Best Urban Gospel Album and Best African Traditional Gospel Album in 2010 and 2011. And although Rebecca Malope is not one to flaunt her wealth on social media, the award-winning gospel minister is worth $5 million. She built her empire from music and hosting TV programs. Currently, the 'queen of gospel music' is happily married to Themba Tshabalala.
3. Winnie Mashaba
https://www.instagram.com/p/B-9INQOnzeO/
Growing up in a small village and being raised by a single parent who had seven other children to take care of did not stop Winnie Mashaba from being successful. After Grade 11, Dr. Winnie believed so much in her music career that she gave up school to chase her dreams, and in less than two years, she was already in the limelight. Her breakthrough in the South African gospel music industry came after her audition for Solly Moholo. Currently, Winnie Mashaba has Ph.D. in Sacred Music. Some of her most popular music albums are:
Thola Ngwanesu (2006)
Joang Kapa Joang (2009)
Modimo O Nale Nna (2011)
Bophelo Ke Leeto (2012)
Lehlotlo Laka (2015)
Dilo Tša Lefase (2017)
The Journey With Winnie Mashaba (2018)
Winnie Mashaba has been very successful in the South African music industry. She has been nominated for several awards, including the Metro FM Music Award and the South African Music Award. Besides her work in the gospel music industry, Winnie Mashaba is also a TV presenter. Together with her husband, Peter Mashaba, they run a publishing and event management business. She also has a clothing and marketing business. Winnie has been married to her husband for 14 years but experienced delayed childbirth after several attempts. Winnie suffered two miscarriages during this time, but she still believed that she would be a mother. Fortunately for her, she is now a mother, and she calls her child a 'miracle.' Winnie Mashaba has a net worth of $500,000, which she built from her various businesses and music career.
4. Khaya Mthethwa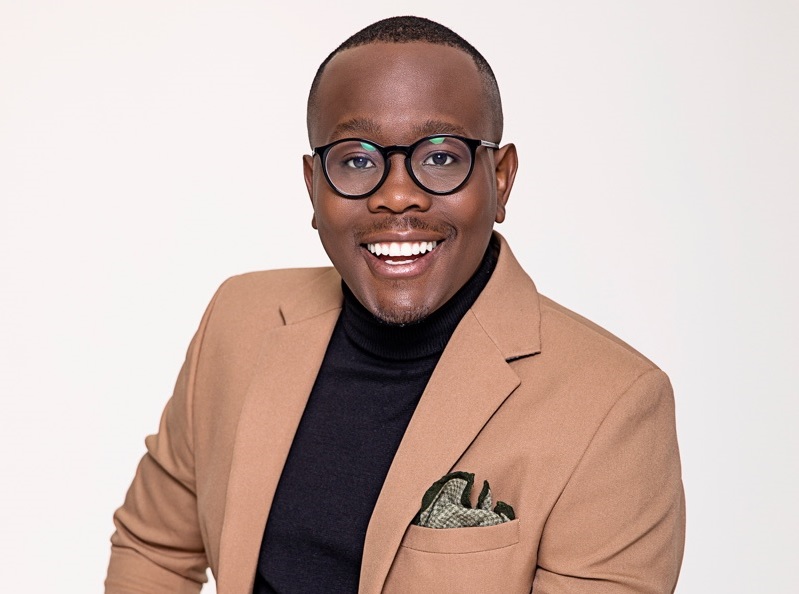 Khaya Mthethwa had stringent and religious parents who ensured that their child followed the way of the Lord. And Khaya did just that. He was born and raised in Durban Kwa-Zulu Natal and grew up loving the Lord, which made him direct his music talent into singing gospel music. Mthethwa started his music career as a backup singer and had his breakthrough after being the first black South African to win Idols South Africa, Mzansi's biggest talent show that airs on Mzansi Magic. Currently, Khaya Mthethwa is a member of the internationally renowned choir, Joyous Celebration. Here are some of Khaya Mthethwa's most loved solo musical works:
For You (2012)
The Dawn (2016)
All About Jesus (2018)
His albums have been very successful in the South African Gospel music market and have earned him a couple of award nominations and wins. Mthethwa was once married to the beautiful Ntandoyenkosi Kunene, who won the Miss South African crown in 2016. They walked down the aisle in December 2017 after dating for only three months as they were head over heels in love with each other and couldn't wait to spend their lives together. As beautiful as the relationship was at the onset, it couldn't hold under the real pressures of marriage, and two years into the union, they had to go their separate ways.
Khaya and Ntandoyenkosi have both decided to stay silent on the reason for their divorce. However, they had a son who was born in February 2019. Although his current net worth is unknown, from the affluent life and luxurious life he shows off on social media, you can tell that Khaya Mthethwa is very comfortable financially.
5. Deborah Fraser
Deborah Fraser was born on September 6, 1965, in KwaMashu, South Africa, and she started her music career as a backup singer. She had her breakthrough in the music industry after playing backup roles for legendary South African musicians such as Brenda Fassie, Lucky Dube, and even Yvonne Chaka Chaka. In 2000, she released her first album – Abanye Bayombona – which sold over 700,000 copies across South Africa. The award-winning gospel star has since released over 10 albums (including three studio albums). Her most popular albums include:
Umqhele (2013)
Florescer (2017)
OkaJehova Akanqotshwa (2019)
Her Spirit-filled songs have paved the way for her to perform not just on the biggest gospel stages in South Africa but also internationally. Her albums are always popular, and of all the albums she has released, no one has sold less than 50,000 copies (Platinum). However, her highest-selling album is her debut offering, Abanye Bayombona, which sold more than 150,000 copies. She has won a couple of awards for her work in the South African gospel music industry, including the South African Music Awards (SAMA) for the best gospel, Kora awards for the best gospel artist, Metro award for the best gospel, and the first SABC Crown Gospel Music award for the best female artist.
Deborah Fraser was married to a Nigerian pastor named Sockey Okeke, Macy Chapel pastor in Johannesburg. Unfortunately, less than a year after their wedding, their marriage hit the rocks in 2008. When speaking about their divorce, she said her ex-husband was subjecting her to Satanism. As one of South Africa's highest-selling artists and director in no fewer than 10 publicly quoted companies, Deborah Fraser's net worth has been reported by some sections to be as high as $63.8 million – this figure, however, has not been officially confirmed.
6. Dr. Lindelani Mkhize
Lindelani Mkhize is to South African gospel music what Nelson Mandela is to the Mzansi people. Born with a natural love for music, he started his career as a choir member in his local church. When he gained admission into a polytechnic – the Durban University of Technology – his course of choice was Chemical Engineering. However, he knew his passion lay elsewhere and applied for a change-of-course to study music – without his parents' knowledge. After graduating, he became a maths and music teacher in a private school and organized music groups in town. This was how he met Chicco Twala, who was already a music producer at the time. The latter helped polish Lindelani's music skills and taught him more about the gospel music industry. Mkhize had to quit his teaching job to work with Chicco Twala full-time – for the next three years.
He also worked with PolyGram, a record company, Sony International, and also Universal Music Group. When Jazz music was not something any artist would like to be involved in due to the poor market demand, Lindelani took up the challenge and decided to go into Jazz music production. His first sign-ups were Sibongile Khumalo and Hugh Masekela; he helped them sell over 300,000 copies of their first albums – something previously unheard of. After sparking an increase in the demand for jazz music in the local music market, Lindelani did the same for Afro-pop, and the bands he signed also sold over 300,000 copies of their albums.
He started his own company Lindelani Mkhize Entertainment (LME), with a vision to bridge the gap between local gospel artists and big music brands. To its credit, LME has achieved record-breaking feats in the South African gospel scene since its establishment. In 1996, Lindelani Mkhize partnered with two friends – Jabu Hlongwane and Mthunzi Namba – to start up the Joyous Celebration choir, which today has become a multiple award-winning choir and one of the most famous music groups in the country.
He received an honorary doctorate from the University of Zululand in 2020 to add to the many feathers on his heavily decorated cap. Although he doesn't flaunt so much wealth, the choir conductor, music producer, talent scout, and co-founder is financially comfortable. He has been able to keep his personal life private, and nothing much is known about his wife, Nhlanhlo Mkhize, and family.
7. Dr. Tumi
Dr. Tumi, as fondly called, was born Tumisang Makweya on July 10, 1981. He started making music as early as age nine when he played the keyboard at his father's church. He started his journey to fame in 2003 after coming out as one of the Top 20 contestants in the Coca-Cola Popstar competition, which had about 16,000 participants. He would later join the Intense Gospel music group. The title of "Dr." attached to his name is not an honorary one. Dr. Tumi studied medicine at the Medical University of Southern Africa but gave it up for his true purpose – music. Today, Dr. Tumi is an award-winning music artist and the first gospel music artist to organize a gospel music concert and fill up the 20,000 capacity Ticketpro Dome in Johannesburg.
He has been nominated for several awards and has won up to 19 awards in his music career, including the Metro FM Awards, South African Music Awards (SAMA), and Crown Gospel Awards. Dr. Tumi is married to the beautiful Kgaogelo Makweya. They got married in 2008, and they have three kids together. His wife, Kgaogelo, serves as his manager.
Some of his top-rated albums include:
Heart of a King (2013)
Love and Grace, Live! (2016)
The Gathering Of Worshippers – Speak A Word (2017)
Love On The Cross (2019)
8. Lebo Sekgobela
Lebo Sekgobela was born in the Vaal, Gauteng, on September 19, 1981. Life really didn't treat Lebo well initially, as her family lived in a shack before moving to a mud house. Her singing talent was obvious from a very young age, and she went for auditions as she attempted to get into the Joyous Celebration choir and the Idols SA but failed on both fronts. The rejection, coupled with her forgettable background, was enough to make her give up on herself, but she did not. New dawn began for her after meeting Evangelist Ralekholela in a church crusade where she ministered. Finally, luck was beginning to smile at Lebo as she soon had the opportunity to serve as a backup singer for Vicky Vilakazi and William Sejake.
Today, Lebo Sekgobela has become not only a South African gospel heavyweight but also an international phenomenon. So far, she has performed in London, Chicago, New York, among others. She currently holds the record as the fourth most-streamed South African female artist on Apple Music. She is also the composer behind the theme song for Khumbulekhaya, a popular SABC1 TV show. Lebo Sekgobela's songs have been nominated for several awards – many of which she has won. Some of her most loved work include:
Ithemba Lami (2013)
Restored, Live! (2016)
Umusa, Live! (2018)
Hymns and Worship, Live! (2019)
Rebuilding Walls, Live! (2020)
Lebo Sekgobela got married in 2001 to her husband, Lucky Sekgobela, and they have been together since then. Aside from being her husband, Mr. Sekgobela also serves as her manager and has been a source of incredible support to her ministry. Their marriage is blessed with 3 children. Currently, Lebo Sekgobela's net worth is not known.
9. Mthunzi Namba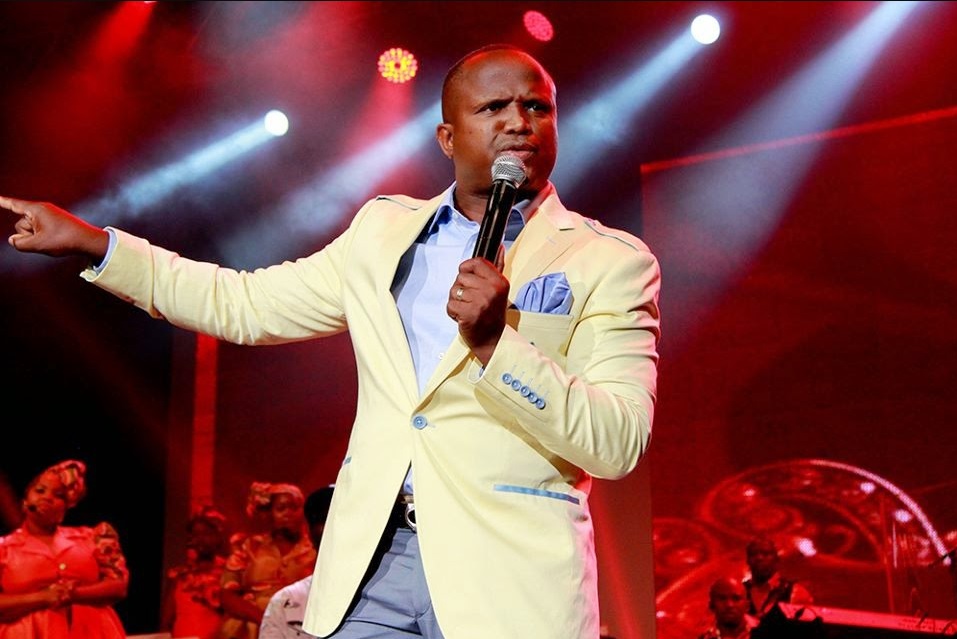 Mthunzi Namba's name is mentioned in the same breath with Lindelani Mkhize and Jabu Hlongwane as dynamic Joyous Celebration choir's co-founders. He is a songwriter, singer, producer, and pastor raised in the way for the Lord by a religious mother, alongside his seven siblings. Born and raised in KwaMashu, Durban, he was involved in his local church as a singer. He studied at the Durban University of Technology, which is where he met Lindelani Mkhize.
His music ministry has grown over the years and has seen him collaborate with several local and international acts, including award-winning American gospel minister Hezekiah Walker. Aside from his productions with the Joyous Celebration choir, Mthunzi has also released his own albums, with the 2009 Mercy album regarded as his best offering of all. Some of the other popular albums include:
Let it Rain (2000)
Send Your Glory (2002)
The Collection (2006)
Mercy (2009)
Fakaza (2013)
10. Jabu Hlongwane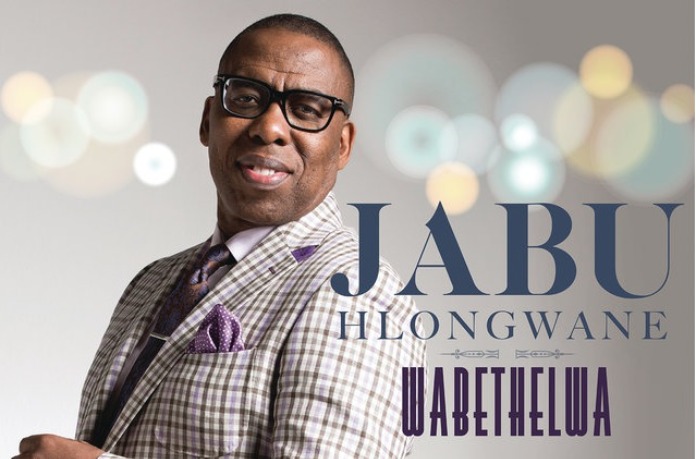 Jabu Hlongwane is a veteran gospel music artist and has contributed greatly to the African gospel music industry. He started his music career while he was at the University. He created a music group called 'Emmanuel,' and they ministered at different university events. After graduating with his first degree, Jabu Hlongwane returned to the campus to study music as a second degree. In 1994, he released his first music album.
A year after, Jabu collaborated with his friends- Mthunzi Namba and Lindelani Mkhize to start the sensational 'Joyous Celebration Choir.' His contribution to the gospel music industry in South Africa and beyond earned him an award for the Best Contribution in Gospel at the African Gospel Music Awards. He has so far released 11 albums, and some of the most notable of them include:
Keep Me True (2004)
Iyeza (2005)
Fakaza (2013)
Cross Over Experience 3 (2018)
Ngegazi Elingenacala/Bayajabula (2020)
Jabu Hlongwane has been invited as a guest artist for several big gospel music concerts within and outside South Africa. He was invited to sing at Martin Luther Kings' birthday in remembrance of black history. Aside from singing, Jabu is also a producer, trainer, author, and businessman. Although his net worth is unknown, it is clear that he has made a lot of money from music. A devoted husband and father, Jabu Hlongwane is happily married to Sibongile Hlongwane, and their union is blessed with four children.
11. Sipho Makhabane
Being born into a low-income family and losing his father at a very young age didn't stop Sipho Makhabane from chasing his dreams of becoming a gospel musician, although it delayed it. Big Fish, as he is affectionately called, Sipho had to work for several years to meet his needs and that of his family. He came into music when life was better for him. His first two songs, Ngitinikela Kuwe and Yek'intokozo, which were released in 1996, announced him as the country's favorite. Since then, he has remained active and has become a legend in the South Africa gospel music industry. Before his retirement in 2009, Big Fish released several popular albums, including:
Calvary (2001)
Moya Wami (2003)
Hamba Nami (2008)
Ebenezer (2009)
Sipho Makhabane has won various awards for his songs and albums, including Best Producer at the Glory Awards in 2001 and 2007 and The Mama Beka Community Empowerment Award in 2008. Currently, he has his own record label called Big Fish Music and has helped many gospel artists in their journey to fame, such as Hlengiwe Mhlaba, Pastor Ncanda, Tshepiso Motaung, and many others. Sipho Makhabane is currently married, but nothing much is known about his family and private life. As a result of what he had to go through, he was inspired to start a foundation to help children who cannot afford quality education. His net worth is yet to be determined.
12. Lusanda Mcinga
Lusanda Mcinga started her music career at a very young age – at home, where she was born in Willowvale, Eastern Cape. Her birth date is March 24, 1964, and she was born into a family of eight (six siblings). She learned to play the guitar at age 10. She was taught by the boys who gathered in front of her parent's shop and smoked while they played the guitar. She would pay for her guitar lessons with cigarettes she stole from her parent's shop. Lusanda later became pregnant and gave birth to her son, Bethusile Mcinga, at the age of 21 – in 1985.
Ten years later, she released her debut album, and she has since said that her first four albums were released because she loved gospel songs and not because she was truly a Christian. She only got saved in 2000 after releasing her fifth album. She is the leader of the award-winning music group, Lusanda Spiritual Group (LSG), which has some of her family members as part of the team. Through her songs, Lusanda Mcinga has been a blessing to many lives.
Some of her most loved albums include:
Mandihambe Nawe Jesu (2001)
Umoya Wenkosi (2005)
Ixilongo (2006)
Buyani Buyani (2008)
Uhambo Lwam (2013)
13. Hlengiwe Mhlaba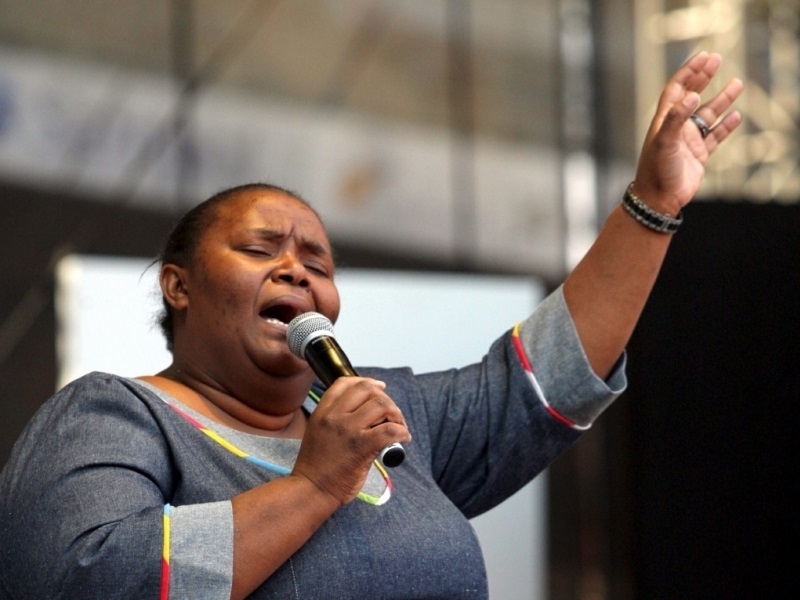 Hlengiwe Mhlaba is an award-winning gospel singer who started her musical career by singing at local churches and crusades. Soon, she became popular in Swaziland. She became popular in South Africa after she met Sipho Makhabane, who signed her to his record label. The name "Hlengiwe Mhlaba" became a household name in the South African gospel music industry almost a decade ago. Her debut album, 'Dwala Lami,' sold over 200,000 copies and won the Crown Gospel Award for Best Classic of All Time. Here are some of her albums that have been most sought after by gospel music lovers:
Dwala Lami (2005)
Jesu Uyalalela (2006)
Live At Durban Playhouse (2010)
Abba Baba (2012)
Blessings (2016)
Greatest Hits (2017)
Her songs have done so well in the gospel music market that even if her net worth is unknown, you can guess that she is in a perfect place financially. At the age of 50, this spirit-filled KwaMAshu-born gospel music minister has never been married. Hlengiwe Mhlaba believes men are only attracted to her because of her money, and she wears a ring to chase them away.
14. Ntokozo Bambo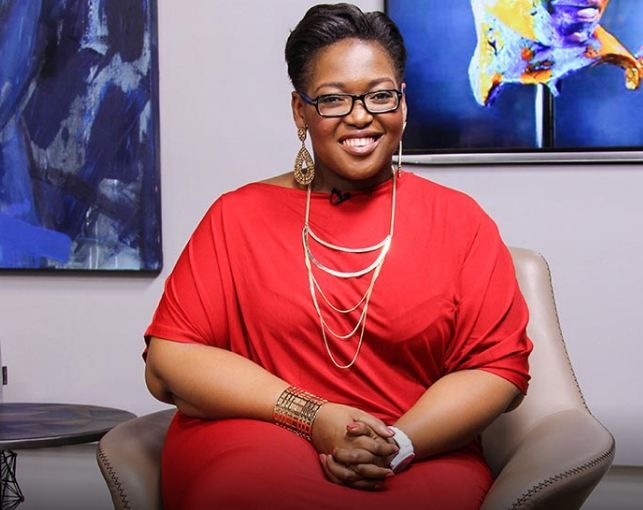 Ntokozo Bamboo started off her music career as a member of her local church choir at a very young age. At 15, she became the youngest member of the Joyous Celebration choir and joined the team to minister on several occasions. In 2001, she released her first music albums, and since then, she has been blessing several lives through music. Ntokozo has shared the stage with several international gospel artists such as CeCe Winans and Kirk Franklin. Her song titled Jehova Is Your Name hit over 21 million views on YouTube and her 2013 album "Keep On Believing" was nominated for Best Gospel Album at the Metro FM Awards. Ntokozo Bamboo's hit albums, which have become fans favorite, include:
Filled (2012)
Keep On Believing (2013)
Moments in Life (2018)
Spirit and Life (2018)
The First Noêl (2020)
Ntokozo Bamboo has been married for 13 years to Nqubeko Mbatha, and their union is blessed with two beautiful daughters. Her net worth is yet to be determined.
15. Keke Phoofolo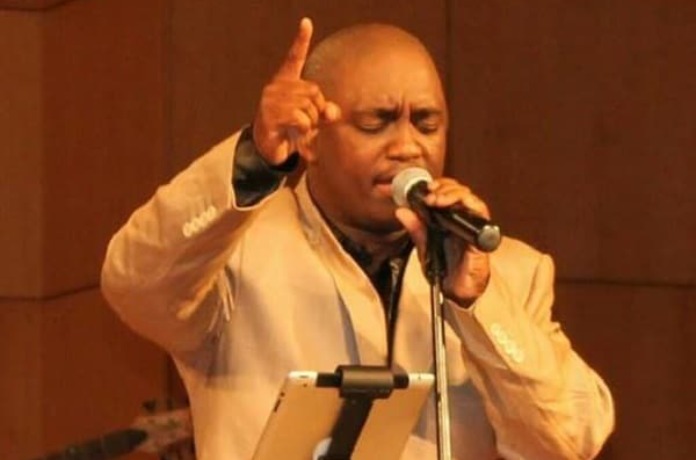 Keke Phoofolo, born Kekeletso Phoofolo, started his career in 1994 as a backup singer with the Zoe Gospel music group. Three years later, he auditioned for the Shell Road to Fame competition and became a contestant but did not win the competition. However, that didn't kill his dream to become a gospel music artist. In 2000, he became a part of Benjamin Dube's music group and went on a tour with him, after which he became a member of the Joyous Celebration choir. After being a member of several groups, he finally released the hit track "Jo Ke Mohlolo-Hlolo," which was very well received across the country. He has gone on to release other well-received albums, which include:
Throne Room Worship (2017)
Reloaded (2017)
Divine Victory (2018)
Keke Phoofolo's current net worth is unknown; however, one would expect that his bank account would be buoyant considering the number of concerts he gets invited to perform. He is currently married to Pauline Radebe after his divorce from his former spouse, Mpho Phoofolo.
16. Dumi Mkokstad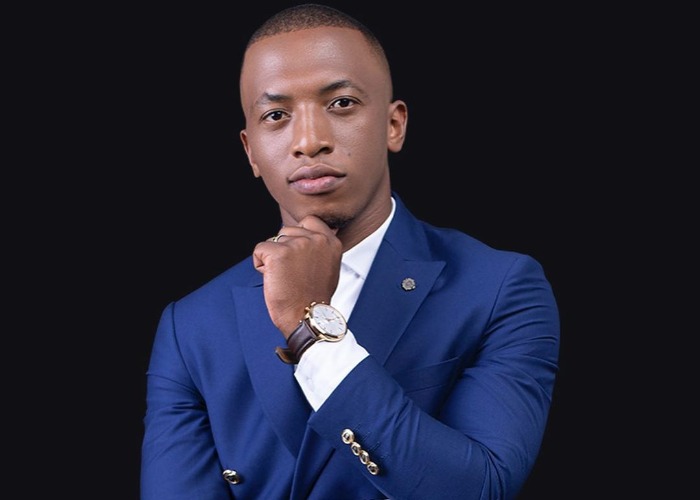 South African gospel singer Dumi Mkokstad began his music career at age nine after being discovered and mentored by Hamilton Kubashe, a music promoter. His debut eponymous album, 'Dumi Mkokstad,' which contained soul-lifting songs such as We Are Marching and Nang'ujesu became the country's favorite and helped bring Mkokstad to public awareness. Since then, he has continued to grow in leaps and bounds with each album he releases. Some of his albums that have become a rave among South Africa gospel music fans include:
Mbize uJehova (2014)
Ukhona UThixo (2015)
Egameni LikaJesu (2017)
Ebeke Walunga uThixo (2018)
Calvary (2020)
These albums have earned Dumi a lot of fame in the country and beyond while also attracting award nominations, including one for the best South African Faith Music Albums at the South African Music Awards (SAMA). He won the award for the Best Gospel Song at the 2015 Crown Gospel Music Awards. The young music minister is married to his beautiful wife, Ziphozenkosi Mthembu, and his net worth is estimated to be between $100,000 – $350,000.
17. Bethusile Mcinga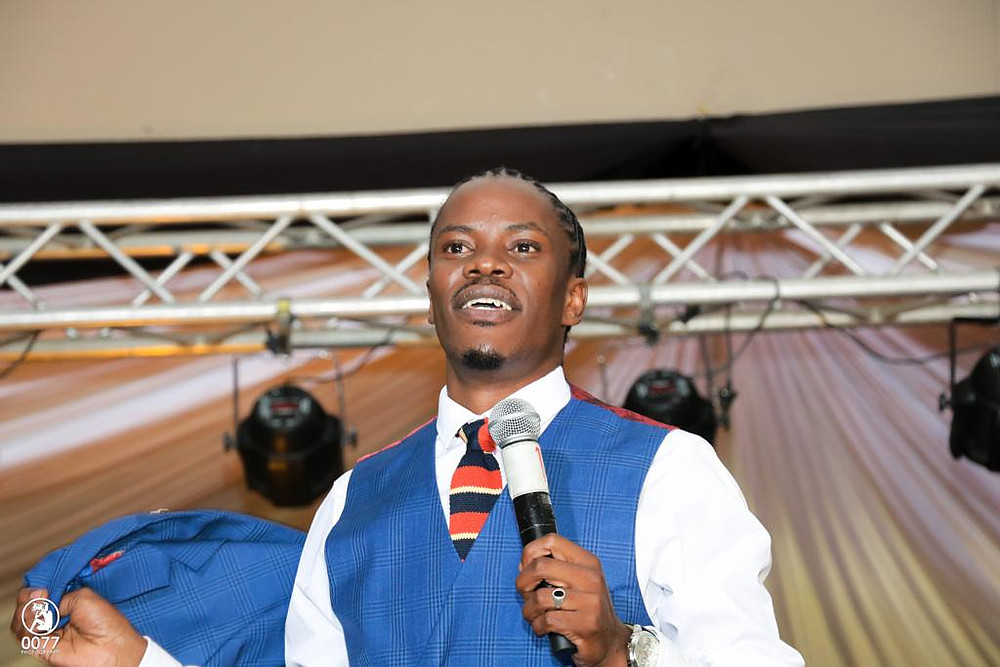 Bethusile Mcinga is a gospel music minister born in Willowvale and raised in Umtata. Although nothing is known about his father, his mother is the iconic gospel singer, Lusanda Mcinga. Born with a musical gene, it wasn't a surprise when his singing talents began to manifest at a young age. His music career began in earnest at age fourteen. By that age, he was already part of his mother's music team – Lusanda Spiritual Group (LSG) – as an instrumentalist, later as a backup singer. Not satisfied with being under his mother's wings, Mcinga launched his solo career in 2008 with his debut album, Mandibe Ngowakho, which contained the hit track 'Ndiyanqophisa.'
With over 25,000 copies sold and an award nomination, his debut album's success served as a catalyst to propel Mcinga to continue on his path. Two years later, he released his second album, Inceba Zika Jesu, which did not do so well as the first but sold 10,000 copies. His most loved albums include:
Mandibe Ngowakho (2008)
Kuphelele (2014)
Intando yaKho (2017)
Highest Praise (2018)
He currently runs his own music outfit Betusile Music Entertainment (BME), and he has collaborated with several top shots in the South African gospel music industry.
18. Judith Sephuma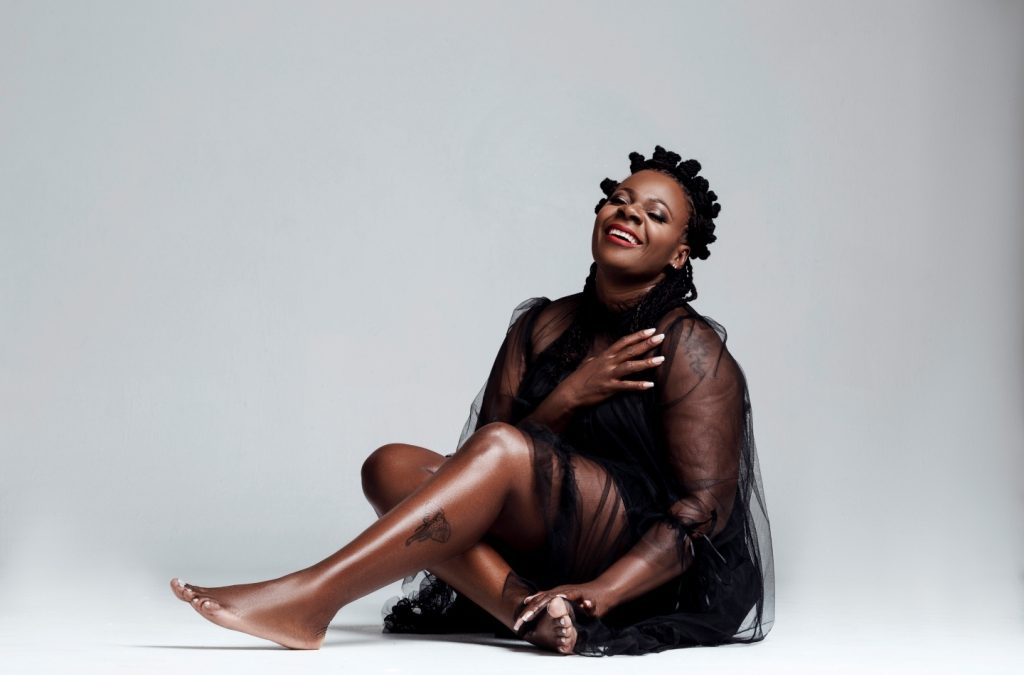 Judith Sephuma is a South African jazz vocalist, born June 29, 1974, in Seshego and raised in Polokwane, Limpopo. She left Polokwane in 1994 and moved to Cape Town, where she studied jazz. She would later obtain a diploma in Jazz from the University of Cape Town in 1997. In 1999, Sephuma became famous after winning the Old Mutual Jazz Into The Future competition in the Best Jazz Vocalist category, which earned her a record deal with Bertelsmann Music Group (BMG) Africa. She started as a secular artist releasing critically acclaimed albums such as A Cry, A Smile, A Dance (2001), New Beginnings (2005), and Change is Here (2008), among others.
Some of her most popular albums include:
I Am a Living Testimony (2011)
One Word (2015)
My Worship – Live! (2017)
If you listen to Judith Sephuma's music, you can't deny that she deserves the title of 'Queen of Afro-jazz' in South Africa. Her music is widely appreciated by South Africans who love jazz music. Nothing much is known about her net worth and private life.
19. Solly Mahlangu
Born and raised in Johannesburg, South Africa, in 1971, Solly Mahlangu began to show his music potentials at 10. His mother was raped, and he was the result of the unfortunate act, so he never knew his father. However, being the result of a rape, never meeting his biological father, and being raised by a single mother, were not good enough to stop him from realizing his potential. Today, he has become one of the most sought-after gospel ministers in South Africa, bringing healing to thousands in South Africa and beyond through his songs.
He once served as national music director at Victory Fellowship Church and has been singing for over two decades. He has been nominated for several awards as his live DVD and CD recordings – Obrigado and Mwamba Mwamba – have become the toast of every gospel music lover across the country. Some of Solly Mahlangu's most loved music albums include:
Solly is married to his beautiful wife, Khosi Mahlangu, and they have three daughters, namely Thando, Amani, and Asante. His net worth is unknown.
20. Jaziel Brothers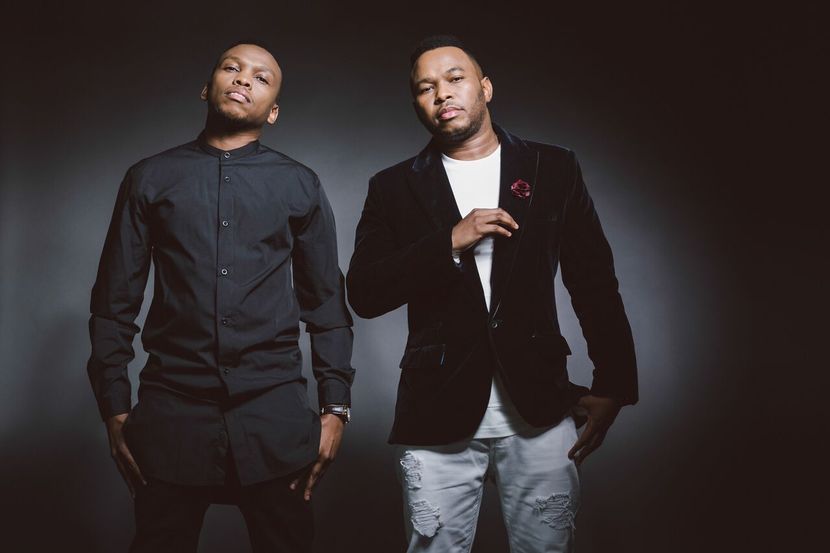 Jaziel Brothers is a music group that consists of two brothers – Luthando and Ntobeko Jaziel. Not much is known about how these brothers became famous, but they have been in the music industry for over 10 years and have released a good number of albums such as:
 Journey (2016)
Out of the Box (2016)
The Beginning (2016)
Over the years, more than 200,000 copies of their albums have been sold, and they won the award for Best Duo/Group of the Year at the 2010 South African Music Award (SAMA). Their net worth is unknown, but from the quality of their new music videos on YouTube, you can tell that they spend a lot of money on their production.
Notable Mentions
Soweto Gospel Choir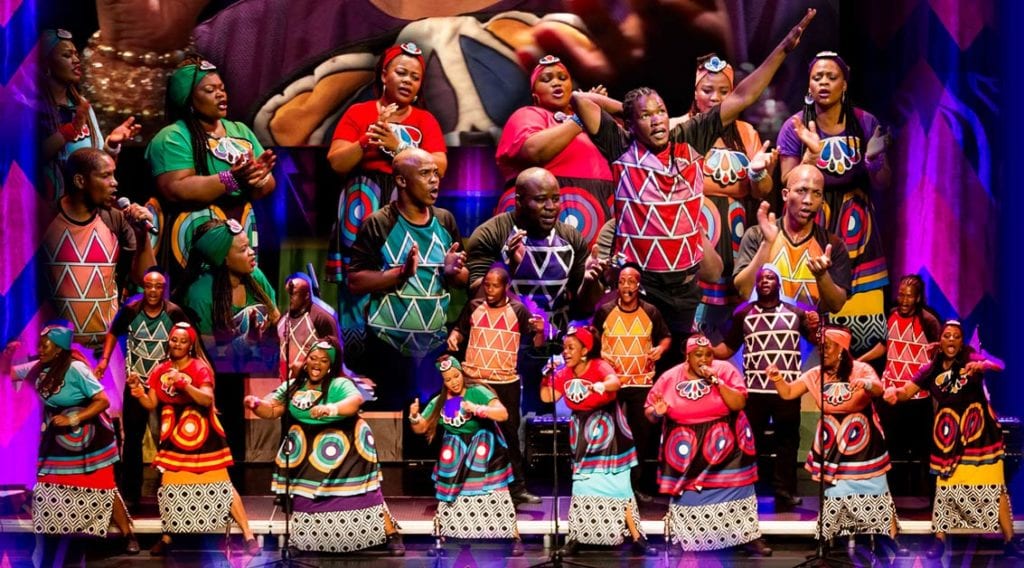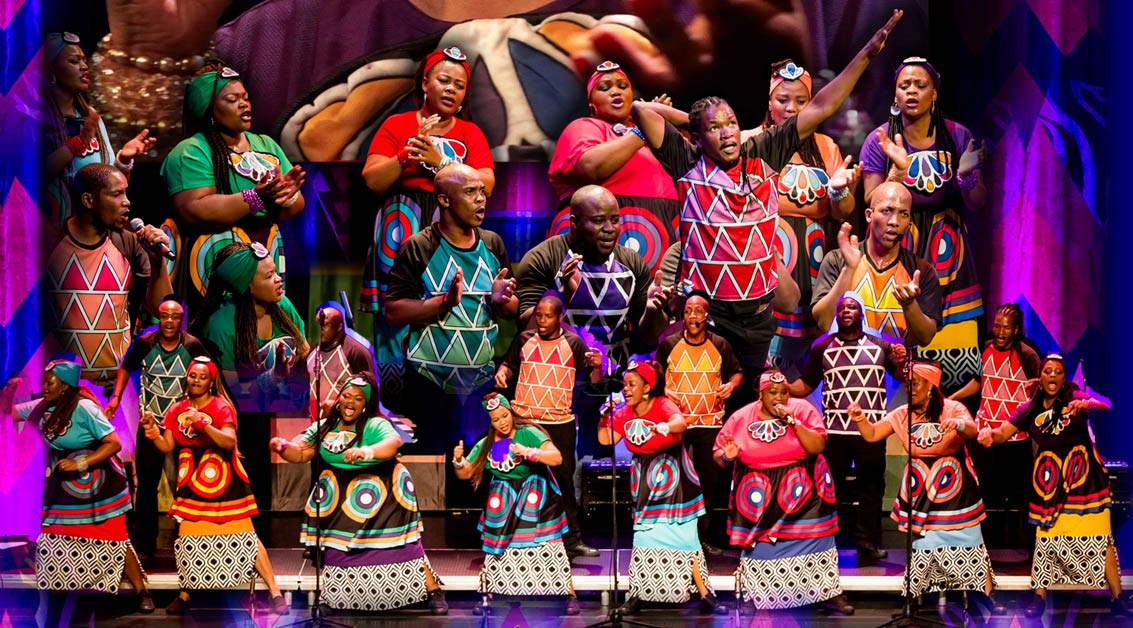 The Soweto Gospel Choir was created in 2002 by David Mulovhedzi and Beverly Bryer in Soweto. This choir started quite big as one of their first performance was at the 46664 concerts – a series of AIDS benefit concerts played in honor of Nelson Mandela. From their inception to date, the Soweto Gospel Choir has released 5 albums and collaborated with other gospel music artists such as Christopher Tin. They have been invited across and beyond Africa to perform at different events. They also performed at the finals of the 2010 FIFA World Cup that was held in South Africa. Some of their most popular albums include:
Blessed (2006)
African Spirit (2007)
Grace (2010)
Freedom (2018)
Their first album, 'Blessed,' was nominated three times for Best Traditional World Music Album at the Grammy Awards, and it won all three times in 2006, 2007, and 2018. The current net worth of the Soweto Gospel Choir is unknown, but after winning 3 Grammies, performing at FIFA World Cup finals, and for Nelson Mandela, the choir has made a good sum of money from music.
Joyous Celebration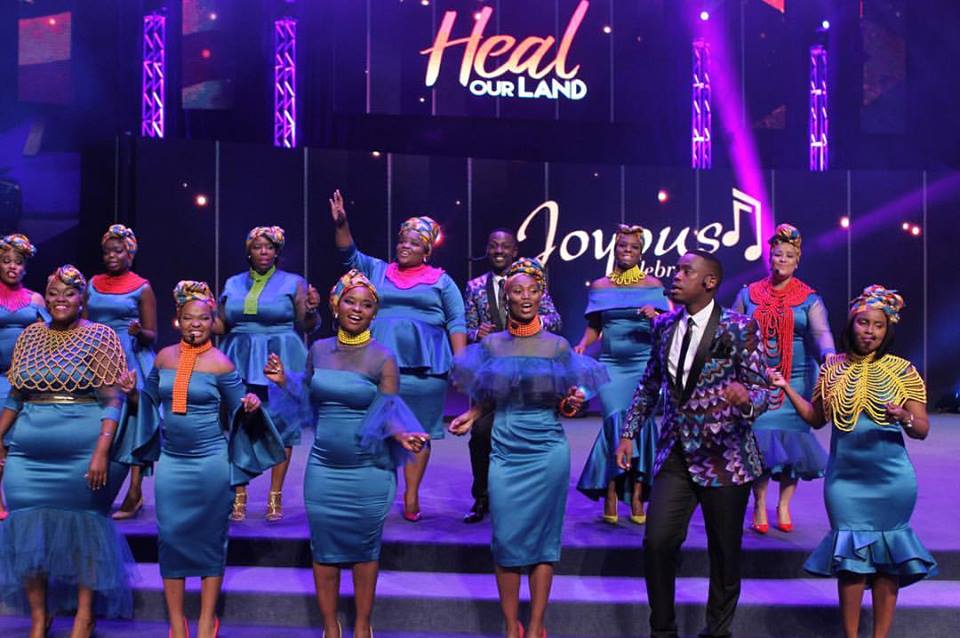 The choir, Joyous Celebration, was founded by Jabu Hlongwane and two of his friends, Lindelani Mkhize and Mthunzi Namba. They started this choir to celebrate South African's political transition, and today, the choir has become one of the most famous choirs in South Africa. Joyous Celebration has released over 30 albums since its inception, some of which include:
Joyous Celebration Vol. 13: Rewind (2009)
Joyous Celebration Vol. 14 (2010)
Joyous Celebration Vol. 20 (2016)
Joyous Celebration Vol. 21: Heal Our Land (2017)
Joyous Celebration Vol. 22: All For You (2018)
A good number of the group's albums have won a couple of gospel music awards – including the South African Music Awards (SAMA). They celebrated their 21st anniversary at Bishop T.D Jakes' Potter's House in Dallas, Texas, where the choir had a live performance. The choir's net worth is unknown, but it has grown to the extent that it can afford to pay up to 70 employees.
Recap
Here's a quick look at the Top 20 most loved South African Gospel Artists
Benjamin Dube
Rebecca Malope
Winnie Mashaba
Khaya Mthethwa
Deborah Fraser
Lindelani Mkhize
Dr. Tumi
Lebo Sekgobela
Mthunzi Namba
Jabu Hlongwane
Sipho Makhabane
Lusunda Mcinga
Hlengiwe Mhlaba
Ntokozo Bambo
KeKe Phoofolo
Dumi Mkokstad
Bethusile Mcinga
Judith Sephuma
Solly Mahlangu
Jaziel Brothers