Tokyo Sexwale's net worth is estimated at a whopping R2.14 billion. The South African self-made billionaire amassed his wealth through various lucrative businesses, politics, investments, and top positions.
The South African billionaire has several luxury cars that he drives around in, and being a wealthy man, he equally lives in a befitting mansion in one of the major cities in the country. The Soweto-born politician is also believed to have properties scattered across South Africa.
The Sources of Tokyo Sexwale's Net Worth
It is no surprise that Tokyo Sexwale has multiple sources of income. However, three of his major and known income streams are business, earnings/salaries from the various enviable positions he has occupied and still occupies, and investments.
Being one of the richest men in Africa, Sexwale is highly revered in both the business community and political space. He occupies several national and international positions and occupies an enviable position on the list of South African public figures with massive net worths.
Credited as one of those who contributed immensely toward the growth and development of the business and political sectors, the value of Sexwale's assets reflects how far he has come in these two major sectors.
Part of Tokyo Sexwale's Net Worth Accrued Through His Political Career
Tokyo Sexwale seriously delved into politics after returning from Robben Island prison, where he spent 13 years behind bars. He was imprisoned in 1977 after he was charged with terrorism and conspiracy to overthrow the government.
However, before then, he had involved himself with party-related activities, including joining Steve Biko's Black Consciousness Movement in the late 1960s and the African National Congress's armed wing, Umkhonto we Sizwe ("spear of the nation") in the early 1970s.
He began his political career by serving as head of the public liaison department of the African National Congress Headquarters, after which he was appointed the head of special projects, reporting to the ANC's military headquarters.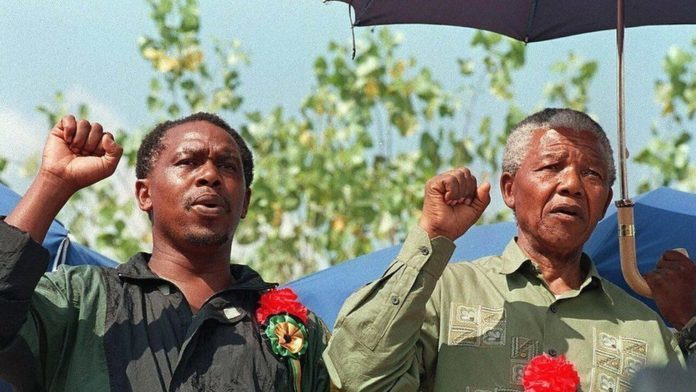 As a top member of the ANC then, he was paid for his activities at the party. However, the exact amount he received then was not publicized. Tokyo began serving as a member of the executive committee of the ANC in the Pretoria-Witwatersrand-Vereeniging (PWV) region after his election in September 1990.
The following year, he emerged as the chairperson of the ANC in the PWV region, and he was in that position until his resignation in late 1997. Again, the ANC did not publicize how much Sexwale received for his services in the region. However, as it is in most political organizations, he supposedly receives a substantial amount as an executive member.
Tokyo was elected as the first premier of the new PWV Province (renamed Gauteng Province in December 1994) after the election in April 1994. He left office on 19th January 1998, but his salary as premier was never publicized. Premiers received R2,260,409 for the 2021 financial year.
Upon completing his tenure in 1998, the Soweto-born businessman left the political scene for reasons best known to him. However, he reportedly left for unverified reasons such as his strong disagreement with Thabo Mbeki, being exhausted by internal African National Congress intrigues, and more.
Tokyo, in 2007, emerged as one of the ANC's 80-member National Executive Committee following his election in December of that year. The ANC pays its employees monthly and other top members. However, there is no breakdown of the exact amount they receive, and it's not clear if their national executive committee members are paid.
Sexwale's tenure as South Africa's Minister of Human Settlements under President Jacob Zuma spanned four years. As published by the wiki, South African ministers of Human Settlement receive R2,211,937 annually as salaries.
2day we launching 341 units of the Morgan's Village III affordable housing project in Mitchell's Plain, Cape Town; together we can do more!

— Tokyo Sexwale (@SexwaleTokyo) May 12, 2011
The South African politician left office in 2013 after the department was formed in 2009. Sexwale was able to amass part of his huge wealth through his salaries as a top-placed officer in the prestigious capacities mentioned above.
Part Of Tokyo Sexwale's Net Worth Also Came Through Several Lucrative Businesses
Tokyo Sexwale is a successful businessman with interest in diamonds and oil. He is currently the executive chairman of the diversified investment company, Mvelaphanda Holdings, which was founded in 1998. The company deals majorly with mining, energy, and related sectors.
He is also the chairman of Mvelaphanda Resources, a subsidiary of Mvelaphanda Holdings, and the controller of his business interest. Tokyo is a major player in the diamond industry and holds massive holdings in the mining sector.
Mvelaphanda Holdings is reportedly the third biggest company after JFPI Corporation and De Beers. He is considered one of the few in the region who truly understand the South African and international diamond mining industry.
The Soweto-born politician occupies top positions at several companies such as Absa Group Limited as a director, Allied Electronics Corporation Ltd as a non-executive director, Barclays Africa Group Ltd (2001-2008), and Gold Fields Ltd as a non-executive director too.
Tokyo received handsome earnings for his involvement in these mega organizations. However, the figure he receives is not public knowledge.
He is also the chairman of the Trans Hex Group Ltd and Northam Platinum Ltd. It is believed that he received a substantial amount from the organizers of the South African version of the reality game show, The Apprentice. He was the host of the show.
Tokyo was also a member of the organizing committee for the 2010 FIFA World Cup, which took place in the country. There is no information about whether he received payment for his contribution towards the successful hosting of the sports event and how much it was.
Mosima Gabriel Sexwale, as he was originally born, is equally a philanthropist and patron of several reputable societies in the country. The former political prisoner is a trustee of:
The Nelson Mandela Foundation
The Robben Island Ex-Prisoners Trust.
The Business Trust
The Global Philanthropists Circle of the Synergos Institute
And the patron of:
The Sky is No Limit (An organization that targets disadvantaged youths to expose them to hi-tech education in computers and aviation).
Save the Family Fund (An organization that takes care of families and communities ravaged by apartheid violence)
Johannesburg Child and Family Welfare Society
Streetwise South Africa (An organization that helps street children.
Tokyo currently serves as the seat holder for A1 Team South Africa, racing in A1 Grand Prix. It's not clear if the anti-apartheid icon makes earnings from his lending his expertise to some of these organizations.
A recap of Tokyo Sexwale's net worth sources
Business
Politics
Personal properties
Top positions at elite organizations
Other unknown endeavors.
Tokyo Sexwale's House
The son of a World War II veteran and a Johannesburg General Hospital clerk and his wife, Sexwale is a self-made billionaire who attained greatness through hard work. The ultra-wealthy politician owns several sprawling mansions in the country.
Most of them are situated in Johannesburg, but their exact locations are not publicly known except the one in Franschhoek, also known as a wine-producing town. The former minister also has properties in the seaside suburb of Cape Town and Clifton.
Tokyo has a home in Oxford Avenue, Sandhurst, Sandton, and another one located around the corner from Nelson Mandela. Reports, however, have it that he sold his homes in Clifton and Oxford Avenue some time ago.
Apart from his magnificent houses, the anti-apartheid icon also owns several properties that befit his status. He has a game farm in the North West Province, an island off the coast of Mozambique, and a private holiday retreat.
Unfortunately, the unique features of these properties are not available for public consumption. However, the video above documents his exotic riverside home.
Which Car Does Tokyo Sexwale Drive?
It is difficult to tell the number of cars Tokyo has, the brands of cars in his garage, and their unique features. This is because the politician does not show off his wealth as most highly-placed men in the country do.
However, the former premier supposedly has a fleet of exotic cars, being someone who has made so much wealth.