Thulisile Phongolo (born 1994, Age: 29 years old) is a South African actress and disc jockey best known for playing the role of DJ Thuli P or Namhla Diale in the soap opera, Generations: The Legacy.
While not many South Africans would be able to identify who Thulisile Phongolo is by her name, a good number of her people and foreigners alike can be able to pick her out of a line up or identify her as DJ Thuli P or Namhla Diale, the famous character she played in the soap opera, Generations: The Legacy. Since her breakthrough into the entertainment world in 2012, the Soweto native has remained very active in the industry, enjoying careers as an actress, voice-over artist, disc jockey, and all-around media personality.
Summary of Thulisile Phongolo's Biography
Full name: Thulisile Phongolo
Nickname: Thuli P
Gender: Female
Date of birth: 1994
Thulisile Phongolo's Age: 29 years old
Ethnicity: African
Nationality: South African
Sexual Orientation: Straight
Marital Status: Unmarried
Siblings: 2
Occupation: Actress and disc jockey
Famous for: her role in the soap opera, Generations: The Legacy
Thulisile Phongolo's Instagram: thuliphongolo
Twitter: @Thuli_P
Who is Thulisile Phongolo and How Old is She?
Born in the South African urban settlement of Soweto in the city of Johannesburg, a township created by the country's apartheid government in the 1930s to separate Blacks from Whites, Thulisile Phongolo was welcomed into the world on the 22nd day of January 1994.
Thuli, as she is called by close friends and family, attended Allen Glen High School at Allen's Nek in Roodepoort, Johannesburg before later getting accepted to the University of Johannesburg to study Strategic Marketing Communications.
While completing the requirements to be awarded a degree, Thuli moved to become an actress. According to her, she did not receive any formal acting training before getting her first role on television. In an interview with True Love Magazine, she opened up on the struggles she had when she started acting, saying: "At first, I struggled with the technicalities of acting. It is not just talent that is needed but the ability to understand the way things are done."
She further went on to explain how asking questions, reading, and practicing helped her understand the way things could be done better. "I have since learned to ask questions from experienced personalities and take note of everything that happens around me at work. Reading and practicing has helped me a lot, as well as exposing myself to real-life situations."
Thulisile Phongolo is well known for her role in the hit soap, Generations: The Legacy where she plays the role of Namhla Diale, the daughter of ex-convict Lucy Diale who is portrayed by Manaka Ranaka. The show was originally aired on SABC 1 in 1994, the year Thuli was born. It was created and produced by Mfundi Vundla and was set against the backdrop of the advertising industry in South Africa.
Generations, which was described as a reality of the present generation's lifestyle, celebrated the hopes and dreams of all South Africans who aspired to have a better future. It further had a huge dose of suspense, tension, and intrigue as stories unfolded and the romance builds between different characters. It also did not fail to attach to it one of Africa's greatest practices; witchcraft and black magic.
Thulisile Phongolo joined the cast of the show in 2014 after the initial principal cast members were fired over a salary dispute which could not be resolved. But while she mainly became popular due to her appearance on the show, Generations was not Thuli's first acting role. Her first role in front of the camera came in 2012 when she was cast to play Zama on the third season of the SABC 1 drama series, Tshisa.
Thuli has also worked as a presenter on the e.tv show Craz-e, a youth block program that had her working alongside Zola Hashatsi, Kriya Gangiah, and Stephanie Sandows among others.
Not one to rest on what she has already been able to achieve, Thulisile Phongolo has since gone ahead to pursue a career as a music DJ under the moniker, Thuli P. She has outrightly said that she is open to having a career as a radio DJ and looks forward to working more in the music world rather than in acting alone due to the greater financial benefits of music.
Details of Thulisile Phongolo's Boyfriend and Family
In recent times, very little details have been made available to the public about who Thulisile Phongolo's boyfriend is. While it was public knowledge that she had been in a long term relationship with actor Raphael Griffiths, who is best known for playing Vusi on the TV show Muvhango, it is not clear how the pair are dong at the moment. Sometime in 2015, it was reported that Thuli and Raphael, who began dating long before they became famous, had broken up. They were however said to have reunited but not much has been subsequently heard from them. It further did not help that the actress took to social media to write that she was done with basic men, a sign that all was not possibly well with that relationship.
In regards to her family, there is no information available about her parents. She is, however, known to have two younger siblings; a brother who is thirteen years younger than her, and a sister who is nineteen years younger than she is.
Read Also: Meet The Hot Wags For The Diski Divas Season 3 Mzansi Magic Reality Show
Checkout Her Cars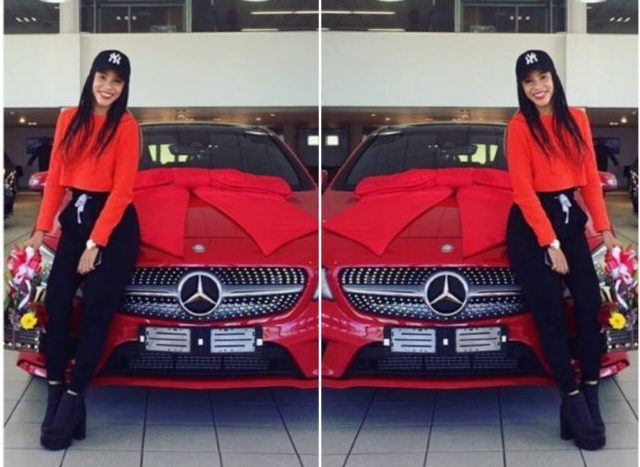 In 2016, Thulisile Phongolo made headlines when she bought a brand new Mercedes AMG. The actress took to Instagram to show off her new car when she acquired it, writing: "I GOT THE KEYS… #GirlsWithMercs #NiggaGotMyOwn UnlockedSoThankYouGOD."
Following the revelation, speculation ensued on social media that the media personality had a blesser, a rumor that she later went on to put to rest by saying she bought the car from the rewards of her own sweat.