Hartbeespoort, commonly known as Harties, is one of the best places in South Africa to have once in a lifetime experience. There are so many fun activities to engage in as Hartbeespoort has several tourist attractions. For those looking to have some adventure and a fix of adrenaline, you can never go wrong with a visit to the city. Harties offers loads of fun with interesting activities such as a speed boat cruise, touring in the animal parks, hiking, canopy tours, quality spa pampering journey, Harties cableway tours, to mention a few.
For many years, the resort town of Hartbeespoort has been an engaging holiday destination for locals and tourists. It is a getaway place to rest from the hustle and bustle of the city and get super entertained. Whether it is for a fun weekend away with loved ones and friends or a long holiday trip, Hartbeespoort guarantees epic outdoor exploration with top fun and adventurous activities.
Where is Hartbeespoort?
Widely known as Harties, Hartbeespoort is located in the North East of the North West Province of South Africa on the route to Sun City. It is a collection of small resort towns situated on the banks of the Hartbeespoort Dam and the slopes of the Magaliesberg mountain as well. Schoemansville is the town's oldest neighborhood. It is named after a Boer General in the Anglo-Boer War, General Hendrik Schoeman. He owned the farm on which the Hartbeespoort Dam was built. Hartbeespoort means "pass of the hartbeest (a specie of antelope in Afrikaans)."
The city is part of Bojanala Municipality and is located in the Madibeng Local District. Besides Schoemansville, Harties is made up of other smaller towns such as Kosmos, Ifafi, Meerhof, and Melodie. The town consists of holiday accommodations and permanent residences around the dam and it is about one hour drive from the greater Gauteng area. Visiting Hartbeespoort from Johannesburg or Pretoria takes less than one hour drive.
Additionally, from Pretoria, Hartbeespoort which borders Pretoria West is 20 kilometers along the N4 highway or Church Street West. It is also 50 km away from the highway in North of Johannesburg down Malibongwe Drive R512. The town is only 15 kilometers away from Lanseria International Airport and then 80 kilometers away from OR Tambo International Airport. It is bordered by the Northern suburbs of Johannesburg in the South, Pretoria in the East, and Rustenburg in the West.
20 Fun Things to Do in Hartbeespoort
As a place where fun adventures await visitors, Harties has something for everyone. The city is an ideal destination for couples, families, adults, and children who wish to have an unforgettable experience. The top fun activities which make Hartbeespoort a must-visit holiday destination include:
1. Ultimate Relaxation at Hartbeespoort Holiday Resort
Location: 445 JQ Portion 5, Old Rustenburg Road, Hartbeespoort, 0216, South Africa
Website: www.hartbeespoortoord-resort.co.za
Phone: (012) 200 9902/3
Instagram: @hartbeespoort_holiday_resort
Visiting Time: Monday to Friday: 8 AM – 5 PM; Saturday & Sunday: 8 AM – 1 PM
Hartbeespoort Holiday Resort is the best venue for couples and families to relax and equally get entertained during weekends or holidays. It is located in a tranquil environment and the experience is usually breathtaking. They have a variety of great accommodation choices offered at great prices and the resort also has four swimming pools – a jacuzzi, a heated pool, a double suicide high water slide at the new top pool, and a high water slide at the day visitors' area.
They additionally have exciting activities for kids. They have on-site jumping castles, trampolines, Putt-Putt, a fully-fledged skate park for bicycles and skateboards, and a golf driving range. For couples night out, there is the availability of braai facilities where the lovebirds can spend quality time together.
Fun Facts:
Hartbeespoort Holiday Resort is situated on a 20 hectare of land nestling at the foot of a mountain.
Security is top-notch on the premises. They have security guards and CCTV cameras in place.
The price rates for the accommodations at the resort differ as they have an off-season price rate, peak season rate, and that of the winter season.
Group day visit to Hartbeespoort Holiday Resort starts at 8 AM and ends at sundown. Groups and companies are advised to book for the visit in advance.
2. Visit Hartbeespoort Dam
Location: 1 Scott Street, Hartbeespoort Dam, 0216, South Africa
Entrance Fee: No
Website: www.harbeespoort-dam.co.za
Phone: 012 253 0195
Instagram: @hartbeespoort_dam
Visiting Time: Monday to Sunday: 7 AM – 5:30 PM
Hartbeespoort Dam is one of the busiest tourist attractions in Harties. The dam is the main water recreation spot for residents of the Northern District of Gauteng. Its current capacity is 205 million cubic meters. As a result, many types of water sports are enjoyed on the dam. The adventurous and exciting activities one can engage in while visiting the dam include hot air ballooning, jet-skiing, sailing, hiking, and boat cruise.
One can also enjoy the beauty nature has to offer as the arch-type dam has bird sanctuaries. Hartbeespoort Dam is one place people easily go to enjoy their weekends or a long weekend. This makes the venue perfect for a picnic with family and friends. Kids also have jungle gyms to play in and many more fun activities to do while couples can relax near the water body and enjoy the beautiful view of the dam.
Fun Facts:
Hartbeespoort Dam was completed in the year 1923 and its shoreline when full is about 56 km.
The dam wall is constructed across a gorge cutting through the Magaliesberg and is 149.5 meters long and 59.4 meters high.
The Dam is the only South African Dam with a Roman Triumphal Arch Style wall. The design of the arch is based on the Arch de Triomphe in Paris.
Though entrance into the premises is free, each activity has its own charges. For example, entry into the picnic spot costs R100 per car.
3. Soar The Sky with Aeriel Cableway Hartbeespoort
Location: Plot 3, Melodie, Agricultural Holdings, Hartbeespoort
Website: www.hartiescableway.co.za
Phone: +27 (0)12 253 9910/1/2/3; +27 (0)79 023 3012; Email: [email protected]
Instagram: @harties_cableway
Visiting Time: Monday to Friday: 09h00 – 16h30; Saturdays & Public Holidays: 08h30 – 17h00; Sundays: 08h30 – 16h00.
If you are looking to have unlimited fun at Hartbeespoort, then try to visit Harties Cableway whenever you are in town. Harties Cableway is one of the major attractions in Hartbeespoort. It offers families the ultimate excursion with fun-filled outdoor activities. While on the cable car tour, one enjoys the panoramic views of the Hartbeespoort Dam, beautiful Magaliesburg, and the surrounding areas. You can equally get the adrenalin pumping by engaging in adventurous sports activities such as hiking, boost n' bounce, boat cruises, horse riding, downhill mountain biking, and paragliding.
With Harties Cableway being a great venue for family outings, they have kids zone play area where kids normally have memorable experiences. The boost n' bounce, which is located on the mountaintop, has two sessions that last for 5 minutes. People who are 16 years and older pay R150 for the two sessions while those under the age of 16 pay R100 for the two sessions. More so, the venue has restaurants on the mountaintops with great views and they offer cocktails, light meals, authentic wood-fired pizza, and refreshments.
Fun Facts:
The Harties Cableway is a cashless facility and thus, only accepts credit card payments.
The cableway restaurants have delicious meals for babies and toddlers (from six months and older).
Pets or weapons are not allowed on the premises and children below the age of 16 are to be accompanied by an adult.
The two-seater price rate for persons under 16 years is R200 per person while that of persons over 16 is R290 per person.
If you visit the Harties Cableway on your birthday, the cable car ticket will be given to you for free, but the offer is subject to the presentation of your ID document.
The cable car tickets rates are as follows:
Children (aged 4 to 14) – R160 per child
Pensioners (subject to presentation of ID document) – R160 per person
Adults – R250 per person
4. Get a Meal at Little Paris Hartbeespoort
Location: R511, Hartbeespoort, 0216
Entrance: No
Website: www.frenchtoastharties.co.za
Phone: +27 78 592 6953; 078 592 6953; Email: [email protected]
Instagram: @frenchtoastharties
Visiting Time: Monday to Sunday: 08h00 – 17h00
Located on the main street of Hartbeespoort, Little Paris has something for everyone. The venue is perfect for couples' romantic dates, family getaways or friends' hang out. The popular attraction has a gift shop, a boutique, and a french-styled restaurant known as the French Toast Coffee Cafe. Having erected a miniature version of the "Eiffel Tower" hidden at the end of the lake, the place has been one of the most visited places in South Africa. One can enjoy views of the lake by walking around the tower or across the little bridge. The beautiful environment is great for photoshoots which help to keep a lasting memory of your visit.
Fun Facts:
Little Paris offers an awesome romantic experience as couples can seal their love forever by purchasing an engraved padlock which they will place on their favourite spot on the lock bridge.
The entrance of the "Eiffel Tower" is filled with a variety of colored padlocks which adorn the railing of the lake.
Little Paris' French Toast Coffee Cafe was specially constructed as the official bar for the movie, French Toast and was called Café Alexandre in the movie.
The café was the official premiere venue for French Toast and can accommodate a maximum of 150 people.
5. Have a Funfilled Interaction with African Elephants
Location: R104 Old Rustenburg Road, Madibeng 0216, South Africa
Website: www.elephantharties.activitar.com
Phone: +27 (12) 258 9904
Visiting Time: Monday to Sunday: 08h00 – 14h00
In order to make your visit a memorable one, Elephant Sanctuary, Hartbeespoort has provisions for overnight accommodation. At the venue, visitors get to have an exciting intimate experience with African elephants. They will have hands-on educational elephant interactions. There are also dedicated staff on site who are committed to making sure that guests have an amazing experience. They achieve this by getting the elephants relaxed using positive reinforcement elephant training methods. Elephant Sanctuary tours are very informative as the staff members are knowledgeable and also friendly. Guests are always advised to wear comfortable clothing, flat shoes, and sun hat to the venue.
Fun Facts:
At Elephant Sanctuary Hartbeespoort, the featured services include Elephant Interaction, Elephant Interaction, and Monkey Sanctuary Tour, and Elephant Brush Down & Interaction.
The cost for Elephant Interaction is R895 per adult.
Elephant Brush Down & Interaction costs R895 per adult.
Elephant Interaction & Monkey Sanctuary Tour costs R1,110 per adult.
The sanctuary has a coffee bar on site.
Only booked guests are allowed to participate in the tour and they are to come with a camera to capture the fun moments.
6. Experience a Wide Range of Indigenous Reptiles
Location: 1 Scott Street, Hartbeespoort Dam, 0216, South Africa
Phone: +27 12 253 1162
Visiting Time: Monday to Sunday: 8 AM – 4:30 PM
This is a must-see venue for any adventurer who loves touring in the wild. Hartbeespoort Dam Snake & Animal Park brings fun, adventure, and excitement to the table. It has one of the best reptile collections in South Africa and is mostly visited by couples with young ones. The place is also ideal for a romantic date for couples who wish to do a different thing. They will get to watch seals perform shows, as well as enjoy live reptile shows which are held daily. During the guided tours, guests get educated on venomous snakes and they will get to see fascinating animals besides reptiles, including lions, tigers, birds, chimpanzees, hyenas, and wild dogs.
If you are too scared to participate in the tours, you can have a wonderful experience by catching the antics of resident seals in the seal pool or by spending time with a large breeding group of chimpanzees that often get visitors entertained.
Fun Facts:
Hartbeespoort Dam Snake & Animal Park is situated at the base of the Magaliesberg Mountains and has been in existence for over 50 years.
Snake lectures going on at the park are approved by the Field Guides' Association of Southern Africa.
During the guided tours, visitors would learn how to identify different kinds of snakes, how to avoid snakebites, and what to do if bitten by a snake.
The park's entrance fees are:
Children under 3 years – Free
Children above 3 years – R70
Adults – R140 per person
7. Beer Tasting at Incendo Distillery
Location: Plot 91 Rietfontein, Hartbeespoort, 0216
Website: www.incendo.co.za
Phone: 071 896 2563 / 083 0387 3344; Email; [email protected]
Instagram: @incendodistillery
Visiting Time: Monday to Saturday: 11 AM – 5 PM; Sundays: Closed
A tour around Incendo Distillery accompanied with a superb tasting of hand-crafted spirits normally leaves visitors craving for another visit to Hartbeespoort. The craft distillery offers award-winning hand-crafted spirits and wine and the owners of the place are very committed to ensuring that guests have a fun and unique experience whenever they come around. During the tour, guests get educated on how rum, gin, and whisky are made and also learn means of identifying a real handcrafted spirit from mass-produced commercial products.
Visitors equally learn about the conservation of local plants while experiencing the botanical gardens on the premises. Besides the tour, one can enjoy a great cocktail at the venue while relaxing with the Magaliesberg mountain range in view.
Fun Facts:
Incendo Distillery was established by husband and wife, Francois and Vonmari Joubert in the year 2017.
At the distillery's tasting room, visitors get to taste experimental flavors and 'prototype' products.
Incendo Distillery is the home of the ID rum and Magalies gin ranges.
8. Tour Around Jasmyn Crafters Market
Location: 1 Jan Smuts Meerhof, Ifafi, Hartbeespoort
Entrance: No
Phone: 012 259 1183
Instagram: @jasmyncraftersmarket
Visiting Time: Jasmyn Fruit & Veg: 08h00 – 17h00; Crafters Market: 08h00 -15h30; Book & Gift Shops and Restaurants: 08h00 -17h00
Another beautiful spot to visit in Hartbeespoort is the Jasmyn Crafters Flea Market. It has a quaint little shop that sells the most iconic decor ever. Families flood the market to shop for farm produce as the market has fresh vegetables and fruits, as well as imported goods at competitive prices. It usually turns out to be a lovely outing for everyone. Even if you don't feel like shopping, you can have an amazing time touring around the market, feeding your eyes on several beautiful goods sold in the arena. Also, there are three restaurants available on the premises where you can grab a drink or delicious meal.
Fun Facts:
Lovely handmade goods such as fine linens, pillows, and home soft furnishings are sold at Jasmyn Crafters Flea Market at the best prices.
The market has a huge bookstore known as Boekery and a gift shop as well. The bookshop has incredible books for children.
Jasmyn Crafters Flea Market is nicknamed "Shoppers Paradise" by its visitors. It is very convenient and children-friendly and definitely worth a visit.
9. Have a Phenomenal Interaction with Cheetahs and Wild Dogs
Location: R513, Entrance 22, Hartbeespoort, 0216, South Africa
Website: www.dewildt.co.za
Phone: 063 693 7403 / 072 285 3553
Instagram: @dewildt_cheetahcentre
Visiting Time: Monday to Sunday: 08h00 – 17h00
You can enjoy an absolutely phenomenal moment at the Ann van Dyk Cheetah Centre. It is home to cheetahs, wild dogs, vultures, and many small cats. You will have unlimited fun while watching some of the activities going on at the center. They include feeding of the wild dogs and zebras, cheetah run which is awesome to behold as guests are usually thrilled watching how a cheetah runs at a high speed. The cheetah run and tours provide an excellent photographic opportunity. The knowledgeable guides on the site make the tours super exciting as they will get you informed about some of the wildlife behaviors.
Fun Facts:
The Ann van Dyk Cheetah Centre was founded as a cheetah breeding project in the year 1971.
Previously known as De Wildt Cheetah Centre, the animal park was renamed Ann van Dyk Cheetah Centre as a tribute to Ann van Dyk – a woman who devoted her life to the survival of the cheetah and other rare and endangered species.
Some successful conservation projects have been initiated at the center since its establishment and one of them is the African wild dog breeding program.
The cheetah center has a curio shop that sells fluffy cheetah and wild dog toys as well as pieces of jewelry and books.
10. Shopping at The Aloe Farm
Location: The Aloe Farm, R104, Hartbeespoort, 0216, South Africa
Website: www.thealoefarm.co.za
Phone: +27 71 162 6790; Email: [email protected]
Instagram: @thealoefarm
Visiting Time: Monday to Sunday: 7:30 AM – 4:30 PM
The Aloe Farm is another great place to visit in Hartbeespoort. It has become a popular tourist destination for plant and garden lovers. It has a beautiful bush garden and affordable nursery with a wide range of plants, roses, and aloes. Exploring the garden and feeding your eyes on the beauty of nature brings about exciting feelings. One can also shop for plants at the venue or observe the amazing birdlife. Due to the awesome bird-watching experience, the farm has been a major spot for avid bird photographers. While taking a walk through the garden, you will get to learn about the farm's unique varieties of plants.
Fun Facts:
The Aloe Farm features over 30,000 plant varieties that are grown for evaluation.
The farm was purchased and named by Andy de Wet of CND Nursery.
It mostly has aloe veras which are constantly on display. The plants can equally be bought if one decides to take a piece of nature home.
Besides wholesale and retail of plants, the Aloe Farm carries out research nurseries of mainly Southern African plants.
11. Spend a Day Out of The Ordinary at The Upside Down House
Location: R3, Broederstroom, Hartbeespoort
Entrance: Yes
Website: www.upsidedownhouse.co.za
Phone: 063 100 9858; Email: [email protected]
Instagram: @upsidedownhousesa
Visiting Time: Monday to Friday: 09h00 – 18h00; Saturdays & Sundays: 07h00 – 18h00; Public Holidays and School Holidays: 07h00 – 18h00
A visit to the Upside Down House is apparently a family affair and those who are to explore the attraction are encouraged to go with loved ones and friends to experience a day out of the ordinary. Since its establishment, the house has been causing a buzz as it is the first in South Africa. The unusual structure was constructed based on the idea that sometimes, the world around us feels as it is upside down. As such, the Upside Down House usually opens the mind of its visitors to start seeing things from a different perspective. The unique home is built with rooms like a basic home but, decorated with sofas, chairs, dining table, appliances, and beds hanging from the ceiling.
This contributes immensely to the incredible experience guests normally have while visiting the venue. The venue also provides an additional fun experience for the children. It has jumping castles and coin-operated kiddies rides. Upside Down House additionally has a perfect setting for photoshoots. It provides great posing opportunities for guests as they appear to be dangling from the roof or simply suspended in the air. The venue further boasts a small takeaway restaurant that offers unique dishes.
Fun Facts:
The Upside Down House has an acclaimed architectural design as its inside is upside down and the furniture appears to be defying gravity.
With the Upside Down House being built on an angle, visitors often feel an illusion when entering it and their minds cannot comprehend what is happening.
The entrance fee is only for admission into the premises and does not cover the fees required for any of the activities going on at the premises or for sightseeing.
The entry fee for children between the ages of 4 and 7 is R60.
Kids below the age of 3 and elderly people, who are 80 years and older, are allowed to visit the Upside Down House for free.
Pensioners pay the entrance fee of R60.
Adults pay an entrance fee of R100 per person.
For Group Admission
Kids (10 kids): 10% discount
Adults (18 people to 39 people): 10% discount
Adults (40+ people): 15% discount
12. Make a Trip to Bush Babies Monkey Sanctuary
Location: R104 Old Rustenburg Road, Hartbeespoort, 0216, South Africa
Website: www.monkeysanctuary.co.za
Phone: +27(0) 12 258 9904/5/6/7/8; Email: [email protected]
Instagram: @bushbabymonkeys
Visiting Time: Monday to Sunday: 09h00 – 17h00
Situated in one of the many Kloofs of the Magaliesberg mountain range, the Bush Babies Monkey Sanctuary provides shelter for orphaned and abused primates. The venue is ideal for family excursions as they will have an interaction with the monkeys and equally get entertained watching monkeys from around the world roam about in an exquisite natural environment. The guided tours around the environment roughly last longer than an hour.
The walk is leisurely over a 3km distance and guests are advised to wear comfortable shoes, sunblock and/or hat, and a backpack or zipped bag for keeping loose items. Cameras are also needed for the fun adventure to keep a lasting memory of it. Some of the animals living in the sanctuary are monkeys, bushbabies, common brown lemurs, squirrel monkeys, ringtail lemurs, capuchin monkeys, and black-handed spider monkeys
Fun Facts:
Bush Babies Monkey Sanctuary tours are on the hour. The first tour starts at 09h00 while the last tour starts at 16h00.
Bookings are not required unless you are coming with a group of 15+.
All tours are structured and guided. The highly informative tours provide guests with an understanding of the exotic pet trade and the efforts the sanctuary is making to stop it.
The ticket fees for the tours are:
Children under four years – Free
Children between the ages of 4 and 14 – R220 per child
Pensioners – R285 per person
Adults – R395 per person
Birthdays – Free (the birthday gift is subject to the presentation of South African ID or Driver's License)
A full-day special tour at the sanctuary costs R1,960 per adult and R1,350 per child.
For South African School Groups
Teachers – R175 per person
Primary School Children – R140 per child
High School Children – R170 per child
Accompanying adults – R225 per person
13. Retro Photoshoots at Pretville Film Set
Location: R511, Rietfontein, Hartbeespoort, 0216, South Africa
Entrance: Yes
Website: www.pretville.co.za
Phone: 083 266 8567
Instagram: @pretville_town_harties
Visiting Time: Saturdays, Sundays, and Public Holidays: 8 AM to 4:30 PM
If you are looking for where to take stunning retro pictures, then Pretville Film Set should be on top of the places to visit in Hartbeespoort. The venue has a fun and beautiful setting loved by adults and children. It is also perfect for a romantic diner as its kitchen serves tasty meals. They also offer real roadhouse milkshakes and delicious hamburgers. One can equally shop for lovely items at their gift shop. Additionally, Pretville movie theatre shows films on specific dates which can be confirmed on their website. Being surrounded by old cars and memorabilia often leaves guests feeling nostalgia.
Fun Facts:
Pretville town is the film set of the Afrikaans music film, Pretville, that was set in the 50s.
Though no bookings are required to visit the place, one is advised to book for the movie theatre shows to avoid disappointment.
Movie ticket costs R60 per person and the movie shows are held at 9 AM, 11 AM, 1 PM, and 3 PM.
The entry fees into Pretville Film Set are as follows:
70 years and older: Free
Pensioners (65 years old – 69 years old): R50 per person
Children (2 years old – 12 years old): R50 per person
Adults: R100 per person
14. Shopping at Welwitschia Country Market
Location: R511, Damdoryn Road, Hartbeespoort
Entrance: No
Website: www.countrymarket.co.za
Phone: 083 302 8085; Email: [email protected]
Visiting Time: Tuesday to Sunday and Public Holidays: 09h00 – 17h00
Every lover of arts won't miss a spectacular shopping and touring experience at the Welwitschia Country Market. The eco-village country market situated on the Damdoryn crossroads of Hartbeespoort Dam has a wide range of crafts and special gifts filling the warren of the market stores. You can also enjoy the rustic ambiance while walking through the brick-paved pathways under the shades of trees, shopping for unique and proudly South African goods at affordable prices. A day spent at the country market offers loads of fun for kids as there is standard kids' play zone. This makes the venue perfect for a family outing.
Fun Facts:
Welwitschia Country Market has an Upper Deck Restaurant that could serve as tourist attraction on its own.
At the country market, kids are spoilt for choices. They have many fun and exciting activities for kids such as colored hair spraying, face painting, jungle gym, temporary tattoos, coin-operated, jumping castle, undercover play area, etc.
Each weekend at Welwitschia Country market spells fun as there is a lineup of live music shows from the most talented artists in the region.
15. Rejuvenate Soul, Mind, and Body at Cradle Health Spa
Location: Portion 342 (R560), Skeerpoort, Hartbeespoort
Entrance: No
Website: www.cradlehealthspa.co.za
Phone: 01 05 01 00 65
Email: [email protected]
Instagram: @cradlehealthspa
Visiting Time: Weekdays: 08h00 – 17h00; Sundays: 08h00 – 16h00
Get to have a holistic healing experience by visiting Cradle Health Spa situated at the foothills of the majestic Magalies mountains. The facility, which is perfect for romantic dates, beautifully combines the tranquillity of nature with the comfort of luxury. As a result, it caters to every need of its guests. The spa has amazing treatment packages that bring the body and soul into harmony. They include massage therapy, hand and foot treatments, facial treatments, body treatments, and hair removal.
In addition, Cradle Health Spa has a romantic overnight package for couples, which is only available on Fridays and Saturdays. The special package costs R3, 300 per couple.
Fun Facts:
Cradle Health Spa has a standard restaurant that serves a variety of tasty meals.
The operating hours of the restaurant are as follows:
Monday to Tuesday: Closed
Wednesday to Thursday: 08h00 – 17h00
Friday to Saturday: 08h00 – 21h00
Sundays: 08h00 – 16h00
Cradle health spa packages and prices are listed below;
Cradle half-day package – R1,200 per person
Honeymoon package – R2,000 for two
Besties package – R2,400 for two
Pensioners special – R300 per person
Steam delight package – R1,100 per person
Just the two of us package – R1,850 for two
Deluxe full day package – R2,000 per person
Revival full day package – R1,850 per person
16. Super Exciting Harties Boat Cruise Experience
Location: Kommando Nek Resort, Simon Bekker Avenue, Hartbeespoort, 0216
Website: www.hartiesboatco.co.za
Phone: +27 12 253 5045; Email: [email protected]
Instagram: @hartiesboatcompany
Visiting Time: Monday to Sunday: 9 AM – 5 PM
Harties Boat Company offers a sensational boat cruising on the waters of Hartbeespoort Dam. The experience is usually breathtaking as you will get to relax on the boat while enjoying the sounds of the water passing underneath or the beautiful view of birds swooping over the dam or fish jumping from below. The boat cruise also includes a buffet of gourmet finger and fork snacks which makes it an ideal spot for couples, families, or friends. During the Daily Lunch or Sunset cruises, you will get to enjoy the beautiful scenery of the quaint Kosmos Village to the dam wall, as well as the fantastic waterfront homes across the Eagle Waters, Pecanwood Estate, and golf course.
Fun Facts:
The 2-hour boat cruise is divided into many sessions, nonetheless, they have the same price rate of R495 per adult and R245 for children (6 years -12 years).
The boat cruise sessions are:
Breakfast/brunch cruise on Saturday and Sunday mornings
Daily lunch cruise
Daily champagne sunset cruise
17. Get Adrenaline Pumping at Arrow Rest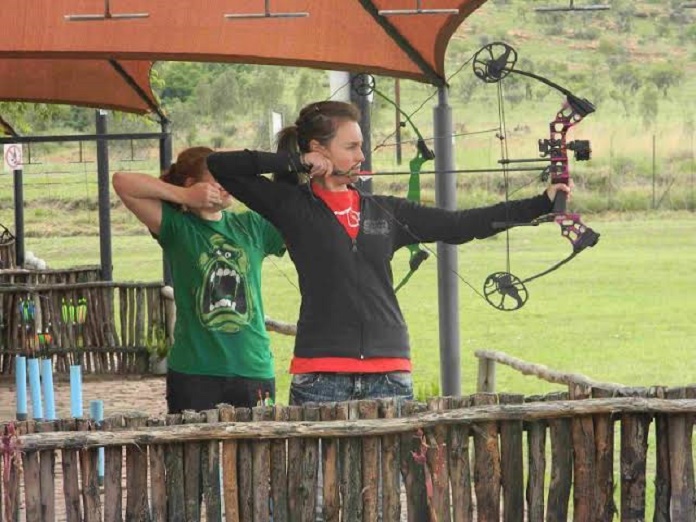 Arrow Rest has something for everyone as the facility guarantees an ample fun experience for all ages. It is a great place for outdoor activities. The venue has superb settings with spectacular views of the mountain and the Hartbeespoort Dam as well. The facility features funfilled activities such as quad biking, bass fishing, paintball, 3D walk and stalk target course, and archery. It also features a golf driving range and putting green which offers a 9-hole mashie course with 18 tees, as well as professional golf coaching and ladies/beginners golf programs.
Fun Facts:
Arrow Rest has a beauty and hair salon at the site for ladies pampering.
It also has a breakfast and lunch bar called Arrow Rest Café.
A wide variety of bows and camo clothing are available at the Arrow Rest Archery Shop.
18. Harties Horse Trail Safaris and Tours
Location: Silkaatsnek Nature Reserve, R511, Hartbeespoort, 0216, South Africa
Entrance: No
Website: www.hartieshorsetrailsafaris.co.za
Phone: +27 64 907 4827; Email: [email protected]
Instagram: @hartieshorsetrailsafaris
Visiting Time: Monday to Friday: 8 AM – 4:30 PM; Saturdays and Public Holidays: 8 AM – 5 PM; Sundays: Closed
Harties Horse Trail Safaris offers an unforgettable experience with sensational horseback safaris and tours. Interestingly, on all trails, amazing wildlife is viewed up close. The tourist attraction is situated inside the popular Silkaatsnek Nature Reserve and is only 60 minutes drive from Pretoria, Rustenburg, and Johannesburg. Sunrise safaris include a one-hour tour which starts at 8:30 AM and cost R350 per adult and R300 per child. The venue also has a fun package for couples known as sweetheart surprise and it costs R900 per adult. Families can also have a fun adventure the whole day by having a 2-hour group picnics, then take part in the two hours mid-morning ride and wrap the day up with a one-hour afternoon ride.
Fun Facts:
You do not need to have any riding experience to be part of the horseback safaris.
There are limited spaces for Horse Trail safaris on Saturdays. As a result, visitors are advised to book at least two weeks in advance.
Children, who are six years and older, can equally participate in horseback safaris and tours.
19. Make a Trip to Chameleon Village Lion Park
Location: Chameleon Village, R104 Old Rustenburg rd Damdoryn, Hartbeespoort, 0216
Entrance: No
Website: www.chameleonvillage.co.za
Phone: 073 183 1795; Email: [email protected]
Instagram: @chameleonvillage
Visiting Time: Monday to Sunday and Public Holidays: 8 AM – 5 PM
Another place to have a fun adventure in Hartbeespoort is the Chameleon Village. The venue provides memorable action adventures that greatly build team spirit in couples and in families as well. They offer exciting tourism experiences with activities such as motorized big wheel drift trikes, 18-hole Putt-Putt, archery, kids water spray game, human foozeball, go-karts, and paintball. They also have a lion and tiger park, as well as a snake and reptile park. There are diverse shops at the Chameleon Village where one can get unique artifacts, home, and garden decor, and ethnic jewelry at great prices.
Fun Facts:
Chameleon Village has an African curio market, garden shops, an ugly duckling décor store, and a crafters market on site.
The venue also has great restaurants where guests can enjoy a wide variety of dishes and snacks. They include Ristorante Italiano, Laurentina's Gelato Ice Cream Kiosk, Madagascar Café, and Belgian Waffle House.
Chameleon Village's snake and reptile conservation park houses a variety of snakes, tarantulas, tortoises, crocodiles, lizards, and mammals like meerkats.
Live reptile demonstrations are held on the premises at 11 Am, 1 PM, and 3 PM.
The ticket rates are: R120 for adults, R50 for kids under 12 years, and children under 3 years enter for free.
20. Harties River Hiking Trail Tours
Location: Plot 238, Crocodile Road, just off T-Junction R512 & R104, Broederstroom, Hartbeespoort
Entrance: No
Phone: +27 63 177 4735
Instagram: @harties_river_hiking_trail
Visiting Time: Saturdays and Sundays: 7:30 AM – 12 PM
Get to have a super exciting tourism experience irrespective of your age with Harties River Hiking Trail Tours. The place has over 6 kilometers of well-marked trails that are majorly used for hiking, walking, and running. Visitors enjoy the beautiful scenery along the way (stunning views of the Magaliesburg and the river) during the tours. There is also an intermediate trail with amazing views at the top. Before the hike, an informative briefing session is carried out by the staff members who will also give a contact number to the participants in case of emergency.
Fun Facts:
Harties River Hiking Trail has diverse hike programs that can be done with the whole family. They include a 6km Easy Route, 8km intermediate route, and 10km intermediate route.
Bookings are recommended as the venue is only open on weekends and most public holidays.
The price rates are as follows:
Kids below the age of 12 – R30
Adults – R60 per person
When is The Best Time to Visit Hartbeespoort?
In addition to Harties being a great venue to interact with Africa's greatest treasure–abundant wildlife and equally having the best spots for romantic getaways, it boasts of almost all year round pleasant warm weather. Hence, it is the best place to be from March to May and then from August to October. Having a semi-arid climate, Hartbeespoort experiences limited rainfall. The average highest temperature of the area is 31.2°C which is witnessed in mid-February, and the lowest (20°C) normally occurs in June and July.
As a result, the warmest time to visit Harties is in January, February, or December. Also, the months with the lowest chance of precipitation are June, July, and August. The town's average annual temperature is reportedly 25°C. Based on reports, Hartbeespoort is usually flooded by tourists in June, September, and October. These months are known as the busiest months for tourism in Harties. Consequently, the prices for flight and accommodation are usually at the highest during this time, but the prices for the flight ticket can be pegged down if purchased in advance.