Itumeleng  Khune (born 20 June 1987) is a professional soccer player from South Africa who plays as goalkeeper for his country's national team and also for the Kaizer Chiefs in the Premier Soccer League.
When naming legends of South African football, past or present, there are less than a hand full of names that come to mind before Itumeleng Khune. The goalkeeper, who has the honor of serving as both the captain of his national team and his club Kaizer Chiefs, is revered for his leadership skills as well as for his ability between the sticks. In 2015, he was rated among the top 10 goalkeepers in the world on FifaPlayerRatings.com which pointed out that his main attributes were his reflexes/close-shot saving, diving/free-kick stopping, and elite kicking/distribution abilities.
Khune introduced himself to the world when he saved a David Villa penalty and proceeded to make a double save in a group stage match in the 2009 FIFA Confederations Cup against Spain. His next notable moment in the limelight came when he performed a scorpion kick save that was similar to the one made famous by the legendary Colombian goalkeeper, Rene Higuita in 2015.
Born on the 20th of June 1987 in Tshing, Ventersdorp in South Africa's North West Province, Itumeleng Khune's journey to becoming a professional goalkeeper was not as straightforward as you would imagine. As a young boy, he was a huge cricket fan who wanted to play the sport like his idol Nicky Boje. Things, however, did not go according to plan and he switched to concentrate on becoming a footballer, a move that time has proven to be the best decision he would ever make.
Summary of Itumeleng Khune's Biography
Full name: Itumeleng Isaac Khune
Nickname: The Spiderman of South African football
Gender: Male
Date of birth: June 20th 1987
Place of birth: Tshing, Ventersdorp, South Africa
Itumeleng Khune's Age: 36 Years Old
Ethnicity: Black
Nationality: South-African
Zodiac Sign:  Gemini
Sexual Orientation: Straight
Marital Status: Married
Itumeleng Khune's Wife: Sphelele Makhunga
Itumeleng Khune's Children: Amogelang Zenande Khune
Parents: Elias Khune, Flora Khune
Siblings: Lucky Khune, Makhune Khune
Education: St Barnabas, Westridge, New Nation, and RW Fick
Itumeleng Khune's Height in Inches:  71
Itumeleng Khune's Height in Metres: 1.81
Itumeleng Khune's Weight: 76 kg
Itumeleng Khune's Net worth: $4 M
Famous for: Being a soccer player
Itumeleng Khune's Instagram: itukhune32
Twitter: IIKHUNE3216
Things We Bet You Did Not Know About Itumeleng Khune
1. He is Not the Only Sportsman in His Family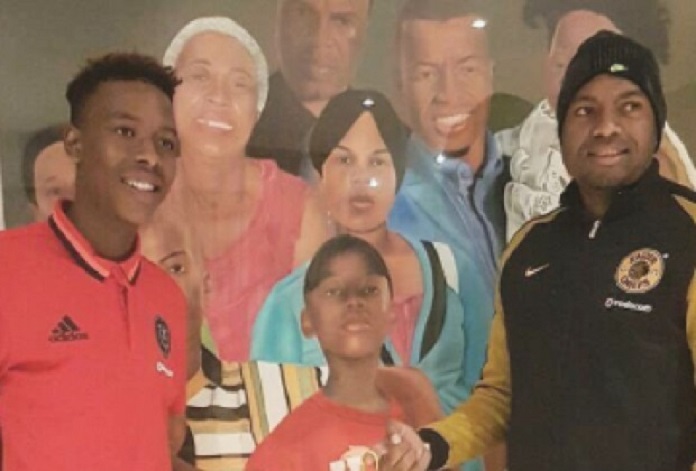 Khune, who attended New Nation, Westridge, St. Barnabas, and RW Fick High Schools, is one of six children to his parents; Flora and Elias Khune. The goalkeeper looks to have gotten his athletic genes from his father who played amateur football as a striker while he made ends meet as a driver at a mine in Carletonville.
Another member of the family to have tapped into these genes is Itumeleng's younger brother Lucky who plays in the same position as his father did. Alongside his brother, Lucky played for Kaizer Chiefs before moving to another Premier Soccer League side, Chippa United.
2. Khune Began His Football Career as a Defender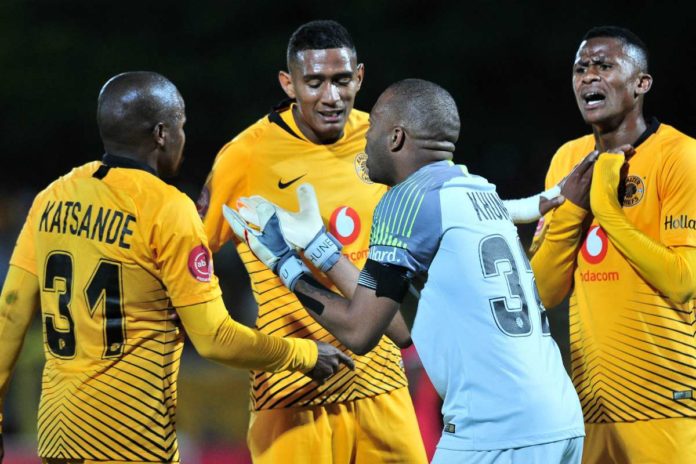 When he went for trials at Kaizer Chiefs in 1999, Khune tried out as a defender. He was said to have experienced chest pains which made him only able to get a position as a ball boy. His antics while performing that role, however, caught the attention of youth coach Terror Sephoa who kept a close eye on him as he often dived for balls that missed the target.
Sephoa went on to convert the young boy to a goalkeeper, a position where he was able to impress his coaches and also get the attention of the coaches of the youth national team set up. In 2003, Khune played for the South African under-20 side before gaining promotion to the Chiefs' senior team in the following year. In 2005, Khune moved up to play for the SA under-23 side as he waited for his chance to appear for his club.
After a total of three years on the sidelines, the goalkeeper was able to get game time in the 2007/2008 season following the departure of the club's number one goalkeeper, Rowen Fernandez. Chiefs coach Muhsin Ertugal assigned him to the first team and he made his debut on the 25th of August 2007 against the Jomo Cosmos.
3. He is one of the Richest Footballers in South Africa
Itumeleng Khune has been well rewarded for his talent and for being one of South Africa's most influential football players in recent times. As of 2015, his salary was approximated to be around $33,000 (R325,000) a month while his net worth was estimated to be in the region of R20 million.
Read Also: What You Didn't Know About Senzo Meyiwa, His Life, Death, and Funeral
4. Itumeleng Khune Has Won a Flurry of Awards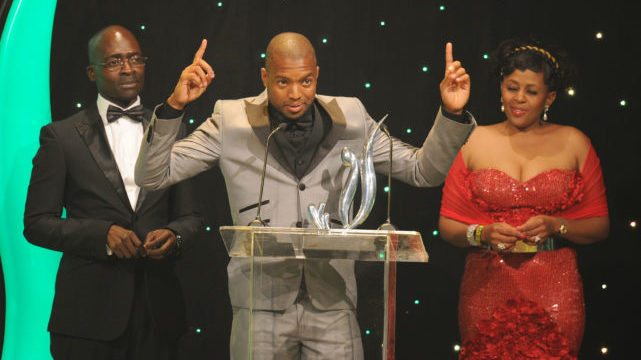 Ever since he made his debut as a professional footballer in 2007, Khune has won a flurry of awards that has certified his status as one of South Africa's favorite goalkeepers.
In 2007, he was named Telkom Knockout Player of the Tournament and Telkom Knockout Goalkeeper of the Tournament. At the end of the 2007/2008 season, the goalkeeper was further named Kaizer Chiefs Player of the Season, Premier Soccer League Goalkeeper of the Season, Kaizer Chiefs Player's Player of the Season, PSL Player's Player of the Season, and PSL Club Rookie of The Year. 2008 saw he receive the SA Sports Awards Newcomer of the Year award.
Between 2008 and 2012, Khune's performance was hindered by a few injuries. He was, however, able to get back to normal activities in the 2012/2013 season to earn the PSL Player's Player of the Season, PSL Footballer of the Year, Kaizer Chiefs Player of the Season, Premier Soccer League Goalkeeper of the Season, and Kaizer Chiefs Player's Player of the Season awards at the end of the campaign.
2013 further saw him bag the SA Sports Awards Sportsman of the Year and the Nedbank Cup Player of the Tournament. The most recent award he has gone on to receive is the 2013/2014 Premier Soccer League Goalkeeper of the Season.