Uncle Vinny (April 24, 2002) is a South African singer, dancer, radio host, actor, event organizer, content creator, and MC. He is best known for his signature dance moves, such as the viral #UncleVinnyChallenge
If Nasty C is the coolest kid in Africa, Uncle Vinny would be the coolest kid in South Africa. In April 2021, he attracted the entire country's attention after snippets from his birthday party made it to social media. The event drew the attention of many celebrities and young individuals who queued up to be a part of the massive event held at the Neighbourgoods Market in Braamfontein. Yong people from different parts of the country traveled to celebrate the day with him, not minding that they had to spend hours in long queues.
Vinny is a teenage star who works as an MTV Base VJ, although his rise to fame was thanks to his incredible dancing skills, which made him a social media star. More than the facts you already know about him, the unrivaled attention he has been getting from young South Africans has gotten people to want to know more about Uncle Vinny.
Summary of Uncle Vinny's Biography
Full name: Kabelo Vincent Ndlovu
Nickname: Uncle Vinny
Gender: Male
Date of birth: 21 April 2002
Place of birth: Hillbrow, Johannesburg, South Africa
Uncle Vinny's Age: 21 Years Old

Ethnicity: African
Nationality: South African
Zodiac Sign: Taurus
Sexual Orientation: Straight
Marital Status: Unmarried
Relationship Status: In a relationship
Partner: Liyema Letlaka
Siblings: 2
Occupation: Singer, dancer, radio host, actor, event organizer, content creator, MC
Education: Hillbrow Theatre and National School of Arts (NSA)
Famous for: His signature dance moves, such as the viral #UncleVinnyChallenge
Uncle Vinny's Instagram: @uncle.vinny 
Uncle Vinny Was Born In 2002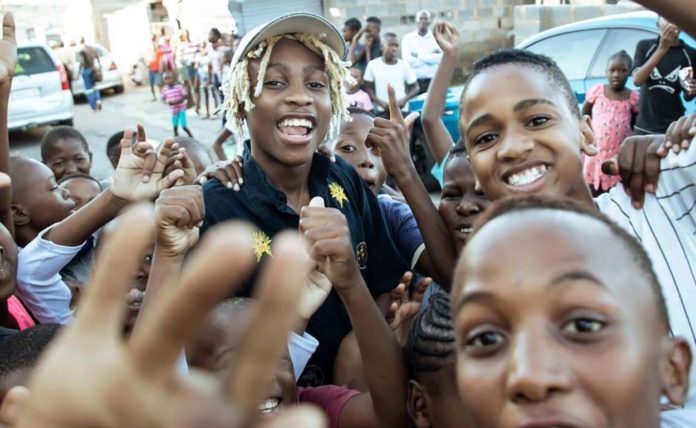 Uncle Vinny was born on April 20, 2002, and named Kabelo Vincent Ndlovu at birth, which he inherited from his grandfather. He spent some part of his early life in KwaZulu-Natal, where he was born, but it was mostly in Hillbrow that he was brought up. He has not revealed anything about how he came by the name of Uncle Vinny.
Growing up in Hillbrow, everything seemed normal for him, but with time, he realized that things were not as easy as they seemed, and this was not the life for him as he was exposed to crime and poverty. Rather than following the same path of crime, he developed a love for entertainment in general. This is what led him to become a dancer.
He's the first of three siblings. Their parents, who are both from Kwa-Zulu Natal's south coast, were not wealthy people. Hence, he wanted to get himself and his family out of their environment and out of poverty.
With regards to his high school education, Vincent began at the Hillbrow Theatre Primary School, and from there, he went to the National School of Arts (NSA), from where he matriculated in 2020. It was Hillbrow Theatre that helped in paying his fees while he was at NSA.
His Rise To Fame Started When He Was Only 15
Even though it's only recently that he became a national sensation, thanks to what seems like an overnight success, Uncle Vinny has been in the entertainment scene for a while now. He first started as a radio presenter when he was 15 years old. He was still in grade 9 when he joined Hillbrow FM.
According to him, NSA became a major influence in his life and career. His first passion in entertainment and what he is doing now was ignited while he was studying there. He revealed that if not for the institution, there would have never been an Uncle Vinny.
Vincent started developing relationships with some big names in the entertainment industry, such as Cassper Nyovest. Drawing closer to people already in the industry gave him a good footing, but he has always been street-smart was another important push for him. He created events and also hosted the same, opening the doors for him to meet more celebs.
How Uncle Vinny Became A Social Media Sensation
Around the time his career was in the budding stage, he realized he could use social media to make money. He became a content creator and soon started sharing his amazing dance steps on his social media pages, gaining the recognition and love of many.
He is behind the #unclevinnychallenge on social media, where many people, including stars, made his signature move as they danced. Apart from this, his videos and posts have always gotten good engagements on social media.
Vinny has amassed close to half a million followers on Instagram and thousands on Twitter.
Covid-19 Pandemic Helped Him To Rebrand Himself
In 2020, while the Covid-19 pandemic ravaged many cities, many celebrities and entertainers suffered a serious financial burden. Uncle Vinny also found himself in the same situation as he could no longer hustle and make money. He revealed that the experience left him frustrated and feeling worthless because he could not fund his lifestyle.
Rather than continue licking his wounds and waiting for the pandemic to pass before he could start hustling again, Vinny decided to head back to the drawing board and see other ways he could be making money even as the lockdown was still on. That's how he was able to relaunch himself by taking advantage of social media more than before and coming up with different post-Covid plans that are sustainable.
Uncle Vinny Held A Birthday Party That Established Him As SA's Coolest Kid
Initially, Uncle Vinny was regarded as a social media sensation, but he has now passed that stage. In April 2021, he hosted his birthday party in Braamfontein. The event pulled in many of his followers, some of whom had to travel from other places to be a part of the birthday party.
As a result of the number of people that turned out, the cops had to be involved, and they shut down the party for breaking Covid-19 rules. A few arrests were also made in the process. Big names featured at the event included some big DJs in the country, Riky Rick, DBN Gogo, and Boity.
Even though authorities shut the event down before it came to an end, it still made it clear, by the throng of people that came out to show their love and support for Uncle Vinny, that Mzansi has a new coolest kid. It took him from being just a social media sensation to a real star.
Following the fallout of the party that ended up as a street bash, the youngster insisted that the media exaggerated the entire episode as he believed the third wave of the Covid-19 was nowhere in sight. He went on to describe the media as EP, enemies of progress.
The Hustle Continues For The Talented Kid
If you wonder where Uncle Vinny is right now, he is still in the country where he is putting more effort into his hustle as a social media star, dancer, and many more.
In January 2021, he landed himself a huge gig as a VJ on MTV Base. This, according to him, offered him a great opportunity and a chance to tell everyone that he was finally here. His gig with MTV came because anytime they hosted an event, he was always attending, and soon they gave him a call when they were hosting the Hottest MC panel. People loved his vibe, and when they picked him for the Cotton Fest, his performance was great, which saw MTV putting him on their radar.
With all the attention he has been getting from big names, including politicians such as Julius Malema, he has made it clear that politics is not something he is interested in. He only wants to continue with his hustle as an entertainer, something that requires so much discipline.
There are reports that he also has an interest in music and may soon start dropping his singles. He has already featured in several music videos for some big artists, including Ricky Rick and Nasty C. He has already featured in Majorsteez's track LIES and Costa Titch.