Moshe Ndiki and SK Khoza are friends who sparked dating rumors when they shared videos on social media of them cozying up with each other in February 2022.
The two actors set social media abuzz after posting cozy videos of themselves on several occasions. As Moshe's sexuality is publicly known, Mzanzi became confused about SK Khoza's sexuality as he called the TV presenter his husband in one of the videos. Though Moshe and Khoza never commented on the dating rumor, they hinted that the videos were only for entertainment purposes.
Are Moshe Ndiki and SK Khoza a Couple?
SK Khoza and Moshe Ndiki are said to be friends and were never romantically involved. Nonetheless, the two got many South Africans confused regarding the nature of their relationship when they started spending time together, showing affection for one another. In one of the videos they shared on social media, SK Khoza was seen serenading Moshe while massaging his feet.
SK Khoza and Moshe….. Dintshang entlik pic.twitter.com/6lu8uKa4CF

— 🎧Uncle Mmata🎧  (@vocalAngel101) February 25, 2022
Moshe Ndiki, who shared the video on Instagram, captioned it, "My foot massage turned into a serenading ceremony." The pair seemed to be having the time of their lives as SK Khoza further shared another video on his Instagram, which showed Moshe lying down almost half-naked with his feet on his lap. He said in the video, 'maybe he is a toe guy, and his girl has some nice toes'.
Also, Sthembiso advised his fans in the video not to hate but rather appreciate. After posting the video, Moshe commented, "My love," and his comment instantly set tongues wagging. As their fans were still trying to figure out what was happening between them, Moshe and SK Khoza continued posting flirting videos online which got many people to believe that they were a couple at the time.
Niyabona Nani. pic.twitter.com/YAsMMtXrJa

— Casanova (@DlalaChampion) February 24, 2022
Furthermore, the former The Queen actors went live on Instagram to do a hilarious acapella of themselves, singing an updated version of Toni Braxton's song, 'Me and My Boyfriend'. Spotted in the back seat of a car, Khoza and Moshe updated the song to 'Me and My Husband'. They entertainingly sang bizarre melodies of the song, and towards the end of the video, SK Khoza screamed, "He is my husband, yo!"
Shortly after, the video trended online, and many of their fans congratulated them on their new relationship. However, a fraction of their followers bashed the two celebrities for having the best time of their lives while SA was mourning the death of Riky Rick at the time. Despite many tabloids speculating that a love bug had bitten Moshe Ndiki and SK Khoza, the TV stars never denied or confirmed the dating rumor.
Is SK Khoza Gay?
Over the years, SK Khoza has been known to the public as a heterosexual, having had romantic affairs with several women. He has never identified as gay, however, he has been raising a few eyebrows regarding his sexuality. While embroiled in an assault case with his ex-fiancé, Ayanda Hlongwane, she stated that she left the relationship because of abuse and equally, discovering the other side of Khoza's life, which she never revealed.
Even though Sthembiso Khoza's sexuality has never been questioned in the past years, videos of him sharing intimate moments with Moshe Ndiki have gotten many to think otherwise. Since the videos went viral, his fans have been wondering whether he is gay or bisexual. The actor, on the other hand, has laughed off the wild speculations by commenting, "Let them talk Moosh."
SK Khoza's Past Relationships
Sthembiso 'SK' Khoza has had a colorful dating life since he sprung to the spotlight. He has been romantically connected to several women, with whom he had welcomed three children, though some reports say four kids. Here's a sneak peek into his dating history.
SK and Morna Phatudi
In the year 2016, SK's romantic affair with actress Morna Phatudi went public. The two reportedly started dating while still in school. The actor was said to welcome his first child with Morna in November 2011, and his daughter's name is Ayanda. Following the birth of SK Khoza's second child in October 2014, there was confusion about the identity of the child's mother.
Later, it was alleged that Morna Phatudi is the mother of SK's second child. The pair eventually got separated when a cheating scandal marred their relationship.
SK Khoza Has a Son with Gogo Maweni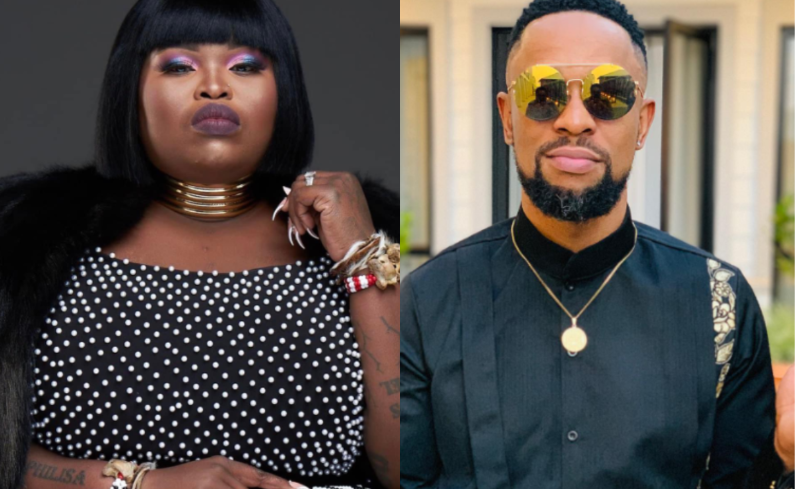 SK Khoza was reportedly cheating with Lee Ann Gogo Maweni Makopo while still dating Morna Phatudi. The actor and Gogo Maweni later had a son together before they called it quits.
Following their breakup, Gogo and Khoza dominated the news headlines for the wrong reasons. The renowned Sangoma dragged his baby daddy to court after failing to provide his son's child support.
A Look at Ayanda and SK's Failed Engagement
Khoza met Ayanda Mandy Hlongwane on her 27th birthday on May 13th, 2020. Shortly after, the pair started dating and had a high-profile relationship. A few months after they met, the famed actor proposed to Ayanda, and she said yes. The couple then announced that they were expecting their first child together in 2021.
However, their relationship went south as SK's ex-fiancé accused him of physical and emotional abuse. She allegedly suffered a miscarriage as a result of the assault she endured at the hands of the actor. She filed a case of assault at the police, and Sthembiso made multiple appearances in court before Ayanda dropped the charges. Sthembiso Khoza and his ex-fiancé got separated in 2021.
SK Khoza and Michelle Selekane's Affair
In May 2022, controversial blogger Musa Khawula revealed SK Khoza's new girlfriend, Michelle Selekane. He made the revelation by sharing a video of SK and Michelle kissing. In the next month, the actor began posting pictures of himself with Michelle. Afterward, it was rumored that the former The Queen actor had welcomed his fourth child with his new flame.
Moshe Ndiki's Relationship with Phelo Bala
Unlike SK Khoza, who has been involved in many relationships, Moshe Ndiki is known to have dated musician Phelo Bala on and off for six years before the two tied the knot in a private wedding at the office of Home Affairs in 2019. Unfortunately, the union was marred with accusations of domestic violence and alcohol abuse.
The couple eventually parted ways after Phelo alleged that Moshe Ndiki assaulted him with a candle stand which led to bleeding. He then moved on to obtain an interim protection order against his partner. Later in July 2020, Moshe cleared his name by denying the assault claims. He instead stated that Phelo had a drinking problem and consequently, had been assaulted by the musician on many occasions.
Later on, the former Gomora actor and Phelo got back together. The two, however, realized that things wouldn't work out between them. They finally called it quits in March 2022 after videos of SK Khoza and Moshe Ndiki's bromance trended on social media.