Being born with a silver spoon and experiencing a life of ease, especially in the area of finances, is one of the best places to find oneself. One group of persons who have always found themselves in this cool position are the rich kids of South African celebrities. They are usually born into privilege, and they begin life several steps ahead of their peers. This happens simply because their parents, who are celebrities, have already paved the way for them.
While some South African celebrities try to keep their children and family away from the public domain for reasons best known to them, others see nothing wrong with showing off their children to the public. And most of these kids, backed by the wealth of influence of their parents, have also become rich and famous, and many now refer to these kids as the 'Rich Kids of South African Celebrities.'
Some of these kids are comfortable with enjoying the fame and wealth their parents have brought to them, while others have ventured into one thing or another in an attempt to make their own name and create their footprints in life. As the lives of these rich celebrity kids unfold before our eyes, most of them have are already on the path that will see them become celebrities in their own right – and not for who their parents are.
Introducing The Rich Kids Of South African Celebrities
South Africa is currently home to so many kids who are rich and have made a name for themselves. Some of these young stars include Owami Mafokate, Zinhle Mqadi, and Andile Mpisane, to mention but a few. A number of them are the kids of our favorite celebrities who stepped into the shoes of their parents or carved their niche on social media.
If you want to know the rich kids of South African celebrities and how they spend their money, that's exactly what we are about to unveil. In no particular order, let's look at who they are and what they do with this financial freedom they have now.
1. Andile Mpisane
Age: 22 years old
Mother: Shauwn Mkhize
Father: Sbu Mpisane
Parent's Net Worth: R300 million
Source of Wealth: Business
Personal Interests: Football and Music
Social Media: @andilempisane10 (Instagram)
Andile Mpisane was born into wealth and affluence in 2001 as the firstborn son of respected and highly successful businesswoman Shauwn Mkhize and businessman Sbu Mpisane. So living the luxurious life was something he was born into and something he has always known. Although his parents are divorced, it has in no way affected his luxurious style of living.
His father, Sbu Mpisane, is a successful South African businessman who worked as a metro police officer in Durban before branching out to do business and became one of the richest businessmen in KwaZulu-Natal. On the other hand, his mother, Shauwn Mkhize, runs a reality TV show Kwa MaMkhize, and often we see them  – Andile and Shauwn – rocking the same brands and products that could cost an average South African his entire life savings.
Andile Mpisane has a very strong passion for football as he is the Chairman of Royal AM FC – a football club his mother bought for him in Mzansi when he turned 18 – which he also plays for as a midfielder. He has also delved into music as he released his debut album in 2019 titled Uyangqhaska, where he featured DJ Tira and Dladla Mshunqisi. Recently he requested R1 million from his mother, Shauwn Mkhize, to shoot a video for his song, Umcimbi featuring Madanon and Distruction Boyz. This generated a lot of reactions from fans and foes alike. The video for the song is out, and it already has over 1 million views on YouTube.
Asides from music and football, Andile Mpisane also runs different companies alongside his mother.  Some of which are Royal AM Luxury & Grooming Pampering Lounge. The grooming & pampering lounge is a unisex beauty salon and spa in Umhlanga, KwaZulu-Natal, South Africa. The celebrity kid has a net worth of R10 million and access to the following fleet of luxurious cars:
Mercedes-Benz G wagon – an R2 million gift he got on his 16th birthday
BMW
Dodge Ram
Mercedes-Benz Maybach
BMW M4
McLaren MP5-12C
Aston Martin Rapide
Bentley
Rolls Royce
2. Owami Mafokate
Age: 22 years old
Father: Arthur Mafokate
Mother: Queen Sesoko
Parent's Net Worth: $1 million
Source of Wealth: Music and Clothing line
Personal Interests: Music and Dancing
Social Media: @owamimafokate (Instagram)
Owami Mafokate was born into music and affluence on the 20th of September 2001. She was born to a family of legendary music stars – king of Kwaito, Arthur Mafokate, and former Abashante star, Queen Sesoko – both of whom have impacted the South African music industry as both singers and producers. Her father, Arthur, has a record label called 999.
And because fruits do not fall far from the tree, Owami has stepped into her parent's shoes and has stood out in South Africa's entertainment industry as a DJ and a dancer. Her elder brother obviously had an impact on her career choice as he started teaching her how to be a DJ from the age of 13. Surprisingly, her parents did not buy into the idea of their daughter becoming a music artist, but she was so determined and was sure that was where her passion lay.
Owami Mafokate is the 2nd of three children, and aside from being a disc jockey, she is also an entrepreneur, entertainer, brand ambassador, and philanthropist. As an entrepreneur, she has her online clothing line dubbed 'Hermosa' where she works with two of her friends – Hali Lawal and Liza Pezisa – to design caps, beanies, hoodies, and headbands.
She makes her money from being a disc jockey, entrepreneur, and also from being brand ambassador. The celebrity kid has an estimated net worth of $50,000. Although Owami may have gotten her fame from her parents, the beautiful young lady is doing a great job when it comes to creating a unique name for herself.
3. Robbie Malinga Jr.
Age: 22 years old
Father: Robert Malinga
Mother: Ann Malinga
Parent's Net Worth: $8 million
Source of Wealth: Brand ambassadorship, Family wealth
Personal Interest: Music
Social Media: @robbiemalinga (Instagram)
Robbie Malinga Jr. was born on the 31st of May 2001 in South Africa to late music producer Robert Malinga and Ann Malinga. The South Africa Instagram sensation is one of those celebrities whose social media presence has helped launch into the limelight. Robbie Jr., whose father was a famous composer but died in 2017, took over his father's Instagram account. This particular move brought him to the limelight, and he became one of Instagram's most famous people.
On his 18th birthday, his mother, Ann, got him a mini cooper, which she said had been a long plan between her late husband and herself for their son's 18th birthday. Like many young and rich people today, Robbie dresses in various designer brands, which keeps his fans always gushing over him, leaving the others feeling he shows off a little too much.
Career-wise, the aspiring rapper has made it clear that he is very interested in music but would give it his full attention after he is done with his education. At the moment, he is not making so much of his own money, but with his already established fame, you can tell that when he is ready to stump the industry, it will be massive.
4. Zinhle Mqadi
Age: N/A
Father: Max Mqadi
Mother: Linda Diya (deceased)
Parent's Net Worth: N/A
Source of Wealth: Entrepreneurship
Personal Interests: Fitness and Fashion
Social Media: @zinhlemqadi1 (Instagram)
Zinhle Mqadi is the vibrant, exotic, and beautiful daughter of Max Mqadi, who is a famous businessman and owner of the Max Lifestyle in Durban, South Africa. Zinhle has also followed her father's footsteps in entrepreneurship after working with him for a while. She started selling swimwear online through Wild Rose Boutique and then grew to move her business offline. Since then, the brand has gradually become one of the most recognized swimsuit brands among Mzansi youths.
With dreams of becoming one of the leading go-to clothing lines, Zinhle and her partner, Thando Tsekiso, are taking no rest in striving to perfect their craft. She is also very confident about achieving her aim of building a generation of women who believe in themselves, lead confident and comfortable lifestyles that largely involve recognizing the importance of health and fitness in one's life.
Zinhle Mqadi has also launched a clothing store called SeventyTwo, based in Musgrave Center Durban. SeventyTwo is popularly known for ladies' handbags and a bit of clothing, shoes, and accessories to give a complete fashion statement.
5. Snikiwe Mhlongo
Age: 25 years old
Mother: Brenda Mholongo
Father: Edmund Mholongo
Parent's Net Worth: $50,000
Source of Wealth: Social media influencer
Personal Interests: Fashion
Social Media: @snimhlongo (Instagram)
The young and influential social media sensation, Snikiwe "Sni" Mhlongo, was born on the 25th of December 1997 to Brenda Mhlongo, a popular South African actress and her estranged husband, Edmund Mhlongo. Sni has grown to become one of South Africa's biggest social media influencers, with so many followers that she uses her social media handles to educate on different fashion trends.
On Instagram, where she has over 200k followers, she shares beautiful pictures of herself wearing very classy and fashionable clothes. The beautiful celebrity kid is also a YouTuber, and on her YouTube channel, she shares fashion and lifestyle content. She is also very confident before the camera and speaks fluently. On YouTube, she has over 100k subscribers. Considering that her YouTube channel is monetized, it may be safe to say that it is one of her income streams, and as you should know, she spends a good sum on looking good.
6. Duduzane Zuma
Age: 41 years old
Father: Jacob Zuma
Mother: Kate Mantsho
Parent's Net Worth: $20 million
Source of Wealth: Business
Personal interest: Entrepreneurship
Social Media: @duduzane__zuma (Twitter)
Your guess is as correct as ours! Duduzane Zuma is the son of former South African president Jacob Zuma. He is a twin, and he and his twin sister – Duduzile Zuma – were born on the 20th of May 1982 to Jacob Zuma and Kate Mantsho. Duduzane came to the limelight as soon as his father took up prominent national offices in South Africa. And when the latter became president, Duduzane became director in major South African businesses. He is a businessman with investments in several companies, including:
Westdawn Investments
Gemini Moon Trading 254
Karibu Hospitality
Afripalm Horizons
Sahara Holding (owned by the Gupta family)
Shiva Uranium
He has a net worth of $15 million dollars which he made from the profits of his numerous businesses.
7. Katlego Mogaladi
Age: N/A
Parent: Johnny Mogaladi
Parent's Net Worth: N/A
Parent's Source of Wealth: Chairman of Polokwane City F.C.
Personal Interest: Fashion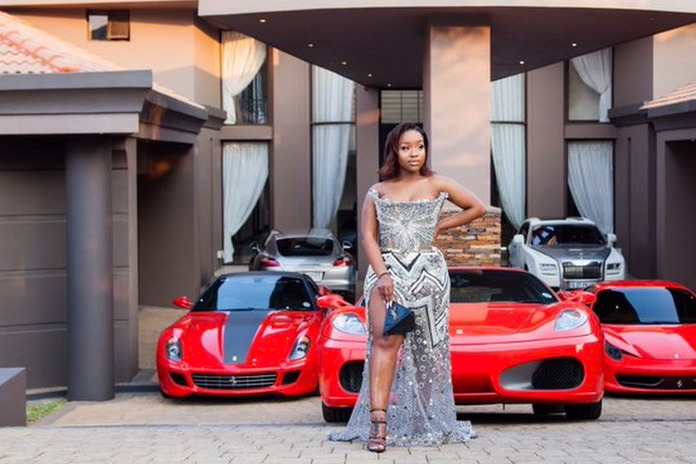 Katlego Mogaladi, the dark and beautiful daughter of Johnny Mogaladi, broke the internet in 2019 when she shared pictures of herself in a beautiful designer's gown, which she wore for her Grade 12 matriculation. Aside from the fact that someone of her age was posing and looking so beautiful with a Gert-Johan Coetzee gown, she was also standing in front of a Ferrari and Rolls Royce. That picture of her was a full definition of beauty, wealth, affluence, and class.
After that picture of Katlego Mogaladi stormed the internet, she has continued to upload classy pictures of herself on Instagram, where she has over 50k followers.
8. Bahumi Mhlongo
Age: 28 years old
Father: Somizi Mhlongo
Mother: Palesa Madisakwane
Parent's Net Worth: $5 million
Parent's Source of Wealth: Showbiz
Personal Interest: Fashion
Social Media: @bahumi777 (Instagram)
Bahumi Mhlongo is the daughter of one of South Africa's celebrities, Somizi Mhlongo and Palesa Madisakwane. Like her parents (and grandparents), who are well-known figures in the South African entertainment industry, she has also shown interest in the entertainment industry. She is beginning to make a name for herself.
Although being the daughter of Somizi Mhlongo and Palesa Madisakwane brought her to the limelight, Bahumi is also best known for featuring in the South African TV program, Keeping Score. She has also been featured in her father's reality TV show, Living The Dream with Somizi. She was selected to be a part of the cast in Dream: The Lebo Mathosa Story, where she plays the role of Lebo Mathosa.
On Instagram, Bahumi has over 500k followers, and this large following earned her the attention of brands who want her to advertise their products. One of such brands is Bioderma South Africa. She is also openly pronounced about her Christian faith, as "Jesus Loves You" written on her bio. Like other females on this list, Bahumi also spends her money on looking good. She is stylish and always shares pictures of herself wearing designer clothes, accessories, and bags.