The Queen is one of the most-watched Soapies in Mzansi because of its storyline, which many people relate to. The South African telenovela, The Queen, is produced by Ferguson Films and debuted on 1 August 2016 on Mzansi Magic and on Canal Plus in April 2020. The show premiers every Monday to Friday at 21h00 on Mzansi Magic and has 260 episodes in each season. The show is created by Ferguson Films and written by Phatu Makwarela and Gwydion Beynon. It is directed by Andries van der Merwe and XolaniMabaso. The show is currently in its sixth season, which premiered on 26 July 2021.
Overview Of What Happened On The Queen In November 2021
The episodes in the November 2021 offering of The Queen were as entertaining as fans of the show had anticipated, with Mjekejeke's lottery win being one of the major highlights in November 2021. His attempt to keep his new fortune a top-secret fails, and everyone is interested in how the money is spent. Olerato was also at the centre of attraction as she is haunted by her past and has to deal with the situation before it is too late. The episodes in December will reveal just how much these characters were able to contend with. Here are The Queen teasers for December 2021.
The Latest Offering On The Queen – Teasers December 2021
Wednesday 1, December 2021 – Episode 93
Khumo tries to scare Darlington while Clive continues to work on winning Akhona. Darlington tries to the Khoza's cocaine business.
Thursday 2, December 2021 – Episode 94
Harriet is devastated by the news from Olerato. Akhona receives a shocker as she tries to set up a romantic dinner. Olerato's plans are threatened by an unexpected event.
Friday 3, December 2021 – Episode 95
Olerato is confronted by her worst nightmare, and Darlington continues to try his luck and makes demands.
Monday 6, December 2021 – Episode 96
Akhona is set to marry into money, and Patronella is not letting herself get cheated out. Darlington is not set on fulfilling his part of the deal with the Khozas.
Tuesday 7, December 2021 – Episode 97
Akhona makes known her love for Clive, and Harriet is prepared to risk it all to save her niece.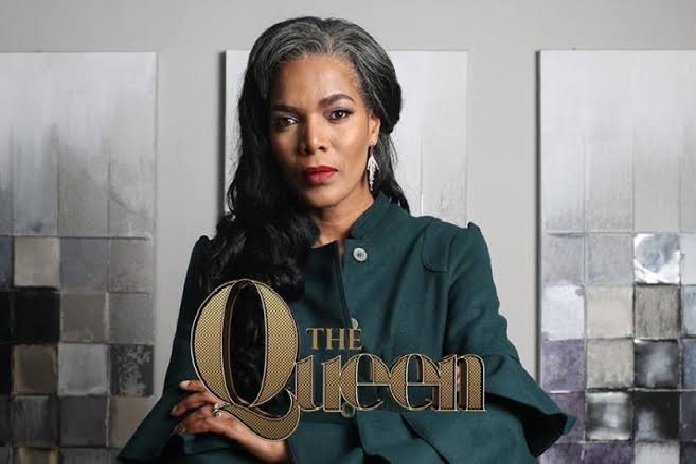 Wednesday 8, December 2021 – Episode 98
Clive expresses his undying love for Akhona, and she receives Mjekejeke's blessings. Darlington is encircled by the Khozas.
Thursday 9. December 2021 – Episode 99
Harriet and Brutus walk into unforeseen circumstances while trying to close in on Darlington. Akhona turns the tables on Clive.
Friday 10, December 2021 – Episode 100
Clive wants to make his affair with Akhona official. Akhona requests Mjekejeke to lead the lobola negotiations.
Monday 13, December 2021 – Episode 101
Goodness succeeds in keeping her secret about Kagiso from their family. The lobola negotiations end with a lot of drama.
Tuesday 14, December 2021 – Episode 102
Noma and Brutus investigate the truth behind Goodness coming home. Brutus receives a message from Kagiso.
Wednesday 15, December 2021 – Episode 103
There is a witch in Khoza's mansion, and the men are not comfortable with her presence. Clivedecidesn without consulting Akhona, and she is disappointed. Akhona is not comfortable with Georgina's suspicions.
Thursday 16, December 2021 – Episode 104
Things begin to fall apart just when Goodness thinks she has it all under control. Akhona is encouraged to set boundaries by Clive.
Friday 17, December 2021 – Episode 105
Goodness tries to hold talks with Kagiso as Georgina struggles to come to terms with her reality. Clive makes a serious decision on Corner House.
Monday 20, December 2021 – Episode 106
Goodness is shocked by the news from Port Alfred. Clive tries to mend things with Akhona, but she is deep into Georgina.
Tuesday 21, December 2021 – Episode 107
Akhona needs to make a decision, and the Khozas have news.
Wednesday 22, December 2021 – Episode 108
Akhona is caught between her friendship with Georgina and her love life as Goodness makes a shocking revelation.
Thursday 23, December 2021 – Episode 109
Georgina feels ignored by Akhona because of Clive. Goodness deals with the aftermath of her revelations. There is tension between Clive and Georgina.
Friday 24, December 2021 – Episode 110
Goodness may have to run away from the truth, and Georgina is heartbroken by the end of her friendship. Akhona's business network expands.
Monday 27, December 2021 – Episode 111
Akhona receives a surprise from Clive, and Georgina struggles to accept the end of their friendship.
Tuesday 28, December 2021 – Episode 112
As Goodness resolves to fight for her daughter, her troubles come knocking. Mjekejeke discovers the real Clive.
Wednesday 29, December 2021 – Episode 113
Georgina's attempt to get Akhona to see Clive for who he really is tears them further apart. Georgina's secret is out.
Thursday 30, December 2021 – Episode 114
Akhona sets boundaries with her loved ones, and Goodness is forced to tell the truth.
Friday 31, December 2021 – Episode 115
Akhona is busy with wedding things as Olerato receives a tough rejection.
The TV Show, The Queen, Has Had Some Changes In Cast
Loyiso MacDonald, who had been on the show since its premiere, left the show in June 2021. Another key change was the temporary replacement of Zandile Msutwana by Tembisa Mdoda-Nxumalo. Zandile suffered an injury while on set and was relieved to recover at home. She was to rejoin the team for seasons five and six of the popular TV series. SK Khoza is another high-profile cast member who has left the show. It has been reported that he was relieved from the show following his arrest after it was alleged that he beat his wife.
Here Are The Cast And Characters of The Queen
Connie Ferguson – Plays the role of Harriet Mathapelo–Khoza
Rapulana Seiphemo – Plays the role of Colonel Hector Sebata
Themba Ndaba – Plays the role of Brutus Khoza
Dineo Langa – Plays the role of Keabetwe Khoza
Zandile Msutwana – Plays the role of Vuyiswa "Sis Vee" Maake – Sebata
Zenande Mfenyana – Plays the role of Goodness Mabuza-Khoza
Jessica Nkosi – Plays the role of Thando Sebata
Lorraine Moropa – Plays the role of Olerato Mathapelo
Sibusisiwe Jili – Plays the role of Detective Georgina "Gigi" Zulu
Vuyolwethu Ngcukana – Plays the role of Lumko "Schumacher" Toto
Sipho Manzini – Plays the role of Jabulani "Mjekejeke" Zulu
Thembsie Matu – Plays the role of Patronella "Sis Pat" Zulu
Brenda Ngxolia – Plays the role of Princess "Noma" Matshikiza
Cindy Mahlangu – Plays the role of Siyanda Dlamini
Tsholo Ditshejane – Plays the role of Antoinette
Paballo Koza – Plays the role of Khaya Khoza
Molemo Tlali – Plays the role of Khumo Sebata