Vusi' Khekhe' Mathibela is an alleged South African crime boss who has been accused of the murder of popular North West billionaire businessman Wandile Bozwana. Besides his murder charge, he is also the taxi boss in Mamelodi and runs a personal protection company. The divisive figure, also known as the 'Number 1 Tsotsi,' is still feared by many people in Mzansi. Vusi has been reported to head a group of sketchy characters who extort money from persons running businesses within the locality at his behest, all in the name of providing 'protection,' sometimes assaulting them and attacking their businesses when they fail to comply.
For those yet unaware, Vusi Khekhe was arrested in 2019 as part of a multi-disciplinary stabilization intervention launched by the police after several complaints were lodged against him by locals. The police further executed a raid on Vusi' Khekhe's' house and that of his parents. He was paraded in front of the locals whom he had allegedly terrorized for so long. Vusi was charged to court, alongside three of his henchmen who were also arrested for possessing firearms without a license. To know more about Vusi Khekhe, his alleged illegal activities, and the current state of the cases against him, read on.

Profile Summary of Vusi Khekhe Mathibela
Name: Vusi 'Khekhe' Nyawane Mathibela
Also Known As: Number 1 Tsotsi
Date of Birth: 1986
Place of Birth: Johannesburg, South Africa
Nationality: South African
Occupation: Mamelodi taxi boss and owner of a security company
Famous for: Being charged with the murder of billionaire businessman, Wandile Bozwana among other charges together with other people.
Before His Arrest, Vusi Khekhe Mathibela Was A Successful Taxi Boss
A lot is yet unknown about the background, birth, and early life of Vusi Mathibela. What we can verifiably state is that he was born in 1986 in Johannesburg. Vusi' Khekhe,' who was more widely known by the name 'Nyawane' due to his limp, was said to have grown up in East Mamelodi, in his father's house.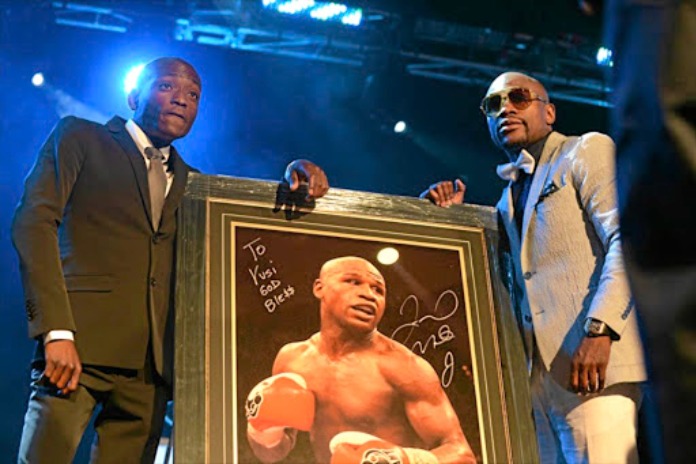 Relying on the information provided by those who go way back with Vusi, it has been revealed that he dropped out of school and became a taxi driver like his father. He quickly rose through the ranks and currently owns over 12 taxis, as confirmed by MATA (The Mamelodi Amalgamated Taxi Association), in 2020.
Vusi is also an influential businessman, as he owns the popular Pretorian nightclub 'Ayepyep,' and was already a listed director in four companies across South Africa after resigning as director from four others at just a little over 30 years of age. He was photographed with Floyd "Money" Mayweather during the superstar boxer's visit to South Africa in 2014.
Vusi Khekhe Has Been Terrorizing Business Owners In Mamelodi
The name Vusi "Khekhe" Mathibela struck fear and terror in the hearts of many business people and taxi operators in Mamelodi. The 37-year-old taxi boss stands accused of allegedly running an extortion ring that imposes payment of the infamous 'protection fee' on local entrepreneurs.
While Vusi vehemently denies these accusations, countless individuals and business owners have come forward to speak on Vusi's purported atrocities describing him in the similitude of a modern-day crime boss whose henchmen go around terrorizing people and extorting money. Taxi owners are said to pay protection fees which could be as much as R800-R1000 a month, while spaza shop owners are reported to pay a flat rate of R500 every month.
It was also claimed by locals last year that Vusi Khekhe was responsible for the reported 'threats,' which resulted in the city of Tshwane halting its bus transport service. While Vusi apparently lives in Midrand, it is said that he visits the township occasionally and usually in the company of close to 50 of his goons whom he arrives in a convoy of between 15 to 20 cars.
It has also been alleged that as regards the taxi extortion syndicate, Vusi keeps track of how many taxis are registered to each driver and extorts the commensurate 'protection fees' through MATA. However, the spokesperson of the association, Bonny Ndishe, has come forward to debunk these allegations calling them baseless. He holds that Vusi is simply a member of the association and nothing more, and as such, has no power to influence the actions of the organization.
The Death of Businessman Wandile Bozwana Brought Him To The Spotlight
Vusi' Khekhe' Mathibela was shot into the spotlight for all the wrong reasons as he was among four men charged to court for the murder of Wandile Bozwana, the famous North West billionaire. While it is not exactly clear what would have been the motive behind Vusi Khekhe's alleged killing of Wandile Bozwana, speculations on this are rife across the blogosphere.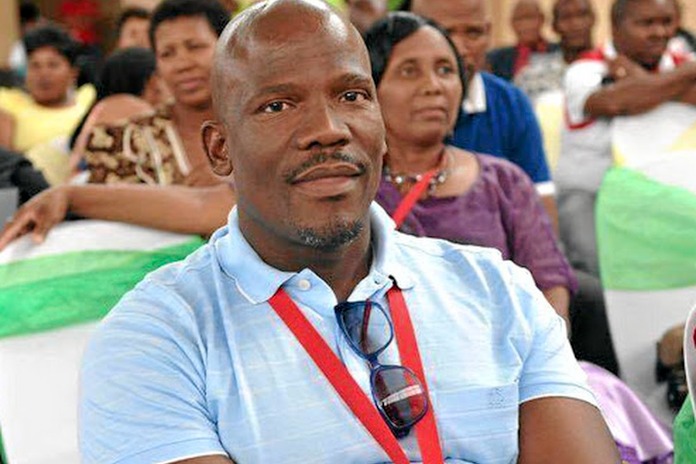 Some claim that the murder was on account of Bozwana's direct refusal to allegedly pay protection fees to the tune of R150,000 to Vusi Khekhe, while others have stipulated that there was an alleged affair between Wandile Bozwana and Vusi Khekhe's wife. While there is no verifiable reason or motive as to the cause of his death, or if Vusi Khekhe is even responsible, what is indisputable is that Wandile Bozwana was killed in 2015, precisely the month of October.
Wandile Bozwana had stopped at a red traffic light on the N1 Garsfontein-offramp in Pretoria, after which his vehicle was engulfed in a barrage of bullets by two assailants. He sustained nine fatal shots to his body. A touching detail that his driver, Mpho Baloyi, would later reveal in court was that Wandile Bozwana performed his last and possibly greatest act of kindness by shielding her from the hailstorm of bullets with his body which ensured he took the fatal end of the assault as she sustained only two shots to her body. Wandile died almost immediately after the incident at the age of 43.
Vusi was Charged for Assault, Extortion, and Oppression of Mamelodi Residents
The 'Number 1 Tsotsi' handed himself over to the authorities in Germiston, East Johannesburg, two years ago. He was consequently remanded in custody following the charges of assault, intimidation, and extortion leveled against him by the residents and business owners in Mamelodi. Six other suspects were arrested alongside Vusi' Khekhe,' although one of the six was provisionally released pending further investigation.
The arrested suspects include Monageng Stemmer Kompi and Skosana Elias, who were arrested on the same charges as Vusi, with the other three suspects arrested, Khumalo Justice, Ngubane Zwelibanzi, and Alfred Asante, charged for possession of unregistered firearms. Vusi' Khekhe's' uncle, Suthu Mathibela, who was also part and parcel of the taxi extortion syndicate, was to be charged to court along with his nephew. He was, however, shot dead in 2019, and as such, was not charged.
While Vusi's trial on extortion, assault, and oppression brought against him by residents of Mamelodi was ongoing, much to the shock of all, connections linking him to the murder of Wandile Bozwana were revealed. Consequently, Vusi' Khekhe,' with suspects Khumalo Paul Bonginkosi, Mutapa Matamela, and Sipho Hudla, was charged for the murder of Wandile Bozwana. The defendants all denied the allegation maintaining their innocence and police underhandedness.
Was Vusi Khekhe Released On Bail? Why Was He Rearrested?
Immediately after Vusi's arrest, his defense team applied for bail; the terms were set at R50,000 amongst other conditions, including handing in his passport. However, this bail was revoked after it was shown that Vusi had violated the bail terms. He had taken a 4-day vacation to Mauritius with his family and was on the verge of another holiday to Dubai when he was apprehended and taken into custody at the OR Tambo International Airport for violating the terms of his bail, thereby making it void.
While the bail terms did not expressly state he should not travel, it implied such by requesting that he hand in his passport. However, Vusi argued that he did hand in his passport, but after expressing his desire to travel abroad, the passport was returned to him.
Controversial 'Confession' Rocks Vusi Mathibela Murder Case
A purported confession by Sipho Hudla, one of the suspects in billionaire businessman Wandile Bozwana's murder, in which he claimed to have been paid the sum of R60,000 along with his co-accused by Vusi for his part in Wandile Bozwana's assassination, was read out in the High Court of Gauteng, Pretoria. The much-touted confession was reportedly made about a month after Wandile's murder.
However, this alleged confession is at the center of much scrutiny and controversy, as Sipho Hudla claimed it was obtained under duress, and none of it was true. He vehemently denied that the confession was made out of his free will, claiming that he was coerced into making a false confession. Based on this alleged underhandedness by the police in supposedly coercing a confession from Sipho Hudla, the defense team moved to have the confession excluded from evidence. This plea was the subject of a lengthy hearing, with the defense holding firmly that the evidence was coerced, and as such, it is inadmissible.
However, at the end of the hearing on whether to allow the alleged 'confession' to be admissible into evidence, Judge Mokhine Mosopa said he would allow the 'confession' form part of the evidence but only provisionally. Mathibela, Hudla, and their two co-accused, Matamela Robert Mutapa and Bonginkosi Paul Khumalo, had all entered a plea of 'not guilty' to Bozwana's murder and the attempted murder of his business partner, Mpho Baloyi. As per Sipho Hudla's 'confession,' which was read out to the court's hearing by the SAPS (South African Police) officer who made a note of it, Hudla said he was at a taxi rank that day with his friends when one of them said "Vusi" (no surname given in the statement) just phoned and wanted to meet them.
He alleged that they drove to Sandton City and met Vusi at a hair salon where he (Vusi) pointed out a man he had a problem with, telling them they had to kill him. The confession further stated that Vusi had instructed them to trail the man, which they did. They followed them till both of the targets got to McDonald's, and he and his co-accused waited as well. In his alleged confession statement, Hudla claimed that his co-accused stepped out of the car and later returned with an AK-47 assault rifle and a pistol.
He said the rifle was handed to him and the co-accused remained with the pistol, after which they continued tailing Wandile on the N1 road towards Pretoria. When Wandile's vehicle stopped at the traffic light at the Garsfontein off-ramp, he and one of his co-accused got out of the car when it stopped at the traffic light. According to the confession, Hudla went to the left-hand side of the vehicle, and Senzo (one of his co-accused) went to the right side. He fired five shots at the man while Senzo fired through the driver's side.
Hudla's confession further claims that he and his co-accused met up with Vusi later at a petrol garage in Alexandra, where he gave them R60,000 to share between them after thanking them for doing his bidding. However, Hudla has since denied even knowing the crime scene, as was implied by his confession claiming that the police were responsible for fine-tuning those details.
Vusi Khekhe's Murder Trial, Circumstantial at Best? Or A Case to Answer
While in a civil case, the burden of proof is based upon a preponderance of the evidence, in a criminal case, especially in a matter of murder, the burden of proof rests solely with the prosecutors. This simply means that while the defense does not have to prove their innocence, the prosecution is responsible for establishing their guilt. The burden of proof required for a murder trial is the highest within any judicial structure as the burden of proof must be fully and conclusively exhausted 'beyond reasonable doubt.'
In the light of the above, the majority of evidence tendered against Vusi by the State is still largely circumstantial without any tangibility of proof tying the accused to the crime. There were no witnesses at the scene to identify the shooters, there was no DNA evidence found on the scene linking the accused persons to the crime, and even the much-touted confession by Sipho Hudla has come under scrutiny and is only provisionally accepted as part of the evidence.
Consequently, the defense team for all four accused moved a motion to have the case struck out for lack of merit as it was apparent that the State's evidence did not support what they tendered as a 'confession.' In requesting the discharge and acquittal of his client Vusi Mathibela, Advocate Gerhard Botha SC emphasized the peculiarity of the case also emphasizing the point that his client's name had more or less not been mentioned during the course of evidence discovery. He stated that his client should be acquitted, as it is as clear as daylight that the State only initiated his prosecution, hoping that somebody may connect him (to the crime).
He added that besides Hudla's trumped-up and inconsistent 'confession,' his client Vusi Mathibela had no case to answer. Counsel for the other three co-accused argued similar points. Sipho Hudla's defense counsel, Advocate JP Gouws, stated that in Hudla's 'confession,' which was tendered and provisionally accepted as evidence, he alleged that the shooting occurred at the Rigel off-ramp, which is far from where the Garsfontein off-ramp, where the incident took place, proving that his client Sipho Hudla knew nothing of the crime and was simply coerced into making a false 'confession' by the police.
However, while trial judge Papi Masopa, sitting in the Gauteng High Court, Pretoria, acknowledged the hiccups by the prosecution, he turned down an application by the four accused of a discharge. Judge Masopa, in turning down their applications to be freed at this stage, stated that the prosecution had a prima facie case against the four accused to which they should answer. The judge made it clear that they will be put to their defense regarding the incident in October 2015, when Bozwana died after he was hit by several bullets. The trial is set to commence on the 18th of October 2021.