The relationship between the Portuguese, J'Something, and his South African wife, Cordelia Godi, is a marriage goal. Even after over five years of being married, J is still head over heels in love with Cordelia. Fans are hopeful that this wouldn't end like other celebrities who once gushed over their partner but still ended up divorcing them. Although J'Something seems to be a private man, he has been unable to keep his relationship with his wife away from social media, even though he tries to protect her enough to avoid internet trolls and unnecessary bashing.
J'Something Met His Wife Cordelia At a Studio
In an interview with Gareth Cliff, J'Something revealed that his wife, Cordelia Godi, was introduced to him by his friends in the studio before meeting a second time at a party. He also admitted that for him and his wife, whom he affectionately calls "Coco," it wasn't love at first sight because they were both in a relationship at that time. However, later on, they started dating. According to the award-winning singer, Coco loved and accepted him when he wasn't famous or rich.
The exact time they started dating is unknown, but from what he said about how they started dating, "when he wasn't rich or famous," we can tell that they were already dating before 2012 when the band got popular. A picture-post dated July 31, 2016, which Cordelia posted on her IG wall, reveals that J proposed to Coco on July 13, 2014. The picture shows Cordelia Godi displaying a ring on her finger, and the post was captioned;
Today 2 years ago…I said YES!!!! and I would say it again.
Cordelia Godi hails from Bushbuckridge in South Africa. What she does for a living is not clear, but from her uploads on Instagram, she seems to be actively involved in the restaurant and loves cooking, like her husband. In his cookbook, J'Something reveals that she is very supportive and credited her as the restaurant's creative director.
The Couple Got Married With Less Publicity
J'Something has always been known to keep his private life away from the media. In 2016, when asked if he was married, the Mamela crooner indirectly answered 'yes,' and later said he would ask his mom. In truth, however, the Micasa star and celebrity cook is married. The traditional marriage was done very privately, with just friends and family present to witness the union.
He had to travel all the way to Phelindaba in Bushbuckridge to pay the lobola of his wife in the last quarter of 2015. Even though he did not announce his wedding, pictures of him dressed a traditional attire appeared on the internet in no time. It went viral as people were excited to see the Portuguese dressed in traditional attire to pay lobola for his wife.
Their Marriage Is Blessed With A Child
Just like he tried to keep his marriage a secret, he also kept his wife's pregnancy and subsequent delivery a secret. He, however, confirmed that his wife has actually given birth to a baby boy in an interview with Gareth Cliff in 2017, and so far, that is the only known child of J'Something.
2017 is a couple of years back, and the singer and chef's wife may have given birth to another child, but he just hasn't told the world about it yet. If this should be the case, just like he finally told the world about his first child, he may also come out with that information when he is ready.
So far, J'Something and Cordelia Godi have not had any known quarrels or issues; rather, they have been running their cooking show and restaurant with so much love and chemistry that they regularly show off on social media.
J'Something and Cordelia Constantly Serve Couple Goals
Scrolling through J'Something's Instagram account, you do not need to be told by anyone that he is madly in love with his wife, Cordelia Godi – the same is the case with Coco's account as well; little wonder why fans actually think they will last long. The duo does not fail to upload amazing pictures of themselves with heart-warming captions. On March 14, 2021, he uploaded a picture of themselves chilling and gave it a caption that summarized his love for her and how he is completely himself with her.
On September 6, 2020, the singer revealed that his song 'I Love Everything About You' is one of the many songs he wrote for her. It is one of the songs done by Micasa featuring Jay Em. In 2019, he got his wife a brand new luxurious Mercedes Benz to celebrate their anniversary. Time will really fail us to talk about all of Something's regular public show of affection. 
With the whole public show of affection and considering that they have been together even before the singer got popular, let's all hope that J'Something and Cordelia Godi will stay in love for many more years to come.
The Award-Winning Singer is Also a Celebrity Cook
J'Something is a member of the popular South African band 'Micasa,' formed in 2011. Mo-T, Dr. Duda, and J'Something formed the band after they realized how great they sounded together. The band has J'Something as the vocalist and guitarist, Mo-T as the trumpeter, and Dr. Duda as the producer and pianist. Their debut album 'Micasa Music' did well in the South African music market with tens of thousands of copies sold. The album also won them an award at the MTN South Africa Music Awards in 2012.
Music is not the only thing the talented J'Something is good at; he also loves cooking. After two years as a musician, he ventured into cooking. He now owns a restaurant named Something's Cooking by J and a cooking show dubbed 'MyKitchen.'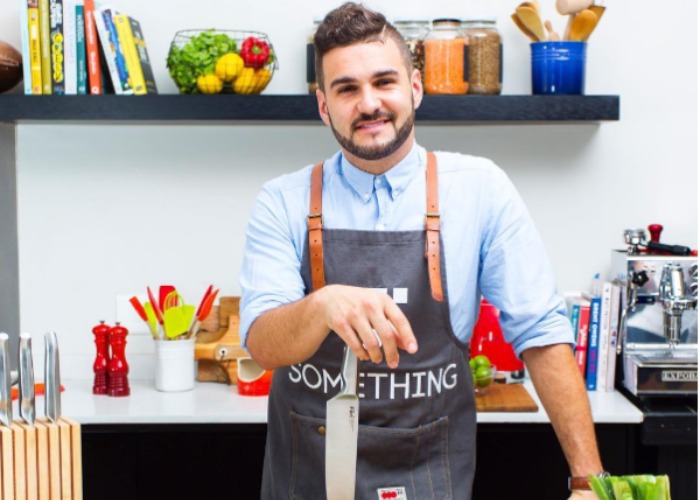 How platinum award-winning musician J'Something has successfully established a career as an entertainer and a cook is still an unresolved puzzle. He is a Portuguese, whose real name is Joao da Fonseca, but due to people's inability to pronounce the name, he changed it to J'Something.
Although he was born in Portugal, he spent most of his childhood in South Africa. At age 7, his family moved to Port Alfred in the Eastern Cape region because his father got a job as beverage manager with Fish River Sun. However, his parent's marriage did not last much longer as they got separated soon afterward. Therefore, he was raised by a single mother who had to work in a diner to feed his brother and himself.