The cat has finally been let out of the bag, and it has now been confirmed that EFF's Spokesman, also known as "Peoples bae," Mbuyiseni Ndlozi, and former Generations actress, Mmabatho Montsho is an item. They look like a perfect match made in heaven. Hopefully, they wouldn't end up like most celebrity couples who dashed the hopes of everyone who loved and adored them together by sinking the boat before it reaches the harbor.
Even though the duo tried to keep their relationship away from the public domain for a while, certain undeniable pointers prove that they are in an enviable romantic relationship. Many women wish to be in the shoes of Mmabatho Montsho right now, but luckily for her, she is the choice of people's bae, Mbuyiseni Ndlozi.
Mbuyiseni Ndlozi and Mmabatho Montsho Have Been In A Private Relationship For Years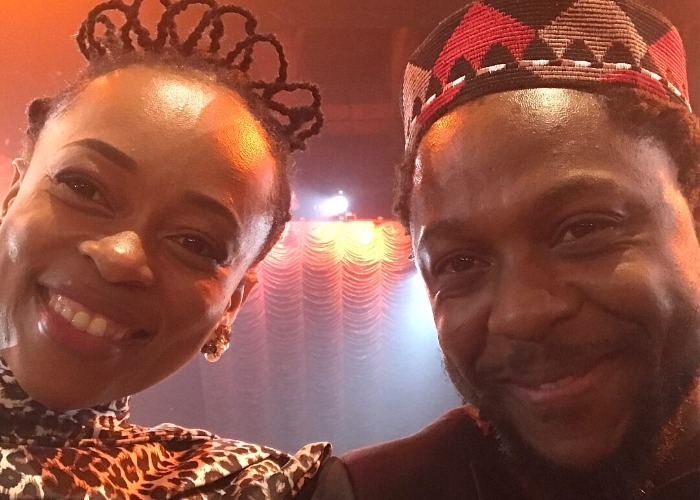 Only Mbuyiseni Ndlozi and Mmabatho Montsho can give the accurate date when their relationship began. This is because they kept their relationship a secret from the beginning, but rumor has it that they started dating in 2017. The lovebirds didn't seem to care about these rumors and speculations as they neither spoke up to either confirm or deny it.
Although neither of them has confirmed their relationship rumors, it is quite obvious that they are both an item. They have been seen in public several times. Even though that's not enough to conclude they are dating, as they could be meeting for any other reason, including business, people don't go on business or casual dates wearing matching outfits.
EFF's Spokesman Mbuyiseni Ndlozi and his beautiful bae Mmabatho Montsho have been spotted wearing matching clothes and looking very romantic, which sends the message 'we are in a relationship and we are so in love' to everyone. Finally, they have started coming out open with it on social media, especially on birthdays and special anniversaries – after years of keeping the relationship private.
Mbuyiseni Ndlozi Bae Has Been A Subject of Interest To So Many Men 
Like Mbuyiseni Ndlozi, known as the "People's Bae" and the celebrity crush of many ladies, his girlfriend, Mmabatho Montsho, has also captured the heart of a lot of men since her rise to fame. You may be wondering why Mmabatho Montsho seems to be every man's dream and how she captured the heart of the young politician Mbuyiseni Ndlozi. Well, he may have his personal reasons. Still, his relationship with Mmabatho Montsho will definitely add value to him.
She is an actress, fine artist, writer, award-winning filmmaker, and director. While in high school, she had already discovered her passion for fine artist and after matriculating from high school, she launched her first label Black Olive Designs. This shows that she has been industrious and creative since her high school days. In collaboration with a group of friends, she continued to grow her fashion business until it gained recognition at South Africa Fashion Week.
Popularly known as one of the former actresses in the TV series, Generations, she started her acting career in 2006 as a guest appearance on SABC 1's series A Place Called Home. Since then, she has been a member of the cast of Jacob's Cross, Happiness is a Four-letter Word, Artcha, Rhythm City, to mention but a few.
Montsho has also produced and directed a couple of movies like A Hotel Called Memory, Frontières, Joko Ya Hao, Nothing for Mahala, and The Award Ceremony. Aside from being hard-working, Mmabatho Montsho is also a lovely lady.
Ladies Have Also Been Crushing On Mbuyiseni Ndlozi
Mbuyiseni Ndlozi is a politician who has always had an eye for politics from a very young age. He was raised by a single mother and never met his father until he became an adult. He studied Humanities at the University of Witwatersrand and went on to earn a doctorate in political science.
From a young age, he got involved in politics. He joined several political movements but finally gained popularity when he became the EFF spokesman. Since gaining the media's interest, he has become the crush of so many ladies and is popularly known as the People's Bae. With the revelation of his relationship with Mmabatho Montsho, many ladies have now come to terms with the fact that he is already taken.
Mbuyiseni Ndlozi Kept His Relationship Private To Protect His Bae
Mbuyiseni Ndlozi and Mmabatho Montsho seemed to have taken their time and waited for the perfect time to reveal their relationship. And they will not be the only celebrity couple who tried to keep their romantic relationship away from the eye of the public. The truth is, most of the time, they have a good reason for it.
According to Mbuyiseni Ndlozi, he kept his relationship private because he is jealously protecting the lady who captured his heart from the public's prying eyes. However, his reason has been thwarted because news about their relationship has made headlines in a couple of celebrity news channels and blogs.
On social media, it also seems like the duo is no longer very much into keeping the relationship private. On her birthday on 19 October 2020, Mbuyiseni Ndlozi posted a video of Montsho dancing with a caption that had two love emojis in it.
Fans Are Anticipating The Wedding Announcement Of Mbuyiseni Ndlozi And Mmabatho Montsho
Considering how private these two love birds have kept their relationship, it would not come as a surprise if we wake up one day to find out that they are already married. But, for now, there is no news about them being married.
Hopefully, when they work down the aisle, they would be gracious enough to fans by sharing photos of their wedding ceremony. Because they have been dating for quite a long time now, we can have our hopes high that they are not breaking up any time soon, and they will make a good couple when he finally pays her lobola, and they become a married couple.
Most celebrity couples usually start having children before the man officially pays lobola, but Mbuyiseni Ndlozi and Mmabatho Montsho are not known to have any children together. There has not been a time she was suspected to be pregnant, so we can't say they probably have a child that they have kept private just like they kept their relationship private.
After almost four years of being in a relationship, Mbuyiseni Ndlozi and Mmabatho Montsho do not seem to be taking a break any time soon.