Abdul Khoza and Sthembiso "SK" Khoza are proof that talent runs in their family. Even though the celebrity brothers are as different as the night is from the day, their acting gene is one of the spectacular things they share in common. Ever since the duo took the South African entertainment industry by storm, they've continued to win the hearts of viewers, filmmakers, and critics through their brilliant on-screen performances.
Though naturally competitive, the Khoza brothers share a lot of things in common, as aforementioned. They've watched and stood by each other's side through thick and thin for years and they are not ready to trade their friendship for anything in the world. The well-loved Khoza brothers boast thriving careers and are not afraid to share the screen for entertainment purposes.
Who Are The Khoza Brothers?
The Khoza brothers comprises of Abdul Khoza and Sthembiso Khoza. The two are household names in the South African entertainment industry, as well as a force to reckon with when it comes to acting. They have come a long way and are greatly loved for their multiple talents. Both brothers are apparently more than siblings; they are best of friends, confidants, and each other's biggest supporters.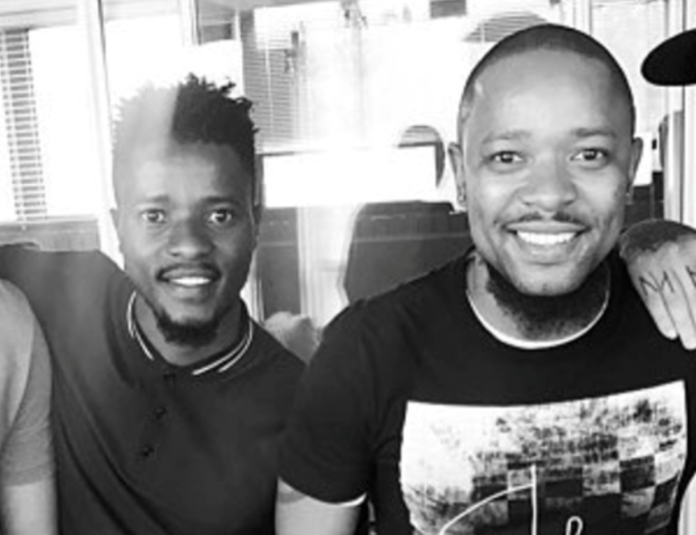 The two serve brotherhood goals and are proud of the men they have become. They are mostly seen together having fun and spreading love. On social media, the Khoza brothers are also influential. They have thousands of people who follow them. Abdul and Sthembiso basically let their fans into their private lives through these platforms – they post their pictures with their family, friends, on set, and other everyday activities there. Let's get to know them more.
Sthembiso SK Khoza Profile Summary
Full name: Sthembiso Khoza
Date of birth: July 1, 1986
Place of birth: KwaZulu-Natal province
Age: 37
Nationality: South African
Occupation: Actor, TV show host
Notable works: The Queen, King of Joburg
Relationship status: Divorced
Number of children: 2
Now 37 years old, Sthembiso Khoza is popularly known in the entertainment industry as "SK". He is a top-notch actor, TV presenter, and host. Interestingly, SK is also an avid sports lover with a particular interest in karate, cricket, and rugby. He excelled greatly in these sports during his school days and was greatly loved by his coaches and teammates at the time.
Though the young man is best known as an actor, he still participates in these sports to date. As a teenager, Sthembiso Khoza won a black belt, for which he was greatly celebrated by his family, coaches, and friends. His love for sports motivated him to study Sports Management at the University of Johannesburg. However, the exact year he was admitted, as well as the year he graduated from the higher institution is not public knowledge.
SK had his high school education at Parkhill High School, KwaZulu-Natal. Unlike most actors whose childhood dream was acting, Sthembiso didn't know he would become an actor or even a celebrity at that.
He developed a keen interest in acting after he performed greatly at an unplanned audition. He had arrived early for an interview on a talk show and was mistaken for an actor auditioning for a role on TV. Sthembso went on to play the role and eventually excelled greatly. It was at this point that he made up his mind to pursue a career in acting and put his acting gene to good use.
Becoming an actor was the best decision the young man ever made. He has excelled greatly to the point that he has been able to branch out to other entertainment fields. SK launched his acting career in 2012 and had his first TV role in the Mzansi Magic telenovela, iNkaba (he portrayed the character DJ Teeman). He has also had other roles but he is easily recognized for playing the fictional character Shaka in the South African thriller TV series, The Queen.
The actor has also done several other entertainment jobs over the years – many thanks to his multiple talents. As a host, Sthembiso Khoza has lent his expertise to shows like Goal Diggerz. He has also worked as a field reporter on Vuzu's TV Entertainment magazine show and a host for Channel O's show, Mzansi Rides.
Other establishments he has worked for include but not limited to Vuzu's V-Entertainment and Trans Africa radio (as an MC and a voice-over). Sthembiso was the host of seasons 1 and 2 of the South African reality TV dance show, Bounce.
Did we mention that the actor also has good looks? Apparently one of the reasons the female folks flock around him and also follow him up on social media. Sthembiso SK Khoza is hunky with an amazing height to match his athletic stature. In 2019, he emerged as a finalist for COSMO's Sexiest Man.
Abdul Khoza Profile Summary
Full name: Abdul Khoza
Date of birth: August 17, 1987
Place of birth: KwaZulu-Natal province
Nationality: South African
Occupation: Actor, musician
Notable works: Isibaya, Intersexions
Relationship status: Married
Number of children: 1
Abdul Khoza is yet another fantastic actor from the Khoza clan. Interestingly, he is also a fitness enthusiast and it easily shows on his body. The young man tasted fame for the first time in the year 2011 after he emerged the winner of the SABC 1 acting TV reality competition, Class Act.
He eventually debuted as an actor in 2013, depicting a budding soccer player in the South African telenovela Two Step. Following an impressive performance, he won a bigger role in the second season of the SABC1 drama series, Intersexions. Again, he did a great job that earned him the love and respect of viewers and critics alike.
Abdul resides in Johannesburg. But before relocating to the megacity to fully concentrate on acting, he worked as a fireman for three years. He also served in the South African Army after he left school. Unfortunately, detailed information about his educational background is scarce. However, we do know that he also attended one of the schools in KwaZulu-Natal like his brother.
Besides Intersexions and Two Step, he has had a role in the TV series IsiBaya and other TV projects and his performances were nothing short of stunning. Abdul Khoza is an award-winning actor. He emerged the winner of a coveted SAFTA Award at the 13th Annual South African Film and Television Award (SAFTA) at Sun City Superbowl, in Rustenburg. The star-studded event, which is an annual occasion organized by the National Film and Video Foundation (NFVF) to motivate and promote talents in the South African Film and Television industry, was graced by a host of South African celebrities.
Also a musician, Mr. Khoza is not doing badly in that capacity. He has an EP to his name which was released recently. He did the work alongside his hip-hop group, Audio Assasins.
Sthembiso Is The Oldest Of The Two Siblings
Both Abdul and Sthembsio were born in the late 1980s. However, the latter is the oldest among the brothers. While Abdul was born on the 17th of August 1987, SK arrived on the 1st of July 1986.
The brothers share some resemblance, especially their good looks. SK, however, looks older than Abdul even though both brothers are still very much young and vibrant. Their age gap has never been an issue though; the younger Khoza loves and respects his elder brother so much. He holds him in high esteem and has shown great support in his life and career right from day one.
They Were Born To South African Parents
Abdul and Sthembiso are the sons of Stan Khoza and Lindiwe Khoza. The two parents are natives of South Africa and are instrumental in their children's journey to greatness. Sadly, detailed information about the actors' parents' personal lives and occupations is quite scarce.
We can, however, confirm that Mr. Stan Khoza is the national president of the Independent Municipal and Allied Trade Union. He has been part of the association for so many years.
Lindiwe, who gave birth to the actors at KwaMashu near Durban, KwaZulu-Natal province, has been a great support system to her husband and children. She is a dutiful woman, as well as a proud mother.
Abdul And Sthembiso Have Been More Than Brothers Since Childhood
Abdul and Sthembiso have been so close to each other since childhood. They grew up together, developing special love for each other and everyone around them. Though not much is known about their upbringing, we could tell from their relationship now that they have always had each other's back and really cared for each other.
Sthembiso has proven his love for his brother on many occasions, including in their younger days. The actor once shared a story of how he was so scared that something bad might have happened to Abdul after he intentionally left him at school because the former refused to share his lunch with him.
Completing the story, Abdul added that he eventually found a car that drove him home. He said the driver promised to take him home as long as he can direct him. The siblings were almost brought to tears by the story.
Even now that the two are all grown, nothing has changed between them, They have even shown greater love for each other than before. They have not had any issue publicly instead, their brotherly love has continued to blossom.
Other Members Of The Khoza Family
Abdul Khoza and Sthembiso reportedly have one sister called Natasha Thahane. It is not clearly known how they are related since Natasha has a different surname and father. Thahane, however, calls SK her brother, and the two have been seen together on several occasions.
The Khoza brothers' rumored sister is also an actress. Born on September 25, 1995, she has starred in projects like Blood & Water, Isono, Lockdown, and The Queen. She has also bagged a handful of ambassadorial gigs and was recently unveiled as the new face of the Granier Even & Matte in Johannesburg in 2020.
Miss. Thahane started her acting career quite early. She briefly studied at the New York Film Academy, US, where she honed her skills before eventually returning to South Africa to give her career the needed attention.
Among the trio, it is not known who first went into entertainment and if the decision influenced that of others. What matters most is that they are all doing well in the entertainment industry.
Both Brothers Are Successful In Their Own Rights
First off, they are pretty close and always look out for each other. Both Abdul and Sthembiso Khoza brothers are doing great in their respective fields. They have been part of several projects both on and off the filming set. Apart from music and acting, Abdul is a stunt coordinator and an amazing father.
Sthembiso, as mentioned earlier, is a respected host and social media personality. He is also a father of two girls. He was married to a South African woman but their marriage crashed after a while. Currently, The Queen star is in a thriving relationship with a Zulu lady called Ayanda. SK's fiance is the CEO and FOUNDER of AMNF Dental Surgery.
So, generally, the two are making waves and are successful in their own right.
Abdul and Sthembiso SK Khoza Have Appeared on Screen Together
While most siblings avoid sharing the same spotlight in the acting world, the likes of Abdul and SK see nothing wrong in teaming up on a project. For now, King of Joburg, a South African thriller series that premiered on Netflix in 2020, is the only known work that Abdul and Sthembiso have featured together as brothers.
News about their impressive achievement went viral in 2020 after the brothers shared an Instagram video of themselves celebrating with their friends and colleagues after watching themselves on the series during its private viewership for some selected personalities. They were so excited because it's a dream come true for them.
King of Joburg is created by Shona Ferguson and has been described as a "thrilling test of loyalties under the gritty, concentrate populace of the crime-ridden streets of the city of Johannesburg". The project features lots of action and elements of an African occult.
The Khoza brothers are hopeful that they will still work together on more projects in the future.