With so many entrepreneurs and vibrant vendors to go around, it's not a surprise that Cape Town is known as the ultimate mother city for food markets. There is an exciting variety of markets in almost every neighborhood all over town. Come winter or summer, night or day, you will surely find food markets in Cape Town that is fully operational for your home needs. Even more exciting, you won't just discover markets that offer local produce but ones with strong lifestyle elements where you can relax to the scent of freshly plucked herbs while watching and listening to live music.
These days, people visit the market for different reasons, either for fun, in search of thrifts, art, craft, live music, to meet up with friends, to catch up with food trends, to stock up on ingredients, search for delicious food recipes or get very fresh farm produce. The food market is also a venue for consumers to meet product makers, bridging the gap between buyers and producers. When it comes to Cape Town city's food markets, the options are endless but here are the 20 best and busiest ones to explore in no particular order.
1. Oranjezicht City Farm Market
Address: Granger Bay, V&A Waterfront
Opening Hours: Saturday, 8:15am – 2pm | Sunday, 9am-2pm | Wednesday, 5pm -9pm
Contacts: 083 628 3426
Highlights: Fresh produce, Space for kids, Foot-tapping music
The Oranjezicht is a famous city farm market (OZCF) in Cape Town that has been hailed for its attention to culture and local foods. The market came about as a non-profit effort aimed at promoting the communal act of bringing people together through farming. Moreso, it has a rich history that dates as far back as the 70s until the original site was swallowed up in the urban expansion. It was brought back to life several years after and has remained active since then.
The market has an urban setting where you can find all kinds of seasonal and fresh farm produce. Besides the assortment of cooked foods and snacks, this is a good location for buying things like fresh tomatoes, fresh mushrooms, eggs, fruits, vegan jackfruits, herbs, raw honey, smoked fish, cheese, organic dairy products, and more. As is typical of urban markets, Orannjezicht has prices visibly tagged on each product, and payments are made after purchase at checkout counters.
There are different stalls displaying both cooked and uncooked food items of all preferences (diabetes, vegan, chocoholics). For further diversity, you will realize that basically any household item you need can be found in the market, including clothing, flower vase, vintage items, shoes, and even house plants. Its outdoor setting makes it equally good for hangouts.
Food Stalls To Look Out For:
Vadas Bakery – For baked goodies
How Bao Now – For vegan jackfruit bao
Woodstock Bakery – For bread and other baked treats
The OZCF – For all kinds of vegan diets
Around Cheese – For all variety of artisanal cheeses and the Karoo crumble
Jason Bakery – For all things pies
Delifish – For melt-in-the-mouth smoked fish
Thank Goodness Foods – For sugar-free baked goods
2. Blue Bird Garage Food Market
Address: 39 Albertyn Road, Muizenberg
Opening Hours: Thursdays 4pm to 9pm, Friday 4pm to 10pm
Contact Number: 084 405 3544 (Laura), 082 920 4285 (Marcus)
Highlights: Beachside view, Perfect play area for kids, Dog friendly
Blue Bird garage food market in Muizenberg is one of the busiest markets in the mother city. Although it is not a daily market like some others on this list, its beachside view makes it unique for a relaxing time shopping for essential home goods. Every Thursday and Friday evenings, artists, brewers, farmers, and bakers gather to offer buyers an interesting array of goods and services at the best rates possible.
For some of its major attractions, think gourmet burgers, tacos, freshly baked cakes, fresh coffee, amazing vegan selections, wine, soft drinks, kombucha, locally brewed beers from taps, and such mouth-watering delights. Besides the great food, the Blue Bird garage food market has a magnificent and delightful range of other intriguing things on sale, including ceramics, books, clothes, jewelry, and freshly harvested farm produce.
For entertainment, the market has an indoor setting that is perfect for relaxation. To keep children entertained, you will find a spacious arena with a jungle gym and other play equipment.
Food & General Goods Stalls To Look Out For:
Rocking Beans Coffee – Coffee and baked Treats
Kick Ass Burgers – Baked goodies
Juicy Kebab – Turkish smoked goodness
Plethora Vegan – All things Vegetarian diet
Craft beer – Locally produced wines and beer
New Hope SA – Seeds and Planter boxes
The Soap Chef – Organic bath products
Amethyst Silver – Jewelry
Aeroplane Jane Vintage – Clothing
3. V&A Food Market
Address: Old Power Station, Building 19, Dock Road, Pierhead, Victoria &Alfred Waterfront, Cape Town
Opening Hours: Monday to Sunday, 10am to 6pm
Contact Info: 021 418 1605
Highlights: 40+ Stalls, Wine tasting, New businesses & products, Celebrity Chefs
The V&A Food Market is located at the Victoria & Alfred Waterfront and is one of the best food markets in Cape Town for purchasing food items, cooked food, and other goods. It has about 40 stalls from which consumers can pick out whatever they need. The platform V&A created equally serves as a launchpad for small and new businesses to introduce their products into the market.
Located at the historical powerhouse, V&A Food Market has become an authentic location in every possible way. It also offers indoor seating arrangements, away from the wind and rain, as well as an outdoor hangout spot with a good view of the sunset. You can enjoy delicious foods, ranging from the Knysna Oyster, waffles, fresh coffee, and beer taps. Even more exciting, you can experience the age-old practice of wine tasting here.
For all of the above reasons, tourists/consumers always look forward to something exciting each time they visit. Note that the market is not dog-friendly.
Food Stalls To Look Out For:
The Ugly Dumpling – Yummy Korean Fried Chicken
Plucky's – Perfectly blended Korean American dishes
Tom& – Best chicken and burgers
Yokos – Creamy treats (ice cream, smoothies, and more)
Royaltea – Green and healthy tea from Asia
Nonna Lina – Salads and Pizza
Sant'Alessandro – Quick fix tasty hotdogs
Cape Malay House – Biryanis, curry-filled rotis, and other Indian delicacies
Lua – rice rolls and poké bowls from Vietnam
Seven Colours Eatery – Catch affordable fun with celebrity chef Nolu Dube-Cele
4. Chilled Market At The Range
Address: The Range Function and Conference Center, Orpen Road, Tokai (via M3)
Opening Hours: Fridays 4:30pm to 9:30pm, Saturdays 9am to 3pm
Contacts: 021 713 2340
Highlights: Tokia forest, Constantia valley, Mountain View, Glowing vineyard, Jungle gym, Jumping castles, Live events, Disabled parking
Chilled Market at the Range is definitely one of the busiest food markets in Cape Town where you can find all categories of cooked, uncooked, Mexican, Chinese, Greek, and Italian food. They specialize in offering some of the best pizza, waffles, mouth-watery sushi, great hamburgers, fresh coffee, and milkshakes.
Its relaxing view helps visitors to enjoy the glowing vineyard while sipping locally made wine, soft drinks, or hot beverages. There's also room for special events like birthday parties, end-of-the-year parties, weddings, functions, team-building events, and any such gathering.
You will find talented artists from around the city brought in to entertain guests with live music. Kids equally have access to a wide playground equipped with a jungle gym, play dough, and jumping castles. Dogs are not allowed here.
Food & General Goods Stalls To Look Out For:
Milkshake Truck
Fantastic Chapel and Wedding venues
 The Nut Art kiosk – All ranges of healthy nuts
Pierre's Deli – All kinds of treated meat
The Coffee Cabin
5. Freedom Weekend Market
Address: Freedom Village, 301 Wemmershoek Road, Paarl
Opening Hours: Saturday: 9am – 4pm; Sunday: 9am – 3pm
Contacts: 083 458 6452
Highlights: Wine tasting, Land outing, Live music
Founded in October 2020 in the heart of the wine lands, the freedom weekend market has become one of the favorite markets for the locals to visit and have a good time. Freedom market is also a place people visit for mouthwatering foods and for other interesting things.
They have a wide variety of shops that offer different foods like Roman-style flatbread, sweet and unsweetened cakes, ice-cold beer, cheese, and many others over which people can relax and have a good time out.
Due to the COVID-19 rules and existing regulations, water points are not made available but free hot drinks and iced tea are available. Fun small group gatherings with family & friends are allowed but with strict adherence to COVID-19 rules.
Food Stalls To Look Out For:
Diesel and Dust – Beer taps and chilled bottles
Loaves By Madame Baker – Baked goodies
Baconville – Platters and yummy cheese treats
Crumbitious Cakes
Pinsa – Fklatbreads made the Roman way
6. Mojo Market
Address: 30 Regent Road (between Church and Clarens Road), Sea Point
Opening Hours: Monday – Sunday, 11am – 11pm
Contacts: 021 422 4888
Highlights: 48 retail shops, 25 food vendors, 10 clothing shops, Steady Live music
Mojo is one of the unique food markets in Cape Town that effectively combines shopping stalls, cooked food, live music, bars, and standard boutiques. It is basically one of the busiest markets in cape town for shopping, food, and entertainment. The market is open seven days a week and has over 30 food stalls and four bars with the widest selection of beverages in the Southern Hemisphere. Its cooked food section offers finger-licking cuisines like chicken wings, pizza, the freshest oyster, sushi, pasta, and more. They have other sections for clothing, jewelry, accessories, shoes, furniture, homewares, and other locally produced items. The options are endless and the market has everything.
Mojo Market is open for breakfast, lunch, and dinner every day of the week which is why it is easily one of the busiest markets in Cape Town. Sports lovers are not left out as there's a giant screen broadcasting all major sporting events with beer, food, and live music to cool off too.
Food Stalls To Look Out For:
Manga Cape Town – An all-time sushi favorite
Tortilla Modern Mexican
Vlerk – Chicken wings to die for
The Mussel Monger – All things seafood
The Little Pasta Factory – Yummy pasta in categories of gluten-free, wholewheat or normal
7. Hermanus Country Market 
Address: Corner of Fairways Avenue and Jose Burman Drive, Hermanus (via N2, R43)
Opening Hours: Saturday: 9am – 1pm
Contacts: 072 883 3894
Highlights: 90+ Stores, Live music, Pet-friendly, Good parking space.
Hermanus Country Market has several stalls with dealers showcasing products that are most often found only here. The market which opened its doors in 2006 has grown steadily over the years with the number of stalls reaching and surpassing 90. Being well known for prioritizing the needs of customers and visitors, Hermanus has some set rules and regulations which they adhere strictly to when it comes to who can rent a stall at the market.
Their criteria are determined mostly by the kind and quality of goods a seller has and also the level of integrity they display. These vendors come from within Cape Town, neighboring towns of Baardskeerdersbos, Wolwengat, and Tesselaarsdal. Also, the goods have to be personally produced by traders so customers can know precisely how each product was made and the passion put into it.
Unlike some of the daily markets on this list, Hermanus is only open on Saturdays and serves fresh handmade cheese, home-smoked fish, happy hen eggs, wheat-free bakes, fresh organic produce, and a drinks section for wine, gin, beer, craft ciders, juice, and coffee. The Hermanus Country Market is a spot with a lot of activities, therefore, family & friends can meet up and have a good time. It is pet-friendly and has good parking space. To become a trader at the market, click here.
Food Stalls To Look Out For:
Folke & Goode – For chilled beer
Tulip Coffee – All kinds/brands of coffee
Veronica's – Baked and vegan foods
Las Paletas – For creamy ice creams and smoothies
Sanity Farm – For sausages, pies, scotch-egg, and more
8. The Neighbourgoods Market
Address: The Old Biscuit Mill, 375 Albert Road, Woodstock
Opening Hours: Saturday: 9 am – 3 pm; Sunday: 10am – 3pm
Contacts: 021 448 1438 (Old Biscuit Mill)
Highlights: 100+ Stalls, COVID-19 compliant, Live music.
The Neighbourgoods Market came into existence in 2006, founded by businessmen Cameron Munro and Justin Rhodes with the intention of restoring and redefining the public market for a better shopping experience than what already exists. They no doubt succeeded because the market has won some outstanding awards that have set it well above other markets.
This market operates only on Saturdays and accommodates new producers which explains why there is always a new experience awaiting customers each time they visit. It currently promotes over 100 traders and creates an avenue every week for bakers, butchers, artisanal producers, fine-food vendors, grocers, local designers, vintage traders, and most importantly local chefs to exhibit their appetizing goods.
As you navigate the complex live music playing in the background, you will find a lot of stalls showcasing hats, sunglasses, drinks, clothing, and accessories. On the food section, you will find cooked foods, fresh farm produce, and dairy products. It's also impressive for family and friends type gatherings but with strict obedience to COVID-19 rules.
Food & General Goods Stalls To Look Out For:
Candy's Kitchen – For very steamy street food
Espresso Lab – Optimal coffee in different flavors
Mother Shucker Oysters – Delicious oysters directly from farms in Saldanha Bay
Pepe's Choice – Artisanal cheese
Wanida Boutique
Pop-Up stall Bodega Ramen
9. The Lourensford Market
Address: Lourensford Wine Estate, Lourensford Road, Somerset West (via N2, R44)
Opening Hours: Friday: 5pm – 9pm; Saturday & Sunday: 10am – 3pm
Contacts: 072 284 1654
Highlights: Friday Night market experience, Wine tasting, playground for kids, Friday night Twilight market, wheelchair accessible, Pet friendly.
The one word that best describes the Lourensford Food market in Cape Town would be trendy. Although it has a large number of stalls to make purchases from, the market arrangement makes it pretty easy to navigate. The location gives it good protection from the sun and rain, however, the grounds of the market spot over 60 stalls, well-landscaped gardens, and sprawling lawns where shoppers can sit out, relax and enjoy mouthwatering dishes.
The Market's first priority is providing quality products and accountable vendors to customers, so unlike any other market around, it has two distinct vibes; the Friday night events and family & friends hangouts Sunday afternoon with a perfect nightfall vibe for those who wish to have a lively night out relaxing and sipping freshly brewed coffee. Other yummy delights you'll find include specially made Samosa, fresh fruits, vegetable juices, sushi, pizza, and noodles.
There's also a vast garden for other exciting activities and a playground for kids which makes this market a good spot for all categories of people.
Food & General Goods Stalls To Look Out For:
You Bet It's Ice Cream
Corlie's Italian – Woodfired Neapolitan-style pizzas
Persian Emporium – Vintage Persian and oriental rugs, furniture, art, and crystal chandeliers
The Fudge Kitchen – Gluten and gluten-free fudge in different amazing flavors
Sir Chicken – Unique umami flavored sauce with Korean Fried Chicken
Boeretroos – Coffee that is more than just a shot of caffeine
Abundance Catering – Fresh locally cooked food
Twee Jongens – Home cooked jams and pickles
That Food – Spice and herbs infused cuisine
Samosa Specialist – Top quality samosas made from scratch
Rib Republic – Sticky, delicious meaty ribs, slathered in a rich, smoky sauce
G Thai – Authentic Thai food
Dr Juice – Fruit and vegetable juice and smoothies
10. Vegan Goods Market
Address: The Range Tokai, 7945, Cape Town
Opening Hours: Bi-monthly (Sundays): 10am – 3pm
Contacts: 063 214 6880, 084 423 3771
Highlights: Vegan assortment, Pet friendly.
Vegan Goods Market was founded in 2016 by Sarah-Lee Beckett who ran it until she brought on Shaun Robertson as a co-owner in 2019. The market's operation started once a month but soon became a favorite and was bumped up to twice a month. However, the lockdown during COVID-19 displaced the market until 2020 when they returned with a change of venue.
Currently, the vegan goods market holds twice every month at the range, Tokai. It's known to be full of devoted and committed professional traders and caters to products for virtually all aspects of daily life, including food, beverages, clothing, lifestyle products, and more. It also runs an animal shelter that encourages the adoption of stray pets.
Food Stalls To Look Out For:
Vegan Street Food
Rumina's Fruit & Veg
Rescue Obsessed
Berry's Express
Tonyh Artisan Chocolates
Romeo & Vero Vegan Butcherie
Ngwedi Beauty
Get Grounded
Tierra Nursery – For all kinds of seedlings
LMM Jewelry
Blame It On My Gypsy Soul – Tarot card reading
11. Bay Harbour Market 
Address: 31 Harbour Road, Hout Bay (via M62 or M6)
Opening Hours: Friday: 5pm – 9pm; Saturday & Sunday: 9.30am – 4pm
Contacts: 084 370 5715
Highlights: Waterview, Bay Habour Magic, 100+ stalls, Singing seagulls, Chapman's Peak view
Bay Habour Market is a place that unites people from all cultures to celebrate the South African Spirit. It has over 100 standard shops, making it very easy for customers to find anything from top leather to fashion, artworks, footwear, jewelry, good food, drinks, decorations, collectibles, crafts, thrifts, and other gift items. All of that is complemented by delicious treats like spicy seafood, freshly baked bread, burgers, etc.
It's an outdoor market hence shoppers are treated to a refreshing ocean air but when the weather changes, customers are ushered inside to sit next to a warm fire. All the excitement and entertainment you need is right here, including local performers, a robotic mime, live music to uplift your soul while you sip its local wines, beers, or gin.
Food Stall To Look Out For:
Relish & Savour – For all kinds of Mediterranean and Middle Eastern cuisine
The Wicked Waffle – Mouthwatering Belgian waffles and crepes
WHOOMPH – A top-rated CBD brand in South Africa
Zuki Massage and Body Care – Onsite relaxation and luxury body care therapy
Lumi Bespoke – Clothing for all genders
Raw Jasmine – Hand-crafted ornaments for home decor.
12. Elgin Railway Market
Address: Oak Avenue, Grabouw (via N2, R321)
Opening Hours: Saturday & Sunday: 8.30am – 4pm
Contacts: 021 204 1158
Highlights: Live music, Play area for kids, Gateway to Elgin Valley, Clear view of the Ceres train station.
Elgin Railway Market is housed in a building that came into existence far back in the '40s. The old apple warehouse was converted to a spacious indoor and outdoor market decorated with arts and lanterns. It's set to give you the feeling of what an outstanding market should be. There's a long choice of stalls for clothing, ceramics, jewelry, genuine leather goods, kids' toys, and fresh farm products. You can equally get cooked and baked foods like sushi, ribs, harm burgers, curry pot, Italian pizza, coffee, sweet and unsweetened cakes, ice cream, homemade waffles on a stick, and all kinds of drinks.
On Saturdays and Sundays, you will experience live music from some of the best bands and artists within the area. For children, there are designated play areas for kids of all ages. Dogs are not allowed inside the market but there's a place outside created for them with water available, but they must be kept on a leash.
Food and General Goods Stalls To Look Out For:
The Curry Pot
Fudge Kitchen
Elgin Valley Wine Shop
J&J Sushi
The Station Grill
Ubon Thai
13. Franschheok Village Market
Address: 29 Huguenot Street, Franschhoek (via N1, R45)
Opening Hours: Summer: Saturdays, 9am – 3pm; Winter: Saturdays, 10am – 3pm
Contacts: 073 172 8080, 066 232 2215
Highlights: Free entry, Play area for kids, Soulful music, Pet friendly, Snapscan accepted, ATM points available.
Franschhoek Village Market has something for everyone from its different sections for things like fresh local produce, craft beers, coffee brewers, treats, boutiques, wine farm, and more. There are also other sections for arts, vintage clothing, antiques, crafts, etc.
Tourists have made Franschheok the number one destination in Cape Town because it gives them an insight into the community lifestyle of South Africans. Every weekend there are new things to explore, like tasty braaied meat, gourmet pancakes, shawarma, rotis filled with curries, snacks, beer, wine, and fresh coffee.
The market is the perfect scenario for family gatherings and outings especially because of its weekend settings and an assortment of mouthwatering foods & drinks to enjoy while listening to local musicians work their magic.
Franschhoek Village Market was closed during the COVID-19 lockdown but resumed on the 8th of August 2020 with strict COVID-19 regulations and protocols adherence.
Food & General Goods Stalls To Look Out For:
Stalls differ every weekend, especially because it is not a daily market. This means that the traders you see this week may not be the same ones you will find on another market day.
The Pancake Emporium
The Traveling Coffee Shop
Alain's Signature Blades
African Hides
Franschhoek Cellar
Dumi – Freshly Pressed Juice
Tsotsi Streetware
14. Blaauwklippen Family Market
Address: Blaauwklippen Wine Estate, R44 Strand Road, Stellenbosch
Opening Hours: Saturday & Sunday: 10am – 3pm
Contacts: 021 880 0133
Highlights: Entrance is free, Lush picnic grounds, Live music, Jumping castles, Pony rides, etc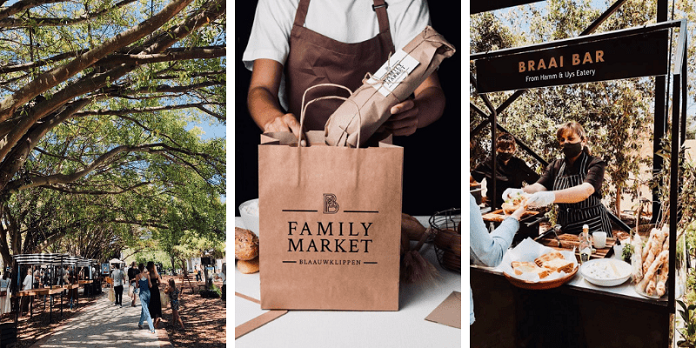 The Blaauwklippen family market is a well-known place of relaxation for families. Traders here are passionate about their goods as they love to meet tourists from all over the world and engage them in conversations about what they offer and the culture of SA in general. This makes it one of the most irresistible and friendliest food markets in Cape Town.
Food lovers are advised to visit the wine-sales building where they can find shops for wines, locally brewed beers, and everything from fresh produce, cheese, homemade pies, baked treats, and olives. Beyond food, there are other different thrift shops advertising things like jewelry, arts, and craft. In all, its focus is on local, organic products, goods, and commodities.
It also has fun activities for kids like pony rides, Zorb balls, soccer darts, pedal carts, jumping castles, and very calm pets to feed and play with. As the name implies Blaauwklippen Family Market is the perfect place to spend a whole day and relax with friends & family.
Food Stalls To Look Out For:
Stonehill Olives
Giros Greek food
De Vrije Burger
Catje's Pancakes
Fleur Le Cordeur
Piroschka's Flammkuchen
Hamm & Uys
15. Natural Goods Market at Century City
Address: Central Park, Park Lane, Century City, Cape Town
Opening Hours: Last Sunday of the month: 9am – 2pm (summer)
Contacts: 083 353 8376
Highlights: Spacious Lounge, Vegan kitchen, Free train rides, Pet-friendly
Natural Goods Market located at Century City Square has a fair arrangement that is often packed with people every last Sunday of the month. It has a nice unwinding walk path that spots draft beers, organic wine, pink G&Ts, chilled bubbly cider amongst other kinds of drinks. Kids are not allowed to play around in the shopping stalls area and for that reason, a spacious park was created for them, equipped with a Ratanga train, jumping castles, and kiddies toys.
Food stalls here offer delightful treats like aromatic curries, vegetarian options, special coffee, fresh bread, baked goods, olives, organic beer, wines, fruit juice, etc. Other shops at the market offer items like clothing, beauty products, arts and crafts, etc. There's also a quiet place for dogs to play but they must be on a leash and well mannered.
Food Stalls To Look Out For:
Sprung Spring Rolls
The vegetable kitchen – Vegetarian meals
Tally-ho Farm – All varieties of Fresh farm produce
Churros – Baked goods and pastries made the Spanish way
16. Cape Point Vineyards Market
Address: Cape Point Vineyards, Silvermine Road, Noordhoek (via M3)
Opening Hours: Thursdays 4.30pm – 8.30pm
Contacts: 021 789 0900
Highlight: Wine tasting, Amazing Sunset view, Live music, Great wine, Ample parking space, Celebrity Chefs
This market operates only on Thursdays during summer and its outdoor picnic-like setting gives customers a breathtaking view of the sunset. It's one of the must-visit events for both locals, travelers, and tourists alike. Vineyards market lovers often look forward to an eventful, exciting, and fun-filled evening. This market is considered one of the places every tourist to Cape Town must experience.
Cape Point Vineyard Market offers a mouthwatering array of foods that often make it hard for food lovers to decide on what to get. They serve well-roasted lamb, wood-fired pizza, vegan donuts, steak, sandwiches, and pork ribs. Being an award-winning place for all things wine, this market boasts an amazing selection one can taste or buy from. Even more exciting is the opportunity to meet some chefs that you often see on TV like Peter Goffe-Wood Judge of Masterchef SA and Jonathan Gargan, resident chef at Cape Point Vineyards.
Its green lawns are perfect for picnics, hence it attracts large crowds who often come to relax and enjoy the breathtaking view of the water and sunset. It also has a children's play section equipped with slides and jungle gyms. Pets are not allowed here.
Food & General Goods Stalls To Look Out For:
Donut Factory – Healthy vegan donuts and other baked goods
The Lamb Man – Moist roasted lamb
Pete Goffe-Wood's Kitchen Cowboys – All things barbecues, steak, pork, and sandwiches
Stoked Pizza – Pizza made over a woodfire
Lean Gains – Mexican
Gourmet Mac 'n Cheese
Amethyst – Imported jewelry and gemstones
17. Country Craft Market at Southey's Vines
Address: Southey's Vines, 186 Main Road, Somerset West
Opening Hours: Selected Saturdays: 9am – 2pm
Contacts: 021 843 5002, 083 461 8448
Highlights: 180+ Stalls, Dog friendly with watering holes, Park-like setting, Pet friendly, Plenty of parking space
This market has been in existence for over 30 years, currently has a capacity of well over 180 stalls, and is still waxing strong. It promotes high-quality handcrafts and creates an avenue for local craftsmen to showcase and sell their artworks by themselves. Besides being a very good arrangement for the sellers, it also gives the buyer the advantage of knowing the passion, imagination, and innovation behind each piece they choose to buy.
Although a craft market, it also has playground settings that feature a country kitchen and provide countless food and drink options while shoppers are entertained by talented musicians. Jumping castles are provided to keep the little ones entertained. The market is pet-friendly and provides watering holes.
Food Stalls To Look Out For:
Endinak Trading – For handmade beaded utility and decor baskets
Vincent Crafts – For manually carved decorative wooden animals
Toi-ikwiten Egg Creation – For decor and home ornaments
Luree -For delicate and beautiful fabrics and other household products
18. Friday Night Market at Boschendal
Address: Boschendal Wine Estate, Pniel Road, Groot Drakenstein (via N1, R44)
Opening Hours: Friday, 6pm – 9pm (until 30 April 2021)
Contacts: 021 870 4200
Highlights: Free entrance, Zapper, and Snapscan are accepted, Pet friendly, COVID-19 compliant, Horse rides, Treehouse
The setting of the market is like an estate which gives it an incredible view plus the lovely garden and Mountain View. The best time for visitors to experience this remarkable food market in Cap Town is at night while enjoying live music, looking at crafts, goods at shops, and beautifully arranged artisanal food and drink.
There are options for every food craving, from the normal steady fast foods like pizza, baked foods, oysters, burgers, beef to wine and cocktails. You will get a wide range of delicious meals like pancakes, Aniseed curries, and waffles for dessert. It's a good spot for family and friends who want to share a glass of wine together.
Payments can only be made with cards, Zapper, and Snapscan as they have a no-cash policy.
Food Stalls To Look Out For:
The Pancake Emporium
The Oyster Guy
Wicked Waffle
Aniseed Curries
19. Kirstenbosch Craft and Food Market  
Address: Stone Cottage Grounds. Corner Kirstenbosch and Rhodes Drives, Newlands
Opening Hours: Last Sunday of the month, 9am – 3pm, Twice in December
Contacts: 074 333 2170
Highlights: 200+ stalls, Dog friendly, botanical gardens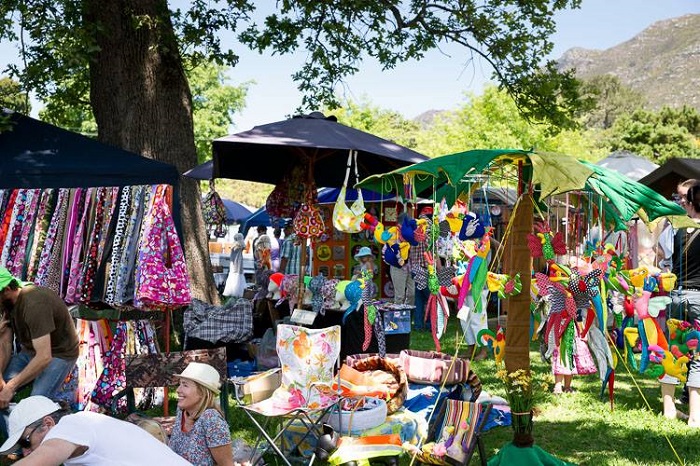 The Kirstenbosch Craft and food market is a very lovely place to savor the warm weather while touring around the almost 200 stalls and 250 local artists available.
The vendors are friendly and keen to welcome tourists and share their views on new products. Market lovers are sure to find all kinds of handmade crafts, detailed clothing, quality leather, unique arts, ornaments, décor, kitchen wares, handmade toys, garden furniture, ceramics, and many more.
As a top option among the busiest food markets in Cape Town, the description of this spot won't be complete without mouth-watering snacks like ice cream, pizza, burgers, wine, beer, etc. Different talented artists take turns to entertain the guest while they enjoy the breathtaking Kirstenbosch National Botanical Gardens that is full of hundreds of plant species. There are pony rides to help entertain the kids. Dogs on leash are allowed. 
Food & General Goods Stalls To Look Out For:
Nix – Miniature birds and other animal figures


Moments

– H

andmade Arigurumi crochet toys and dolls

FastFred – Handmade bags

The Happy Struggling Artist – Watercolor paintings

Le Ouna's Pantry

– Home-baked

 treats

Marga's Poffertjes

– Dutch puffy mini pancakes
20. Root 44 Market
Address: Audacia Wines, Annandale Road, Stellenbosch (via N2, R44)
Opening Hours: Saturday & Sunday: 10am – 4pm
Contacts: 021 300 3935
Highlights: All-weather market
Root 44 is located at a well-built comfortable tent overlooking a beautiful vineyard. If you want to enjoy a beautiful day out, Root 44 Market is just the ideal place in Cape Town. It showcases a variety of products like homewares, clothing, jewelry, quality leather, arts and crafts, take-home products, and hand-picked antiques.
It's known as one of the best child-friendly markets and is number 1 out of 24 markets in Stellenbosch. In addition, Root 44 market has all kinds of tasty treats that no food lover can resist like wood-fire pizza, gourmet hamburgers, healthy salads, sandwiches, spicy food, etc. The beers and wine will have you come back for more.
As one of the busiest food markets in Cape Town, Root 44 has a platform that invites talented entertainers every Saturday and Sunday to perform for customers as they enjoy their meal.
Food Stalls To Look Out For:
Earth Fire Pizza
Genesis and Lingo
Amethyst
The Pickled Poppers
Belgian Waffle Kitchen
Blood Orange Clothing
The Mussel Monger
How Common Are Food Markets In Cape Town?
Food markets have become a major uniting factor for residents of Cape Town. The rate at which new markets are springing up in different locations is a testament to the fact that Capetonians have a great love for tasty food,, well-brewed wines and drinks, especially if they are produced within the community.
While the market is still very much ripe for restaurants and fine dining, Cape Town has in recent years seen a rush in the food market where you are offered something beyond the formal restaurant setting. A chance to relax, unwind, and enjoy moments with family & friends, in an informal setting without necessarily compromising the quality of food served. The idea of food markets in Cape Town is all the more appealing because there's a certainty that all products and food are freshly made.
In all, the food markets have become a well-known part of community and bonding and can be found in almost every neighborhood in Cape Town.
General Features of Food Markets in Cape Town
The location of the market must be central not been too far from the city
You will find goods at discounted prices
Neatness and orderly arrangement of stalls.
Transparent and honest vendors
Handmade wares
Fresh from farm produce
Fun space for kids to play
Tasty food and drinks
Entertainment and live music etc
Safety Tips For a Food Market Trip
Wear a face mask
Go with your own wipes and sanitizers.
Beware of pickpockets: Always keep your bag close to you
Don't carry too much cash around
If you are going with kids, make sure to keep an eye on them at all times.
Before taking your pets, check the market's condition for pet owners