Since 2018 when TikTok was first birthed, it has seen a huge surge of young people who do not only want to consume short and interesting videos but also to create them. The platform has since created its own class of users while also drawing from users and content creators on other platforms such as Instagram and YouTube. Already, many South African TikTok stars are gaining as much of the available attention as possible.
Although in 2020 there was the fear that the app might come to an end as a result of a potential cybersecurity threat, it has managed to keep its head above the waters and continue to attract new users. With regards to South African stars on the platform, there are more than 10 who have crossed the 1 million follower-mark, which is among the highest among other African countries. The dominant videos shared by South African TikTokers seem to lean more towards comedy skit, although there is still an overwhelming diversity, most especially among the top individuals on the app.
These Are The Top South African TikTok Stars At The Moment
1. Wianmagic
Born Wian van den Berg, Wian Magic tops among the most famous South African TikTok stars with close to 11 million followers on the platform. More than just TikTok, he is also a big name on other platforms, including Instagram, where he brags of over 330,000 followers, as well as Facebook, and Twitter.
He builds his followership through his short clips on magic. Instead of doing most of the magic himself, Wian chooses, instead to show some of the tricks behind the magic. He first came across magic on The Ellen DeGeneres Show when he saw a man performing, and he got fascinated by it. This became his motivation to start magic and showing the simple tricks behind them. The SA native is a Got Talent finalist.
Wian Van Den Berg got nominated alongside other stars, including Sho Madjozi and Ghana's Lydia Forson for the E! African Social Star 2020 award. For now, Wianmagic remains the only one among other South African TikTok stars to have more than 10 million followers, although the stage is already ripe for many others to join him with double digits.
2. Karl Kugelmann
Unlike most others, Karl Kugelmann decided to take a path not so many seem to be interested in, by mostly posting transition videos. He was born on February 6, 1997, in Melkbosstrand, Western Cape, where he was also brought up. He managed to gain his massive followership thanks to his good looks as a professional model.
Before he joined TikTok in 2018, he had already started building his other social media handles, including Instagram, where he now has more than 700 thousand followers. Within months that he started using the popular lip-syncing app, he had already got more than a million followers.
Yet another big name in the South African social media scene, he has also been nominated for the E! African Social Star 2020 award. He was placed in contention for the African Social Star of 2020 together with the aforementioned stars and also International Emmy Award nominee and actress Thuso Mbed.
3. Daniël Vermaak
@danielxv_

Want to see the results?😳😂 CHECK OUT THIS CASE FROM @plutocase ! (IT STICKS TO ANY DRY WALL!😎)
Daniel Vermaak is also one of the earliest South African stars to join the popular app. He started his channel, danielxv_ in June 2018. It did not take him too long before finding himself among the top individuals others want to follow on the platform in the country.
The social media star was born on February 7, 2003, in South Africa, where he was brought up together with two sisters. The youngster is famous for his videos that include everything from lip-syncing to comedy, and also dancing videos. He, likewise, has good followership on Instagram where he has more than 66,000 fans. While Daniel Vermaak is not a model, there are talks that he might decide to get his feet into the field because of his interesting sense of fashion.
4. Chané Grobler
The leading South African female on TikTok, Chané Grobler has a lot of things working to her favor, including her good looks and charm, but most importantly, her creativity is what keeps pushing her on the ranks.
Grobler was born on October 18, 2000, in the province of Limpopo, where she spent her earliest life. By the time she was 3, the marriage between her parents came to an end, and she was brought up in Pretoria by her mother and grandmother alongside a brother, Ethan. She first came to fame on TikTok in 2018 when she started sharing comedy videos and dancing challenges in her handle.
Just as she rose fast into fame, she also fell fast in controversy, after she was accused of making racist and homophobic comments for which she was dragged in different social media platforms. She soon came out to apologize for the comments before taking some time off social media to "educate" herself about the transgender community and how to treat them with respect. With the controversy well behind her, the TikTok star has since returned and continued to increase her standing on the platform.
One thing interesting about her is that she is in a relationship with one of the biggest South African Tik Tok stars KingBerto, although he is not on the list. Chané Grobler's followers on the platform double that of KingBerto.
5. Jessica Ballinger

After Grobler, Jessica Ballinger is the next most popular female TikToker in South Africa. Born in 1996, in the country, she was raised there before she later moved to England, where she now lives, although she holds South African citizenship. Unfortunately, not so much is known about her personal or family life.
The beauty might be more famous as a social media star on the lip-syncing app, but she is also a slow-growing actress who has appeared in a number of stage productions, including Of Mice of Men, Annie, and War Indulgence. She got her education in England from Worle Community School, where she was a theatre student. From there, she went to the Forest Of Dean College.
As a TikTok star, Jessica has come a long way with more than 1.6 million followers at the moment, and an account that is still fast-growing. Also, she has more than 40.6 million likes. She creates videos of herself dancing as well as comedy clips. Ballinger, who seems to be an only child, has featured her mother in a good number of videos.
6. Andreas
Andreas, or Andy Stallion as he is known by his fans, gained fame as a TikTok influencer who does almost anything that comes his way, most especially dancing and comedy skits. He was born on March 26, 2002, in South Africa, where he was also brought up with his younger brother.
Before he achieved fame on TikTok, he ran for his school's athletic team and also trained in martial arts. While some gained fame with particular videos on the app, his fame grew thanks to different videos he constantly shares after he began making videos as a joke in June 2019. His family members, including his father, mother, brother, and granny, have all been on his videos.
Andreas is not only famous on TikTok, but he also has a decent following on Instagram with close to 50,000 followers and on YouTube where he has close to 5,000 followers.
7. Witney Ramabulana
Without a doubt, Witney is one of the leading women among other South African TikTok stars, boasting more than 1.2 million followers, and she is not slowing down. She makes entertaining videos that cover everything from dancing to comedy skits and different viral challenges. She wants to keep entertaining fans, but more than just that, she also wants to encourage them to be and love themselves.
Witney was born in Limpopo, where she also spent her early years before moving to Pretoria when she was in high school. In 2018, she joined TikTok and soon made a cat-walking dance video that would shoot her to fame. The video garnered close to 9 million views and got shared by Oprah's Instagram.
Although apart from TikTok she also manages a good following on other social media platforms, including Instagram, she also has a regular professional life with an IT firm, where she works as a senior financial administrator.
8. Troy Shepherd
Troy Shepherd doesn't do anything new, it's just that he happens to do everything differently from almost everyone else. This is what has seen him growing rather rapidly and becoming one of the most important TikTokers in South Africa, boasting of more than 1.2 million followers and over 48.1 million hearts.
He was born on January 14, 2000, in South Africa like others on the list, although he hasn't let fans so much into his early and personal life. The young TikTok influencer is known for his comedy skits, which he mostly shares on the lip-syncing platform. For now, he doesn't seem to have as much following on other social media platforms as he does on TikTok.
9. Layla
If you have ever found yourself wondering what you can do online to become famous, Layla is a lesson that anything you do can make you famous. She gained fame and rose into becoming one of the biggest South African TikTok stars by simply wearing high-heeled shoes and crushing on things, which most of the time happen to be balloons with water. She also crushes other things with her feet, including eggs.
Not so much is known about the individual behind this account, but it is known that she is also a foodie and is interested in ASMR. She has an Instagram account with over a thousand followers. The TikTok account was only started in May 2019 and has since managed to build respectable followership.
10. Calvin Reef
@calvin_reef

#pov I'm handcuffed to a poll while the "titanic" is sinking , I try call out for help one last time before the room starts to flood with water. #fyp
Without so much doubt, Calvin Reef is one of the fastest-growing South African TikTok stars. He might have only posted his first video on the platform in March 2020, but by November of the same year, he had already got more than 1.3 million followers and over 44.8 million likes.
Reef was born in South Africa on August 2, 2000, and was brought up together with his sister. He attracted the attention of users on the platform through his POV and lip-sync videos. Reef also has a good following on Instagram.
Other South African TikTok Stars With Huge Following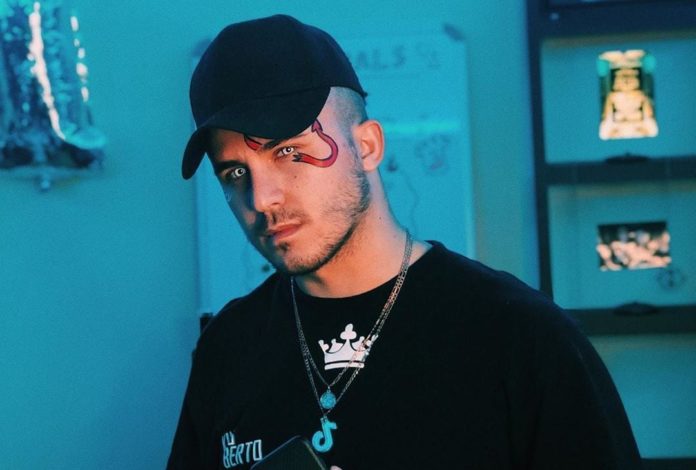 Although the aforementioned are the main South African TikTok Stars who have the biggest influence on the app, many others also enjoy a fair chunk of space on the ever-growing platform, despite the unending crises that seem eager to swallow the app.
Other famous stars on the platform include KingBerto, who became famous for his Lip Syncing videos on the platform, which got him a followership of more than 1.1 million towards the end of 2020. Chris Moolman (@chrismoolman_) is another star with more than 1.1 million followers.
Others are Damian Snp (@damiansnp) who has over 780.9 thousand followers and 21.6 million likes, Connor Weyer (@connor_weyer) with over 758.4 thousand followers and 29.1 million likes, Michael Thomaz (@mikeyt07) who has 743.7K followers and 17.6 million likes, Karabo (@_karabo.fxkiid) with 733.9K followers and 14.8 million likes, as well as ZayaanFour (@zayaan4) with more than 1 million followers and 21.3 million likes.