South Africa is home to over 2000 shopping malls with the biggest of them – The Fourways Mall – found in Johannesburg, Gauteng Province. However, every city in the country tries to outdo the others in terms of providing the best shopping malls for its populace. Practically all the malls in Cape Town pride themselves as the best and most convenient shopping experience centers in South Africa. Call it boasting or an empty talk, the only way this can be confirmed is by taking a tour around the biggest shopping malls in Cape Town to verify the claims. However, since we know this may cost a lot of time and money, we have come up with a list of some of the biggest shopping malls in Cape Town.
One of the criteria we considered for any of the shopping malls that made it to our list is their total floor space, however, these shopping malls are not just called the biggest for that alone. Besides the floor space, other factors such as their top-notch customer service, number of stores, and variety of tenants that occupy the mall have also put them on this list. Be that as it may, the fact that a shopping mall in Cape Town does not make it to our list does not mean it is not worth shopping in, considering the fact that the city has some of the best malls in South Africa.
Biggest Shopping Malls In Cape Town And Everything You Need To Know
If you love shopping then you live in the right South African city – Cape Town – as it boasts of an array of shopping malls where you can find any and everything. Whether you are looking to get household items, designer clothes, electronic gadgets, sports equipment, etc, you will find them in any of the shopping malls in Cape Town. Let's look at the 10 biggest malls in Cape Town that would offer you varieties for your shopping pleasure.
1. Canal Walk Shopping Center
Location: Canal Walk, Century Blvd, Century City, Cape Town, 7441
Year It Opened: 2000
Size: 141,000m²
Number of Stores: 400+
Best For: Restaurants, Coffee, Fashion
Opening Hours: Mondays – Sundays: 9 am to 8 pm
Canal Walk Shopping Center is the biggest shopping mall in Cape Town and with a total floor space of 141,000m², it is also the third-largest shopping mall in Africa. The shopping center which is made up of 400+ stores is home to both well-known international and local brands where shoppers can buy quality products and services. The mall also has over 8000 parking bays.
80% of this mall is owned by Hyprop Investment Limited and the remaining 20% is owned by Ellerine Bros (Pty) Ltd. Since the mall was constructed and opened in 2000, it has managed to remain as beautiful and productive as it is today through proper management. One of the major challenges the mall has faced is the water crisis and to salvage the situation, a crisis management plan has been put in place by providing infrastructures like chiller plants and waste yards to control water consumption by shoppers and clients.
Canal Walk is one of the shopping malls in Cape Town where you are sure to shop from brands that are internationally recognized like Burger King where you can get some of the most delicious burgers in the country. Other brands you will readily find at the Canal Walk Shopping Center are McDonald's, H&M, and Starbucks. You can also find malls that may not be internationally recognized but are popular within the country like Archive, Bathu, Big Blue, and so many others. The 400+ different stores sell a variety of things like food, small chops, jewelry, footwear, electronics among other things.
2. Tyger Valley Center
Location: Tyger Valley Centre Corner of Bill Bezuidenhout and Willie van Schoor, Bellville, 7536
Year It Opened: 1985
Size: 88,973m²
Number of Stores: 250+
Best For: Fashion, Entertainment
Opening Hours: Mondays – Saturdays: 9 am to 7 pm | Sundays and Public Holidays: 9 am to 5 pm
Tyger Valley Center prides itself as a self-acclaimed best store in Cape Town because of its perfect blend of leisure, lifestyle, and latest fashion. If you are seeking a nice place to spoil yourself or your loved ones in Cape Town with the best fashion, beauty, health, and skincare products, then this mall may be the right destination for you. You can also purchase interior and exterior decor products, toys, home appliances, and some of the best meals at Tyger Valley Center.
Shopping with children may be a good idea as it will turn into an interesting experience for them. In a situation where you have to have to come to the mall with your children and do not want to walk around with them, Tyger Valley has you covered. Funky Frogs is the perfect place to keep your children, seeing that is it safe and they also get entertained while you knock yourself out with that fantastic shopping experience you deserve.
Some of the popular stores you can find in this mall are Burger King, Anat, KFC, and Hooked, QueensPark, Zara, etc, where you can get some of the best meals and for fashion, some of your trusted brands like Cotton On, Old Khaki, as well as Pick n Pay Clothing are domiciled in the shopping mall. You will also find barbing salons, electronics, optometrists, banking services, and stationery stores at the mall.
3. Parow Center
Location: Parow Center, Cnr De La Rey & Voortrekker, Parow, 7501
Year It Opened: 1972
Size: 86,000m²
Number of Stores: 155
Best For: Restaurant, Fashion, Beauty, and Spa
Opening Hours: Mondays – Fridays: 9 am to 6 pm | Saturdays: 9 am to 5 pm | Sundays: 9 am to 2 pm || Public Holidays: Mondays – Thursdays: 9 am to 3 pm | Fridays and Saturdays: 9 am to 5 pm | Sundays: 9 am to 2 pm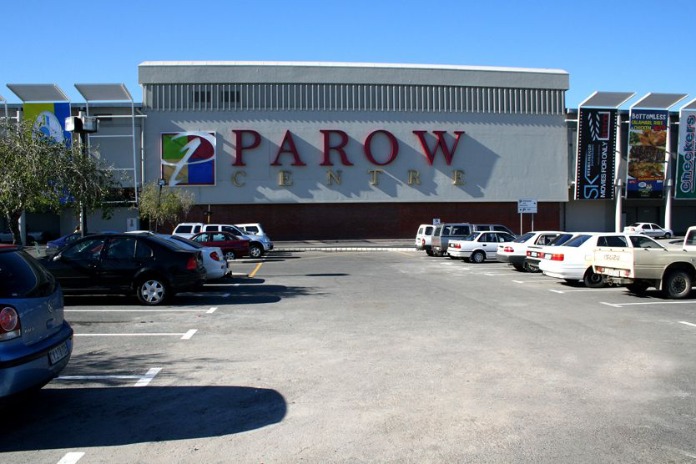 Parow Center is not just one of the biggest shopping malls in Cape Town, it is also one of the oldest, as its existence spans over 4 decades. Despite being this old, the mall has managed to maintain its standard and stylish ambience through regular renovations which have gotten it to the place where it is now with a total floor space of 86,000m².
This mall is very careful with the kind of tenant they lease their stores out to in order to ensure that shoppers have the best experience. They also try to have a good blend of both International and local brands in the mall so that shoppers can have a variety of items to choose from, and to also ensure that the mall is a one-stop hub where almost anything can be purchased.
In 2007, Parow Center added some major tenants to the mall like KFC, Spur – Hawkeye, The Zone Fitness, Good Fellows, Game, etc. Shoppers can park their vehicles at the undercover parking deck. Some of the most popular stores in the mall are Burger King and KFC – where you can always grab a bite. There are also a few financial institutions in the mall like Capitec, ABSA Bank and others who offer banking services on the go. There are also stores where you can purchase baby care products, clothing, jewelry, gadgets, and also household items.
4. Liberty Promenade Mall
Location: Cnr AZ Berman Drive and Morgenster Roads, Mitchells Plain, 7785
Year It Opened: November 2003
Size: 81,700 m2
Number of Stores: 180+
Best For: Antiques, Electronics, Food, Fashion and Accessories
Opening Hours: Mondays – Thursdays: 9 am to 6 pm | Fridays: 9 am to 7 pm | Saturdays: 9 am to 5 pm | Sundays: 9 am to 3 pm
With the variety of stores available at Liberty Promenade Mall where one can get quality food, clothing, electronics, stationaries, beauty and hair products, as well as entertainment, shoppers can't help but choose this mall as their preferred shopping destination over and over again. This accounts for the reason Liberty Promenade has an influx of up to one million shoppers on a monthly basis.
A good number of the 180 stores that are domiciled in the shopping mall are leased out to a variety of brands, some of which sell similar products. This is to ensure that shoppers get a variety of products and services to choose from, depending on their preference. When it comes to basic entertainment, Liberty Promenade is leaving no stone unturned. With Ster Kinekor in the mall, visitors can watch the latest local and international blockbuster movies. Also, with Duncan Indoor Sports Arena, you can have endless fun while playing your favorite sport.
The fast food stores you can find at this mall are a mix of both internationally recognized brands and some local names that have gained recognition in the country, including KFC, Mc Donalds, Burger King, Nando's, Tasty Gallos and a host of others. Liberty Promenade is your one-stop hub for purchasing jewelry, automotive, art, home decor, cellphones, tech gadgets, toys, clothing, footwear, beauty, hair & health products, eyewear, and a variety of other things. There is just practically nothing you will not find in the Liberty Promenade Mall.
5. V&A Waterfront Mall
Location: 19 Dock Rd, Cape Town, 8001, South Africa
Year It Opened: 1988
Size: Covering 123 hectares
Number of Stores: 450
Best For: Food, Fashion, Homewares, Jewellery, Leather Goods
Opening Hours: Mondays – Thursdays: 9 am to 7 pm | Fridays – Sundays: 9 am to 8 pm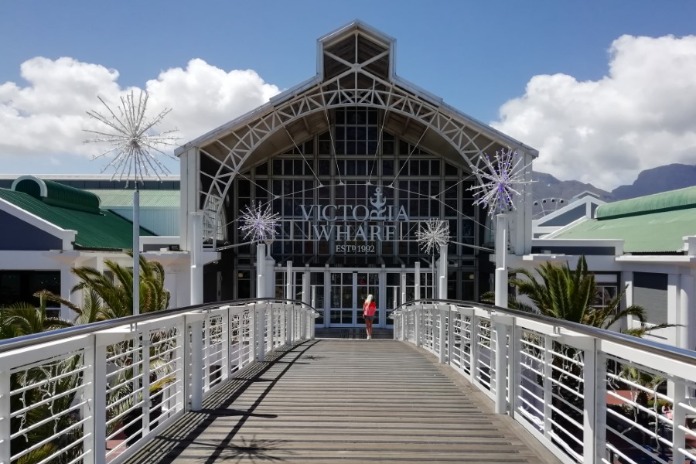 Just like Liberty Promenade, V&A Waterfront is also one of the most popular shopping malls in Cape Town, but beyond shopping, the V&A Waterfront offers so much more. Visitors can also lease office spaces, hostel rooms, as well as conference halls. This mall is already home to over 85 different restaurants, coffee shows, and fast food.
It is also home to a variety of stores where you can purchase electronic gadgets and phones, artwork, toys, clothes & accessories, home decor, wine stores, drugs, hair & beauty products, and services. You can also get your car washed at the carwash stands in the mall.
You can also find stores that sell flowers, gifts, luggage, skincare products and books. There are also marketing agencies, banks, and bureau de change stores at this mall. The V&A Waterfalls can be that one-stop hub for almost anything you want to do.
6. Somerset Mall
Location: Centenary Drive, Intersection of N2 & R44, Somerset West
Year It Opened: N/A
Size: 69,000m²
Number of Stores: 200
Best For: Fashion, Sports Equipment
Opening Hours: Mondays – Saturdays: 9 am to 7 pm | Sundays: 9 am to 5 pm
The competition among shopping malls in Cape Town is so fierce that each of the malls on our list of the biggest shopping malls in the city has all ensured that they lease out their stores to tenants who are trusted brands and sell a variety of items to see to it that shoppers can buy almost anything they have on their list at the mall and Somerset Mall is no exception.
The mall is home to about 200 stores that sell different items, including books, cards and gifts (like PNA, Typo, etc). When it comes to fashion, Somerset Mall has you covered with over 20 different stores where you can get quality clothing at very affordable prices. Some of the most popular fashion stores are Truworths, Pick n Pay Clothing, Old Khaki, and Cotton On. You can also get children's fashion at Edgars, Foschini, H&M, and Pep.
The Somerset Mall is also home to two different cinemas – Funtubbles and Ster Kinekor – where visitors can relax and entertain themselves with the latest local and foreign movies. Visitors can also grab fast food at KFC, Cake Africa, or any of the over 15 fast food stores in the mall. The stores we have mentioned so far are just the tip of the iceberg compared to what you will find at the Somerset Mall when you visit.
7. N1 City Mall
Location: Louwtjie Rothman Street, Goodwood, Cape Town, 7463
Year It Opened: N/A
Size: 64,000m²
Number of Stores: 140
Best For: Food, Groceries
Opening Hours: Mondays – Friday: 9 am to 7 pm | Saturdays, Sundays, and Public Holidays: 9 am to 5 pm
From health care to leisure and everything in between, N1 City Mall has got you covered with the carefully selected brands that the retail stores in this mall have been leased out to, shoppers can be sure of an awesome shopping experience. In addition to this, the well-beautified environment and good customer service that this mall offers has given them the bragging rights as one of the most convenient and friendliest shopping centers in South Africa's legislative capital, Cape Town.
Some of the most popular retailers at the N1 City Mall include Checkers, Hyper, Pick n Pay, and Woolworths. In the company of your loved ones, you can also have brunch or dinner at any of the eateries at the mall. The most renowned of them include KFC, RocoMamas, Steers, to mention a few.
The truth is, we don't all visit shopping malls to shop. Sometimes, you can visit just to have fun, take pictures and look around and there is absolutely nothing wrong with that. With Ster Kinekor cinema and Wonderland gaming center, you can have as much fun as you wish to while watching movies or playing games and if that's not enough, you can also do some window shopping.
8. Cape Gate Regional Center
Location: Cnr Okavango & de Bron Rd, Brackenfell, Cape Town
Year It Opened: N/A
Size: 62,794m²
Number of Stores: 160
Best For: Fashion, Gadgets, Household Items
Opening Hours: Mondays – Saturdays: 9 am to 7 pm
One significant thing most malls in Cape Town and around South Africa at large have in common is a good customer service structure, and one of the aspects that play out the most is the provision of enough parking space for visitors to park their vehicles in a safe environment. In Cape Gate Center, there are 3,000 parking bays which includes 1,800 free outdoor bays and three levels of undercover parking. The mall also has facilities for the dependents like wheelchairs for hire, facilities for children, as well as first aid.
To minimize the crowd at one entrance and make access to the mall easier for shoppers, the Cape Gate Center has 9 different entrance points. On entering the mall, visitors have wide access to the carefully selected brand that occupy the 160 stores in the mall – some of which are renowned nationally and may not easily be found in other places.
The products and services you can get at Cape Gate Regional Center are very similar to what you can get at other shopping malls in Cape Town; fast food, electronics, household items, banking services, jewelry, beauty stores, and spa, and so on. Some of the most popular stores at this mall are The Fix, Old Khaki, Cotton On, and Truworths.
9. Blue Route Mall
Location: 16 Tokai Road, cnr Vans & Tokai Road, Tokai, 7945
Year It Opened: Early 1970s; Redeveloped and relaunched in March 2012)
Size: 56,143m²
Number of Stores: 120
Best For: Fashion
Opening Hours: Mondays – Saturdays: 9 am to 6 pm | Sundays and Public Holidays: 9 am to 5 pm
Blue Route Mall is the oldest mall in Cape Town, since it opened its doors to the public in the early 1970s this mall has continued to serve Cape Town residence top-notch shopping services. Despite being established several decades ago, Blue Route Mall still looks so beautiful and modern today because it underwent a major renovation that began in April 2010 and was re-opened again to welcome visitors on the 29th of March 2012 (after two years of reconstruction, development, and rebuilding that cost R1 billion).
The process of reconstruction and refurbishing was certainly not an easy task for the team, but because customer satisfaction has remained their goal, they were determined to work, and thankfully it was a success. Hence, from 48,000m², the mall was expanded to 56,143m² which is why it has made it to our list of biggest malls in Cape Town.
Security is one of the major focuses of Blue Route Mall, which is why the management has placed 24 hours CCTV cameras to ensure adequate security in the mall. Visitors who are disabled will also find shopping at this mall convenient, seeing that they have made provisions for special shoppers by providing wheelchairs and other facilities to assist them.
This mall has tactically incorporated both shopping and entertainment into the services they provide by leasing their stores to top brands that offer all of these services. You can find stores like Old Khaki, Truworths, Woolworths, and Ster Kinekor at the mall. Blue Route Mall also has a constant power supply to ensure the best services.
10. Garden Route Mall
Location: N2 Highway & Knysna Road, George,  South Africa
Year It Opened: N/A
Size: 53,105m²
Number of Stores: 135
Best For: Food, Beauty Products, Electronics
Opening Hours:  Mondays – Friday: 9 am to 6 pm | Saturday: 9 am to 5 pm | Sundays and Public Holidays: 9 am to 3 pm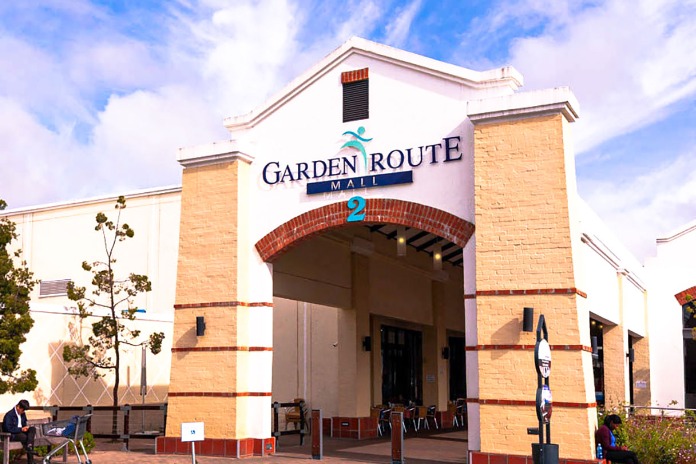 Garden Route Mall has 13 different categories of stores in the mall and these categories include Speciality & Services, Travel & Luggage, Sport & Outdoor, Jewellery & Accessories, Home, Décor & Interior, Restaurant & Food, Health, Beauty & Eyewear, Department Stores, Fashion & Footwear, Books & Stationery, Banks & ATMs and Cellphones, Electronics & Photo.
Each of these different categories of stores has at most 3 different stores, which gives shoppers a wide variety to choose from. Some of the most talked-about stores in this mall are Studio 88, Old Khaki, Food Lover's Market, and Wimpy. To help shoppers navigate through the mall, there is a map on the official website.
Online Shopping Is Having An Impact On Offline Shopping
No doubt, shopping in malls is less stressful than shopping in open markets, since it means that you don't have to struggle with the hustle and bustle of open markets as there are shopping carts available and moving from one store to another is very easy. However, as easy as shopping in malls is, their loyal clientele is beginning to opt for online shopping.
With online shopping, shoppers do not have to worry about spending time going to the mall as almost everything can be delivered to them at their doorsteps, including food – and most shoppers are absolutely loving the idea. Add that to the era of the COVID-19 pandemic, and more people are embracing the idea of shopping online over going to a mall.
Irrespective of how comfortable online shopping is, the experience of walking through the mall cannot be replaced by it, which is why the biggest malls in Cape Town still have a massive inflow of customers. This narrative is not just peculiar to malls in Cape Town, but also those around the country. However, to ensure that they are not losing out on one end, the brands in most malls also have online stores on different platforms.