Thato Molamu (born December 2, 1984, Age: 38 years old) is a South African actor, TV personality, philanthropist, brand & marketing strategist, social entrepreneur, and creative director. He is popular for his role on the TV soap opera Generations, which aired on SABC1. 
Thato Molamu has remained relevant ever since he broke out in the South African entertainment industry many years ago. Seriously what doesn't the young man do? Thato is almost everywhere, surpassing expectations and becoming the best at every role he picks up.
Though he is mostly judged by the characters he plays on the screen, the actor has learned not to mind what people say about him. However, a lot has changed now as he has been able to tell a bit of who he is through his radio show and other platforms.

Summary of Thato Molamu's Biography
Full name: Sehume Thato Ishmael Molamu
Nickname: Thato Molamu
Gender: Male
Date of birth: December 2, 1984
Place of Birth: Mafikeng, North West
Thato Molamu's Age:

Use Age Shortcode

Ethnicity: African
Nationality: South African
Zodiac Sign: Sagittarius
Sexual Orientation: Straight
Marital Status: Unmarried
Thato Molamu's Children: 2
Occupation: Actor, TV personality, Philanthropist, Brand & marketing strategist, Social entrepreneur, Creative director
Famous for: His role as Nicholas Nomvete in Generations
Thato Molamu's Instagram: @thatomolamu 
Twitter: @ThatoMolamu 
Thato Molamu Was Born in Mafikeng in 1984
The actor's life began on December 2, 1984, in Mafikeng, in North West province, South Africa. He was raised by his parents, who currently live in Mafikeng. Unfortunately, the actor has not disclosed the names of his parents, their occupations, and information about his family background and other family members.
It is unknown if Molamu has siblings. He completed his basic educational levels in the country, but the institutions he graduated from are not available for public consumption. Talking about his early life, Thato stormed the entertainment world after his high school education. The move was made possible through his parents' support and prayers. Today, he has started reaping the fruits of his labor, and he also considers himself lucky to have been blessed with wonderful and supportive parents.
Though He Has His Hand In A Ton Of Ventures, He's Best Known As An Actor
As mentioned earlier, actor Molamu has his foot in many career fields, and he is doing great in them all. The young man started as an actor, appearing in various shows. After that, he branched out into the TV industry and later into brand & marketing strategy, social entrepreneurship, and creative directing.
Some of his earliest works as a thespian include The Grandball and Jack in the Box and the musical "Where The Sun Rises," which he produced in 2004. As a regular actor at the North West Arts Council, he also took part in several stage productions like Hamlet, A Midsummer Nights Dream (2001), Romeo and Juliet (2008), and Meropa (2006).
Thato's career got the needed boost at some point, leading to his recognition beyond the stage. He later auditioned for a role in the project Meropa, which he won in 2006. He portrayed the character Phuti in the series. He formerly appeared in the SABC1 soap opera Generations, wherein he played the role "Nicholas Nomvete." His time on the show ran from 2011 and 2014. Other prominent shows he's been part of in the industry include Kowethu, Mzansi Magic's serial The Queen (as Bakang Nkwe), the award-winning drama TV series Intersexions, and the award-winning family drama TV series, Umlilo.
Thato Molamu Owes His Rise To Prominence To The Series, Intersexions
Intersexions is a South African television drama series that documents the AIDS infection chain. The show is produced by Quizzical Pictures in partnership with Johns Hopkins Health and Education in South Africa (JHHESA) and SABC Education.
Molamu featured in season 1 of the TV series as Tshepo alongside notable names in the industry such as Mbali Ntuli, Masoja Msiza, Siyabonga Radebe, Baby Cele, and many others. Though intersexions was his biggest career project, it gave him the platform to be wildly recognized both among other performers and outside the local industry.
The truth is that Thato is a born entertainer. He has continued to surpass people's expectations ever since he launched his career in 2004. He always puts in his best in every project he's part of, and he is widely respected for that.
The actor has an overwhelming number of fans who literally love his on-screen performances and personality. Virtually all of his works earned him praise, admiration, and positive feedbacks. Moluamu is considered one of the industry's blessed multi-hyphenates.
His Broadcasting Background Helped To Boost His Career
Thato has always been a hustler, right from his early days. He is someone who believes in growth and career expansion regardless of any form of challenge. The actor knew he was born for greatness as a kid, so it came a no surprise to him when he began excelling in the field of art as a young boy.
The actor's flourishing mixed-career is a product of sheer hard work, passion, and commitment. Molamu beefed up his career profile sometime in 2005 when he graduated from the renowned private college Damelin College, where he studied a course in Film and Broadcasting.
His knowledge in this field is believed to have greatly shaped his TV career in the right direction. Right now, one of the most sought-after TV personalities in the country. He has done several TV and radio jobs, and all of them were nothing short of spectacular.
He has been doing a great job on the East Coast Radio in Durban since 2016, when he joined the firm as a host of one of their programs. Sometime in 2014, the former Generations star hosted the reality TV game show What's Behind the Wall, which aired on SABC2, and it was great.
He has also co-hosted a show with the South African celebrity actor, radio DJ, and TV personality Jessica Nomalanga Shozi, precisely in 2016. The Mafikeng native has also featured on Mzansi Magic show All Access Mzansi as a presenter. Molamu was also the host of the conversational radio-television platform Conrad TV in 2021.
Some of the actor's biggest achievements as an actor include:
Though Thato has only appeared in one or two feature films, his performance in other entertainment projects cannot be overlooked. Some of the milestones he has attained as an actor include:
Starring in one of South Africa's most-watched TV drama series, Generations.
Starring in an interesting short film in 2019 called Miracle. He played Maravi the mechanic.
Featuring in the thriller film Losing Lerato as Jake.
Sharing the filming set with several notable actors and actresses and also working with respected filmmakers across the country.
Winning the loyalty, respect, and following of thousands of viewers in many South African homes.
Apart from his acting achievements, the Mafikeng-born star has also made other notable achievements that are worth celebrating. They include:
Founding the non-profit organization "The Thato Molamu Foundation" in 2012. The aim of the organization is to help local people build a standard life and become relevant.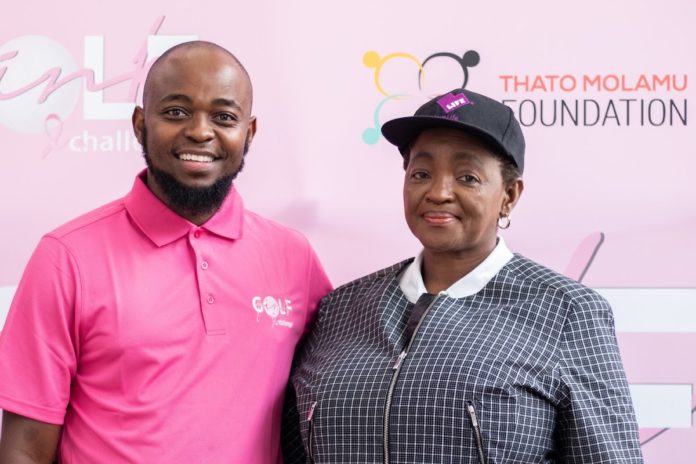 Molamu is also the founder of the business company Gateway Media. The company is a 100% black-owned integrated marketing communications firm. He established the company in 2013.
In 2018, a digital creative skills academy and production hub called Leaders in Motion Academy (Lima). It is based in the township of Eersterust in Tshwane.
Thato Molamu Is Not Officially Taken Yet
Yes, if you are an admirer, you are free to shoot your shot. The actor is not legally married to any woman at the moment, and it is unknown if he is in a relationship with anyone. He has kept a low profile in his relationship since he separated from his last girlfriend.
However, Thato is a father of two kids. He had them both from two past relationships. He had his first child, a son, with Bongi Ndaba and the second one with Xolisile Zondi.
The Actor's Baby Mamas Also Work In The Entertainment Industry
The mother of the actor's oldest child is a well-known South African producer, TV writer,  actress, and playwright. Born on February 10, 1972, in Free State, Ndaba is best known for working behind the scene as Generations' head writer and co-producer for many years. She has numerous other notable works under her belt and has won several awards for her roles in the TV industry.
Zondi, on the other hand, is an actress and model. She is easily recognized for starring in Family Bonds, Generations, and Single Galz. Born on September 17, 1983, in Hammersdale, she is currently married to a ward councilor named Phiwokuhle Zamisa. The two got married in 2017 and share one daughter named Ukusa Zamisa together. Ukusa was born on October 26, 2018. Currently, Thato Molamu's two kids live with his parent in Mafikeng.