Born on 18 June 1942 in Mbewuleni, Cape Province South Africa, Thabo Mbeki is currently 81 years old
Despite growing up when racial segregation was at its peak in South Africa and also being actively involved in the fight against apartheid from as early as the age of 14, Thabo Mbeki was still able to complete his education even to masters level, and being in exile did not stop him from achieving this.
The 81-year-old politician who has dedicated the better part of his life to serving the African National Congress (ANC) and remaining loyal to the party, he has held many political positions in the party and the country. Mbeki started holding party positions even before the end of the apartheid and played a vital role in seeing that it came to an end. Little wonder why he was picked to become the Deputy President, alongside Nelson Mandela as the party prepared for the first elections in South Africa post-apartheid.
Quick Profile Of Thabo Mbeki
Name: Thabo Mvuyelwa Mbeki
Age: 81 years old
Date of Birth: 18 June 1942
Place of Birth: Mbewuleni, Cape Province South Africa
Nationality: South African
Occupation: Politician, Anti-Apartheid Activist
Political Party: African National Congress
Major Political Achievements: Deputy President, President
Alma mater: the University of London, University of Sussex
Profession: Economist
Thabo Mbeki Was Expelled From High School As a Result Of A Student Strike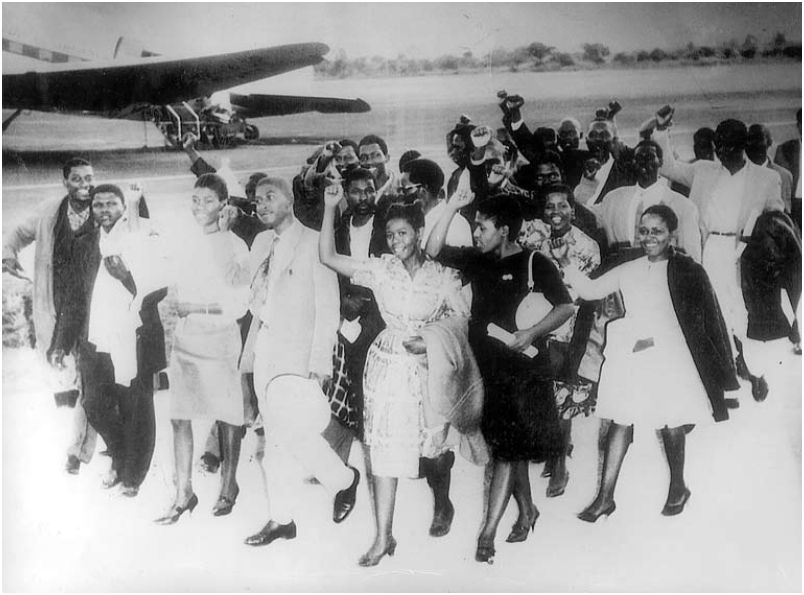 Born into a family where his parents were teachers and activists, Thabo Mbeki was born on the 18th of June 1942 in Mbewuleni, Eastern Cape Province, where he was also brought up. Mbeki attended primary school at Idutywa and Butterworth, and after his primary education, he went on to obtain a high school education at Lovedale, Alice, but his stay at the school was cut short in 1959 when he was expelled from school due to his involvement in a student strike. This made him study from home and taking his matriculation that year in another school – St. John's High School, Umtata.
His involvement in a student strike at the age of 17 does not in any way come as a surprise judging from the fact that he had followed his father's instruction for every member of their family to see the African National Congress (ANC) as their own family and as he joined the party at the age of 14.
While Studying Economics As An External Student Of The University of London, He Left South Africa On Exile
Being expelled from high school did not in any way make Thabo Mbeki give up on his education; rather, he continued to pursue it as though the expulsion never even happened. On completing his matriculation examination in 1959, he went on to take the A-level examination, which is just the same as the examination students in England schools take. Still, he did not have to travel all the way to England to take the test as it was possible to sit for it from Johannesburg.
After his A-level examination, Mbeki became an external student of the University of London, where he was now studying for his economics degree. While studying, he remained loyal to the ANC; despite the party being banned and not being permitted to function by the apartheid government, he was still courageous enough to get involved in their underground activities in Pretoria and Gauteng.
In 1961, while he was most likely still a student of the University of London but studying from South Africa, he was elected as the African Students' Association. Even before this position, he was actively involved in mobilizing students to support the ANC. Due to his active involvement, the ANC leaders saw the importance of taking him out of the country to protect his life, and in 1962, he left the country to Botswana, then to Tanzania, and finally, England. It is not clear whether he completed his economics degree at the University of London and got a certificate for it.
He Earned His Bachelor's And Master's Degree While On Exile
Thabo Mbeki's bachelor's and master's degree days were not anything different from his previous educational years. They were spent juggling academics and activism, and somehow it is clear that he was able to successfully managed both involvements without allowing anyone to suffer so much.
He was so good that he became the first South African to obtain a distinction in Economics, an achievement that he should be applauded for when you consider how active he was in politics. Though he completed his bachelor's and master's degree in England, the challenges he faced were different at both times.
While Undertaking his Bachelor's Degree, His Father Was Arrested
On arriving in England in 1962, Mbeki did not waste any time continuing his education, as he was already an undergraduate student of Economics at the Sussex University in Brighton before the end of that year. And barely three months later, he was already a member of the Student Union Committee and was involved in student activism and political activities.
As though his political involvements were not enough distractions for a student while studying, Mbeki was faced with the sad news of his father's arrest, and even as a student, he did all he could to ensure that his father and others who were already given the death penalty do not get executed. He went from speaking at United Nations Special Committee against Apartheid to organizing a march, and fortunately for him, his efforts were not a waste.
Finally, in 1965, Thabo Mbeki graduated from Sussex University with a bachelor's degree in Economics. Still, unfortunately, his parents were unable to attend the graduation ceremony of their son, as his father was serving a jail sentence, and his mother was not reported to have been in England. But he wasn't left alone; with the absence of his parents, Adelaide Tambo, the wife of Oliver Tambo and Michael Harmel, was there for him at the event.
He Was Arrested While He Was Doing His Master's Degree Studies
After completing his bachelor's degree, following the advice of Oliver Tambo, he returned to Sussex University to further his education to the master's degree level. While doing his masters, he was actively involved in anti-war marches, which he never got arrested for, until the anti-Vietnam demonstration outside the American embassy in London's Grosvenor Square on the 17th of March 1968.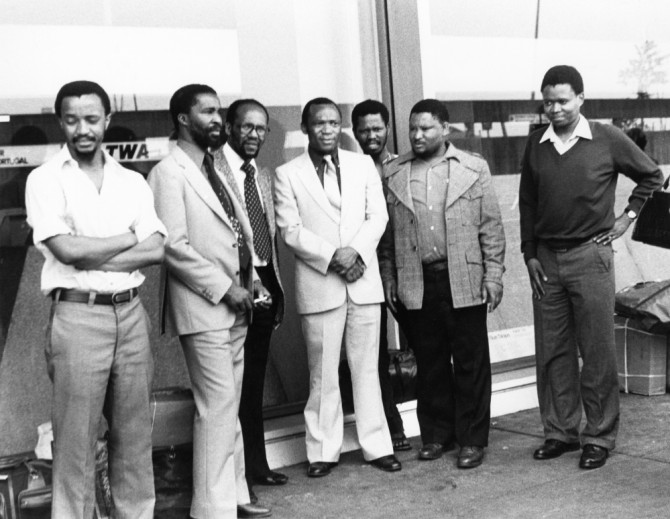 While trying to run from the police, he cracked his molar tooth and was caught by the police, but fortunately, he was not one of the 252 people who were charged. This was a huge let-off because that would have stopped him from completing his Masters'. Later that year, he successfully bagged his Masters' degree, despite all other activities he was involved in at the age of 28.
In 1969, Mbeki Visited Moscow For A Military Training
Few months after completing his Masters' education in England, Mbeki was already in Moscow for military training. Though he preferred the book part over the use of guns, he took up the challenge of taking the military training seeing that it was a criterion to becoming a leader. He gained training in advanced guerrilla warfare at Skhodnya from Lenin Institute, an institute created specifically for communists. However, non-communists, who were members of a liberation movement, were allowed to have ideology training.
Being well-educated even in Moscow, he was still responsible for writing articles and speeches for the ANC. As you already know, it does not take Thabo Mbeki any time to quickly adapt to his new environment, and Moscow was no exception. His performance in the institute was so outstanding that he was regularly given a slot to speak at the institute's weekly assembly.
Also, he began to connect with the South African Communist Party (SACP). However, his training was cut short as he had to leave Moscow for London to undertake an assignment in Lusaka. It is likely he did not receive a certificate for his military training but must have obtained basic military skills.
Quick Summary Of Thabo Mbeki's Educational Qualifications
Matriculated from St. John's High School, Umtata  – 1959
Obtained A Bachelor's Degree in Economics from Sussex University – 1962 – 1965
Masters Degree from Sussex University – 1968
Military Training at Lenin Institute – 1969 – 1970
Other Honorary Doctorate Degrees
Honorary Doctorate in Business Administration from Arthur D Little Institute, Boston – 1994
University of South Africa – 1995
Honorary Doctorate of Laws from Sussex University – 1995
Rand Afrikaans University – 1999
Honorary Doctorate of Laws from Glasgow Caledonian University – 2000
Honorary Doctorate in commercial sciences from the University of Stellenbosch – 2004
In 1971, Thabo Mbeki Became The Assistant Secretary To The ANC's Revolutionary Council Just Before Turning 29
After successfully bagging a bachelor's degree, master's degree – and some military training, it was now time for Thabo Mbeki to start holding positions in the ANC that demanded more responsibilities. A few months before he turned 29, in April 1971, he moved from London to Lusaka to take up the position of assistant secretary of the ANC's Revolutionary Council (RC). The RC aimed to bridge the existing gap between those fighting against racial segregation from exile and those from home.
Not long after that, he was moved to the ANC propaganda unit but still attended RC meetings. Before leaving for Nigeria in 1977 after carrying out various assignments in Lusaka, Botswana, and Swaziland, he became Duma Nokwe's deputy in the Department of Information and Propaganda (DIP). While carrying out his assignment in Swaziland, he became an ANC National Executive Committee member in 1975.
On returning from Nigeria, in 1978, his educational qualifications and loyalty to Oliver Tambo and the ANC saw him becoming the political secretary in Oliver Tambo's office, where he was responsible for writing speeches and coming up with the yearly theme. Tambo trusted in him so much that he even took advice and suggestions from him.
At The Age Of 52, He Became The First Deputy President Of South Africa
In 1990, following the release of Nelson Mandela from prison, Thabo Mbeki returned to South Africa after almost 3 decades in exile. He played a major role in transitioning the ANC from a banned political movement to a major political party and prepared the party for the first election. Though he had previously represented the ANC in diplomatic talks, Cyril Ramaphosa was selected as the ANC's chief negotiator at the multiparty talk, and many people wondered why Ramaphosa was chosen over him.
The ANC may have made this decision seeing that Cyril was a lawyer and more qualified for the position. By 1993, Mbeki was part of the electioneering campaigns as Nelson Mandela's running mate in the coming elections for the first president of the Republic of South Africa. His opponents for the position of Deputy President included Cyril Ramaphosa and Chris Hani, but after the assassination of Chris Hani, he was left to run with Ramaphosa alone. With great support from the ANC Youth League (ANCYL) and the Women's League, he sealed his place as Mandela's running mate.
After the elections, he became the Deputy President of South Africa in May 1994. That same year, he held positions like a Member of the National Assembly of South Africa (1994 – 1997), Deputy President of the African National Congress (1994 – 1997). By 1997, he became the President of the African National Congress, which he held till 2007.
At The Age Of 57, Thabo Mbeki Became The President Of South Africa
While serving in the capacity of ANC's president, he ran for the top job in the land and won. By May 1999, he was inaugurated as President, making him South Africa's second black president. After successfully running his first tenure, he ran for a second term with Jacob Zuma as his deputy. In 2004, he got inaugurated, but his second tenure was cut short a few months before its end. In 2005, Mbeki removed Jacob Zuma as his deputy due to Zuma's involvement in corruption allegations.
Still, his reason for removing Zuma proved void when Judge Chris Nicholson ruled in Zuma's favor stating that the corruption allegations were politically motivated. Following the dismissal of Zuma's trial, the ANC National Executive Committee decided not to give Mbeki support at the Parliament. As a result, he tendered his resignation on the 21st of September 2008 at exactly 19:30 SA time. And on the 22nd of September that year, there was a parliamentary meeting where his resignation was accepted and agreed to take effect from the 25th of the month.
After a long search for who was qualified enough to take up the president's responsibility until the 2009 election, Kgalema Motlanthe, serving as the ANC deputy president, was selected to be the stand-in president. After Thabo Mbeki's resignation, he withdrew himself from party politics.
Summary Of Mbeki's Orders And Decorations
Honorary Knight Grand Cross of the Order of the Bath – 2001
City of Athens Medal of Honour by The Mayor of Athens, Dora Bakoyannis – 2005
Sudan's Insignia of Honour (as a recognition for his efforts in resolving conflicts and developing Africa) – 2005
Knight of the Most Venerable Order of the Hospital of Saint John of Jerusalem by Prince Richard, Duke of Gloucester – 2007
Thabo Mbeki Is Currently The Chancellor Of The University Of South Africa
Thabo Mbeki's academic qualification as an Economist may have played a role in making him a good leader though his leadership regime was not without controversies. An example is when he claimed that AIDS was not caused by HIV. Another is the authorization and sale of cheap HIV drugs, which only treated opportunist infections and led to the death of up to 343,000 South Africans under his watch.
Away from politics, Mbeki's academic qualifications saw him become the 9th Chancellor of the University of South Africa, an office he assumed in 2016 and have continued to hold to date. In recent times, he seems to have rekindled his interest in politics seeing that he has been involved in writing articles and giving speeches again.
Summary Of Thabo Mbeki's Achievements
Secretary of the African Students' Association – 1961
Member of Student Union Committee – 1963
Assistant secretary of the ANC's Revolutionary Council (RC) – 1971
Deputy leader Department of Information and Propaganda (DIP) – 1977
Political Secretary At Oliver Tambo's office – 1978
Member of the National Assembly of South Africa – 1994
Deputy President of the African National Congress – 1994
Deputy President of South Africa – 1994
President of the African National Congress – 1997
President of South Africa – 1999