In respect to the abundance of mountains and valleys that planet earth has been blessed with, there are people in the world who have made it their mission to climb all the tallest mountains in the world. We may call them mad, but these people are having quite a lot of fun taking the risk required to be named among the very countable few who have stepped unto the highest peak of the tallest mountains in the world. So Here, in reverse order, are the ten tallest mountains in the world that would have been the first on their lists!
An Overview of 10 Tallest Mountains in the World
10. Annapurna I (8,091m, 26,545ft)
Annapurna is situated in the Himalayas, a 'backbone' of Asia that separates India from Tibet. It sits at the western end of a massif that contains no less than thirty peaks over 19,690ft (6,000m) and is next to the Kali Gandaki Gorge, considered by many to be the earth's deepest canyon.  It was first climbed successfully in June 1950 by an expedition led by Maurice Herzog, who shared the achievement with team member Louis Lachenal.

9. Nanga Parbat (meaning 'naked mountain' – 8,126m, 26,660ft)
This is the most westerly peak of the Himalayas. It is an extremely difficult peak to climb, with the number of deaths of mountaineers becoming so high it was nicknamed the 'killer mountain', and it has never been successfully climbed in winter at all. In fact, there have been so far (to March 2012) 62 deaths and just 191 successful climbs, meaning that for every three climbers that make it up and back, one has died in the attempt.  There were many unsuccessful attempts to climb this peak before the first success, and this was by Austrian Hermann Buhl in July 1953 – who succeeded in reaching the summit of one of the most dangerous high peaks in the world *alone*, and without oxygen, after the rest of his team turned back! He is (and of course will always be) the only man to has made the first ascent of an 8,000m peak alone.
8. Manaslu (8,163m, 26,781ft)
This is number 8, and its name means 'Mountain of the Spirit'. It is situated in the Nepalese part of the Himalayas and it is also extremely dangerous to those trying to climb it – it has been climbed successfully just six times as many times as it has killed the climbers – 297 successes and 53 deaths.  It was first successfully climbed by Toshio Imanishi and Gyalzen Norbu as part of a Japanese expedition in May 1956, but it would be another fifteen years before it was conquered again – by another Japanese team.
7. Dhaulagiri I ('white mountain' – 8,167m, 26,795ft)
This is the highest point of the Gandaki river basin, the highest mountain entirely within the country of Nepal, and a mountain not much kinder to its climbers than Manaslu – 358 successes and 58 fatalities.  It is one of the few 8,000m peaks that are visible from any distance (most are obscured by closer mountains) and rises precipitously some 7,000m on the southeast, and more than 4,000m to the south and west.  It was first conquered in 1960 by a Swiss/Austrian expedition led by Kurt Diemberger after ten years of failed expeditions.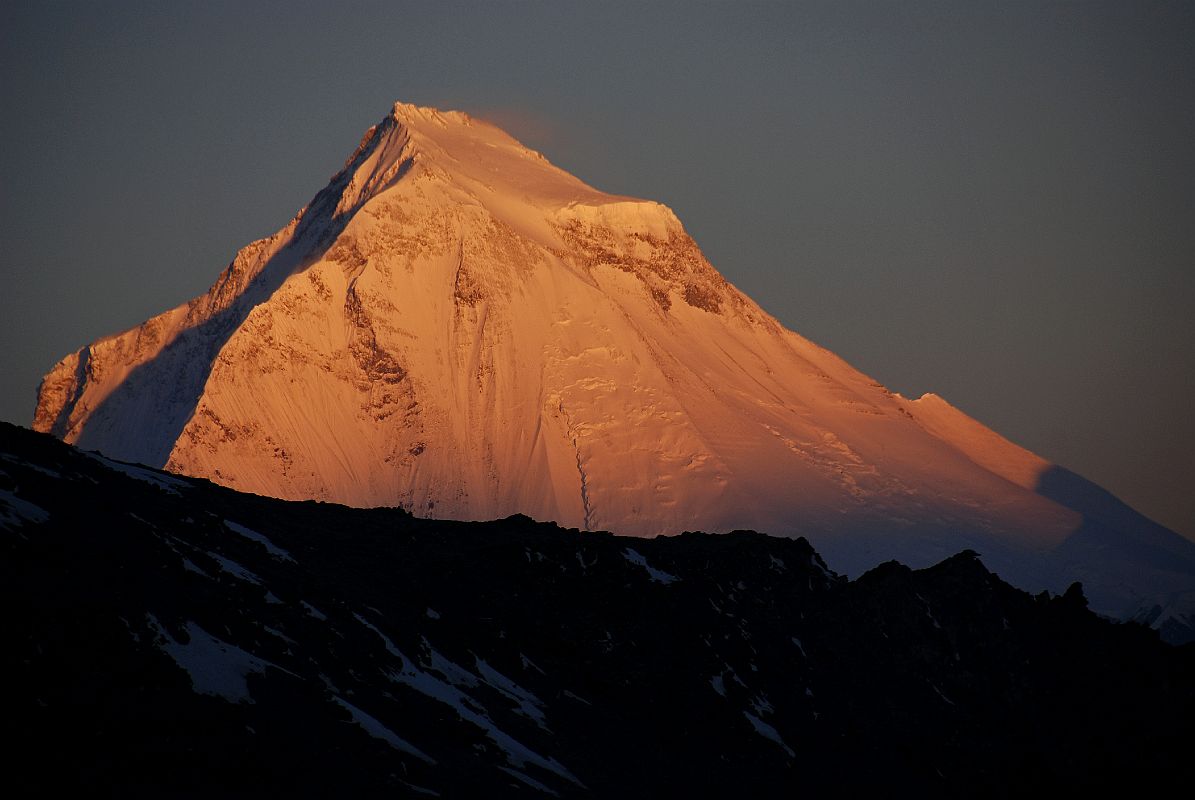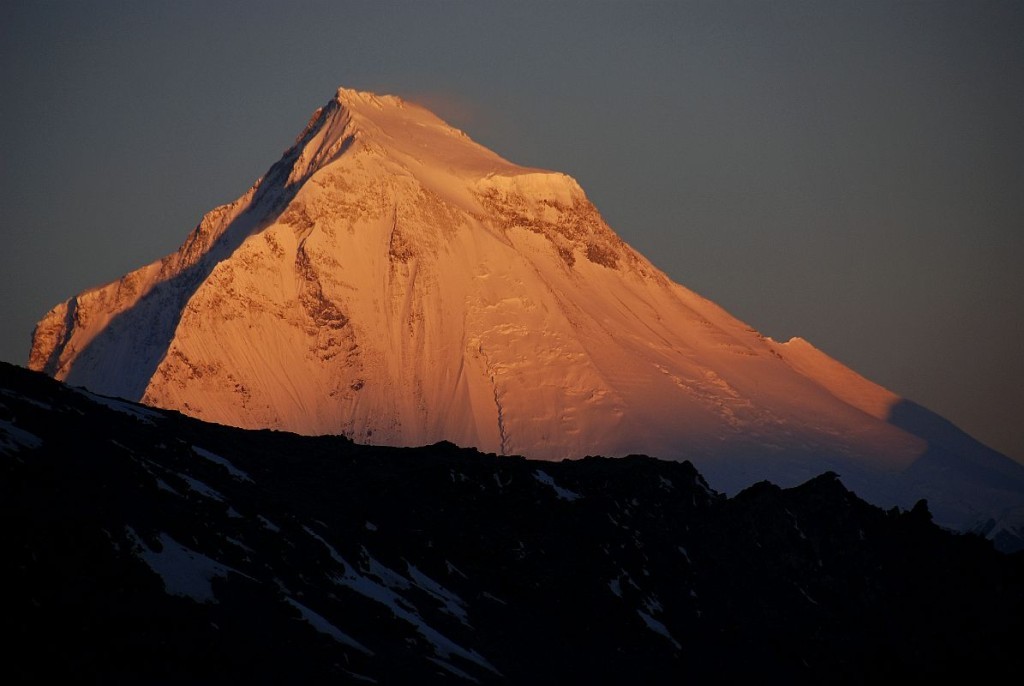 6. Cho Oyu (8,188m, 26,864ft)
Standing on the Nepal/Tibet border, and its name means 'Turquoise Goddess' in Tibetan. There is a major trading route just a few kilometers to the west, through the Nangpa La glaciated pass, and a nice moderate ridge route to the northwest, and these two combine to make Cho Oyu a relatively easy climb. It was first successfully climbed in October 1954 by Herbert Tichy, Joseph Jöchler and Pasang Dawa Lama, using that nice easy northwest ridge.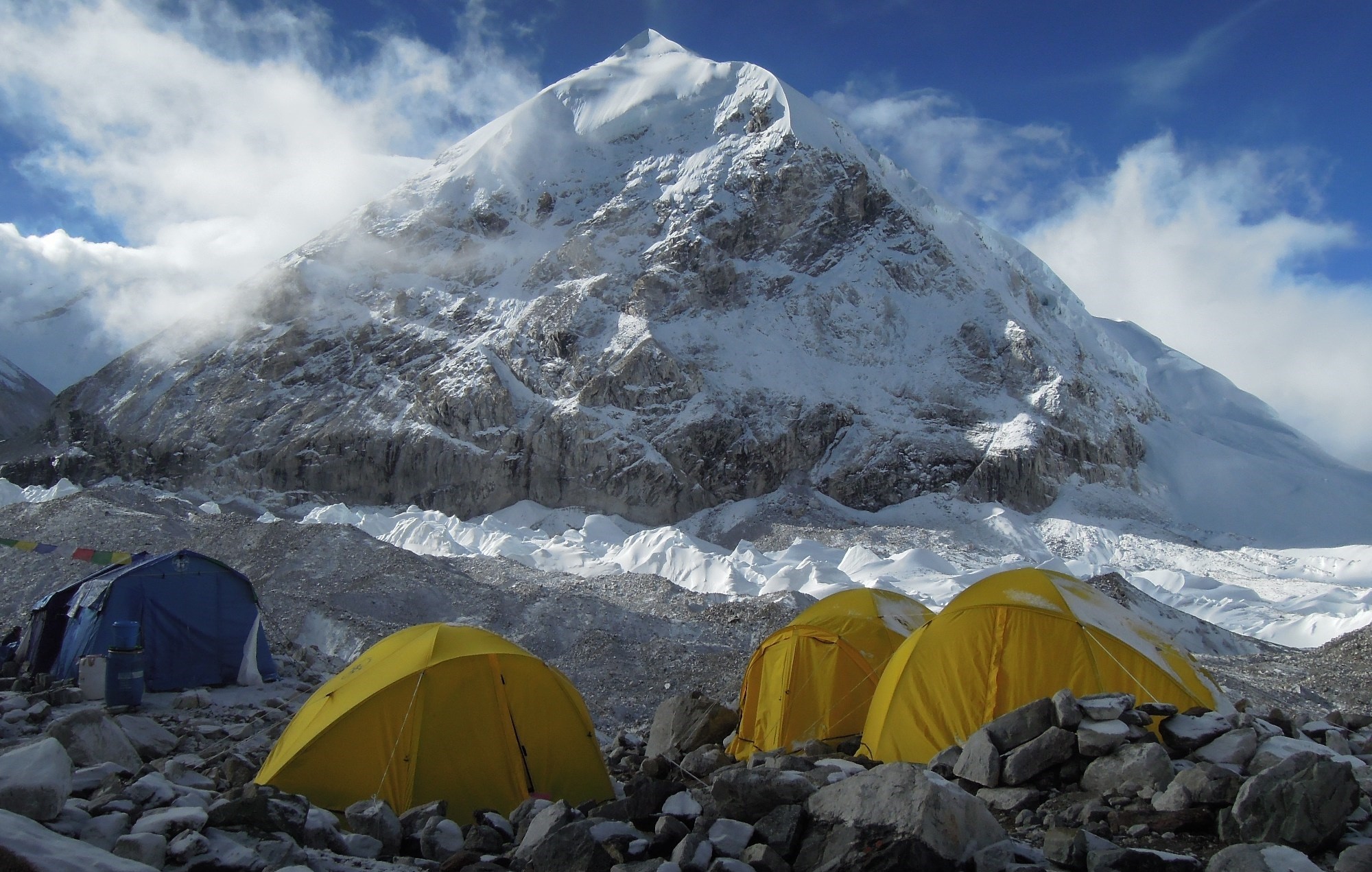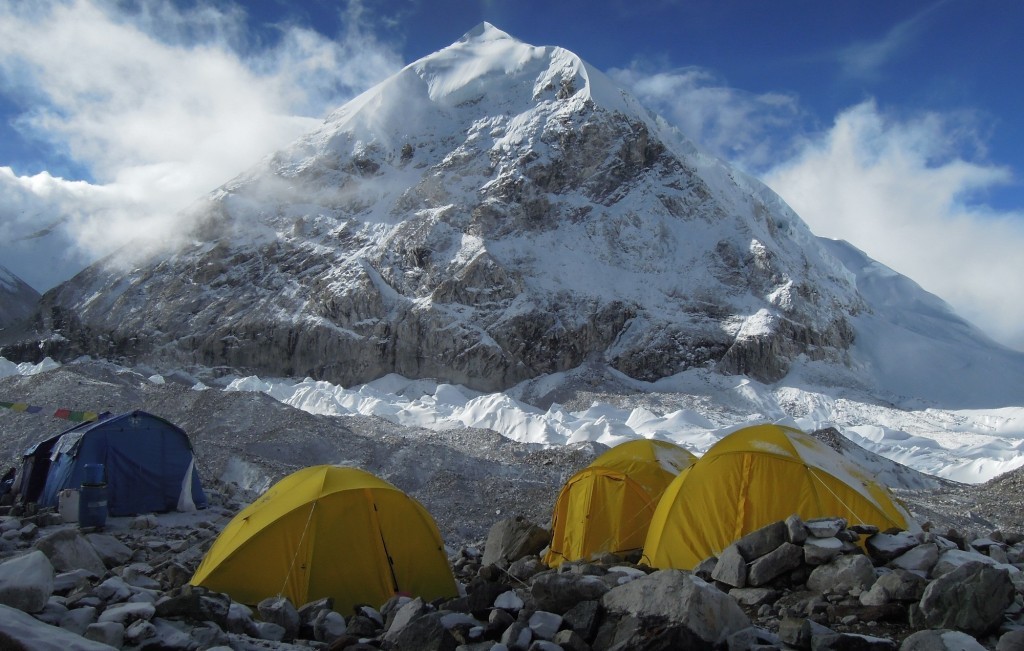 5. Makalu
At 8,485m (27,838ft) is number 5 on this list, and is just 19km (12 miles) southeast of Mount Everest, on the Nepal/China border. It is shaped like a four-sided pyramid and has two subsidiary peaks, Makalu II (or Kangchuntse), a couple of miles to the north-northwest and only a little over 300 meters short of being an 8,000m peak itself, and Chomo Lonzo to the north-northeast, even closer height-wise at less than 200 meters short. The first mountaineers to 'summit' Makalu were Lionel Terray and Jean Couzy as part of a French expedition in May 1955.
4. Lhotse (8,518m, 27,940ft)
This means 'South Peak' in Tibetan, and it is in fact connected to Mount Everest by the South Col. Its two minor summits, Lhotse Middle and Lhotse Shar, are both also well into the 8,000m bracket, being respectively 8,518m (27,605ft) and 8,383m (27,502ft). Strangely, for the fourth highest mountain in the world, it is sometimes seen as a minor 'eight-thousander' because its main peak is actually only 600m higher than the South Col so it's not very prominent. On the other hand, in 1.4 miles (2.25km) of horizontal distance, its south face rises vertically by 2 miles (3.2km), which makes it the steepest face in the world of this size. Needless to say, very few of its ascents have been via the south face! The first ascent of the main summit was made by Ernst Reiss and Fritz Luchsinger from a Swiss team, in May 1956. Lhotse Shar was climbed in May 1970 but Lhotse Middle was for a very long time the highest unclimbed peak in the world – its first ascent wasn't made until May 2001, by a Russian expedition. With 371 successful ascents and only 20 deaths, Lhotse is one of the more kindly of the ten highest mountains.
3. Kangchenjunga (8,586m, 28,169ft)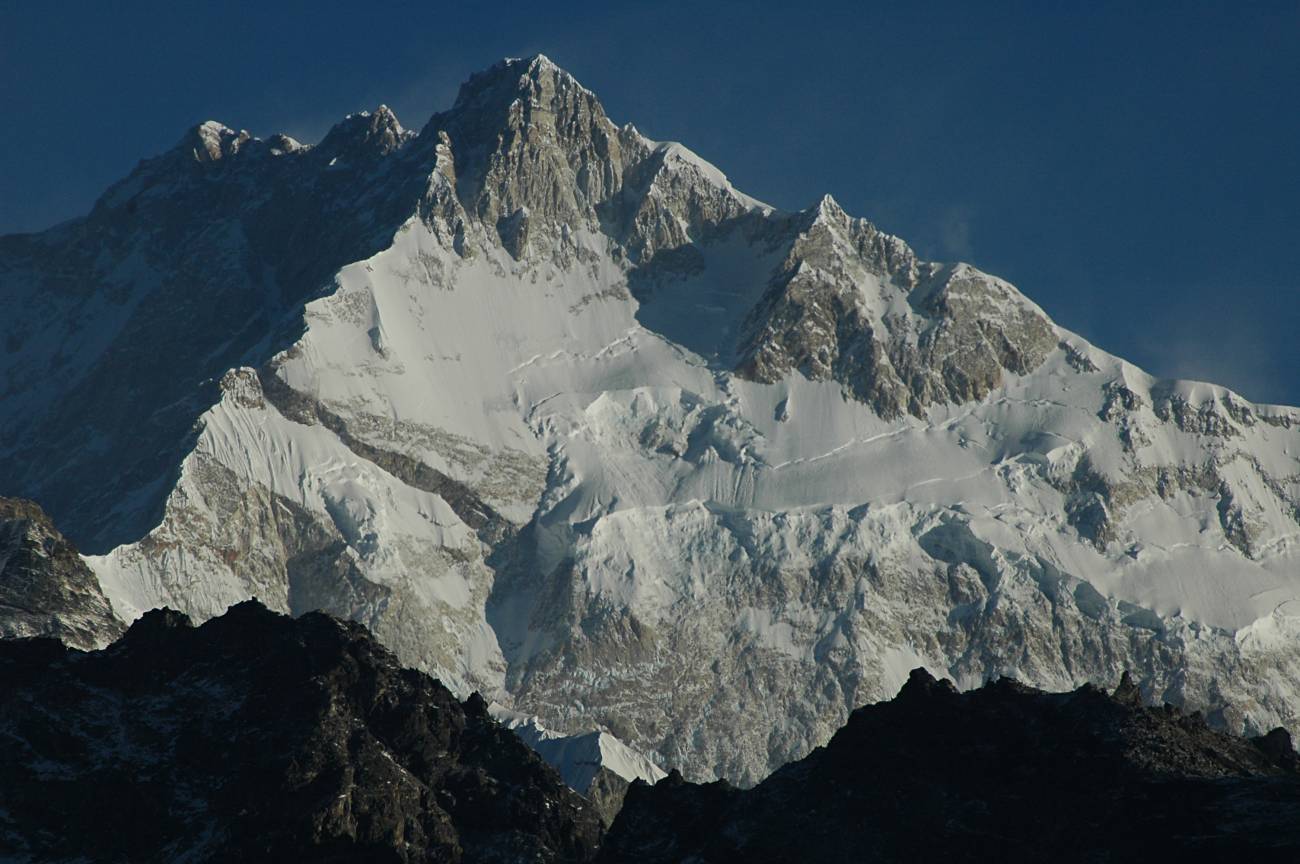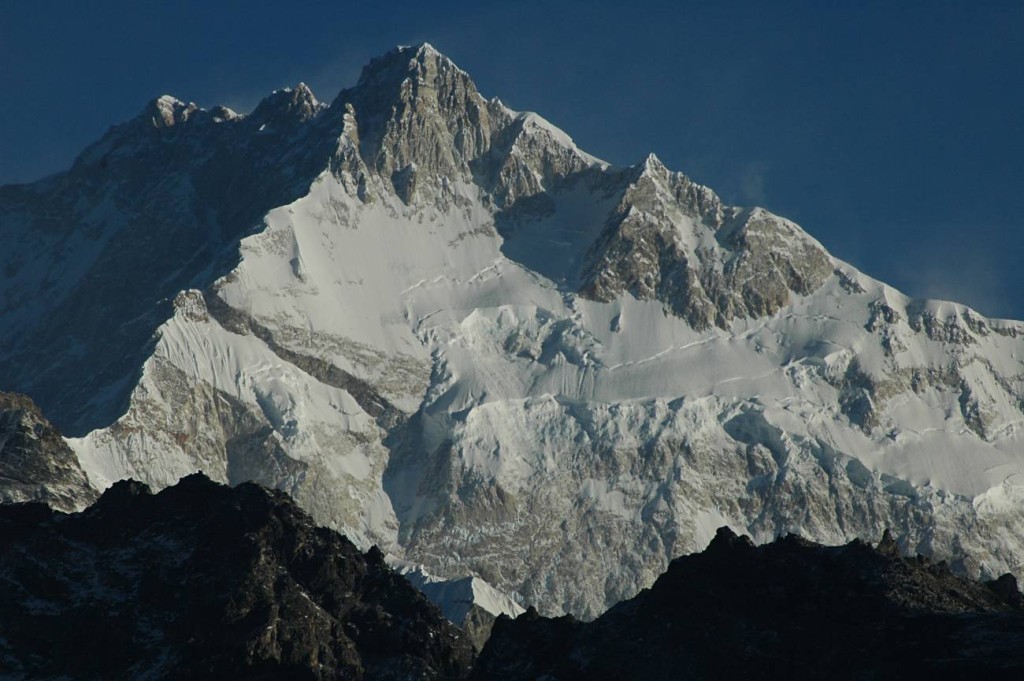 Kangchenjunga is the highest point in India, located on the border of North Sikkim and Nepal. It has five high peaks, hence the meaning of its name, 'Five Treasures of Snow', and it is worshiped by the people of both Sikkim and Darjeeling. Until the middle of the nineteenth century it was thought to be the highest mountain in the world, but in 1852 new calculations revealed Everest to be higher, and in 1856 they realized that K2 was, too, leaving Kangchenjunga at third. Because of its religious significance to the local people, strictly speaking the summit of Kangchenjunga has never been reached because the Maharaja of Sikkim extracted a promise from the first climbers that the very top of the mountain would 'remain inviolate', forcing them to stop just short of the actual peak; and every expedition since has respected this tradition. However, credit for the first success is given to Joe Brown and George Band, part of a British expedition that would have got there in May 1955, if they'd been allowed to go those last few yards.
2. K2 (8,611m, 28,251ft)
This is also known as Ketu/Kechu (versions of the same thing, 'K2' in Balti!), Mount Godwin-Austen and Chhogori/Qogir ('big mountain' in Balti/Chinese). It is the only peak in this top ten that is not in the Himalayas – it's in Pakistan's Karakoram range and, not surprisingly, it's the highest point in Pakistan. It is known as the 'Savage Mountain' because it is extremely difficult to climb and is one of the worst when it comes to deaths – for every four successes, it has claimed one fatality and, like Nanga Parbat, it is so dangerous it has never been climbed in winter at all. It gained its unusual name in 1856 when Thomas Mongomerie of the Great Trigonometric Survey sketched the Karakoram range from Mount Haramukh, 210km/130 miles away, and marked the two most prominent peaks he saw K1 and K2. However, although K1 was later given its local name, Masherbrum, K2 did not seem to have a local name then (possibly because it's so remote it's not visible from the nearest human habitations) and therefore K2 'stuck'. It was finally conquered by Lino Lacedelli and Achille Comagnoni of Ardito Desio's Italian expedition in July 1954, after many failed attempts over the previous 50 years.
And, of course, the tallest mountain in the world is…..
1. Mount Everest at 8,848m or 29,029ft above sea level
Measured from the centre of the earth, however, it's only fifth – there are four mountains over the 'equatorial bulge' where sea level is slightly further away from the centre of the earth making them 'taller' measured that way! Everest is in the Mahalangur part of the Himalayas, and the international border between Nepal and China runs precisely through its exact summit point, causing innumerable arguments about which country owns the mountain! It was named by the British Surveyor General of India, Andrew Waugh, after his predecessor, Sir George Everest. He would have applied its Tibetan name, Chomolungma or Qomolangma ('Holy Mother'), if he'd known it existed, but because Nepal and Tibet were not open to foreigners it was too late by the time he found out. Everest is not a technically difficult climb, but its sheer height poses problems due to wind, weather and altitude sickness and it has claimed its share of fatalities. The famous first successful climb by Sir Edmund Hillary and Tenzing Norgay as part of John Hunt's British expedition on 29 May 1953 was via the South Col route. All three men were given British honours because of this – British Hunt got a KBE and a life-peerage, New Zealander Hillary got a KBE and was made a founding member of the Order of New Zealand, and Nepali sherpa Tenzing (a citizen of India) was granted the George Medal and, along with Hillary, is nationally celebrated in Nepal with ceremonies every year in offices and schools to celebrate that accomplishment.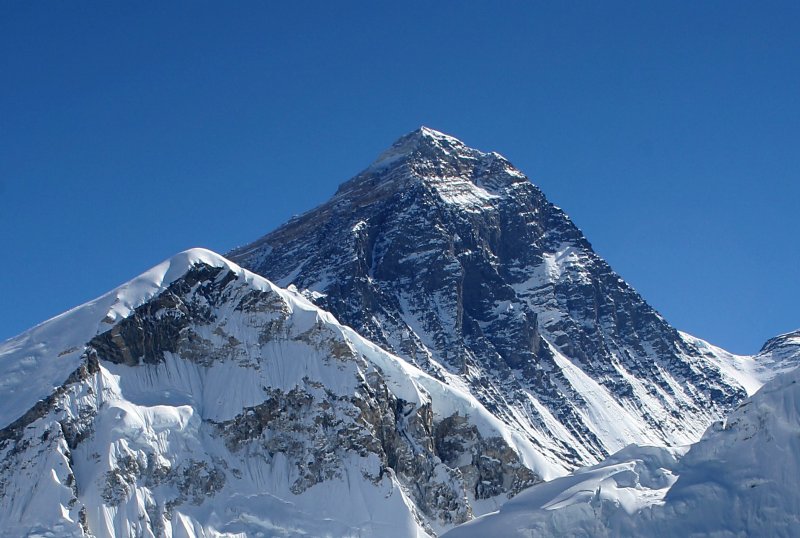 As a matter of interest, there are just four more mountains in the world that are 'eight-thousanders' (over 8,000m (26,280ft) high), and numbers 11 to 14 are respectively Gasherbrum I (8,091m, 26,658ft), Broad Peak (8,047m, 26,470ft) and Gasherbrum II (8,035m, 26,360ft), all in the Karakoram range, and Shishapangma (8,013m, 26,289ft), in the Himalayas. Climbing – and returning from – all fourteen of these peaks constitutes the world's toughest climbing challenge, and there are only some 15 people in the world who have ever succeeded (as of 2007). The first was Italian Reinhold Messner, who took 16 years to complete the set in 1986 – and the most recent American Ed Viesturs, who finished in 2005.