Internet has penetrated even the most remote parts of the world. Many companies now try to offer their services online for the convenience of their customers. Standard Bank is not left behind in this change. They have rolled out an online package to help their customers manage personal and business accounts on their own. If you are a customer of The Standard Bank, you can now access your bank through any internet-enabled device from the comfort of your home, office, hotel room or on the go. This gives you the freedom to choose the banking hours convenient for you as the service works 24 hours a day and seven days a week.
See Also: 5 Biggest Banks in South Africa
Services You Can Access Through the Internet Banking Service
Standard Bank internet banking service offers you an easy to use, flexible, fast and secure way to manage your finances. With the service, you can transact all accounts linked to your AutoBank, Business AutoBank, E Plan and MasterCards. The service allows you to make payments, view statements, apply for an overdraft, and open savings and investment accounts.
In case you do not know how to use the service, here is a systematic guide on how to use Standard Bank internet banking services.
See Also: A Comprehensive List of 50 Commercial Banks in South Africa
How to use Standard Bank Internet Banking Services – Step by Step
 1. Registration
Registering for the online banking service is an easy undertaking, provided you have the necessary documents and an internet-enabled device such a 3G phone, Smartphone, a laptop or a PC. You must have valid AutoBank, MasterCard credit, Business AutoBank or E Plan card, and an ATM PIN.
If you are using a cellphone and/or telephone banking, you will be required to use Customer Selected Password or CSP to access the services. Follow the following three steps in order to register for Standard Bank internet banking services.
Step 1: On your browser, type www.standardbank.co.za then click on the GO button. This will take you to the official website of Standard Bank.
Step 2: On the left hand menu on this page, click on the New Registration button. You will see two fields, one for Card Number and the other for the ATM Pin.
Step 3: Key in your credentials; namel: your card number and your ATM pin. You can then click on the Register link.
Step 4: You will be required to create and confirm a regular password and Customer Selected Password. You will require both the CSP and your regular password to log in.
Remember not to waste any time because the system will be terminated in five minutes if no transaction is initiated.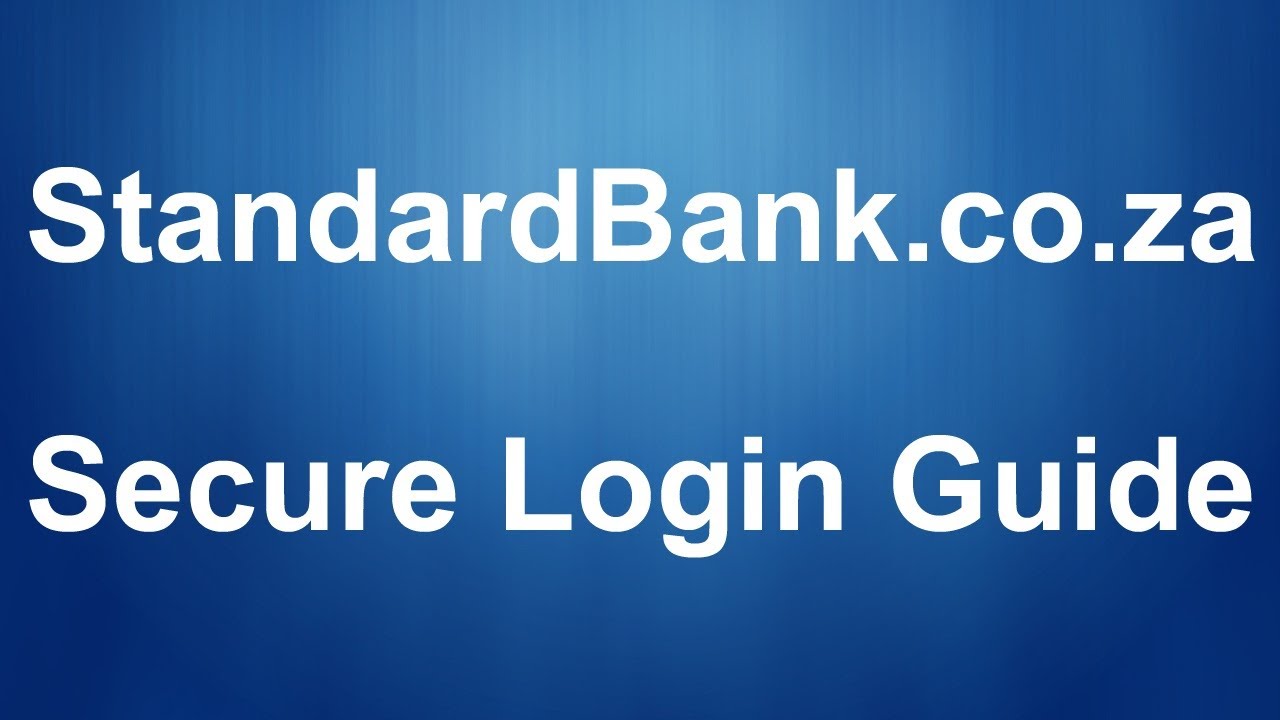 2. Logging on
Once your registration is approved; you can log on and transact any business with any other linked cards. To logon, go to the same URL mentioned above. You will be required to enter your card number, and then the customer selected password and finally your password. Make sure you enter the correct password. Inasmuch as there is a provision for you to change the password, it will save time to get it correct the first time. You will then click on the button written Logon. This will display Standard Bank internet banking Home Page.
The screen will display all the accounts linked to your card. At a glance, you will see all the most recent balances on all the linked accounts. You will see a navigation panel right on the top of the page. From here, you can perform a variety of useful functions including the following:
Accessing your transaction statements
Funds transfer between your accounts
Paying beneficiaries, if any
Increasing or decreasing your overdraft
Open and manage investment accounts
Communicate with your branch
Purchase and sell shares as well as airtime
Send payment confirmation to your beneficiaries
The transactions you can perform are many, not limited to the ones mentioned above.

 3. One Time Password (OTP) and Reactivation
If you lose your password or the Customer selected password, you can use either the One Time Password (OTP) reset or Reactivation (if your account is blocked because of entering a wrong CPS six consecutive times).
One Time Password (OTP) is straightforward. On the logon page, click on the reset password; enter the OTP sent to your cellphone or email address. Enter your card number and ATM Pin and submit the information. You will then need to create and confirm a new CSP and submit. Finally, create and confirm a password and continue.
Reactivation on the other hand requires that you visit the Standard Bank branch where you were first issued your ATM. You will be reissued an ATM card. This action will clear all your valid entries. Using your new details, follow through with the process of reactivation. Only then will you manage to access your online banking account.