Musa Mseleku is a South African businessman and reality television star who has an estimated of $2 million. He is counted among South Africa's wealthiest men in TV business. 
Successfully managing four wives and planning to marry a fifth one when the world is facing a sudden uncertainty due to the coronavirus pandemic and everyone is trying to minimize cost is a feat only a few men like Musa Mseleku can achieve. Musa Mseleku's net worth accounts for how he can live so large even with the number of wives he is known to have.
This has left so many fans wondering how Musa Mseleku makes so much money, especially managing his finances so well with the four wives' responsibility. Well, Musa Mseleku is involved in a couple of businesses, all of which you will find out as you read.
Summary of Musa Mseleku's Income Sources
Work at Ugu District Municipality
Reality TV Show – Uthando Nes'thembu
Published Books
Musa Mseleku Made His $2 Million Net Worth From Multiple Streams
Many people are interested in knowing what kind of businesses catapulted Musa Mseleku's net worth to $2 million. He is said to have a background in the media, which accounts for how he can successfully run a reality TV show – more on that later. Musa once worked as a journalist for Durban Youth Radio before leaving the radio station to work for SBC news. He also makes his money from working for community development at Ugu District Municipality. He is in charge of rural areas, and the role he played in making peace in Kwa-Madlala is noteworthy.
Musa Mseleku is an author who has two published works to his credit. The first book, 'Life and Polygamy' (2013), seeks to educate and encourage men who are interested in polygamy. According to Mseleku, the book covers areas that will help men who never intended to be polygamous but are stuck in such a situation. His second, 'How I Made My First Million – And How You Can Also Do It' (2020), gives insight into how he managed to overcome the setback of the poop and humble background to become a millionaire.
He Is A Business Man With Four Wives
Musa Mseleku is a wealthy businessman, but then, many wealthy business people have no reason to be the talk of the town. Mseleku is not just famous for his business savviness; he is most famous for the number of wives he has. Born in 1975, the businessman is husband to four different women and a father to 10 children. What is more fascinating about him is how he manages to keep his family together, as he claims. It is no news that getting married to one woman can be difficult; talk more of being a husband to four women.
Musa Mseleku makes it seem like taking care of four wives is so easy and no big deal that he even seeks another wife – it is interesting to note that so many women are interested in taking the position of 'wife number five' in his life. Mseleku announced that he needed to go on a date with 10 women, after which he will select a wife from the 10. Still, the women will have to pay R5,000 before having a date with him. Musa needed just 10 women, but over 1000 women paid to go on a date with him to score a chance to be the fifth wife.
If this is really true, then Musa Mseleku made over R5 million while seeking a fifth wife. He has a business-oriented mindset indeed.
Musa Mseleku Also Makes Money From Being Polygamous
In 2017, Musa Mseleku opened up another lucrative source of income for himself as he launched a reality TV show with his four wives and 10 children that became the talk of the town. The reality TV show was christened Uthando Nes'thembu, which means 'Love and Polygamy.'
This reality TV show is aimed at letting people into the polygamous family life of Musa Mseleku. He intends to show people that the idea they have about polygamy may be vague and that a man can be polygamous and still be a loving husband to all of his wives. With four successful seasons so far, Musa Mseleku must have made some good amount of money from showing his family to the world. The episodes on the YouTube channel of Mzansi Magic get over 100k views, with each episode leaving fans patiently waiting for the next.
Musa Mseleku Spends His Wealth On His Family
Musa Mseleku makes money from showing off his family and spends a lot of money on his family. All of his wives and children live very comfortable lives. They have different houses, which he built for them on his large property, and they also have at least two cars each. The family has a driver that takes children to school and a mechanic that works on the vehicles.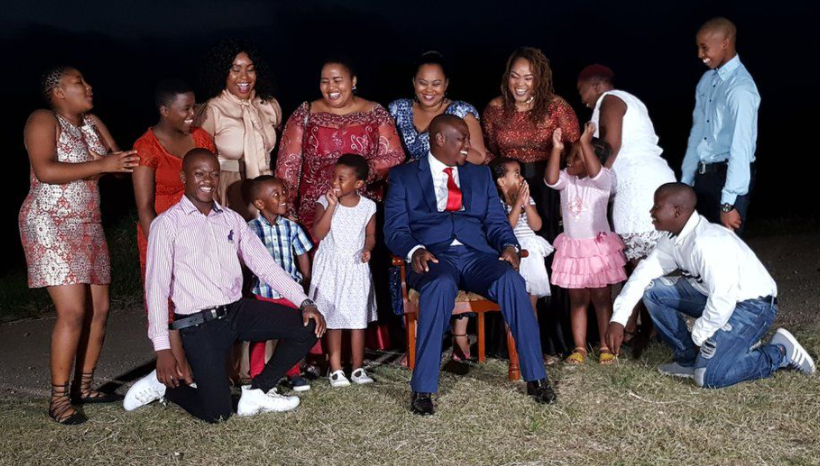 Musa, on his part, is said to have 15 cars, all of which have a customized plate number 'Thaxma,' which is said to be coined in memory of his mother, who at her death bed said he would never be poor, and to date, he has never been poor.
In 2019,  Musa Mseleku surprised the show's viewers as he gifted his four wives with a brand new Mercedes Benz C180 each. Each of the vehicles is said to be worth $69,900. Neither the fans nor his wives saw this coming as they were all very shocked and excited at the same time.
Some fans have speculated that the serial polygamist must have gotten the cars for his wives to sway them into allowing him to marry a fifth wife as they have been against the notion all along. However, the surprise of the car gift sent the internet to a frenzy, and it generated all sorts of reactions on social media. Check out some of the hilarious tweets:
Buying 4 Mercs at the same time for his wives. Some people have this life thing figured out. #UthandoNesthembu pic.twitter.com/MWtY7MPtDz

— Raised in Africa💫 (@paballo_patsa) April 25, 2019
Does wife number5 strictly needs to be a woman mara ye? Ngeke phela nathi sikhona #UthandoNesthembu pic.twitter.com/urmn5kMNaT

— Dj mgabe Magabaza (@djmgabemagabaza) April 25, 2019
4 Cars?
Imagine the commission the Salesperson will get#UthandoNesthembu pic.twitter.com/mYfS25qxdI

— Intwana Ka60 (@MrWeNice) April 25, 2019
#uthandonesthembu but Musa guys.. Can we just have a drink for this guy, I mean!!!! pic.twitter.com/crrFfY5VB0

— Mo'Dee (@D_force8) April 25, 2019
#UthandoNesthembu last week y'all said you were not into this Isithembu ish ,now your are volunteering to be the 5th wife because Mercs😂

Ooh by the way where do I sign up pic.twitter.com/mHkEj5inuJ

— Tilly👑 (@Tilly_tetelo) April 25, 2019
All the houses of Musa's wives are all located within the same land located near Durban, in KwaZulu-Natal's south coast where the reality TV show is filmed. From the show, you can tell that Musa Mseleku's net worth is on full display in his home, which is very beautiful with well-selected furniture and fitted designs. All his wives are always looking beautiful and well taken care of. It does not look like Musa Mseleku is struggling to take proper care of these women.