Douw Steyn's net worth is estimated at a massive £950 million or roughly $1.2 billion. He is a South African billionaire businessman and the founder of a UK-based insurance and financial services company known as BGL Group, which is the parent company of Comparethemarket.com.
Douw Steyn is one of those extremely wealthy individuals whose name you may not see in the rankings of richest South Africans because it is reported that his wealth is hard to track since his fortune is not in publicly held companies. With a mouth-watering fortune £950 million or more, it is not surprising that he has an excellent car collection and a great home that has gulped in more than R250 million.
The South African billionaire has made his fortune from the insurance business and other investments. He started his career as a quantity surveyor before delving into the world of business, which has now turned him into a billionaire.
A Look At Douw Steyn's Net Worth
Douw Steyn has a net worth that has been estimated at a massive £950 million (approx $1.2 billion) which means he is a billionaire in dollars. He shares his time between South Africa and the United Kingdom, so it is not unusual to find his name on a list of the richest men in both countries.
The businessman and investor saw his fortune jump up in 2020 by more than £50 million from the £900 million he had in 2019. Unfortunately, his net worth has not been estimated by some powerhouses, including Forbes Magazine and Bloomberg billionaire lists, mostly because his sources of fortune are not linked to public companies.
Steyn is a self-made billionaire whose fortune was made from his investments in the insurance sector, as well as from the real estate industry. Since the mid-1980s when he started his own business, he has continued on the path to more wealth. In 2020, he was named by insurancebusinessmag as the wealthiest insurance tycoon in the UK, citing Sunday Times.
Since his name does not feature mostly among the richest men in South Africa like Nicky Oppenheimer, Johann Rupert, Koos Bekker, and Patrice Motsepe, Steyn has his spot there, considering his massive wealth. As far back as 2014, his net worth was placed at £600 million, which at the time, was more than R10.5 billion.
How Did Douw Steyn's Net Worth Accrue?
For the starting part, the life of Douw Steyn wasn't necessarily out of the ordinary. He was born in December 1952 in Johannesburg, and he got his education from Linden, Johannesburg before he later moved to Potchefstroom University for Christian Higher Education from where he obtained his bachelor's degree. He then started his career at Eskom Megawatt Park as a quantity surveyor.
His life took a different lane to wealth in 1985 when he started Auto & General Insurance, and following its success, he moved on in 1992 to replicate the same when he founded his insurance company, BGL Group. The company began UK-based insurance and financial services company. From this point, he would go on to put in his effort not only in insurance but also in other sectors such as real estate.
Douw Steyn's Cars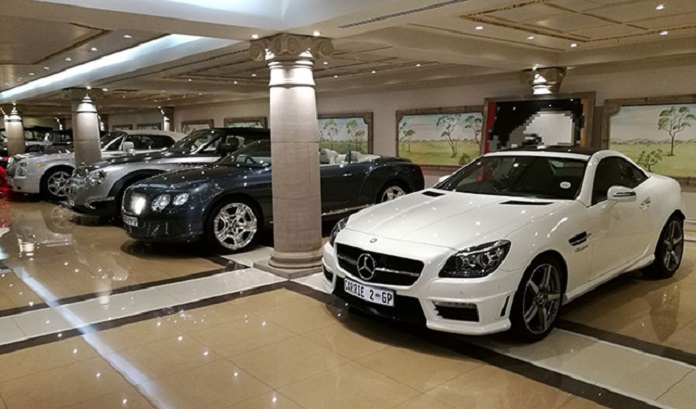 As private as he might be, Douw Steyn has an incredible taste for the things that are good and beautiful. This taste also shows in the cars he has; the billionaire is said to have more than 30 cars to his name.
His yearning for many cars is not a definition of his sanity, but because of his hobby as a car collector. The billionaire has come to be known for his automotive originality. He has many cars that one hardly gets to see ply the roads, most of which were imported and kept in his collection for display occasionally. The cars are valued in millions.
In his fascinating collection are cars such as a 2010 custom-built Rolls-Royce (Douwmobile), which is probably the most popular car in the collection. Others are 1930 Rolls Royce and Ferrari Daytona. What may be the most impressive car he owns is a 1902 Oldsmobile, which is among the first cars sold in South Africa. His wife, Caroline Steyn, drives a Bentley convertible.
List of some of Douw Steyn's cars and their average prices:
Douw Steyn's bespoke Rolls Royce @concourssa. pic.twitter.com/jiAELoEzhY

— CARMAG (@CARmagSA) August 11, 2018
Douwmobile- 2010 custom-built Rolls-Royce
Ferrari Daytona (between $434,000 –

$2.6m)

Several Benz Cars
Several vintage Ford cars
A Look At His R250 million Palace
The South African insurance magnet has one of the most enticing houses in the whole of South Africa. Dubbed "Palazzo Steyn" (Steyn Palace), the property sleeps on an area of  3,000 square meters. After it was finished, it was valued at R250 million, which makes it the most expensive house in the country
The house, which sleeps at the center of Steyn City in the north of Johannesburg, has a classic Italian design as suggested by its name and is made to look like some part has collapsed. Everything from its bronze dome entrance to the internal finishing and the marble floors is all done with an emphasis on details. Steyn's palace has its styling from different parts of the world, including Africa, Europe, India, and the Middle East.
Palazzo Steyn has a basement that can have all his over 30 cars. The cars can be placed for display, and they can also be maneuvered easily. He made sure of this because one of his hobbies is the collection of sport and vintage cars. It has been claimed that the house has a garage for 33 cars. Despite the vastness of the palace, it still manages to have the feeling of a home. It took two years to fully bring out the concept of the building.
Here are some of its most important features:
It has 18 boreholes
The heating and cooling system of the house is naturally generated by the waters around
Marble floors
Solid African hardwood was used for the doors and windows
The main chandelier was brought from the cafe royale in London
The chandeliers in the house have motion sensors that brighten or dim when the space is in use.
It has a gymnasium indoors and a golf course outside
A master bedroom and two guest bedrooms
Hand-painted walls
A giant library
There is also a lounge, which is the favorite place of his wife who was an actress. The lounge has a piano and can host small performances.
A gigantic pool area
Does Douw Steyn Have More than One House?
The Palazzo Steyn remains his signature property, but it is not the only house owned by Steyn, who is the brain behind Steyn City. The city gulped in a massive R6 billion in infrastructural costs. Placed close to the mushrooming Lanseria Airport, the city was in development from 2008 up until 2015.
The property began after Giuseppe Plumari, who is the director of the city, acquired the land while Steyn acquired more to make it 2,000 acres of the estate. The two men came up with the idea of starting a lifestyle estate different from any other in the country. The vision was to create an estate that will deliver country living for people, although with all necessary amenities. He revealed that instead of deciding to build the property in Europe, he has so much faith in the future of South Africa, prompting him to have it there.
Steyn City boasts 11,000 residences that include apartments, clusters, and freehold stands. It also has private schools, a hospital, and office parks, as well as a water reservoir capable of storing 30 megaliters. Among other things, the city boasts of sports facilities, including a golf course, a rugby field, a bike track, jogging track, and gym facilities for both adults and children. In 2019, a further R5.5 billion was invested in the city.
The low-key billionaire is also the owner of the Shambala private game reserve, which is a malaria-free area, as well as a buffalo diseases-free breeding ground.