South Africa is one of the countries in the world that make use of a smart ID card as one of the ways to curb the growing trend of identity fraud. Unlike the country's previous green ID book, the smart ID is not easy to manipulate, even though identity fraud in the region has not been completely eradicated. There are a lot of things to know about the upgraded identity system, including how to apply online and the requirements to meet. The Smart ID Online Application process is quite an easy task to handle, as long as you press the right buttons.
In this piece, you will also get to know the various ways the ID is considered more secured and effective than the green barcoded ID book that was in existence before its introduction.
You Can Apply For Your Smart ID Card Via These Steps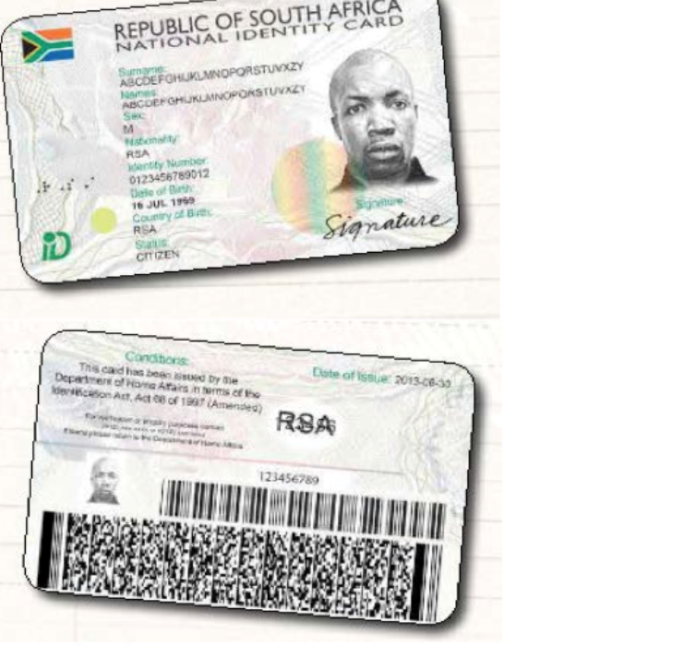 The Home Affairs Department has made it easier for people to comfortably apply for their ID cards from the comfort of their home without stress or having to queue up at the office. All you need to do for a smooth application process is to have all the needed information or documents handy.
Step I: To begin, you would need to register on the e-Home Affairs website via the e-Home Affair portal. You are expected to carry out the registration process by:
Completing your personal details
Creating a password
Answering various questions for security reasons
Step II: An OTP (one-time pin) will be sent to you to confirm your cellphone number. Once you receive it on your phone, simply enter it and click submit.
Step III: Another OTP will be sent to you to log in to your profile.
Step IV: Once you complete step 3, go ahead to fill your application form for a smart ID card.
Step V: Where necessary, go ahead to upload the supporting documents.
Step VI: Remember, if you are 16 years old and above or a pensioner above 60, you will not pay for the card when applying for the first time. However, if you do not fall into any of the categories, you will pay R140 for the card and you do that online payment or pay at a branch of a bank.
Step VII: Make a booking at a Home Affairs enabled Bank Office. But do not forget the following:
You don't need a booking if you are going to a Home Affairs office.
If you decided to go to a bank, you need to go along with your ID book (if available) and barcoded confirmation letter.
Booking an appointment is needed for a visit to a bank.
Step VIII: You can now print your confirmation letter.
Step IX: An SMS will be forwarded to you notifying you when your card is ready for collection.
Requirements To Meet For The Application
If you are 16 years and above and applying for the first time, you are expected to come with the following for your ID application:
Birth certificate
Certified copy of one of the parent/legal guardian/informant's identity document
Death certificate or certified copy if parents are deceased
Proof of residence (where it is available) or provide a residential address
Note: The service is free of charge.
For pensioners who are above 60 years and are applying for the first time, you need the following:
Divorce decree, if divorced (for divorce verification status)
Proof of residence (where it is available) or provide a residential address
Green bar-coded identity document/affidavit in case the identity document is lost
Marriage certificate, if married (for marriage verification status)
Note: The service is free of charge.
For other citizens who are applying for the first time, the requirements are:
Marriage certificate, if married (for marriage verification status)
Green bar-coded identity document/affidavit in case the identity document is lost.
Divorce decree, if divorced (for divorce verification status)
Proof of residence (where it is available) or provide a residential address
You will pay a fee of R140.00
For permanent residents of South Africa:
You need to present the green bar-coded ID you already have in your possession
Your permanent residence certificate and proof of address (If you are a first-time applicant)
The South African Smart ID Card Was Launched in 2013
The need to provide a comprehensive ID document for citizens of South Africa was what triggered the introduction of the ID system in the country. Over the years, a lot of changes have been made by appropriate authorities in a bid to provide a more secured, reliable, and standard ID system.
From the passbook ID (which was used during the apartheid era) to the green identity book (which was used by South Africans during the first democratic election in the country), the goal has always been to provide citizens with the most reliable identity system.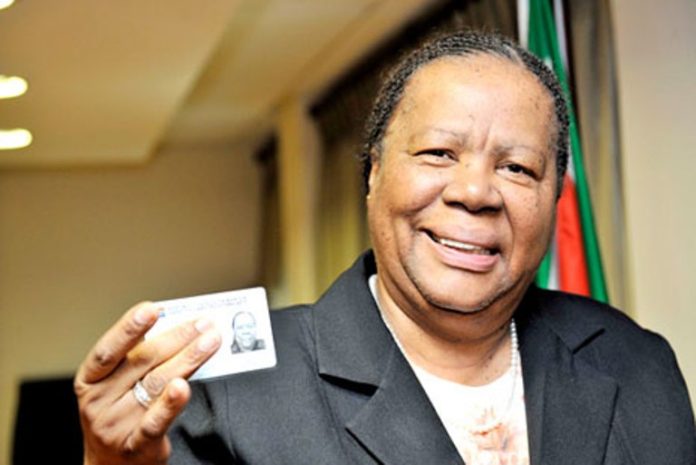 The Smart Card ID is an identity document that contains sophisticated data of permanent residents and citizens of the country. It was launched on 8th July 2013 by the Home Affairs Department as a more secured security identity and in a bid to tackle the limited security features of the green identity book.
The document contains the holder's photograph, ID number, date of birth, names, status, and gender. Interestingly, the smart ID has the same standard as identity systems used in America, Asia, and Europe and cannot be renewed except it is lost or damaged.
The card has two types. The first is for people with regular names while the second is for those with longer names.
Here's What You Need To Know About The Duration Of The Application Process And The Cost Of The Smart ID
If you are a 16-year-old applying for the South African smart card for the first time you will not be charged for all the services rendered. This can be linked to the fact that at that age, the applicant is not expected to be earning an income or taking care of bills. Thus, the government will see to it that they get the ID card without paying anything. However, every other Smart ID Card applicant will pay R140.00 (one hundred and forty rands only) for the smart card.
If for any reason the card is damaged or stolen and you want a replacement, you will still have to pay the same amount of R140 to get a new one. About the procession duration, it takes 14 working days from the date of application to process. In some cases, it could be ready in less than 10 days, but to make sure your smart card is ready, you might need to wait for about two weeks to get it. What matters most is for you to meet all the requirements mentioned above.
List Of Banks You Can Visit For The Application Of Your Smart ID Card
To make the process of applying for your South African smart ID card easier, different locations have been selected to suit every South African, irrespective of their location. As such, banks are also involved in this process, considering the fact that most people have access to a bank at every point in time. As detailed on Home Affairs official website, you can go to any of the following banks to apply for your smart card. It is not clear if it attracts extra charges but you will get to find out at the bank.
ABSA Centurion Lifestyle
ABSA Greenacres
ABSA Keywest
ABSA Sandton City
ABSA Towers JHB
ABSA Fourways
ABSA Menlyn Maine
ABSA Claremont
ABSA Pinetown
ABSA Rosebank
ABSA Randburg
ABSA Stellenbosch
ABSA Waterfall Mall
ABSA Woodlands
FNB Burgersfort
FNB Centurion Lifestyle Centre
FNB Menlyn
FNB Merchant Place
Discovery Bank
Investec Bank
FNB Portside
Nedbank Arcadia- Pretoria
Nedbank Constantia Kloof- JHB
Nedbank Nelspruit Crossing Shopping Centre
Nedbank Sandown
Nedbank St Georges Mall- Cape Town
Nedbank Rustenburg Square
Nedbank Durban North
Nedbank North Cape Mall
Standard Bank Centurion
Standard Bank Killarney Mall- JHB
Standard Bank Kingsmead- Durban
Standard Bank Jubilee Mall- Hammanskraal
Standard Bank Simmonds Street- JHB
Standard Bank Canal Walk- Cape Town
Standard Bank Promenade Mall- Mitchells Plein-Cape Town
Standard Bank Newton Park- Port Elizabeth
In case you don't have access to a bank or would rather not do it there, you can also visit Home Affairs Smart ID Card offices in all nine provinces in the country. Follow this link if you want to find out the exact location of their office in these provinces.
Unfortunately, You Can't Apply For A Smart ID At Capitec Bank
At the moment, Capitec bank does not issue a smart ID card because the bank is not listed on Home Affair's website. We definitely do not know why, however, there must be a reason for this. So if you have plans of visiting a Capitec Bank branch for your Smart ID Card application, you might want to choose another bank near you as the service is not available at the bank at this time.
Can I Track My Smart ID Card Status?
Yes, you can actually do that. In fact, it is necessary to find out the state (or progress) of your application from time to time, especially if you are not notified at the appointed time you are supposed to get a response. The commission is expected to send the applicant a message, notifying them that the ID card is ready for pick up but if this message is not received in due time, the applicant can take necessary measures to know the status of their application. To find out if your card has arrived at the nearest Home Affairs office for pickup, simply follow the steps below.
Text the word 'ID'
Leave a space
Enter your 13-digit ID number
Then forward them to 32551
Alternatively, you can reach out to the Contact Centre on 0800 60 11 90.
The Smart Card Has Been Of Great Help Since Its Inception
All over the world, many nations have embraced the use of technology to make things easier and efficient and the Smart ID Card is one of the innovations that have set the pace. With this Smart Card, identifying people and carrying out certain transactions have become very easy. The South African smart ID card, which contains a microchip embedded with biometric security features, has gone a long way in making any form of identification process less cumbersome. In fact, its effectiveness cannot be undermined.
Through the microchip that is visible on the card, government departments can easily upload their data. Again, the rate of fraudulent use of fake or stolen IDs that marked the time of the green ID book has continued to go down because the laser-engraved chips make it difficult (if not impossible) for tampering.
The smart ID card seems to have also minimized the chances of people manipulating the process of applying for the green ID card. It has also gone a long way in helping the government eliminate paperwork during operation, which indeed is commendable. Basically, carrying out certain duties has been made easy since the inception of these IDs with a microchip.
Generally, the introduction of the smart ID has helped to combat fraudulent activities in the country, including all manner of theft and vices relating to housing, education, healthcare services, social grants, driver's license, business, insurance, and even financial institutions. Consequently, perpetrators of fraud and other crimes are likely to be caught without much stress, unlike what was obtainable before.
Physical Features of the South African Smart ID Card
Bearing in mind that fraudsters might start producing fake IDs, it is important to know what the real ones look like. To be sure you have a real South African Smart ID Card, look for the following features on the card.
Rainbow-themed background lines
An 80kb-size microchip
Text (ID) that is written in braille
The backside has a secondary image and 'RSA' text that is printed on top of a security
number
A laser-engraved photo (owner's photograph)
A coat of arms
The national flag
Color-shifting motif
Optical security in the form of an optical variable device (OVD)
 The backside has a 2D PDF417-type barcode as well as a line code for the owner's ID number