After a long day at the office working to make sure the money is coming in, or a long day at school listening to teachers drone on without end, how do you unwind after putting yourself through this rigorous stress? Sure, you could read a book, you could drink some white wine and rest your head, or you could drink some white wine, pop some corn and rest your head while seeing Skeem Saam, one of South Africa's best TV series ever to grace your screens.
Skeem Saam is a Mzansi TV drama series created by Winnie Serite, airing on SABC1 since 2011. The show is set in Johannesburg and Turfloop. Largely centered on the youths, the show Skeem Saam follows the lives of the residents of Turfloop who face daily tribulations and trials as they embark on their journey to success. It also follows the lives of the wealthy in Johannesburg, how they handle the challenges they face in their businesses, and the lives of the rich and poor staying in Turfloop. To get Skeem Saam teasers for October 2021, read on. However, let's get you all caught up where the show left off.
An Overview of What Went Down In September 2021 On Skeem Saam 
The show opened in September 2021, with Kwaito helping Meikie profoundly reassess things as Tlotliso plays with Clement's feelings upending his world and earning Nothile's wrath. In trying to win a certain businesswoman back, Lehasa gets a slap on the face. Joyce lets the cat out of the bag about John taking a second wife, and  Kenny is unhappy with Clement's new plan.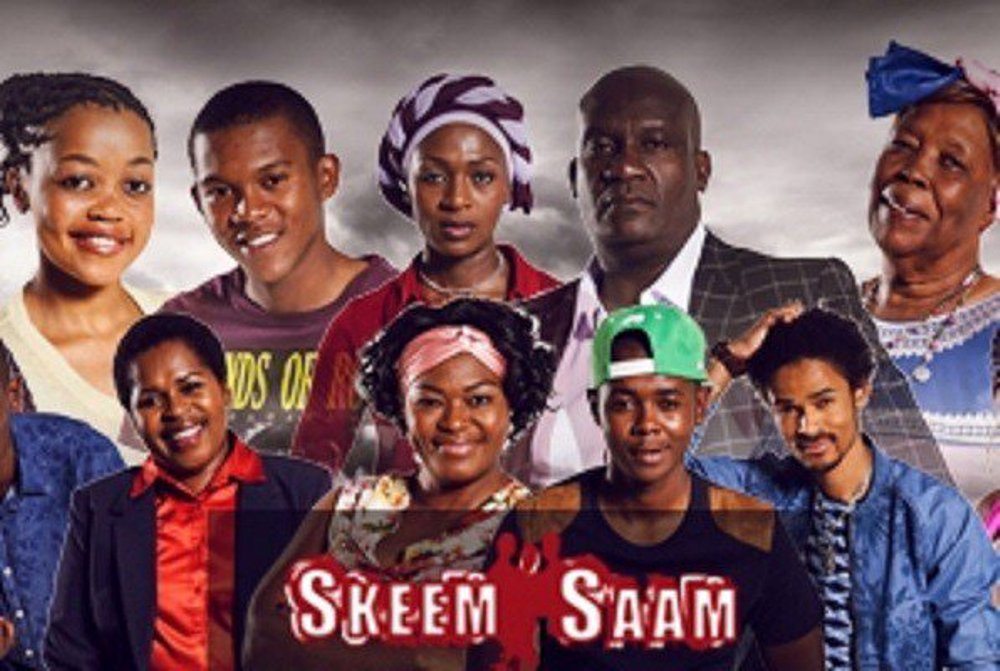 Pretty has to face her moment of truth in the form of a pregnancy test as Clements crush appears before his very eyes. New business associates get stuck in a lift together, causing sparks to fly, and Clement is in a compromising situation.
Lehasa gets a visit from a law officer about Nothile as Pretty's secret bares itself on a hospital bed amidst disapproving glares. Tlotliso raises the stakes by pouring his heart out to a conflicted Clement as the proverbial 'cloud nine' gathers inside Maphosa's apartment as he and his new girl take things to the next level.
It's Pretty's biggest day, and she is left disappointed as her mom will not be present, but a call from the Maphosas changes everything for Pretty.
What To Expect From Skeem Saam – Teasers For October 2021
Episode 65: Friday 1, October 2021
A scorned woman plagues Nothile with an earful as Clement is left feeling humiliated in the worst imaginable way by someone he holds dear to his heart.
Episode 66: Monday 4, October 2021
A fairy tale love story becomes more like a nightmarish horror flick for Clement as Lehasa's world is turned on its head by a shocking revelation resulting from a shocking revelation by Nothile. Yet another scandal rocks the Seakamela household.
Episode 67: Tuesday 5, October 2021
Some good news comes Sifiso's way as Clement's nemesis stalks into the home of the Seakamelas in search of him. Meanwhile, Lehasa and Nothile ponder on their future as a couple.
Episode 68: Wednesday 6, October 2021
Lehasa and Pholo disagree on the best way to handle the issue of the pregnancy as Phomolo wishes to go about it in the proper manner. John intends to do right by Kwaito, much o the chagrin of Meikie.
Episode 69: Thursday 7, October 2021
Leeto intends to get out of town once and for all. Oritonda proves to Clement that he will always be there for him as the friction between Meikie and John over the Kwaito issue does not subside.
Episode 70: Friday 8, October 2021
Leeto pinpoints the suspected culprit in the failed robbery attempt at the Maputla Supermarket, much to the shock of everybody as Ma Ntuli and her spawn have a one-on-one conversation.
Episode 71: Monday 11, October 2021
An unlikely alliance as a deadly criminal hands a troubled Turfloop businesswoman a business proposal. Clement is handed dating advice from a surprising source, and Koloi spots an advert that could potentially change his life.
Episode 72: Tuesday 12, October 2021
A missing convict calls a shocked Leeto. Kenny musters up some courage to let a friend know exactly how he feels but is disappointed when he discovers he came a little too late. Kwaito is in a fit of anger after MaNtuli makes a decision that affects his future.
Episode 73: October 13, 2021
Meikie makes an impulsive suggestion to Leeto and gets chastised by John. Things take a weird turn for Koloi on his way to submit the material required for the competition.
Episode 74: Thursday 14, October 2021
A wave of relief and optimism fills the Seakamela household after Kwaito's ceremony as Meikie and John get a surprise visit from Bra Sikes. Koloi still maintains a despondent attitude concerning the application for his competition.
Episode 75: Friday 15, October 2021
Noah is in a state of shock when he learns of his new fate. Koloi is greeted with surprising but pleasant news while Meikie hatches a new plan to avoid going to jail.
Episode 76: Monday 18, October 2021
John's unreliability is a huge cause for concern with Meikie as Mary's suspicions become aroused by the sudden happenings in the life of Noah. Koloi's discovers how little his chances of winning the competition is and loses hope.
Episode 77: Tuesday 19, October 2021
The Principal is stirred when her co-worker questions her authority, as everything seems to be going wrong for Koloi. Leeto is floored to learn about Meikie's master plan to avoid imprisonment.
Episode 78: Wednesday 20, October 2021
Meikie storms into the Seakamela house, searching for her husband as Ramaolo gives Koloi's dream a fighting chance. Alfred loses yet another round to the Principal.
Episode 79: Thursday 21, October 2021
Everything that could go wrong goes horribly wrong for Koloi on the day of his presentation as Meikie leaves John with no other alternative but to pick a side. Meanwhile, the Principal is having fun at the expense of Alfred.
Episode 80: Friday 22, October 2021
Meikie is spinning out of control as new evidence is brought to light. Koloi's dream becomes a tragic reality, and Principal realizes that she needs an actual plan of action to deal decisively with Alfred.
Episode 81: Monday 25, October 2021
Principal submerges Alfred beneath a cascade of work as the sangoma reveals that a shocking curse has been placed on Meikie. Clement calls in an old friend to help lift Koloi's spirits and help him out of his depression.
Episode 82: Tuesday 26, October 2021
The Maputlas are rocked to the core when a deadly criminal comes calling. Alfred has the perfect plan of action to get teachers to support him, and Romaolo loses patience with a young man feeling the pangs of depression.
Episode 83: Wednesday 27, October 2021
A hostage situation overwhelms the Maputla home. Ramolao and Shivambu have a fallout over Koloi. Celia wants to make sure the surprise party is a success.
Episode 84: Thursday 28, October 2021
The Seakamelas lend their help to the Maputla's, saving the day. A call comes in that changes Koloi's life, and Celia does not get overly offended when she is informed by Alfred that he invited a particular teacher into their home.
Episode 85: Friday 29, October 2021
Alfios makes a slip of the tongue to the Principal that raises her suspicions. Tbose prays for his mother, but Meikie's enemy prays even harder as Koloi pays homage to all the queens who have fallen.
Character Cast of Skeem Saam and their Actors
Clement Maosa – Played the role of Zamokuhle "Kwaito" Seakamela
Cornet Mamabolo – Played the role of Thabo "Tbose" Maputla
Amanda Du-Pobt – Played the role of Nompumelelo "Lelo" Mthiyane
Patrick Seleka – Played the role of Katlego "Kat" Peterson
Eric Macheru – Played the role of Leeto Maputla
Harriet Manamela – Played the role of Meikie Maputla
Africa Tsoai – Played the role of John Maputla
Dieketseng Mnisi – Played the role of Nontombi "MaNtuli" Seakamela
Mogau Motlhatswi – Played the role of Mapitsi Magongwa
Shoki Mmola – Played the role of Celia Magongwa
Masilu Magoro – Played the role of Charles Kunutu
Makgofe Moagi – Played the role of Charity Ramabu
Lerato Marabe – Played the role of Pretty Seakamela
Molefi Monaisa – Played the role of Peter "Wallet."
Thabo Mkhabela – Played the role of Leshole
Innocent Sadiki – Played the role of Sthoko Seakamela
Skhumbuzo Mbatha – Played the role of Manaka
Putla Sehlapelo – Played the role of Alfred Magongwa
Elizabeth Serunye – Played the role of Principal Thobakgale
Vusi Leremi – Played the role of Clement
Buhle Maseko – Played the role of Nimrod Kunutu
Amanda Manku – Played the role of Elizabeth "Lizzy" Thobakgale
Cedric Fourie – Played the role of Lehasa Maphosa
Phophi Ratlabala – Played the role of Cindy Khuzwayo
Gift Mokhampanyane – Played the role of Fanie Maserumule
Bongani Madondo – Played the role of Sifiso Ntuli
Macs Pops – Played the role of Marothi Maphuthuma
Nozipho Langa – Played the role of Glenda
There Would Be Returning And New Actors On The TV Show
Actors Returning to the Skeem Saam TV Series
The South African TV series Skeem Saam has seen a recent decline in its viewership statistics. In a bid to remedy the TV show's rapidly declining number of viewers, the show's producers are making a play to reintroduce popular casts and characters who had previously been on the show but for one reason or the other had moved on to other things. The idea behind this is to maintain the show's originality, which viewers had fallen in love with as at the time the drama series began.
The producers of the drama series will also be taking on cross-over actors from other popular South African drama series to include a broader audience to the viewership of Skeem Saam. Meet them below.
Nicholas Nkuna
Nicholas Nkuna, famously known for his depiction of the popular and well-liked character, Sakhile Mkhize, on the drama series, returns to the cast of the show. Nicholas Nkuna, on his time away from the Skeem Saam drama series, was cast on the 7 De Laan TV show, where he played the role of Dr. Fikani. Nicholas Nkuna explained that while he has returned to the Skeem Saam set, it does not necessarily mean he would be leaving the 7 De Laan drama series.
He further expressed his excitement on his return and re-inclusion into the cast lineup and set of Skeem Saam as it was always a home for him. He explained that Skeem Saam was like a home for him, as he had enjoyed helping the drama series portray original and inspirational South African stories during his six-year spell working with the TV show.
Bongani Masondo
Avid followers of the Skeem Saam drama series, old and new alike, would be over the moon to discover one of the most loved characters on the cast list of the drama series, 'Babymaker' would be staging a return to the show. The character 'Babymaker,' which is depicted by Bongani Masondo, will stage a comeback to the show on the occasion of Leeto's divorce party and again on July 23.
The character 'Babymaker' is a human magnet for trouble. He is depicted as a very popular man with the ladies. He also has a love child with Lelo Mthianye (played by Amanda du Pont).
The Skeem Saam actor, Bongani Masondo, who made a name for himself while playing the role of Mangaliso, quit the popular South African drama series which airs on SABC1, as the producers of the show reportedly failed to reach an agreement over Masondo's salary demands.
Percy Vilakazi, who spoke on behalf of the Skeem Saam drama series, explained that a new contract had initially been offered to Masondo. However, the show's producers were unable to agree with Masondo's agent regarding the increase in salary demanded by the actor, leading to his exit from the show in season 5. However, he stages a comeback on the show at the party organized to celebrate Leeto's divorce, so watch out for him.
Archie Nhlapo
The outgoing 2016 character and party animal Lord of the Flies, played by Archie Nhlapo, will be reprised on July 27. The Lord of the Flies will be tearing up the party room once more at Leeto Maputla's divorce party, so stay glued to your screens and be sure not to miss it.
New Faces Joining the Skeem Saam Set
As the Skeem Saam drama series marks ten glorious years airing on TV screens across South Africa, the producers of the Mzansi television show, which airs on SABC1, have decided to introduce two new but popular faces to the cast list of Skeem Saam as they prepare to launch a new season.
Fundiswa Zwane
Well-known and popular South African actress Fundiswa Zwane, famous for her role as KaMadonsela in the widely watched soap opera Imbewu: The Seed, has crossed over to the set of Skeem Saam. Fundi, as she is fondly called, has been cast to take up the role of 'Nandi,' the wife of the character, Sfiso. The character Nandi is depicted as a woman of strength and firm will, which is already late into her thirties. She wisely builds up her home and dutifully goes about her wifely and motherly obligations.
Nandi prefers the laid-back tranquility of her village in Richards Bay to the noisiness and quick-paced life of the big cities. She maintains a little bit of jealousy over the close relationship shared by her husband Sifiso and Mantuli but does not voice out her concerns. Fundi makes her debut as Nandi on July 27.
Mpho Molepo
Mpho Molepo has attained legendary status at Rhythm City and seeks to add another feather to his cap as he gets set to begin another adventure on the cast list of the SABC1 drama series Skeem Saam. The news was disclosed on the official Twitter account of Phil Mphela, one of South Africa's foremost indigenous reporters. The news update further discloses that Mpho will be taking up the role of Jazzy T, who is a producer and DJ.