Siya Kolisi has an estimated net worth of $2 million. He is a South African professional rugby union player who currently holds the position of captain on the South Africa national team and also the Cell C Sharks.
You do not have to actively follow South African rugby before you will be familiar with the name Siya Kolisi. He is a well-known figure in the sports, playing in a professional capacity for the  South Africa national team, as well as the Stormers and Western Province in the Super Rugby and the Currie Cup, respectively.
Although he got to the professional rugby stage when he was a young teenager of 16, his career kicked off when he was only 12. Since then, he has continued to rise in the sport, recording many individual achievements and also for the springbok and his teams. It is thanks to this that he now has a net worth estimated at a massive $2 million.
Quick Profile Of Siya Kolisi
Name: Siyamthanda Kolisi
Date of Birth: 16 June 1991
Age: 32 years old
Place of Birth: Port Elizabeth, South Africa
Profession: Rugby player and entrepreneur
Net Worth: $2 million
Kolisi's Difficult Childhood Led Him To Rugby At An Early Age
All may seem rosy for Siya at the moment, but the many thorns were in his childhood. He was born on 16 June 1991 in Port Elizabeth, South Africa, to a mother, Phakama, who was not yet 17 years old when she had him, and a father, Fezakele, who was still in school as a final year student.
He faced a lot of struggles as a little kid as his mother and grandmother found it very hard paying his primary school fees and feeding him, among other things, so much that on many nights, he went to bed on empty stomach. His mother later had two more kids from different relationships, and when Siya was 15, she died, leaving him and his grandmother together with his two younger siblings.
Despite his poor background, he seemed to find some solace in rugby, which he started playing at the age of 7 when he was still a student at Emsengeni Primary School. He joined the African Bombers Rugby Club, a prestigious local team that helped in shaping him.
Siya Kolisi Got Scholarships That Became The Key To His Success
Five years after Siya Kolisi first joined the African Bombers Rugby Club, his talent was already glaring and that helped him to secure a scholarship to attend the prestigious Grey Junior in Port Elizabeth. From there, he got yet another rugby scholarship at the Grey High School. While he was there, the young Xhosa star was always making the First XV rugby team, and at the time, he was just 15.
Right from the start, he was discovered by a former headmaster, Eric Songwiqi. Once the man saw the skills of Kolisi as an 11-year-old kid, he took an interest in him and continued to mentor and help him to greatness. Another person that helped him early was a friend he met at Grey Junior, Nicholas Holton. When he arrived at the school, the only language he could speak was isiXhosa, and so it was Holton who taught him English while he taught him isiXhosa. Many years later, Holton and Kolisi have maintained their friendship. The South African rugby star has named his son after Holton- Nicholas Kolisi.
His Career Started Shooting For The Stars In 2007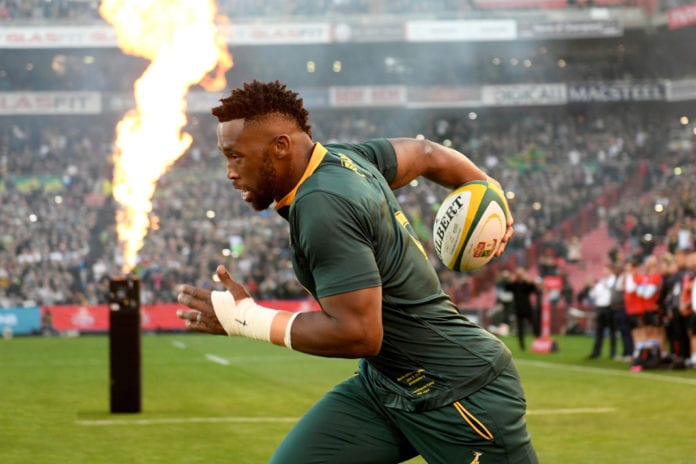 In 2006, Siya Kolisi was visited by the tragedy of the loss of his mother. Coincidentally, that also marked the year that his career would begin heading for the skies, although it was until 2007 that it really took shape after he captained the Grey U16A rugby team. That same year, he made his debut for the Eastern Province (EP) Grant Khomo team. He played a very important role in helping the team to win the interprovincial tournament of his age group.
His name would be on the lips of many followers of the game at that stage for the couple of years that followed. In 2010, he made it to the Western Province Rugby Institute in Stellenbosch. It was here that his career was well polished and that afforded him the opportunity of joining the senior Western Province professional rugby team in 2011, making his debut in a game against the Golden Lions.
With the year not yet done for him, Siya also made it to the Stormers squad from Cape Town in 2011 when he made his debut in a game against the Crusaders. 2012 became the year of his breakthrough as far as his career is concerned. He helped the Western Province to a Currie Cup title, the first in 11 years. In the years that followed, he continued being instrumental in his rugby union career and got named the captain of the Stormers in 2017.
As regards his international career with the South African team, he started his journey with the country's Under-20 team in 2010 and played until the next year. In 2013, he was called to the senior national team as Springbok 851 and got to make his debut in a game against Scotland. Not only did South Africa win the game, but he also ended as the man of the match, coming off the bench. That was only a statement of what his career would turn out to be.
He became the vice-captain of the Springboks in 2017, and then the following year, he made history when he was named the captain of the team, becoming the first black man to captain the team in its entire history, spanning more than 126 years. Siya Kolisi led the Springbok to Rugby World Cup glory in 2019 when they defeated England at the tournament in Japan to bring home the Webb Ellis Cup. The victory was significant in many ways; it was the third time the Springbok would triumph at that stage, and it was also the first time a black man would captain a winning team.
The Numbers Are Stacked In His Favor Looking At His Net Worth
Siya Kolisi has enjoyed a successful career thus far with both the Springbok, as well as the Western Province and the Stormers. It is thanks to this that he has a net worth estimated at $2 million to show. This is a significant journey, coming from a place where one had to go to be without food sometimes.
He made his fortune from his career that has now spanned over a decade. It is from his salary, endorsement deals, and other engagements that he got to make his fortune. Although what he brings home as salary is not known, it is believed that as a top player, he takes home nothing less than R50,700 monthly on average, which translates to over R609,000 annually for the Western Province.
What gets paid for the Springbok has not been revealed, but judging by the R3.74 million allegedly paid to Tendai Mtawarira in the 2018 season, it can be assumed that Siya takes home something generous. More so, each player in the World Cup Winning team of 2019 was said to have received R1,292,250 for the feat.
Another way that Kolisi is adding money to his account is through the endorsement deals he has to his name. The Springbok captain has signed endorsement deals with several brands, including a lucrative deal with Jay-Z's management company, Roc Nation Sports International in 2019, a move that made him the first Rugby player to be signed to the company. He also has deals with other brands such as MTN and Land Rover. He has been the car manufacturer's ambassador for more than five years. SK, as he is well known, also has a deal with Adidas.
The 2017 Player's Player of the Year is also an entrepreneur. He launched his line of underwear, Frankees, together with his former classmate and friend, Tim Whitehead. The worth of the company is still not known.
Siya Kolisi Also Gives Back to the Society
With the difficulty he faced as a child constantly at the back of his mind, Siya makes sure that more than just making money, he also gives out to those who are in need, and helps as much as he can.
He runs a foundation, the Kolisi Foundation, together with his wife. The couple started the foundation in 2020 during the COVID-19 pandemic to help alleviate the grunt of the pandemic on South Africans. Nonetheless, the bigger aim of the foundation is to reduce inequality between advantaged and disadvantaged communities in the country.
During the pandemic, the rugby star and his wife provided food parcels to different communities in the country, as well as provides personal protective equipment to healthcare workers.