When the story of rugby in South Africa is told, Siya Kolisi will find himself among those who would always be told in a good light. Born Siyamthanda Kolisi, he has risen in the ranks since starting his career when he was 12-year-old, to leading the Springbok to a Rugby World Cup glory in 2019, as the first black man to captain the team in the history of the sports in the country dating back to over 126 years.
Just as his professional life has been on a good lane, so also has been his personal life. The Springbok Captain has been married to Rachel Smith since 2016, four years after they first met. Today, their family has been blessed with two amazing kids.
Quick Profile Of Siya Kolisi
Name: Siyamthanda Kolisi
Date of Birth: 16 June 1991
Age: 32 years old
Place of Birth: Port Elizabeth, South Africa
Wife: Rachel Smith
Kids: Nicholas and Keziah
Profession: Rugby player and entrepreneur
Siya Kolisi First Met Rachel Smith In 2012
The love life story of Siya and Rachel dates back to 2012 when the career of the Rugby star was just beginning to take good shape. Their first meeting was in Stellenbosch through a mutual friend at a dinner party. The moment Siya set his eyes on the blonde beauty towards the end of the party, he knew that he was already in love.
At first, they became close friends and kept the relationship that way for a while before he mustered the courage to invite her out for lunch and then tell her of his feelings. Rachel later admitted that she also had a feeling for him by then, but she still played hard to get for a while before coming around to accept him. When they first met, Rachel was not impressed by the man who later became her husband, but her feelings for him continued to grow.
Interestingly, the first thing he said to her was "hey," which was through her DM on Facebook to which she replied with a warning not to "hey" her in her inbox, please. He revealed that it was awkward, and he didn't know what to say again but continued messaging her. It was after this encounter that they became even much closer.
Rachel's brother made a big fuzz about Siya being a big rugby star, but that did not necessarily move her because she felt he was rude when they met at the dinner table. After all, he did not greet anyone.
The Beautiful Couple Walked Down The Aisle Four Years After They First Met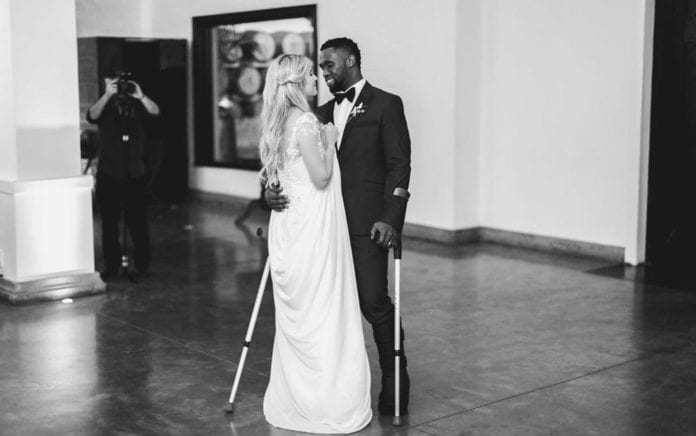 Rachel and Siya decided to take their relationship a little farther in 2016 when they tied the knot, having dated for four years. For their proposal, Siya made sure to make it very romantic. Few weeks before he asked her to marry him, the lovers argued who could plan the best date. He called her to get her bag. Without any word, he served her breakfast on the bed and brought her flowers.
Next, the rugby player took her on a helicopter, and 10 minutes into the ride, he proposed to her. That was the first time he was getting on a helicopter, and so he was scared and sweaty all through the fly, but he still managed to propose. They finally got married on August 13, 2016, at an event held in Franschhoek. They hosted more than 200 guests, including family members, close friends, and athletes.
The couple has received hate from trolls on social media who seem to have a problem with the two individuals of different races getting married and living happily together. Smith and Siya have since managed to develop a thick skin to the hate, rising above it all as they continue their union in bliss.
Rachel Smith Was Also Into Sports Just Like Her Husband
Although her husband is the more famous sports personality, Rachel grew up also interested in sports. As a young lady growing up, she played several sports such as squash, polo, hockey, tennis, and water polo, among others. She doesn't play any sports right now, but she is a fitness enthusiast.
Born and raised in Grahamstown, Smith had always been a rugby fan because her father and brother played the sport. She grew up supporting the Storms, so it wasn't a problem for her dating and even marrying someone who played for the team.
Since Siya became the 61st skipper of the Springboks, and the very first black man to do so, his wife who has been with him through most of his professional life and journey has been regarded as the first lady of Rugby in the country.
Siya Kolisi and Rachel Smith Are Blessed With Two Kids
The marriage between the lovely couple has been blessed with two kids thus far. They had their first child, Nicholas Siyamthanda, even before they got married back in 2015. Their son was named after the close friend of Siya, Nicholas Holton, who was also his best man during his wedding. The two men have been friends since Siya gained a scholarship to Grey Junior School in Port Elizabeth.
When he got there, the only language he could speak was Xhosa, and so it was Holton that decided to teach him English while he taught him Xhosa. Since then, they have remained ever close. After their marriage, they were blessed with yet another child, a daughter, Keziah Kolisi, who was born in 2017. She seems to be the favorite one of her father, as she is always appearing on his Instagram handle where they leave behind father-daughter goals.
Rachel is the strict one in terms of raising their kids while Siya is the softer one. He allows them to have their ways from time to time and spoils them, but she is mostly not in for that.
Siya Kolisi and Rachel Smith's children include:
Nicholas Siyamthanda (b. 2015)
Keziah Kolisi (b. 2017)
They Have Also Adopted Siya's Two Half-Siblings
Siya was born as an only child between his mother, Phakama, who had him before she was even 17, and his father, Fezakele, who was still in school as a final year student when the child came. Hence, it was mostly his mother and grandmother that brought him up in abject poverty. Much later, his mother would have two more kids, Liyema and Liphelo, from another relationship.
Unfortunately, Siya's mom passed away in 2007 when he was 16 and not able to take care of his siblings. The two kids moved from orphanages and foster homes for several years, but by 2014, Siya and Rachel, still not married, were financially stable enough to look after them, and so they adopted them as their kids.
It took Siya a long time of searching before he could locate his half-siblings, and once he found them, he was no more ready to let them out of his sight again. Since then, Rachel, who worked as an event planner, decided to stop working to be a full-time mom for their kids. She was 24 at the time, while Siya was only 23.
Today, the family lives happily in their large home in Cape Town and also runs the Kolisi Foundation, which was formed in 2020 to help in reducing the inequality between advantaged and disadvantaged kids in South Africa.