Simphiwe Ngema (born 29th of August, 1989) is a South African actress singer, MC, choreographer, and presenter who gained national recognition as an actress for her role as Thuli Nkosi on 'Muvhango,' the SABC 2 soap opera.
With her career spanning over a decade and counting, Simphiwe has continued to endear herself to her millions of fans with her exceptional acting skills. Aside from acting, she is also an entrepreneur. Guess you want to know more about this multi-faceted star? Keep reading, as we take you through her biography and other interesting facts you need to know below.
Summary of Simphiwe Ngema's Biography
Full name: Simphiwe Ngema
Nickname: Simz
Gender: Female
Date of birth: 29th of August, 1989
Simphiwe Ngema's Age: 34 years old
Ethnicity: African
Nationality: South African
Zodiac Sign: Virgo
Sexual Orientation: Straight
Marital Status: Widow
Simphiwe Ngema's Late Husband: Dumi Masilela (m. 2017 – until his death August, 2017)
Siblings: Baxolile Ngema and Ziph'ezinhle Ngema (sisters)
Simphiwe Ngema's Height in Inches: : 5′ 6″

Simphiwe Ngema's Height in Centimetres: 168
Simphiwe Ngema's Weight: 65 Kg/143 lbs.
Body measurements in inches: 36-28-36 (Bust-waist-hips)
Famous for: Her role as Thuli Nkosi on 'Muvhango,' the SABC 2 soap opera.
Simphiwe Ngema's Instagram: simzngema
Twitter: @SimzNgema_
Who is Simphiwe Ngema and How Old is She?
Born on the 29th of August, 1989, Simphiwe Ngema is a native of Klipspruit, Soweto, located in Johannesburg, South Africa. She is a South African national and the second child of her parents, who are both pastors. Growing up with her two sisters and parents, Simphiwe spent her formative years in Zuurbekom, a town also located in Johannesburg, where her father founded a church.
Simphiwe Ngema attended a combined school in Sandton, Johannesburg – Chinese Kuo Ting School. Upon graduation, she worked as a receptionist before enrolling in the Boston Media House to study Journalism. While Simphiwe always had a love for the performing arts since she was in high school, she began to see performance as an actual career choice after she enrolled in the Boston Media House in 2008.
During her high school, she auditioned for a part in Lebohang Morake's stage adaptation of Disney's 1994 America musical animation – The Lion King. Though she did not get the part; however, in a positive twist, the auditions for the play were held by Duma Ka Ndlovu, who later created Muvhango for SABC 2. After she failed to make the cast of Lion King, Duma Ka Ndlovu, suggested that Ngema should audition for The Game – a play he was producing.
She did so and was successful in that audition, getting to play the part of Pretty Khumalo – a prostitute who had been jailed for murdering her father. Other notable actresses who were involved in the play include Lucia Mthiyane, Sindi Dlathu, Mary Twala, Leleti Khumalo, and Jo-Anne Reyneke. After The Game's conclusion, Simphiwe returned to her studies at the Boston Media house. She graduated with a degree in Journalism in 2010.
Muvhango TV Series & Her Meteoric Rise to Fame
Ngema started auditioning for a role in Muvhango between 2008 and 2009. In an interview with Bona Magazine in 2014, she said that she first sort the role of the receptionist, before trying out for Vuyiswa; Phila's sugar mommy and then for Juby; James' girlfriend. At the end of it all, the producers created Thuli which they felt was suitable for her.
While acknowledging that her appearance on the show has opened doors for her, she also admits that acquiring the role was no small feat. More so, her outstanding performance while on the show, made her fans favourite. Meanwhile, the show was both commercially successful and critically acclaimed. It was nominated for the South African Film and Television Award for Best Soap Opera in 2006.
The show which premiered in 1999, became the first TV with Venda as the primary language. However, as the series progressed, the show became multilingual in an attempt to showcase the various wonderful languages and cultures that thrive in South Africa. Ngema left the show in 2015 when her character was written off. And since then, she has gone on to appear in a few other TV shows to date. In 2018, she appeared on the drama series, The Queen, where she portrayed Slay Queen Buhle. Later in the same year, it was announced that she would be joining SABC 3 drama series, Isidingo.
Asides acting, Ngema is also the co-founder of the Johannesburg-based company Still We Rise (SWR) Trading. With her sister Baxolile Ngema as the CEO, the company has grown into an incredibly diverse enterprise. They provide services that include: Project and Events Management, Software and Stationery Supplies, Hardware provision, IT, Cleaning Services, Construction, and Civils & Fleet Management.
Read Also: What South African Soapie Actors And Actresses Earn is Unbelievable!
Does Simphiwe Ngema Have a Child and Is She Married? 
When it comes to her personal life, Simphiwe Ngema has been discreet in sharing such info with the media. However, we do know that she was previously married to actor and singer Dumi Masilela. Her husband was born on the 31st of May 1988 and was mostly known for his role in the e.tv soap opera, Rhythm City. On the show, he portrays Sifiso Ngema – a character who basically hustles his way through life. Prior to joining Rhythm City, Dumi participated in Idols South Africa and made it to the top 18.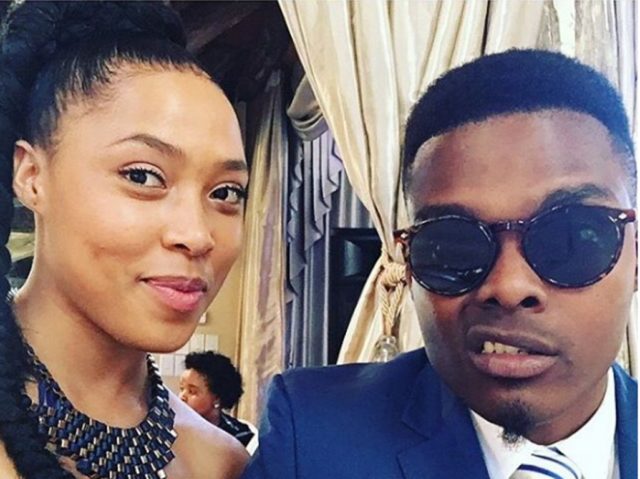 It is not known as to when the couple met each other and when their relationship began. However, the news of their relationship started making the rounds in 2015, after Ngema left Muvhango. The lovebirds exchanged marital vows in a traditional ceremony held in May 2017. Unfortunately, just a few months into their marriage, Ngema lost her husband through a car hijacking incident that took place in August 2017. During the incident, Dumi sustained severe injuries as he was shot at in his Golf 7. Although he was rushed to the hospital, he gave up the ghost the following day, being 2nd August 2017.
Following his memorial service, Ngema was confirmed to be 10 weeks pregnant after she collapsed at the service and was rushed to the hospital. However, the news of her pregnancy was later dismissed by her late husband's family. Since then, nothing much has been heard about her and it is also not known if she has a child or not.