In recent times, many women feel so comfortable rocking their short afro hairstyles. They mainly enhance the basic styles to give it much more flair and style. This is usually done by dyeing the hair in several bright colors, curling the 'fro, braiding, and cutting the sides. The hair can equally be adorned with accessories, including headbands and pins. By alternating afro hair with different protective short hairstyles, it allows the hair to grow and the result is always breathtaking. In the 2000s, the natural hair movement started gaining ground across the globe. Then recently, afro made a serious comeback in South Africa and many other countries in the world.
With the trend gaining momentum at the moment, many top-notch companies are now putting women with afros in their commercials as the natural hair movement seems to have taken the black community by storm. At first, the natural hair movement was met with some resistance, not until around the early 2010s, when many women started rocking their afros to the streets and even the workplace. With more people embracing this growing trend, many ways to wear afro hairstyles for short hair have evolved and here are several short afro hairstyles for every woman out there.
Very Short Afro Hairstyles
There are a number of afro styles for those that like very short hair, which can give someone a glamorous look. Check them out below.
1. Easy Short Natural Curls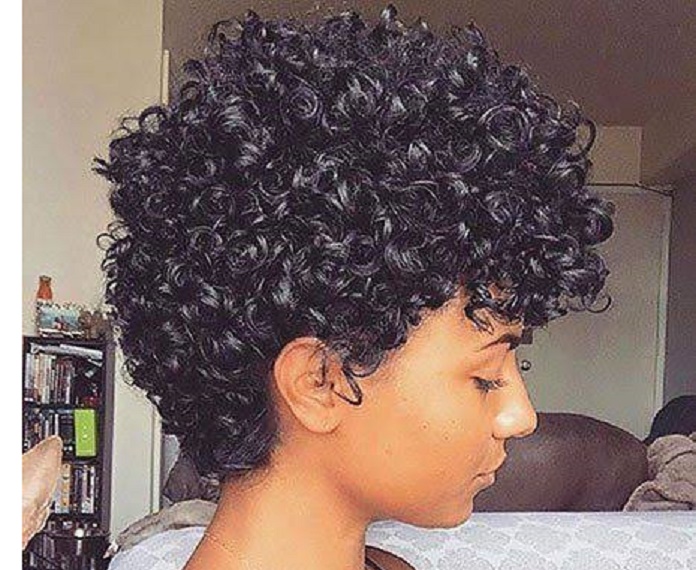 Afros are apparently in vogue now that women are embracing their natural hair more than ever and with good reasons. This amazing afro hairstyle looks all tight with rod set curls and high shine and can be easily styled in any short natural hair. It is not only that the hairstyle is eye-catching but also the awesome highlighted rod set curls of varied sizes.
2. Tapered Cut
If keeping your curly locks protected is not your highest priority, then you can try a tapered cut hairstyle. It's usually all about shaping and showing off your shiny, healthy hair as you grow it from a short to a longer taper. This tapered cut always looks put together while letting your texture thrive. It blends feminity and edge for a modern look.
3. Short Afro Puff
Short afro puff is one of the best afro styles that can be quickly created. Even if your hair is as short as one inch, it can be styled into a puff. If you recently had a haircut and have decided to keep short hair, this is a great way to give it some style. You can achieve this by using a headband to gather the hair instead of packing it into a tight ponytail.
4. Taper Your Sides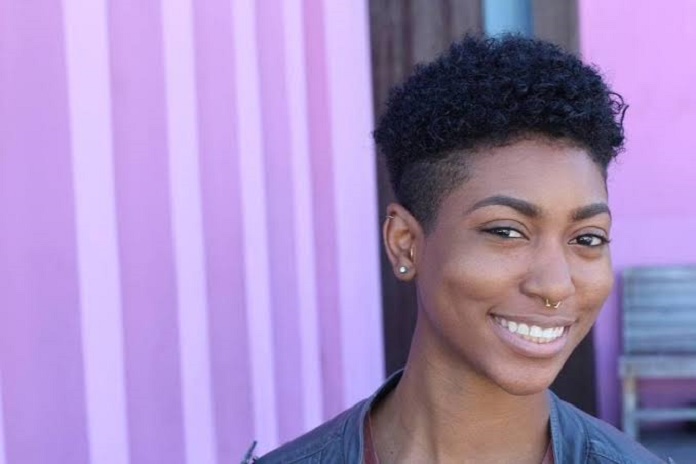 Tapering your short afro at the sides is the best hairstyle for those that like showing off their edges. You can create this style by telling your stylist to carefully buzz the sides of your afro and the cut will give a fresh and cool feel. It is important to note that this kind of high-impact haircut needs minimal to no styling.
5. Coily Pearl Blonde Pixie
Short natural haircuts with a coily afro top are always magical when rocked by females as the style comes in different shapes and colours. When your hair already has texture, it is easy to sport the pixie haircut. However, if your hair is dry, you can use a moisturising product to add a ton of gloss and also keep the hair smoother at the edges.
6. Short Golden Cut
Ladies with short natural hair can enjoy this simple hairstyle and avoid losing precious time in front of the mirror. Complemented with a glamorous side part and stunning light golden brown colour, the short golden cut is classic among other short afro hairstyles. With this short length, you probably won't need to wear some large accessories to enhance your look. The style is simply gorgeous!
7. Bright Short Natural Hair
'Fros don't represent one look as you always have the option to play up your natural texture. So, let your creative nature bloom with this colourful short afro hairstyle. Using a curl-enhancing cream or gel is the best way to play up your coils. In addition to the coily hair adding to the breathtaking image, the dying of the hair with bright colour makes the style absolutely cute.
8. Short Thick Cut with Undercut
Ever been to a barbershop? Maybe it's just the right time to visit one. For those who are not afraid to cut their hair short, a short thick cut with undercut style is super comfortable to wear. The razored line is a little edgy detail that gives the style a stunning look. The combination of the sharp design and the thick curls is outstanding. You can also add in a glint of red highlights on the ends of the curls for a brighter look.
9. Tri-Colour Red Natural Style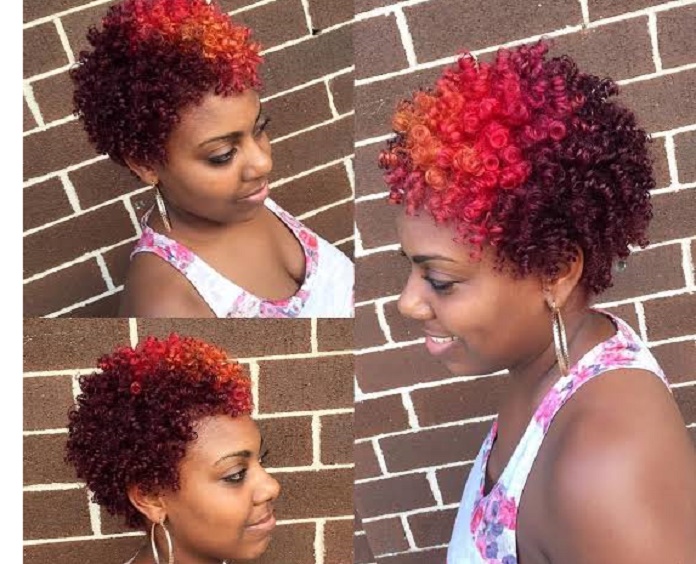 Tri-coloured natural hairstyle allows ladies to change their regular look by always picking the colours they like and mixing them up. The result is usually magnificent. If you are interested in experimenting with the hair colours, you will need to tread lightly to avoid ending up with damaged coils.
10. Rich Natural Curls
This neat and chic hairstyle is suitable to wear to any kind of workplace. The twist-out curls can be styled by detangling your short hair with a brush and then start moisturising. Your mane looks beautiful when your curls are well defined. You might also need a structured cut to enhance the pretty look.
11. Short Blonde Curls
Short afro hairstyles for women are especially magnificent when rocked with bright colours. You can enjoy refreshed short afro styles with your natural hair colour or explore the trendy dye options. Sandy blonde and amber look ravishing on natural afro hair with curls. Adding colour to your curls is one of the effective ways to add depth to your look. But you must ensure that the integrity and the health of your hair come first.
12. Tappered Hairstyle with Finger Waves
This hairstyle is very perfect for those who have embraced their textured curls and would like to keep their hair that way. Tapered hairstyles with finger waves are not hard to create. Fingerwaves actually makes real miracles on any haircut.
13. Bold Red Afro Hairstyle
Even though chemically colouring your hair can damage it, you can dye it once a year to get a fresh new look. It is advised that one uses a semi-permanent colour which can be less damaging than bleaching the hair. This glamorous style adds a new layer of personality to your look as red demands attention.
14. Heatless Wash and Go
This style is the result of an easy wash and go routine. However, the most important thing in maintaining this short afro hairstyle is hydration. Try to always keep your hair moisturised as you have to create a soft and well-moisturised base before styling. The fluffy 'fro action can be mimicked by fluff-drying your hair with your hands. You can also cut the sides or dye the hair to create a little magic.
15. Thin Side Twists and Kinky Curls
One of the advantages of thin side twists and kinky curls hairstyles is that they can be easily created without the help of any hairstylist. The short afro hairstyle is suitable for everyday activities, including going to parties with friends.
16. Pixie with Curls
This short afro hairstyle takes pixie to the next level. The baby hairs and the curled sideburns are particularly stunning. The curls are flawlessly formed in an astonishing manner such that they are neither too tight, nor too loose and are soft, shiny, and manageable.
Natural Short Afro Hairstyles
For ladies wearing short natural hair, here are stunning afro hairstyles that can help you play up your natural textures.
1. Mini Ponytail Afro Hairstyle
Sometimes a free-flowing afro requires high maintenance. As a result, a mini ponytail can be a quick fix to style your afro hair while getting it out of your face. Just be sure to keep your 'fro moisturised in order to get the hair shiny and coconut oil can help moisturise your hair and equally add lots of shine to it.
2. Asymmetrical Side Swept Afro
Nowadays, natural short afro hair can be styled as creatively as long hair. Asymmetrical side-swept afro style is usually about side braids being directed upwards to give an elegant look. The style can give an extra air of elegance when the braids are adorned with golden cuffs.
3. Two-Toned Colour
Going for an afro style doesn't mean you need the round halo shape. You can easily spice up your look by adding to your hair some bold colours like two-toned hair colours. For safe colouring practices, you can consult a colourist to discuss what colours will be the best for your hair type as natural hair tends to be extremely delicate.
4. Center Part
Adding a part in the middle of your natural afro hair gives it an even prettier look as it changes the way your hair falls. Interestingly, you don't need a haircut to create this hairstyle. All that is required is for you to separate along a part and style to either side.
5. The Twist-Out
Twist-outs are a great low manipulation style that helps to keep curls tangle-free and well-defined. If you have worn your hair in twists for a while, you can easily unravel them to wear a twist-out hairstyle. A night before removing the twists, spray a moisturising product mixed with water on your hair and wrap in satin. Then untwist each strand carefully the next day and you can use hair oil to untwist. You don't need to worry about a little frizz and curls being out of place as that's part of the look!
6. Faux Hawk with Coloured Streaks
A couple of times, the volume of hair has appeared to be the greatest thing about wearing a natural short afro hairstyle. If you want to jazz up your hair with a new shape and colour, a faux hawk with coloured streaks is a mix of short sides with a highlighted curly top you can go. After making your hawk style stay in place, you can add random coloured streaks to enhance the look.
7. The Frohawk
The frohawk hairstyle is a unique way to spice up short afro hair. It is a snazzy style that can be worn with or without bangs. It is one of the best hairstyles for short natural hair, especially if you like an updo that shows off your unique texture. Frohawk provides the edginess of a mohawk while remaining fashionable. To create the style, you have to detangle, the hair with a wide-toothed comb and then clean, and damp by applying a styling oil. Next, twist into big sections and air dry. You will then use an afro pick fluff once the hair is dry and pin the two sides to have a mohawk effect.
8. Floral Afro Hairstyle
Natural afro hair is the best of both worlds as it is fairly low to maintain and super stylish for all settings. You can enhance your afro with some beautiful flowers and to nail this look, you don't have to break the bank. If you feel that the flower accessories are a little too large for your liking, you can get a more flirty and dainty style by sizing them down. This hairdo is nothing less than spectacular!
9. Afro Puff with a Headband
This hairstyle is simple, convenient, and gorgeous. Clip-in afro puffs are normally used for this purpose. And if you have perfected the puff, you can accessorize with a headband around the hair or fix pretty clips into the puff. However, it's important to note that the accessories are supposed to be gentle enough on your hair as some accessories can be too tough on ultra-delicate hair types, causing unwanted breakage.
10. Short Curls with Side Bantu Knots
Short curls with side bantu knots is a super cool hairdo and a great way of styling an old wash and go style. It is really easy to create as it takes about ten minutes. You start by washing and drying your hair with a diffuser. You can apply a gel to define your curls and then moisturise the hair before creating your side Bantu knots by twirling a section of hair until it begins to coil on its own. You can wear this great short afro hairstyle to work and outings.
11. Parted and Defined
The obsession with side parts hasn't passed by natural hairstyles for short afro hair. To maintain the glossy, separated curls, don't use a hair pick or brush on the hair. You can get the super curls by moisturizing the hair before transforming small sections of your hair into two-strand twisted cornrows. After leaving it overnight, carefully separate each twist and don't run your fingers through the spiral to avoid puffing out the curls.
12. Coloured Top with Dark Back
Now that the natural short afro hairstyles are trending, you can definitely wear your hair like a crown by creating coloured hair with a dark back style. Though it takes some time to get this tight curls and colour, it's definitely worth it.
13. Short Layered Bob For 4C Curls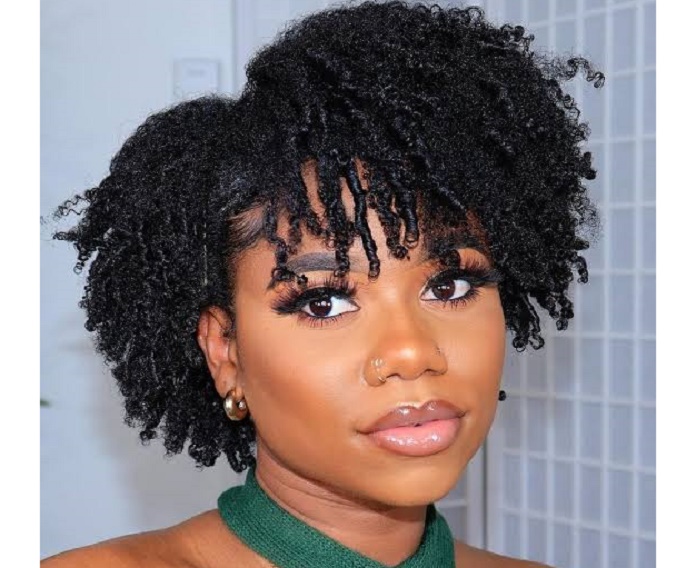 Let your loose curls breathe a sigh of relief when they are styled into an astonishing bob. A curly bob is always magical and a hairstyle that fits most ladies. Nonetheless, short natural hairstyles are usually tailored to fit a certain face type, hair type, and length. If you like to try this short afro hairstyle, then you must be prepared to be visiting a beauty salon almost every three weeks for proper maintenance.
14. High Puff
You can't go wrong with high puff short afro styles as it accentuates your beauty. The glorious puff shows that afro, like other styles, can be versatile. It is a low maintenance style that is not only cute but very comfortable and cool to wear. The elegant updo can be created with different hair types.
15. Space Puffs
Embrace a carefree style on your afro hair by trying a space puff hairstyle. You can wear this style to work, post-workout, or brunch. It is a cool, funky, and easy space bun-inspired style for natural hair. You can create a space puff style by first washing your hair with a shampoo and conditioner. Afterwards, you detangle from ends to roots using a detangling comb, afro pick, or detangling brush. Then part your hair in the direction you prefer and gather each side into a ponytail. Smoothen the base of the pigtails by applying gel and finally, fluff your space puffs using your fingers.
16. Afro Puff with Twist Out Curls
You can get all eyes on you by trying out this natural short afro hairstyle. In addition to enhancing your look and personality with the defined curls, rocking the hairstyle with a couple of eye-catching accessories won't be bad.
Other Short Afro Hairstyles
Though very short 'fros styles show off unique features, other hairstyles like layered bob and afro weave are also gorgeous and easy to style on short afro hair. Check them out below.
1. Afro Weave Hairstyle
One of the best things about having afro hair is that you can change it to any style you desire. Afro weave styles can be created on short natural hair or achieved using hair extensions. It is easy to maintain. You can comb the afro using a wide-toothed comb with smooth tips.
2. Medium 'Fro
A full textured medium 'fro hairstyle is always a beauty to behold. This round halo style is flattering on almost all face shapes. So if you are growing out straightened hair or just wearing a closer cut buzz, this afro hairstyle will be perfect for you.
3. Pinned to the Side
Wearing an afro with a bang might seem like too much maintenance but you can actually cheat it with clip-ins and get a hair trick that you can use forever. You can use clip-ins to mould afros and natural curls into whatever style your heart desires. It is incredible to see how far clip-ins for natural textures have come.
4. Voluminous Curls with Twisted Side
Curls often create an astonishing look and are a pleasure to behold. Voluminous curls with twisted side hairstyle look fresh and incredible. It is perfect to wear to the office or for a night out.
5. Mohawk with Criss-Cross Sides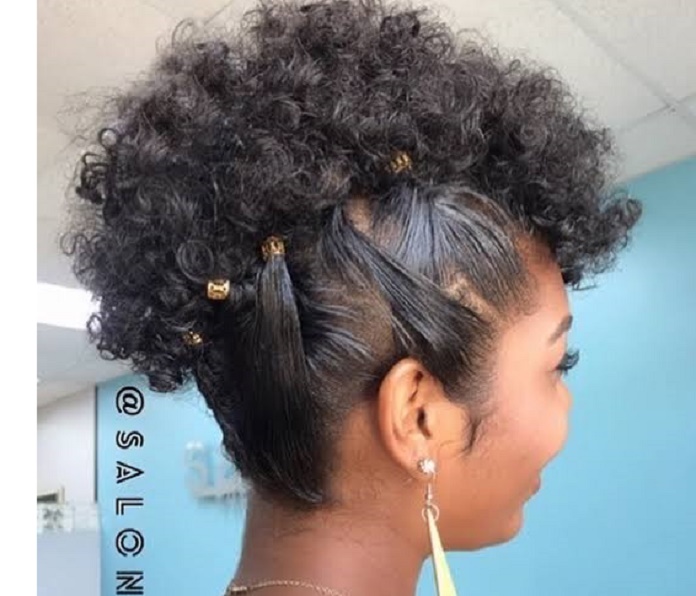 Natural hairstyles are versatile and all these short afro styles are proof of it. This exotic hairstyle can always make a difference when rocked with eye-catching jewellery. The natural curls help to balance the sleek criss-cross strands on the sides, oozing an incredible style.
How to Maintain Your Afro in South Africa
Sometimes growing a healthy afro hair can be frustrating as it feels like it just won't grow and it's always dry, coupled with other problems the hair can give. Consequently, we have come up with several tips that can help South African women to grow healthy and beautiful afro hair. The procedures are not that stressful as they range from using a silk pillowcase to protect your hair at night to applying the essential products for natural afro hair, as well as the minerals and vitamins needed for its growth. To see results, one has to choose something and then stick to it for a while. The tips for growing afro hair in SA include:
Keep the Hair Moisturised
As dry hair is the cause of many hair problems, you should always find ways to keep your hair moisturised. Women normally get frustrated when it seems like their natural afro hair doesn't absorb anything applied to it. As such, one may try to get a defined curl and eventually end up with frizz which is frustrating to comb. Hence, the first important step to growing afro hair is to ensure that you keep your hair moisturised using the right hair products such as conditioners and oil. Also, try to adopt good hair routines.
Use Hair Oil
Castor oil and coconut oil are ideal for locking in moisture after washing and conditioning your natural hair. So, if you don't have one already, you should check out one of the oils and see if it works for you. Besides the aforementioned two, there are many oils for natural hair growth, which you can easily find in shops around you. They include Argan and Jojoba. You can check out if any of them will be effective on your hair. Furthermore, you can give leave-in conditioner a try, depending on how moisturised your hair is.
Deep Conditioning
Deep conditioning of your natural hair is very important in growing an afro as it helps to replace any lost nutrient from the hair. Most women prefer to use homemade products for deep conditioning and base them around a major protein ingredient. Hair becomes very absorbent after a wash and with no product being applied on it yet, it is the perfect time for deep conditioning as there is nothing blocking the absorption of nutrients at this point.
Use Homemade Products
Though trying out homemade products can be annoying at times, it gives the assurance that it doesn't contain man-made chemicals but exactly what you choose to include. Some hair products purchased in shops also contain natural products, but can contain man-made chemicals which prevents the ingredients from separating. It's good to experiment with homemade products and find out which recipe works on your hair. A quick search should be able to help with some recipes and some most common ingredients used for this purpose include raw shea, coconut oil, raw egg, Jojoba oil, and aloe vera gel.
Protective Styling
Ladies are often tempted to wear their natural hair all the time, as we all know that it normally looks gorgeous. This, however, could be a bad thing to do, depending on your hair maintenance practices and the climate of the town where you reside. As such, finding protective hairstyles that look beautiful and also protect the hair is highly recommended. These hairstyles ensure that your natural hair isn't easily damaged by extreme temperatures that can lead to loss of moisture and then hair breakage.
Another benefit of protective styles is that they help in locking in moisture so that whenever you take them out, you can feel your beautiful silky hair again. Box braids and wigs have protective effects if you are trying to grow your afro hair.
Cut Off Dead Ends
Although it can be tempting to hold onto your hair while you wait for it to grow, it is advisable to get rid of split and damaged ends which can result in stunted hair growth. Sometimes, it seems as if your hair has stopped growing. This is because as the new hair grows from the roots, the rate of hair breakage from the end can match the growth. But when you cut off the dead end, you will be surprised to see your hair grow past the length you thought is not possible to achieve. So, don't be afraid to adopt this clean-up hair routine if you want your afro hair to grow.
Apply Hair Products to Freshly Washed Hair
It is recommended that once you finish washing your hair and have dried it enough to stop the drips, you should apply hair products immediately. As the work of a good product is to lock in moisture, if applied to dry hair, it can actually seal the dry hair even though it can appear moisturised due to the shine. In the long run, sealing dry hair can cause damage.
Apply Hair Product Before Applying Heat
In an attempt to get rid of the excess water on the hair after a wash, many women are being tempted to blow dry their hair immediately after washing. This has proved to be an easy way to cause hair damage. Due to the ends of your hair being older and also the first part to dry, it is more susceptible to damage. You will also continually damage the middle and ends of your hair while you wait for your scalp to dry. Hence, you are advised to use a towel to dry delicately and stop water drips. Afterwards, you apply a hair product and then blow dry if necessary and avoid using the hottest temperature.
Don't Use the Same Product for Your Hair and Scalp
The scalp and hair should not be treated with the same hair product. While hair products are good for protecting your hair, they can cause damage to the scalp. As the scalp wants to be able to breathe, it is prone to be irritated when the pores get blocked by hair products and this can cause your head to itch and even result in spots. Your scalp shouldn't be left dry as it can encourage hair growth. While you might choose to apply hair lotion on your hair, you can treat your scalp with pure coconut oil.
Comb Your Hair Carefully
Before you comb your hair, ensure that it has lots of moisture. It is quite easy to detangle moisturised hair and in the process, minimise self-inflicted breakage. To reduce pain, you are encouraged to hold the roots of your hair whilst combing, especially when dry. Actually, hair combing is not supposed to be painful. All that is required for smooth combing is a little bit of wetness which can be achieved by moisturising your hair. Then if you have extra-tight curls, you can try a big tooth comb or a detangler.
Look After Your Edges
While some people seem to have strong edges like the rest of the hair, others have edges that can be really fragile. To have healthy hair, you must look after your edges which are the first line of defence. By being right on the hairline, the edges are quite prone to damage. As a result, when you style your hair, ensure that you don't neglect the edges. You can moisturise the edges more frequently than the rest of your hair or you can use styling gel such as Eco-styler gel.
Don't Wash Your Hair Too Often
We all know that moisture is vital for the growth of our natural hair and a poor washing routine can leave the hair dry without protection. This will eventually lead to hair breakage and damage. Hence, it is recommended that at most, you should be washing your hair once a week. While some people wash once a week, many others prefer washing their hair once every two weeks. You just have to find which one works best for your hair.
Wrap Up Your Hair
If you want your afro hair to grow, then you must be wrapping up your hair overnight. Try to be using a silk head wrap or bonnet of some sort, as the pillow cover drain moisture from your hair. For those who might be irritated by sleeping with something on their head, a silk pillowcase can serve as an alternative. This tip has proved very useful for natural afro hair growth.
Watch Your Diet (Optional)
There are many benefits associated with the maintenance of a healthy balanced diet and one of them is having grown beautiful hair. Though this might be the most difficult thing to implement, you have to get rid of anything that might be harmful to your health. That said, there are plenty of vitamins for afro hair growth, but Biotin is the one that is highly recommended for black hair. It is needed for strong healthy nails and hair and it's part of the Vitamin B family. Biotin is naturally present in foods like almonds, fish, meat, and eggs.
Over the years, there have been conflicting views on the use of Biotin supplements as there is little scientific evidence that proves that it actually works. As a result, one is advised to carry out research on the usage of the supplements, read reviews, and be careful about using them.
How to Style Short Afro Hair
Women wearing short afro hair can show off some of the aforementioned hairstyles. This can be achieved by learning how to create the styles on your hair and the things involved. Below are guidelines on how to style some short afro hairstyles.
1. Side Part
You can try a side part style if you don't have time to go all-in with a more complex and time-consuming afro hairstyle. In a couple of minutes, you can try something different with your short afro hair, and the steps involved are listed as follows:
STEP 1: Start by washing your hair
STEP 2: Moisturise it by applying hair oil
STEP 3: Take a comb and neatly place a part on either side of your hair
STEP 4: After placing a part, apply some strong holding gel (ensure that you use an all-natural type)
STEP 5: Use some clips along each part to keep it in place
STEP 6: To set the gel, use a blowdryer to dry the roots
STEP 7: Slide the clips out and you will have a fixed side part
2. Wash and Go
Wash and go is the easiest natural short afro hairstyle to do. As the name goes, you only need to wash your natural hair, style and go. Nevertheless, to achieve a perfect wash and go style, you need to have a good hair care routine. As such, it will be easier for you to find out what style works for you and which one doesn't work. As creating a routine can be difficult at times, you can start with this simple routine: cleanse the hair, moisturise, style, and repeat.
3. Afro Pixie Cut
You can try this versatile afro hairstyle on very short afro hair or medium 'fro. To rock a pixie cut on your afro hair, you will need to do the following;
Get a fade and cut the sides
You can go for undercuts or patterns
For the styling, ensure that your hair is kept clean and moisturised as the look is well determined by the curly hair
You can curl the hair by applying a curling cream and then twirl the hair around your finger
Your hair won't be able to curl or twist to your satisfaction if it is weak and/or dry
4. Short Afro Puff
Even if your hair is as short as one inch, it can be styled into an afro puff. The steps involved include:
STEP 1: Instead of packing your hair into a tight ponytail, gather it using a headband.
STEP 2: Spray your hair with water and apply moisturiser to it.
STEP 3: Pull a headband over your head and leave it around your neck.
STEP 4: Apply gel or pomade around the edges of your hair.
STEP 5: Smooth the edges with a soft brush
STEP 6: Slide the headband up as you smooth it over the edges.
STEP 7: The higher you slide the headband up, the smaller the puff will be.
STEP 8: Pick out the puff or you can use your fingers to bring out the curls.
5. Finger Coils
Although finger coils take ample time to be created, you can get defined curls once it is done. If you wish not to twist or braid your hair, then it only requires styling products and your fingers. The processes involved in styling finger coils are listed as follows:
Start by washing your hair and leaving it wet
Apply a curling cream (it is advised to use a natural product)
Separate your hair into section
Start twirling the hair of each section around your finger
Stretch the coils once they are dry
You can also separate them further to have a bit more volume and definition.
6. Twist-Out
Twist out is a beautiful short afro hairstyle to try if you have the time and a little patience. Though a bit funky, the style is considered a protective style. You will get a great pattern once you unwind the twists. But just like many other short afro hairstyles, achieving a perfect twist-out style requires a good hair care routine. You can damage your hair through twisting if your hair is dry or weak and also, dry hair won't give you the great curls or definition you are looking for. To style twist-out, you have to do the following:
Wash your hair
Blot it but don't dry out as twists work best with a slightly damp hair
If your hair is too damp, give it time to dry as twists won't be able to stick
Detangle your hair
Moisturise and section your hair before twisting