Okay the Met Gala has come and gone and we saw a lot of things starting from the red carpet down to the beautiful music. The Met Gala, also known as the Met Ball or the Fashion Prom took place Monday at the Metropolitan Museum of Art.
This year's Met Gala theme was 'China: Through The Looking Glass', and as the celebrities walked the red carpet, it was clear they took the "costume" portion of the Costume Institute's annual and exclusive $25k-a-ticket event a little more serious than we initially thought they would.
In tune with the red carpet, most people went for red in a blatant attempt to elude the China theme, but on the other end of the spectrum there were headdresses that belonged in the Met, not on a red carpet, and even more strangely, some stars we expected to wow us were obviously not feeling up to the task.
And in that strange note, we want to look at some of the worst and the most hideous dresses we saw at the gala. Make no mistake about this, we would never be caught dead in any of these dresses, so that begs the question, what the heck were these celebrities thinking when they wore them?
Best Dressed
Now, let's see the celebrities whose outfits just made us love them the more. These ones managed to pull off what their counterparts were swallowed in. And the first person on our list of best-dressed celebrities at the Met Gala is….
Selena Gomez
Selena looked like an absolute angel in her beautiful white Vera Wang Dress, her lush red lips, and her floral updo. Her hair allowed the low-cut back of her dress to be on full display, and her red lipstick gave us major vibes of Old Hollywood glam. If they wanted a costume, they got one, Selena looks like a radiant cherub.
You might want to get a closer look at her makeup and updo.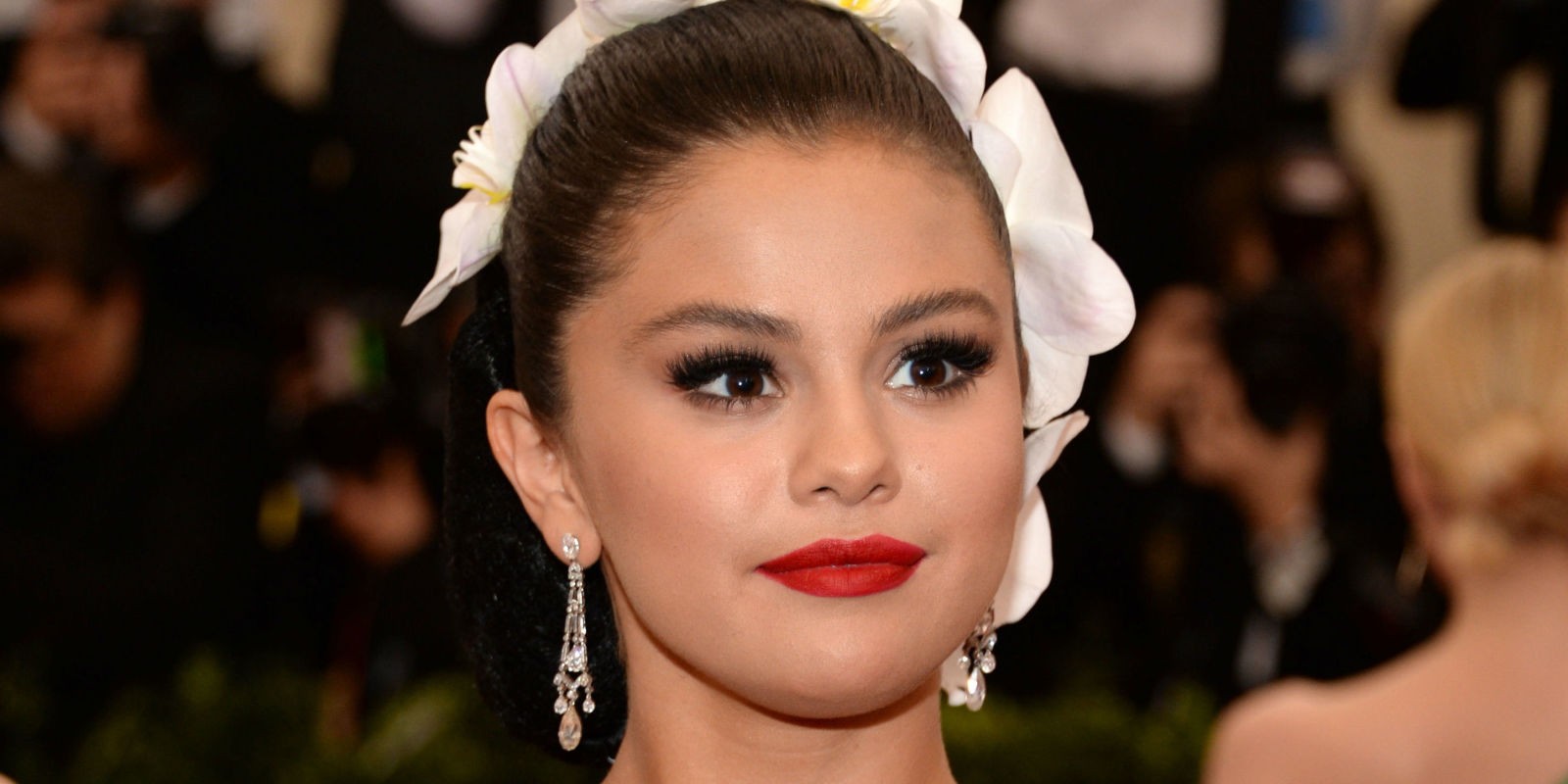 Kim Kardashian
Kim was looking absolutely breath-taking in her Roberto Cavalli Sheer Crystal Embellished Dress. The details on the dress look like they were made to fit her skin only. The dramatic flare of the sheer crystal tail feathers is an absolute masterpiece that only Kim could have pulled off. You could never go wrong with something glittery and Kim certainly knew that. She was absolutely stunning. Its sheer, it's glittery and its glam.
Beyoncé
Beyoncé's Givenchy dress is the absolute announcement of the theme 'Through the Looking-Glass'. It's so sheer that when you zoom in you could see some things, but we still think it's absolutely adorable that she was able to pull the see-through look off and still stay chic. Considering the fact that Sultry Jennifer Lopez tried that look and failed, Queen Bey deserves xoxo. The gown has gem details embellished over sheer paneling.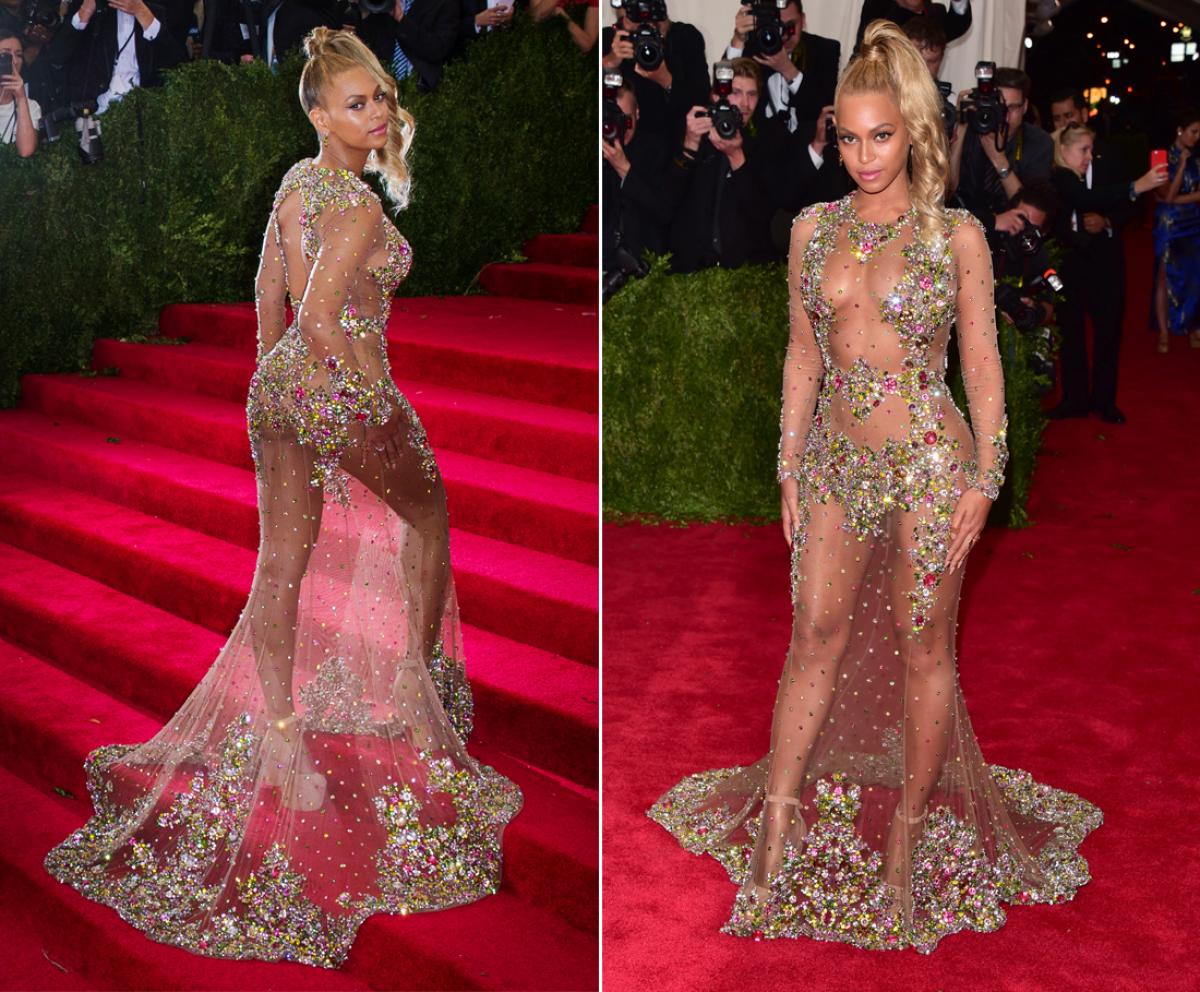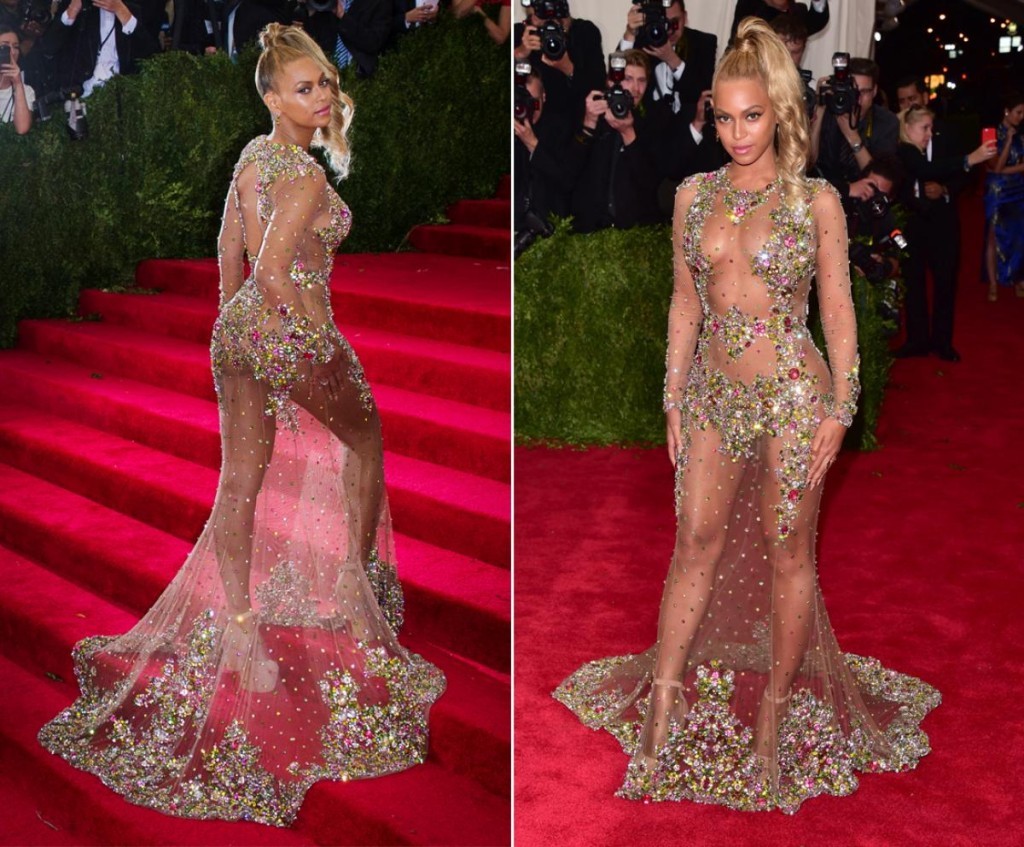 Janelle Monae
Janella looked stunning in a black and white H&M two-piece which she slayed with a cape. The entire ensemble looked chic with a dramatic flare added on by the hairstyle.
 Rihanna
With bad girl Rihanna, the drama never ends. Her stunning outfit, a fur-lined Big Bird dress with a 20ft train has been the inspiration for many memes but the fun notwithstanding, the fur made sure she remained the queen of the red carpet.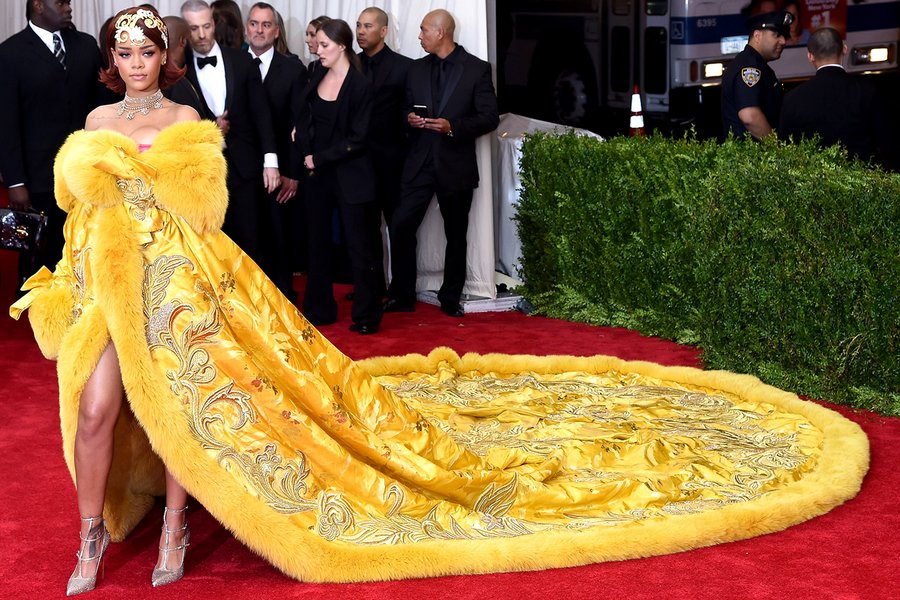 Worst Dressed
As gorgeous as these queens looked, there are those others who were not able to pull off the exact look they wanted to show. And it's sad to know that these are some of the people we thought would wow us the most. The very first disaster of the night was…
Sarah Jessica Parker
That is one very ugly dress and this is made worse by that even more ugly head-gear. What is that? The colors contrast too much and the cape hanging from the headgear rather than the dress itself is the end of it all. She looks like her head is on fire.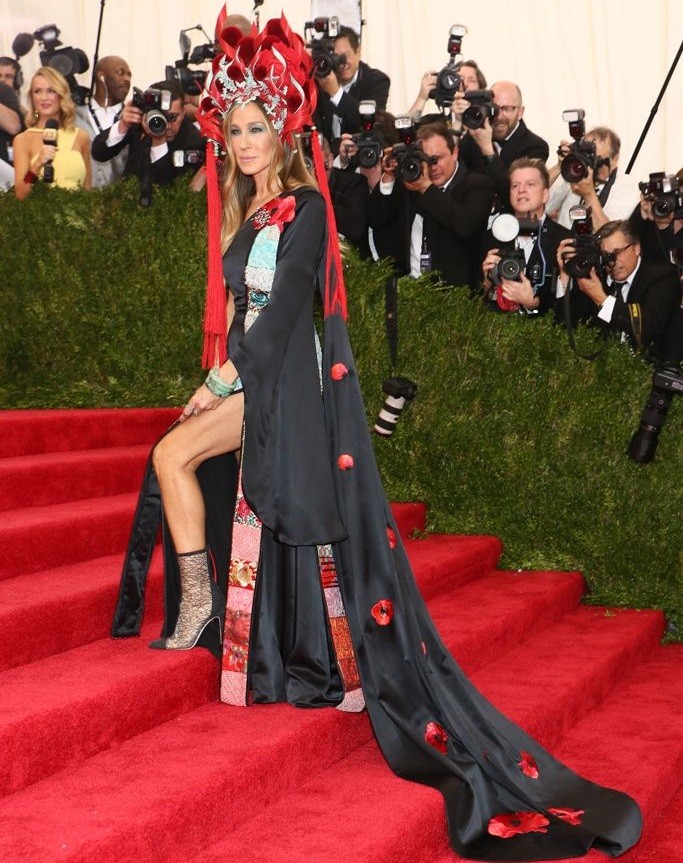 Take a closer look at that flaming head-gear.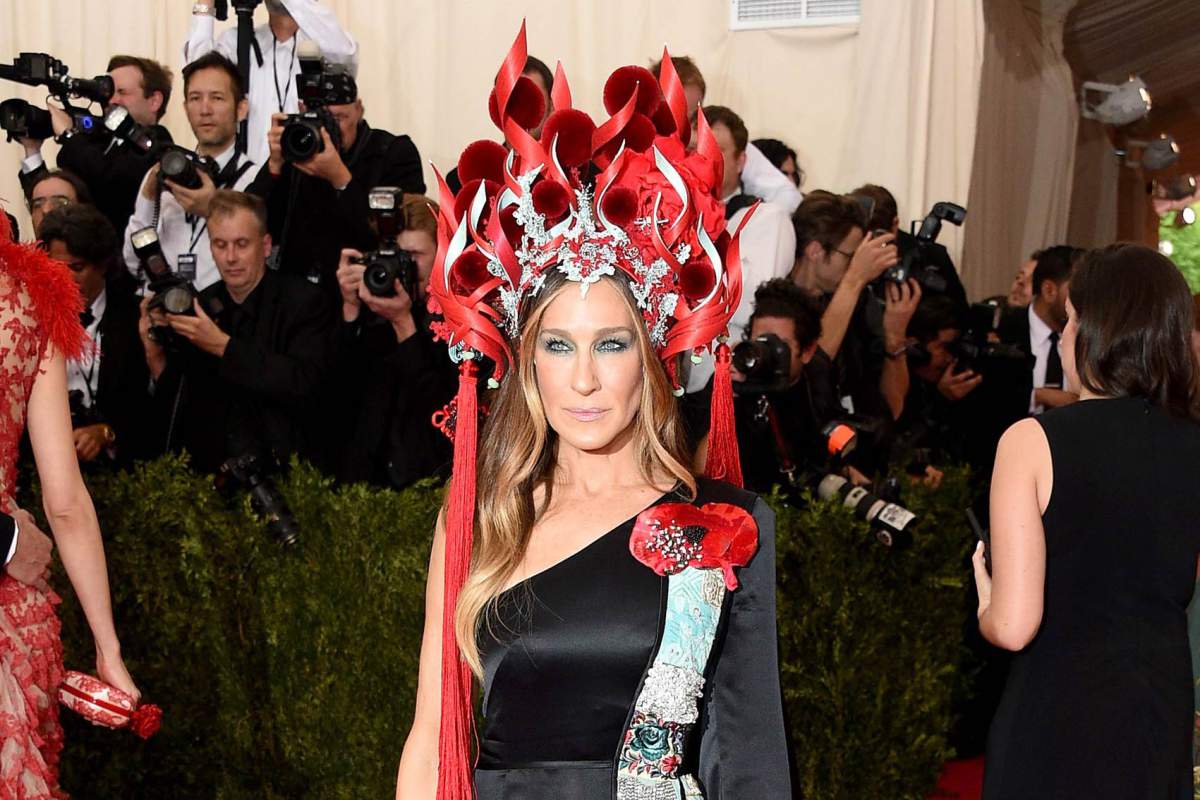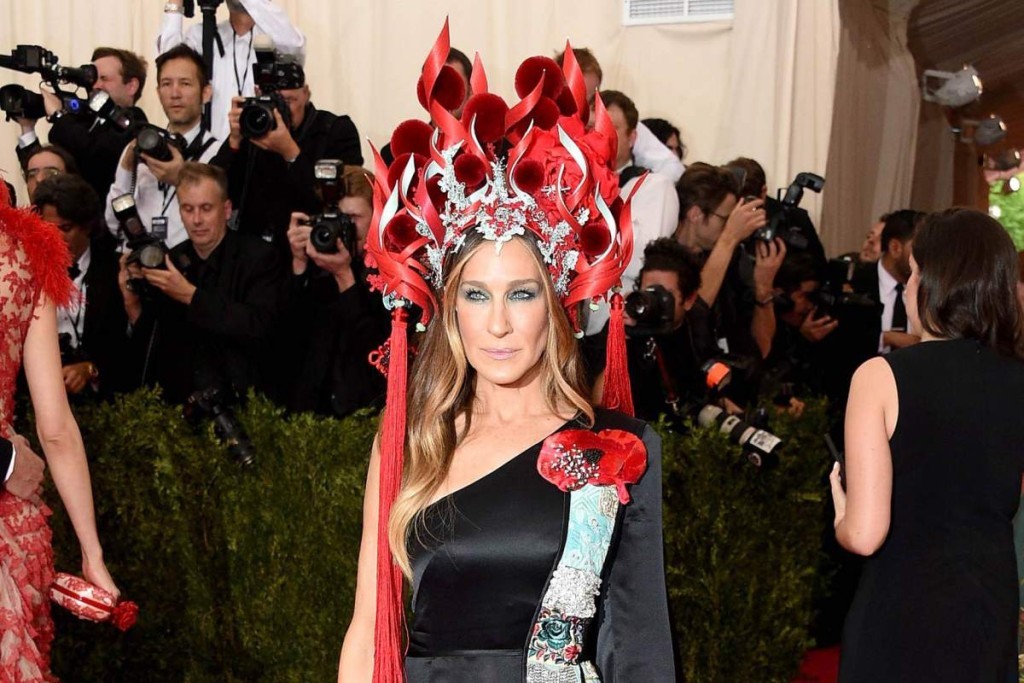 Katy Perry
Katy Perry failed woefully in her graffiti look attempt. The dress looks like something that was worn in complete darkness, and the gloves did not help one bit. I think its safe to say that the combination of the graffiti gown, her new Kris Jenner-inspired pixie haircut, her bronze eye-shadow, her spray can clutch bag and the hideous gloves was a little too much.
Solange Knowles
Solange almost looked adorable in her mini dress if the dress itself did not look like something that should be worn as a shield in an alien movie. She wanted to make a statement, and she certainly did. In all, it's still one of the worst dresses of the night.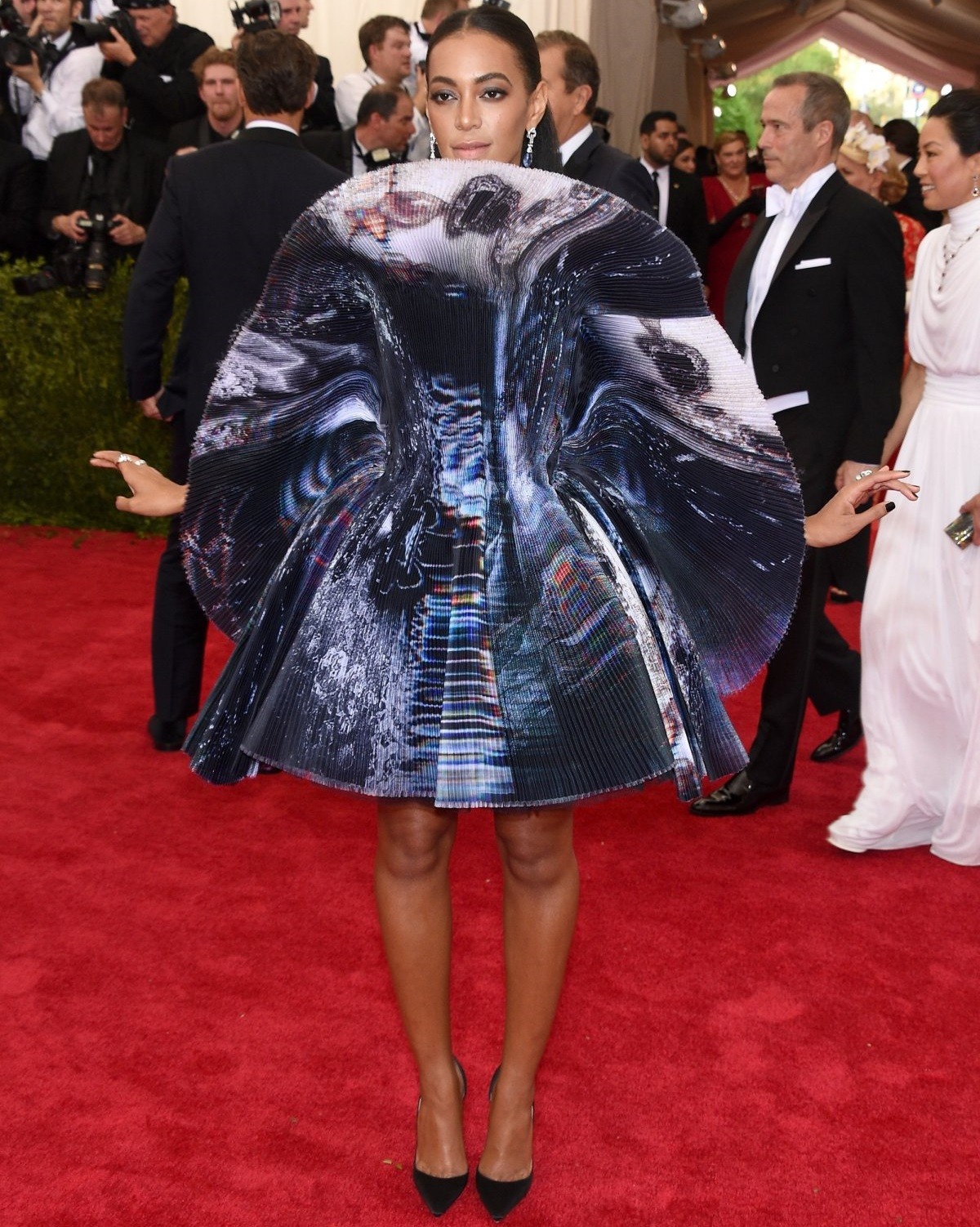 Chloe Sevigny
Chloe Sevigny looked like a Chinese adult doll in a custom look by J.W. Anderson. Just look at her expression and you will know she knew how bad she looked even before she came out. That is a terrible fit for a designer dress. It looks like a house of cards that's about to come down.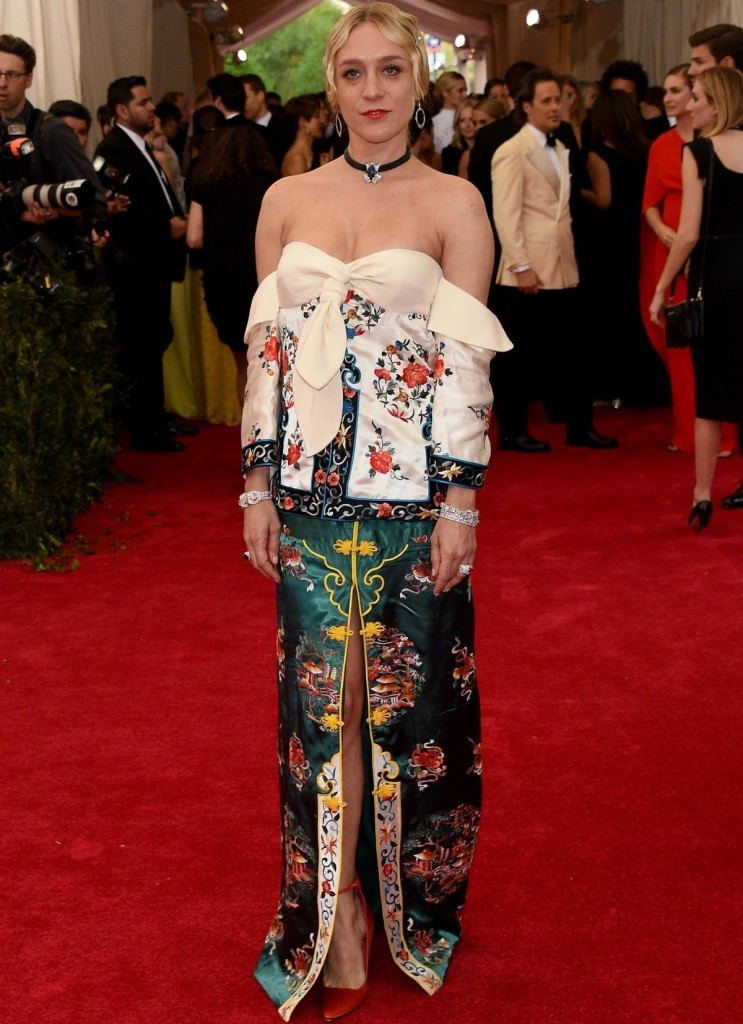 Kerry Washington
Our beloved Kerry would have looked like a princess had she managed to pull the princess look off in her pink Prada. Between the different hem lines, the bulky ruffles, the green shoes and her small frame, the look came out all wrong. Such a dress needs the weight of someone heavier than Kerry to come out beautiful. But if I must say so, her makeup was flawless.
Cutest Couples
Whats better than walking onto the red carpet with someone special. Some couple certainly caught our attention more than others did. These couples looked in love and in tune with each other, no traces of tension or even a hint of scandal. So the cutest couples for the Met gala 2015 are…
Gabrielle Union And Dwayne Wade

Diddy And Cassie

John Legend And Wife Chrissy Teigen

George And Amal Clooney

Kim Kardashian And Kanye West

Beyonce And Jay Z