Schabir Shaik is a South African businessman who became famous for his close association with Jacob Zuma, the former president of South Africa during his (Zuma's) time as the nation's Deputy President.
Meanwhile, Shaik has managed to get himself into different kinds of troubles at different times; with the most notable being his alleged corruption charges in 2005, which led to the dismissal of Jacob Zuma by President Thabo Mbeki.
Asides politics, Schabir is also a successful businessman and he owns several companies in South Africa. While his name keeps popping up from time to time on the media, many people are curious to know more about him. In view of that, we have gathered all you need to know about Schabir Shaik, his biography, family life, and other interesting facts below.
Summary of Schabir Shaik's Biography
Full name: Schabir Shaik
Gender: Male
Nationality:

South African, Indian

Sexual Orientation: Straight
Marital Status: Married
Schabir Shaik's Wife: Zuleika
Schabir Shaik's Children: A son named Yasir
Siblings:

4 brothers, including

Chippy Shaik, Yunis, Moe

Education: Durban University of Technology
Famous for: His close association with Jacob Zuma, the former president of South Africa
Schabir Shaik's Early Life and Education
Schabir Shaik was born in South Africa, into a family of Indian descent. He has five brothers, most of whom later worked for the government. Shabir and three of his brothers; Yunis, Moe, and Chippy were in some ways active during the apartheid period. They were credited to have formed the Mandla Judson Khuzwayo (MJK) unit of ANC, to build support for the party among civic organizations and trade unions.
After he finished his basic education, Schabir went on to acquire a degree in electrical engineering from the M.L Sultan Technikon, now the Durban University of Technology. While there, Shaik didn't put up a clean record as he was allegedly caught cheating in a High Voltage Engineering T5 exam in 1990. As a result, he was barred for one year, after which he returned to complete his bachelor's degree.
Shaik began his career as a businessman during the '90s and founded his first company called the Nkobi Holdings in the year 1995. The company which he founded using the family name of the late ANC treasurer Thomas Nkobi, was fully owned by Shaik. However, the shareholding went through various arrangements. Despite this, Schabir has effective control over all corporate entities within the Nkobi group. He served as the director of different arms of the company until 2005, when he was arraigned for corruption charges.
Relationship with Former President Jacob Zuma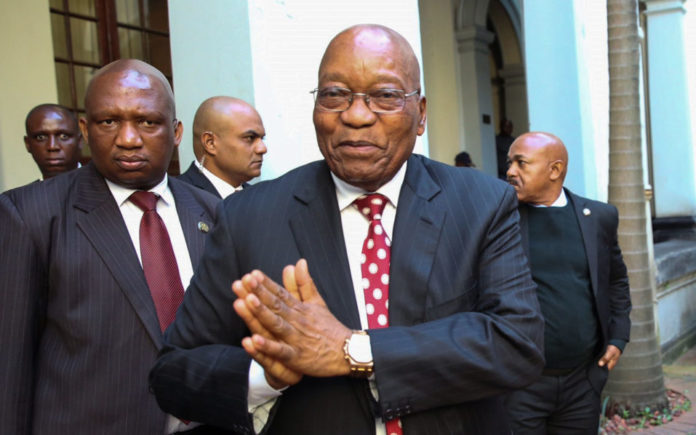 Apart from his business, Shaik became very popular for his closeness to Jacob Zuma since the 1990s and the controversies that would trail his life. Their friendship stretched to the time when both men were in ANC. Their closeness was solidified with Shaik becoming the financial benefactor of Zuma, who returned from exile in Mozambique and attempted to secure a spot in the party.
Shaik was tried for corruption in relation to an arms deal in 2004. The trial has been described as one of the most dramatic court events of the post-apartheid South Africa. Events leading to the trial started back with two influences. First was Shaik's relationship with Zuma, whom he still claims knows nothing about the deal. The second was with Shaik's brother, Chippy, who was in charge of arms acquisition at the Department of Defense.
Next, Shaik's Nkobi Holdings joined a French company, Thomson-CSF, which was an international arms company to pave way for the arms deal that was to surely come. In 1999, the arms deal was done and sealed. The deal was of the purchase of weaponry of 4.8 Billion US Dollars. Thereafter, in 2001, Shaik, who served as Zuma's financial adviser was arrested for possession of secret documents.
The documents had a record of some illegal dealings with Zuma in relation to the arms deal. In 2005, his trial began when he was charged with corruption and fraud. The allegations were that he paid Zuma R1.2 million in bribe for illegal favors; that he canceled over R1 million debts Zuma got from Nkobi Holdings; and that he solicited a bribe for Zuma, from the French arms company, Thomson.
In 2005, Shaik was found guilty and sentenced to 15 years in prison. In 2007, he lost his appeal to have the ruling set aside. Shaik was not, however, the only one that took the fall as Zuma as well lost his seat as the vice president. However, after serving 28 months of his 15 years prison sentence, Schabir was released on medical grounds. He got the parole as a result of what was described as "a terminal illness."
Although he was jailed for some illegal dealings which involved the former president of South Africa Jacob Zuma, Shabir has always insisted that Zuma was innocent in the whole deal. Recently, he made known his readiness to appear in court to testify for the president if any case is brought up.
What is Schabir Shaik's Family Life Like?
Although he has four brothers including Yunis, Chippy, and Moe, however, nothing is known about Shaik's parents. There is no information regarding their names and what they do for a living. Just like Schabir, his three siblings – Yunis, Chippy, and Moe are also into politics, while nothing is known about his other sibling.
Beyond that, the talented Durban businessman has a very small nuclear family. He has a wife named Zuleika as well as a son, whose name is given as Yasir. There are no details regarding his wife and son, however, it is known that they currently reside in Durban.
Seel Also: Julius Malema Will Not Return To ANC – Winnie Madikizela-Mandela
Other Interesting Facts About Schabir Shaik
1. His Arrest And Fraud Claims
In 2001, Shaik was arrested for the possession of secret documents linking him to corrupt practices, while his brother, Chippy Shaik, was suspended from the Department of Defense for his involvement in a corrupt arms deals.
2. Anger Issues
He has been known to have a very short temper and this is most evident in the series of violent altercations he has had with others. Some of these include slapping Amanda Khoza, a journalist, and punching a man at a mosque over parking space.
3. Examination Malpractice
Shaik has been caught cheating in exams twice according to reports. It is claimed that this act was borne out of the immense pressure from his family to be exceptional. This style of pressure is one that is most common with Indian parents.
4. Schabir Shaik Net Worth
Shaik is pretty much a wealthy man that much we can tell you. However we can't say for sure if all of his wealth is from a legitimate source; nevertheless, only time would tell.  His revenue streams mainly surround his engagements with his company, Nkobi Holdings.
From all his ventures as well as other notable engagements, his net worth is estimated to be well over R50 million. With this wealth, he sure can afford to add a few toys to his possession. Apart from his 10 million Rand home, he is known to have a penchant for cars. And one of his favorite cars is the BMW he owns.