Scandal's storyline gets more entertaining with the release of new episodes every month. The South African soapie ranks among the most-watched TV series in the country and is produced by Ochre Moving Pictures. Although March 2022 episodes of Scandal came with unexpected twists and interesting drama, April teasers show that the show has more action and drama in store for the viewers.
In last month's episodes, Hlengiwe was forced into a corner as her efforts to cover up a lie got her into more problems. On the other hand, Freddie was caught out in his lavishing lifestyle to impress Rorisang, with Dintle being so determined to expose his deception. Also, the Kubeka family decided to accept defeat but will their secrets be finally made open? Scandal teasers for April 2022 will highlight more on what to expect from the award-winning soapie.
Scandal Teasers for April 2022
Episode 1: Friday, April 1st, 2022
In this first April 2022 episode of Scandal, one of the teasers is that Gontse is confused about revealing the truth about her intentions to Ndumiso. Truth is made open, and a lover gets kicked to the curb. A man's broken heart gradually turns him into who we hardly recognize.
Episode 2: Monday, April 4th, 2022
A woman is tricked into revealing a scandalous secret. Nyasha's secret is unveiled, and Hlengiwe gets shattered. Nomvula is worried that Vukiles' ear has been taken.
Episode 3: Tuesday, April 5th, 2022
Through blackmailing, Gontse succeeds in getting her mother to keep her secret. As a man watches a new relationship blossom, he becomes obsessed with the woman. Vukile finds it hard to resist what Mukuna is proposing.
Episode 4: Wednesday, April 6th, 2022
Gontse makes a serious accusation against her mother after jumping to a wrong conclusion. A man is left second-guessing himself after desperate stalker ups the ante. Uncle Jakes forces Winnie to reveal the truth.
Episode 5: Thursday, April 7th, 2022
Travel papers are finalized, and a deceitful trip is planned. The Kubekas are taken unawares as they enter dangerous territory. Meanwhile, Hlengiwe is handed more reasons not to trust Nyasha.
Episode 6: Friday, April 8th, 2022
Gloria is heartbroken. Vukile is astonished after discovering the horror he has put his family business into. Hlengiwe surprises Amo as she reveals something he thought she never would.
Episode 7: Monday, April 11th, 2022
One of the teasers for this intriguing April 2022 episode of Scandal is that desperate Ndu gets a lifeline after thinking his hopes are shattered. After a confrontation, an ultimatum is given, but the recipient seems not bothered by it. Bongi is left worried after an outburst.
Episode 8: Tuesday, April 12th, 2022
Gontse vows to carry out her threat. While fabricated evidence has a family in a vice, Gloria shows serious resistance when the cops come knocking. A suspicion is confirmed, and Hlengiwe is crushed.
Episode 9: Wednesday, April 13th, 2022
A woman makes a confusing discovery and then starts to take action. Gloria engages in a desperate act to save herself. Mukuna gets manipulated by Vukile, and Nomvula reacts immediately.
Episode 10: Thursday, April 14th, 2022
Gontse struggles to reveal a secret that could tear her mother apart. Amo realizes that he might be in a dangerous position and is shocked to his bones. Even though a ruse worked out, a long-term solution is still needed.
Episode 11: Friday, April 15th, 2022
A man gets more desperate to hide his actions as suspicion increases. Tension in Gloria's family escalates, and she tries to pull damage control. Kubekas' good intentions end up complicating the life of Mbali.
Episode 12: Monday, April 18th, 2022
By unveiling a blood-curdling past to Vukile and Nomvula, Mukuna warns them to be wary of who they are dealing with. Despite all the obstacles on her way, Gontse continues to fight for her son. Meanwhile, Mbali and her family fight to keep her secret hidden.
Episode 13: Tuesday, April 19th, 2022
Gontse takes a bold step that leaves Ndumiso in a tight situation. While Hlengiwe finds herself in a precarious situation she can't escape, Mbali fabricates more lies to save herself.
Episode 14: Wednesday, April 20th, 2022
Ndumiso is furious and searches for Gontse. Jakes takes center stage, proving himself to be a talented actor. Having his back against the wall, a man is coerced into getting tough with his love.
Episode 15: Thursday, April 21st, 2022
The teasers for this April 2022 Scandal episode are quite engrossing. Ndu's underhanded tactics backfire. While Jojo tries to protect his father, he ends up hurting someone else in the process. A heart gets shattered to save a life.
Episode 16: Friday, April 22nd, 2022
Dintle comes up with a tricky idea to save a friend. A mother is presented with what she desires the most. Mukuna makes a dreadful threat and proves that he isn't that easy to fool.
Episode 17: Monday, April 25th, 2022
Ndumiso and Gontse take a trip down memory lane, and then past wounds get reopened. A search party threatens to derail things for the sake of a desperate man. An eye for an eye leaves the Kubekas trembling and Jojo in a tight corner.
Episode 18: Tuesday, April 26th, 2022
Jojo makes up his mind to get his family out of the control of a puppet master. Ndu starts to see things from a new perspective. After a guilty man pulls a fast one, the police seem to be focused on the innocent.
Episode 19: Wednesday, April 27th, 2022
A black sheep is asked to return to the fold. There is no love in war, and thus, gloves are removed as both parties play dirty. Meanwhile, Dintle finds herself in a dangerous situation and is shocked by what she discovers.
Episode 20: Thursday, April 28th, 2022
The Scandal teasers for this April 2022 episode are all action-packed. Firstly, Gontse decides to retaliate after shocking deceit. Then, an olive branch gets rejected and leaves a son ready to walk down a life-threatening path. Lastly, a man gets hit by hard times and discovers that his friends are very few.
Episode 21: Friday, April 29th, 2022
Cee-Jay gets Lindi annoyed as he makes a solo decision about the commune. To help Gontse, Gloria agrees to a set-up. Dudu catches the wind that something is off at Uthuli and not the waste. Zen goes on a joy ride as he feels that his new job is too good to be true.
Who are The Producers of The Scandal TV Series?
Created by Gloria Medupe, Scandal is produced by Ochre Moving Pictures, and its director is Ian Nkulu. The drama TV series is multilingual and boasts skilled and talented cast members as some of the show's actors are well-known in SA's acting arena. Little wonder, Scandal contends with Generations: The Legacy – the longest-running soapie on SABC 1 as the most-watched South African soap opera. The show premiered on September 8th, 2005, and still runs to date.
Meet eTV Scandal Cast Members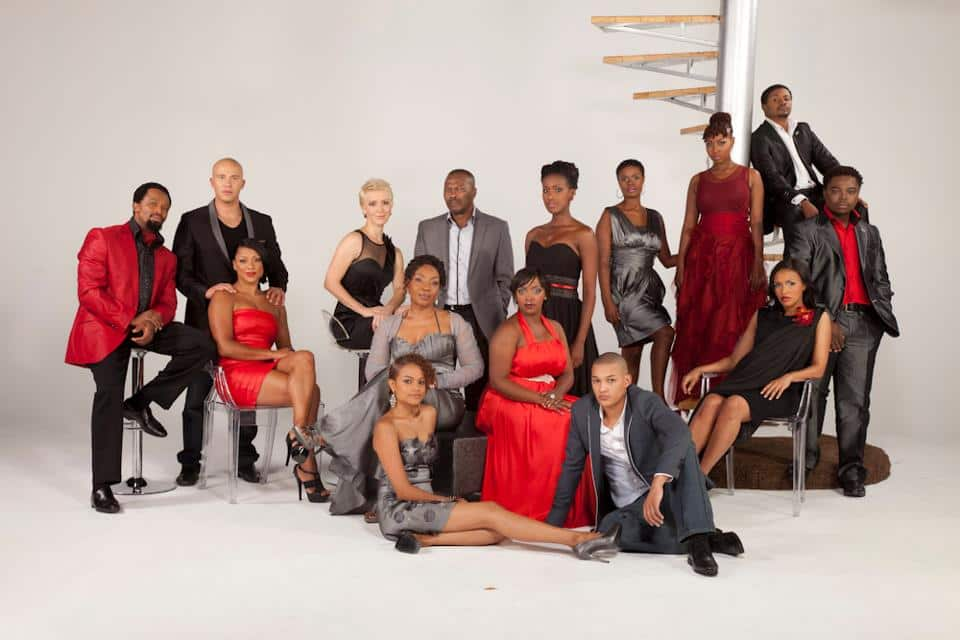 Mapaseka Koetle – Portrays the character of Dintle Nyathi
Slindile Nodangala – Portrays the character of Nomvula Khubeka
Nqobile Nunu K. H – Portrays the character of Hlengiwe Thwala
Fana Mokena – Portrays the character of Vukile Khubeka
Jerry Mofokeng – Portrays the character of Neo Mokethi
Marjorie Langa – Portrays the character of Gloria
Nomvelo Makhanya – Portrays the character of Lindiwe Ngema
Given Stuurman – Portrays the character of Kgosi
Melusi Mbele – Portrays the character of Jojo Khubeka
Robert Mpisi – Portrays the character of Zenzele Khubeka
Sihle Ndaba – Portrays the character of Dudzile Khubeka
Ayanda Daweti – Portrays the character of Chumani Langa
Matthews Rantsoma – Portrays the character of Nhlamulo
Natasha Sutherland – Portrays the character of Layla Nyathi
Nolwazi Ngubeni – Portrays the character of Mbali Khubeka
Gcina Nkosi  – Portrays the character of Zinzile Ngema
Thulani Hlatshwayo – Portrays the character of Cee-Jay
Botlale Boikonyo – Portrays the character of Omphile Ngema
Which TV Stations Air Scandal TV Series?
Scandal is a half-hour soapie that airs on e.tv on weekdays (from Monday to Friday) at 19h30. The show is also broadcast across Africa on e.tv Botswana, e.tv Ghana, and eAfrica feeds. You can catch up on missed episodes of your favorite soapie with an omnibus of the week's episodes every Saturday on e.tv at 19h30. Repeat episodes of Scandal additionally air on eVOD.