Sbahle Mpisane is a fitness expert, reality TV star, and social media influencer of South African origin. She rose to immense popularity after she began sharing videos of her fitness journey across social media platforms. She is the founder of Fitness Bunnie, which offers online training and boot camp classes to clients. Mpisane has over 2 million Instagram followers who flock to her page to know about body fitness and happenings in her life.
Miss Mpisane is the former girlfriend of Itumeleng Khune, one of South Africa's respected goalkeepers. Although the two are no longer an item, the socialite has explained that the split was quite amicable. Besides her fitness brand, she is also known for starring in the South African reality TV show, Kwa Mam'Mkhize, alongside her mother and sibling. Sbahle attended the University of Kwazulu-Natal, where she obtained a degree in Housing and Town Planning.
Summary Of Sbahle Mpisane's Personal Profile
Full Name: Sbahle Mpisane
Place Of Birth: South Africa
Date Of Birth: June 18, 1993
Occupation: Fitness Expert, Reality TV Star
Most Notable For: Featuring in Kwa Ma'Mkhize reality TV show
Sbahle Mpisane Is Sbu Mpisane's First Child And Was Born Out Of Her Father's Previous Relationship
Sbahle Mpisane is the daughter of South African businessman and former metro policeman, Sbu Mpisane. She came from her father's intimate relationship with a certain woman whose identity is yet to be revealed publicly. It's been over two decades since Sbu welcomed Sbahle into the world, but the businessman hasn't opened up about the woman who gave him his first child.
Regardless of this, Mr. Mpisane has never shied away from showering love on his precious daughter. He is not just a father to Sbahle but also her friend and confidant. The two have a strong bond; they equally keep an enviable father-daughter relationship that has conquered every form of challenge. Sbahle was also able to establish her fitness and wellness line in 2016 through the support of her father and loved ones.
(っ◔◡◔)っ ♥ HAPPY 4TH YEAR TO THE FitnessBunnie BRAND ♥

Thank you to everyone who has contributed to the success of the brand and to everyone who continues to shine the light to the brand.

I was here to contribute… https://t.co/pLMay8gT6j

— Sbahle Mpisane (@Sbahle_Mpisane_) September 9, 2020
She Was Not Raised By Her Biological Mother
Fitness Bunnie founder, Sbahle Mpisane, was raised outside her biological mother's home. It's not clear if her mother was only physically absent in her life, but we do know that she was about six or seven years old when she moved in with her stepmother. The fitness expert has chosen not to speak about her biological mother, just like her dad. This decision has left a lot of people wondering if she faced abandonment from her mother as a child or if it was her father's decision for her to be separated from her mother.
A lot of people are also wondering if she's still alive, where she is right now, what she's been up to over the years, and why she hasn't identified with her daughter despite her fame and accomplishments. Sbahle was born on June 18, 1993, in South Africa. Further details about her birth, childhood, and early life are not available for public consumption.
Following Her Adoption By Her Stepmother, The Two Became Very Close
Sbahle's stepmother is none other than the South African business mogul and reality TV star, Shauwn Mkhize. She was the one who brought her up alongside her brother. In one of the episodes of their family's reality TV show, Shauwn revealed that she met Sbahle for the first time when she was about six or seven years old. Her revelation left their fans in a state of shock because viewers thought that Shauwn is Sbahle's biological mother.
Miss Mpisane is not just an adopted daughter to her stepmother; she's way better than that. The two women share a tight-knit friendship and are very fond of each other. They've been part of each other's lives for years and will continue to be, even amid their family feud.
Mkhize has been a super and caring mom to Sbahle. The fitness expert credits the Durban-based businesswoman for her success and accomplishments so far, starting from day one. Sbahle has taken to social media several times to praise and eulogize her step-mom, which is indeed a rare occurrence in a stereotypical stepmother-daughter relationship.
Their love for each other is quite mutual as MamKhize often celebrates her loving daughter on her social media pages as well. She recently posted a heartfelt birthday message to celebrate Sbahle's 27th birthday, and it was all very touching.
Life Wasn't Easy For Sbahle Mpisane While Growing Up
Though Sbahle is very brave and outspoken, she was very shy as a young girl. She suffered from low self-esteem mostly due to her body, but she decided to take matters into her hand by engaging in body fitness activities after she gained admission into the college in 2014.
Not long after she began the journey, what started as a hobby and route to personal development turned into a fully-fledged career. Her fitness career was flourishing so well that she considered quitting school to focus on it. She, however, went on to graduate with her mates at the end of her studying period in school.
The Mzansi fitness bunny once shared that her stepmother played influential roles in getting her back on track during her difficult moments. She described Mhkize as her guardian angel and a beautiful soul with a heart of gold. One of Sbahle's major achievements was being crowned the 2017 Woman of the Year (in the health category) by Glamour Magazine.
Sbahle's Professional Life In Summary
Her main job is fitness training. She is also a reality TV star and internet influencer.
She launched her fitness and wellness brand in 2016.
In 2017, she emerged as Woman of the Year (in the health category), as listed by Glamour Magazine.
Her career suffered a major setback after she got involved in a fatal car accident.
Sbahle Mpisane's Father Gave Her Three Other Siblings
Sbahle Mpisane is not the only child that came from her father's loins. She has three publicly-known younger siblings, although her father is rumored to have given birth to some kids outside of marriage. The celebrity trainer's known siblings are her half-brother, Andile Mpisane, and sisters Amanda and Tumi Mpisane.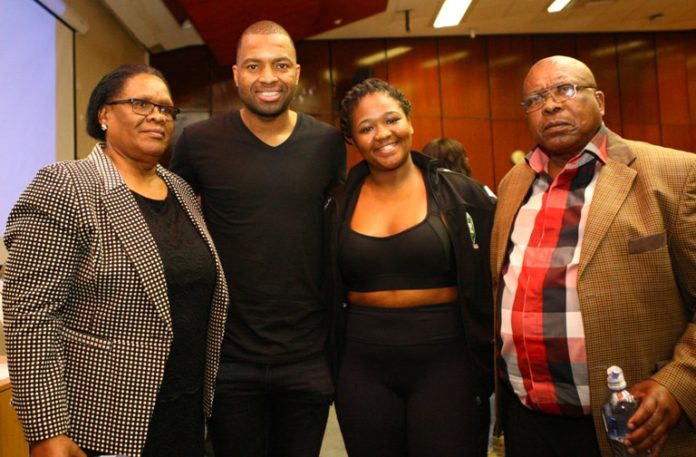 Unlike Sbahle, her sisters are strangers to the spotlight. There is no available information about their personal lives, including their background, education, and family history. It's not also clear if Tumi and Amanda are products of Sbu's affair with one woman or not. What matters most, however, is that the Mpisane sisters are amazing and have been involved in each other's lives.
Summary Of Sbahle Mpisane's Family Background
Sbahle is the daughter of businessman Sbu Mpisane and step-daughter to his ex-wife, Shauwn Mkhize.
She was six or seven years old when she came to live with her stepmother.
She has three siblings but was raised under the same roof with her younger half-brother Andile.
Her parents divorced in 2019 due to his alleged love for women.
Following the divorce, Sbu won the battle over the ownership of their family club, Royal Eagles FC.
Sbahle maintains a cordial relationship with her parents but her brother has a toxic relationship with their father.
The Fitness Icon's Brother Is Very Popular
Andile Mpisane is Mpisane's younger brother; he is a social media sensation, footballer, and entrepreneur. He is Shauwn Mkhize's son famed for his flashy lifestyle and flaunting of his expensive assets on the internet. Andile is very close to his mother, and they often wear matching outfits and have worked together on a string of businesses, including managing their football club, Real Kings FC.
Shauwn's beloved son has more than 100 thousand fans who follow him on Instagram. He often pours out his feelings and thoughts about his family and random issues on his Instagram page. Andile grew up under the same roof with Sbahle Mpisane, so it's no surprise that they understand each other well and also share a lot of things in common.
Sbahle Mpisane Has A Great Relationship With Her Father Unlike Her Brother   
From all indications, Sbahle is a daddy's girl and loves every minute she spends with her dad. She is fond of sharing pictures of her father on her social media pages and has thanked and celebrated him on several occasions for being there for her always, especially during the period she had a car crash.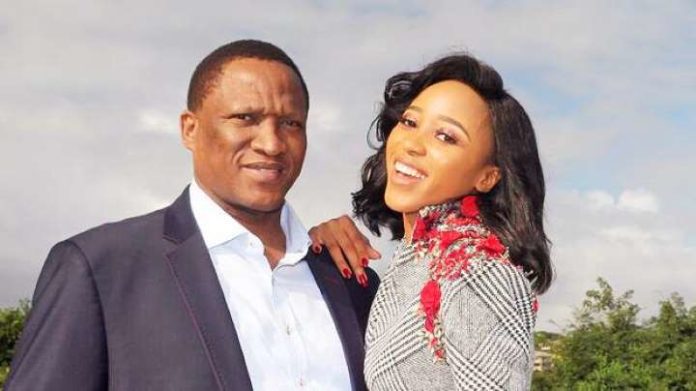 Andile, on the other hand, has had several fallouts with his father over family issues. He accused Sbu of fathering four kids out of wedlock and mismanaging some of their family business ventures, including their jointly-owned football club, Royal Eagles football club.
Andile's tension-filled relationship with his dad has been the talk of the town since the footballer made the allegations against his father.
Sbahle Mpisane's Stepmother Was Instrumental To Her Recovery After The Accident
On the 9th of August 2018, Sbahle was involved in a fatal car accident that almost took her life. She lost control of the car and had a head-on collision with a light pole before hitting a tree. She had to be pried out of the overturned vehicle, which was on the verge of bursting into flames. The celebrity fitness trainer later revealed that she broke every bone in her body during the crash and was put in an induced coma for 3 weeks to help her swollen brain recover.
It has been a long road to recovery for the fitness guru, but she has had loads of support from family, friends, and fans. Chief among her supporters is her mother, whom she refers to as her champion and biggest motivator on her road to delivery.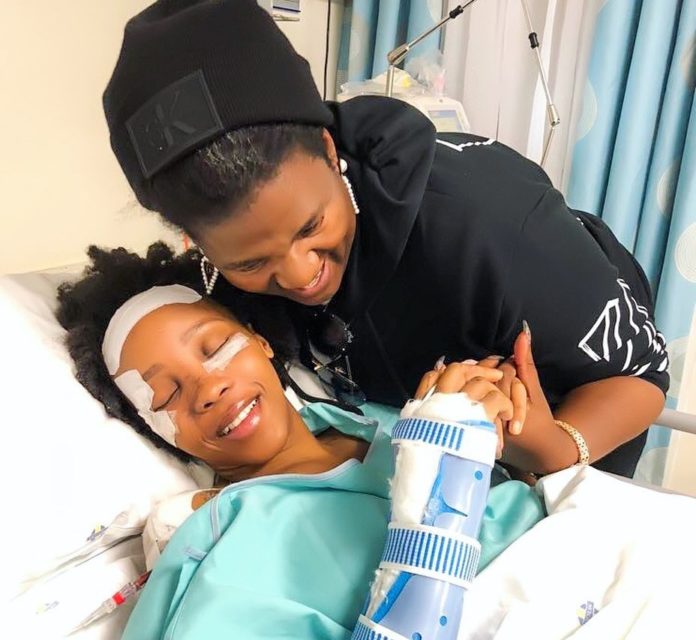 According to Sbahle, one of the things she admires most about her mother is her strength, especially through the many public and personal storms she has had to face. She handles everything with grace and heavenly calmness. Sbahle has chosen to continue to stay with her mother after their parents' divorce, even though she isn't her biological mother. This brought about several negative reactions on social media (Twitter especially), with several speculations that she chose to stay with Shauwn due to her enormous wealth.
Many people came out to defend her, saying that she was raised by the businesswoman and considers her to be her biological mother.
The Instagram Influencer Was Raised By Carefree Parents Who Allowed Her To Have Control Of Her Life
With their lives already in the spotlight, Shauwn and her ex-husband ensured that their children were well trained. Although it is not known if Sbahle Mpisane's parents used to be strict at home, the fact that the couple seemed like friends and not 'parents' to their kids outside their mansion made people believe they were not very strict parents.
Sbahle's decision to follow her passion for fitness, despite studying a professional course in the university, goes a long way to show that her parents wanted her to have full control of her life and be whatever she wants to be.
Now that her parents have ended their marital relationship, Sbahle shares her time and love between them for their respective roles in her journey to greatness.