The end of a relationship does not necessarily have to be the start of a war between the former lovers. This is one truth that Samkelo Ndlovu and her baby daddy, Sello Nhlapo have to share. The couple dated in 2017 and the relationship led to the birth of their daughter in 2018. However, love could not sustain between them and they decided to end their relationship but still maintained their closeness.
Currently 33 years old, Samkelo has never been uncomfortable making it clear who she is dating. Although at the moment, it is not clear if she is in any relationship, the actress has, thus far, had a very interesting and rather busy love life.
The Relationship Between Samkelo Ndlovu And Her Babby Daddy Was Well-publicised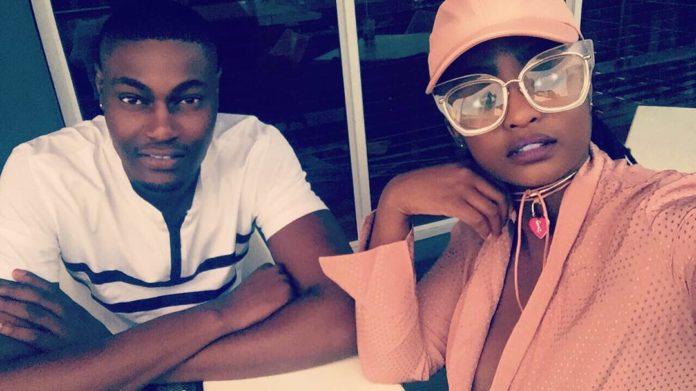 Samkelo Ndlovu is one of the few Mzansi stars who are not afraid to make their love lives public. Although the actress and music star has been in several relationships in the past, her involvement with her baby daddy, Sello Nhlapho, is the one that has attracted the most attention because of the child they had.
There is no information regarding how the two met and started dating, but they were first linked to each other in 2017. While Samkelo worked as an actress, her man is a model whose work always took him outside of the country and kept him busy most times. However, they still managed to have time for vacations after which they shared photos on social media.
When they started dating, Samkelo was 28 years old. On the other hand, the exact date of birth and age of her former lover was not made known.
They Had Their Daughter In 2018
The initial wish of the actress and singer was to become a mom at the age of 26. That did not happen as it was when she was approaching her 30s that she had her daughter who was born when the actress was 29 years old.
Her little angel was born on February 16, 2018, and named Zhúri Ngilosi. The actress stated that her daughter is a blessing to her and it is because of this that her second name is Ngelosi – a Zulu and Xhosa name that means Angel. At the time, Samkelo Ndlovu revealed that she was enjoying motherhood and is so much in love with her daughter that she wouldn't trade her for anything in the world.
With the birth of their daughter, one would think that the actress and the model would start thinking of starting a family together. Instead of that, the relationship came to an end. The exact reason behind the end of the relationship between Samkelo Ndlovu and Sello Nhlapo was never known, but it was speculated to be a result of their very busy schedules.
The Actress And Her Baby Daddy Co-parent Well And Are Still In Good Terms
It has been more than two years since the relationship between the actress and her baby daddy came to an end, but the two have continued to be very much involved in the life of their daughter. They co-parent their daughter in a rather amazing manner.
According to Samkelo, she has continued to maintain a very close relationship with her baby daddy even after they parted ways. She added that she loves him and he still loves her, but they are not in love with each other. That said, they are still very cool with each other.
Samkelo Ndlovu Has Dated Other Famous Stars In The Past
Apart from her baby daddy, the actress and musician has been in a few relationships in the past. She revealed that Trevor Noah was once close to her. It all happened, according to her, when she was much younger and the comedian was not famous and they were both living in the same neighborhood. She said he would pick her up from time to time and they would go to work together. She described him as a sweet guy but made it clear that he did not hit on her.
Below is a list of the men she has publicly dated in the past:
 Thomas Gumede
The earliest relationship she got into as a celebrity was with actor and director, Thomas Gumede. Even though they were both famous in their own rights, their relationship attracted attention for many reasons, some of which are bad.
It was alleged that after their relationship ended, they tried pulling a publicity stunt on the Vuzu reality show, Forever Young, faking a breakup on the show when in real life, they had since broken up.
Japhta Mamabolo
After her relationship with Thomas came to an end, the next man she was linked to in 2011 was Japhta Mamabolo. What attracted the attention of the public to the pair at the time, even more than the public show of affection and cuddling that they shared at Linda Moeketsi's birthday party which was held in Rosebank, was that they were playing on-screen lovers on Generations at the time.
She did what many considered to be very daring at the time, by appearing nude with Mamabolo for Marie Claire's Naked Campaign. She later revealed that she was joyful that some of the photos did not make it to the magazine because she was not ready at the time, but just wanted to do something good.
This relationship did not last long before it finally faded, leaving some with the belief that the love story was also staged because of the rumor that the actor was gay.
It was after these two relationships that she later got into another one with the man who later became her baby daddy, Sello Nhlapho.
She Seems To Have Taken A Break From Dating
Since her relationship with her baby daddy came to an end, Samkelo has not been romantically linked to anyone publicly. The Rhythm City actress seems to be caught up in enjoying her role as a mother to her daughter that she doesn't have the time for my relationship.
She made it clear in 2019 that she was taking things slow and did not have time for men, which was another reason why she is still not ready to get back on the horse. No one knows how much time she is willing to take but she noted that if she will get into anything serious, it would have to be much bigger than herself and something worthwhile.
More so, she is busy pursuing her musical career, something that she has gone into with full force. The actress changed her name in December 2020 to Samú, a name that she picked for her musical journey. She dropped her first single on Christmas Day and has continued to work on more music. Also, she has been performing at some events.