Robert McBride is a South African former police officer and political activist who rose to fame as the head of the Ekurhuleni Metropolitan Police Department in the early 2000s. He is perhaps best known for his role in the Truth and Reconciliation Commission, which was established after the fall of apartheid in South Africa to investigate human rights abuses committed during the apartheid era.
McBride has also been involved in a number of controversial incidents, including a car bomb attack on a restaurant in Johannesburg that killed one person and injured several others, for which he was later convicted and sentenced to prison. He was later released on parole and has since become active in politics, serving as a member of the African National Congress (ANC).
While he is known among the Black South Africans as a champion, Robert remains widely criticized and disliked by many white South Africans. The big question is, who is Robert McBride, what is he known for, and what's his family life like? All these and more you would find out in the following paragraphs.
Who Exactly is Robert McBride?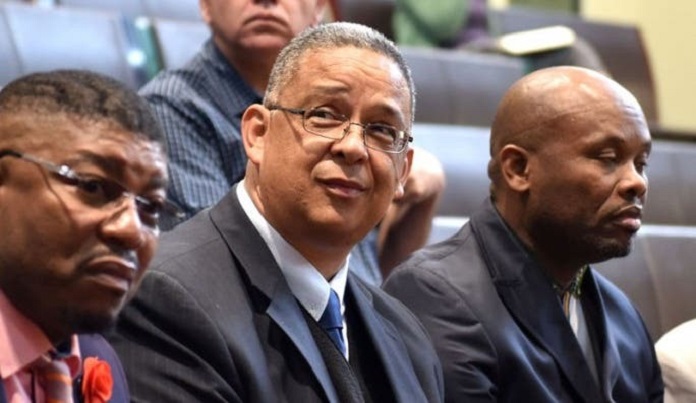 The tale of Robert Mcbride is actually like one from the movies. It began with his father, Derrick John McBride, who was born with the darkest complexion in a colored family of 4 boys and a girl. McBride senior had seen the hate his mother had for him because of his complexion since he was a child. The third child in the family of five, elder McBride was made to take care of the house chores whenever there was no maid. This began when he was only 8 and it made him hate his mother so much that he wouldn't attend her funeral in the future. It also affected him enough to extend his hate to white people and make his son aware of segregation. 
As a result of Derrick's experience, one could rightly expect that his son would be a hard man. He had his son, Robert McBride on 6th July 1963 in a racially segregated Wentworth suburb, in Durban South Africa. At the time, Robert's parents were teachers at Clairwood school. He later had two more siblings, sisters named Bronwyn and Gwynneth. As he was growing, he continued to experience the racial discrimination that had chewed the soul of South Africa at the time.
When he was 8, he was bullied by a white boy of about 18 years old. It was, however, when he was 11 that his father starting bringing to his notice the exact picture of things when he made him read Coloured: A profile of 2 million South Africans, by Al J. Venter. The book pointed out the contributions of colored people in the anti-apartheid struggle. It also opened him up to the lives of people like his uncle, Rev. Clive McBride, James April, Don Mattera, Jakes Gerwel, and Basil February.
Robert attended Fairvale High School in Wentworth, after which he proceeded to the University of Natal, where he gained admission to study Mechanical Engineering in 1981. He, however, dropped out because he failed his courses. Before then, McBride had developed a thirst for the struggle against apartheid at an early age. His father's experience and influence, as well as his personal experiences and the things he read also fueled this drive. Notably, the book – Soledad Brothers: The Prison Letters of George Jackson, was a big influence on him.
Anti-Apartied Activism
Believing that violent struggle was the best way to bring freedom in South Africa, Robert McBride whose father had taught him karate since he was a child and his friend, Gordon Webster decided to bring in their contribution. In 1986, McBride led the arm wing of African National Congress (ANC), uMkhonto weSizwe (MK) cell to bomb a restaurant and bar in Durban. The attack left three white women dead and 69 others injured. It was, however, said that the attack was targeted at the police.
He was arrested for the attack and sentenced to death, however, the sentence was reprieved while he was on death row. In 1992, his actions were considered politically motivated, hence he got back his freedom. Also, he later got amnesty from the Truth and Reconciliation Commission, for complete disclosure of politically motivated acts. This came after the ANC, which at first denied any involvement in the bombings, claimed it ordered the attacks.
During his trial for the bombings, David Gordon who was his advocate invented a story that Irish republican revolutionary, Major John MacBride, was the great-grandfather of Robert McBride. Major MacBride fought with the Boers during the Second Boer War. The story caused a wild reaction in Ireland and McBride received massive support from the Irish who felt it as a responsibility to save the life of the great-grandson of the country's hero who was executed by the British for his role in the Easter rising of 1916 in Ireland.
The rising was aimed at ending the rule of the British in the country and ushering in an independent Irish republic. Major MacBride's grandson, Tiernan MacBride wrote a letter to South African President at the time, P. W. Botha towards ensuring that the descendant of one of the heroes of Ireland is saved.
Post-Apartied Era and Government Career
Robert McBride has held various positions in South Africa including serving as the Chief of Ekurhuleni Metro Police, as well as the head of the Independent Police Investigative Directorate (IPID). His appointment as head of IPID was seen by so many people as highly controversial as a result of his history, including being arrested by the Mozambican police in 1998 on charges of gun-running. Also, he had been accused of assault and was charged with drunken driving and obstruction of justice, even though he was acquitted of both crimes.
Meet Robert McBride's Wife, Daughter, and Family 
A sneak peek into Robert McBride's family life shows that the former IPID executive is happily married and he is a doting father of one. He got hitched to his wife, Paula Leyden while still on death row. However, the two have separated for over 15 years now. The controversial IPID head has also been in several other tumultuous relationships thereafter.  It was alleged that he got married for the second time to a lady named Nina and his second marital stint also ended in a divorce. That's not all; McBride has equally been linked to other women including Elizabeth and Natasha Emmanuel. However, we are yet to confirm the authenticity of these reports.
Through his stint with Paula Leyden, Robert has two daughters. Nevertheless, there is no much information about his daughters including their names and year of birth. One of his daughters recently opened a case of assault against him. The teenager claims that her father was abusing her and her younger sister during their short stay at his place when their single mother who is legally their custodian couldn't afford to pay their bills. She added that her father punched her in the face in his car, leaving her severely injured.
According to her, even before the incident that led to the lawsuit, Robert was torturing her emotionally and otherwise, to the extent that at some point she considered suicide. Robert, on the other hand, said he was only admonishing her because her school marks had dropped substantially and she became rebellious. The court, however, ordered that he doesn't have any contact with daughters and family members. That notwithstanding, he requested and was granted access to his youngest daughter.
Quick Facts about Robert McBride
McBride was born in Durban, South Africa in 1963.
He joined the police force in the 1980s and eventually rose to the rank of colonel.
In the 2003, McBride was appointed as the head of the Ekurhuleni Metropolitan Police Department (formerly East Rand), where he implemented a number of reforms aimed at improving the department's performance and relations with the community.
McBride was involved in a bomb attack on a restaurant in Johannesburg that killed one person and injured several others. He was later convicted of the attack and sentenced to prison.
McBride was later granted parole and released from prison in 1999.
After his release, McBride became active in politics and joined the African National Congress (ANC).
In 2014, McBride was appointed as the CEO of the Independent Police Investigative Directorate, a position he held until 2019. He was appointed as head of the Foreign Branch of the State Security Agency from 1 July 2020
McBride has faced criticism and controversy over his involvement in the bomb attack and his involvement in other incidents during his career. However, he has also been praised for his efforts to reform and improve the police force in South Africa.
His maternal grandparents were Collin Campbell van Niekerk, a White Afrikaner, and Grace, a colored daughter of a Zulu-speaking mother and a colored father.
Robert has martial arts and military training
He was nicknamed an "evil man" by Pretoria magistrate for causing accidents and trying to conceal it.
He currently resides in Johannesburg.