Only a few things can match the frustration of getting lost. Only those who have ever gotten lost can understand this. Getting lost in a place like South Africa is in no way any better.
South Africa is a place for your business if you are heading Johannesburg; or tourism, if you are visiting Cape Town. It is as well a place for adventure if you are heading for Durban. Road Map of South Africa ensures you don't get lost.
The roadmap details out your route around the major roads in South Africa. It, however, does not leave out the minor roads as well as streets, to ensure that any movement within the country is smooth and hassle-free.
National Routes
The National Routes are the major roads that connect major cities in South Africa. These roads are indicated using route numbers on the Road Map of South Africa. The route numbers fall between N1 to N18.
Modelled after the American interstate highway network, the national routés of South Africa include every other road in the country maintained by the South African National Road Agency (SANRAL).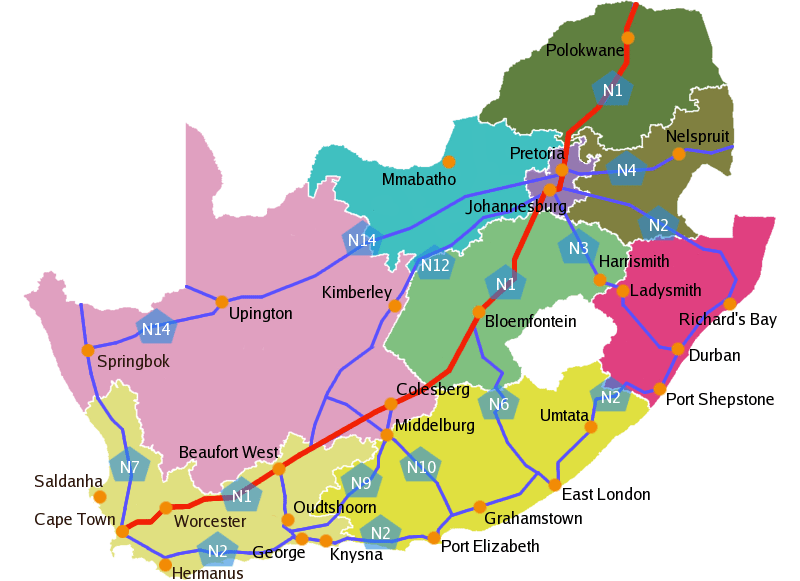 South Africa has 15 national routes.
N1, N2 and N7 start from or cut through Cape Town to other parts of the country.
N3 links Durban to Johannesburg through Harrismith.
N4 links Pretoria to other places within and outside the country including Botswana and Mozambique.
N5 connects Winburg to Harrismith through Bethlehem.
N6 Links East London with Bloemfontein through Queenstown and Aliwal North.
N8 provides a link between Groblershoop, Kimberly, Bloemfontein, Ladybrand and Lesotho through Maseru Bridge.
N9 links George and Colesburg through Cape Town's Graaff-Reinet and Middleburg.
N10 starts from Port Elizabeth and passes through some cities to Namibia.
N11 goes from Lady Smith, through Newcastle, Volksrust, and Ermelo to Middleburg (MP).
More so, on N12, one can move from George, passing different towns, to eMalahleni.
N13 runs from Springbok to Pretoria.
In addition, some of these routes link run into some countries. Examples are N17 and N18 that run into Swaziland and Botswana respectively.
More routes have been proposed to be added to the existing South African Road Map. This is the N21 Peninsula Expressway. It proposes upgrading the R300 that goes in parallel of N7 to Muizenburg through the west coast which is connected by Bellville.
Finding Your Way Round
There are major areas in South Africa that receive more people than others. Hence there are roads more travelled on than others. Such roads are between Johannesburg, Cape Town, Durban and Pretoria among others.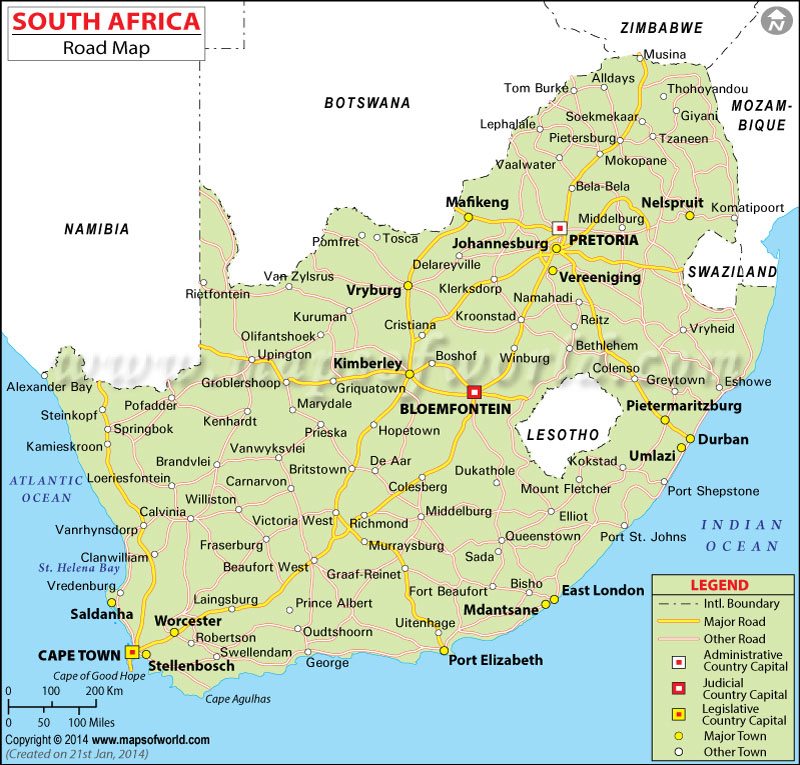 The Road Map of South Africa details the links between such places. There is a major road, which can be seen on the map, which links Durban with Johannesburg. This is through Harrismith, following N13 on the Map. Going with the map, you can journey from Cape Town to Johannesburg by the N3 route. This is possible when you pass through East London, Durban, and Richards Bay.
Through Upington, you can access Johannesburg from Cape Town on the N14 route on the map. This is when you are in the Northern Cape.
Based on your location, between Durban and Johannesburg, you can cover up to 598 KM. Between Cape Town and Johannesburg on another hand, you can cover up to 1405 KM, while from Durban to Cape Town may cover 1660 KM.
See Also: 10 Perfect Getaways For Lovers In South Africa
How Not to Get Lost
Get a South African Road Map. This can be gotten at Airports and stores or shops close to the airport or even in any main town. The map can as well be gotten online. One must be careful, however, when getting the roadmap from the internet as they may sometimes be confusing. Some of the Maps take the labour of detailing some major Hotels on the way, while some go as far as giving the distance between places.
Getting a road Map of South Africa is important. Of more importance, however, is getting the right roadmap. Therefore getting a roadmap to the precise place you are going to in South Africa is much better. As the map of the entire country will settle on the entire country, getting a map of the exact place you are visiting, like Cape Town, Johannesburg, Robin Island or any other place will be more helpful. This is as it will capture streets and other places within the city or town, unless if you are touring the whole country.
GPS and other mobile applications have made thing much easy for travelling, however, having a hard copy of the Map, one which is not too cumbersome and confusing is the ultimate.