Rich Mnisi's net worth is estimated at $3 million (R47 million). He is a South African fashion designer known for his eponymous label.
Rich Mnisi is one of South Africa's iconic creative minds and designers who have excelled in the fashion industry. The young man has been making waves ever since he became a professional designer. He has worked with numerous elite brands, as well as high-profile individuals in the styling and fashion business.
Mnisi has earned both fame and fortune from his flourishing career. At the moment, the value of the fashion designer's assets is still being calculated by the appropriate bodies. One thing that is obvious is that the entrepreneur rakes in millions through his business channels and his wealth has been on the upward side. Some sources claim Rich Mnisi is worth about $3 million.
Rich Mnisi's Trajectory To The Top Echelons Of The Fashion World
Rich Mnisi, originally born, Rich Fumani Mnisi, has come a long way in the fashion industry. Interestingly, he picked up interest in exquisite fashion at a young age. It all began after he watched his sister turn an old pair of jeans into a beautiful skirt. The transformation got him amazed and at the same time, some special kind of passion for fabrics was awakened in him. From that time onwards, he started making designs and blending different pieces together from used newspapers, window curtains, and magazines.
Upon completing secondary school, Mnisi decided to give his fashion dream a chase. He enrolled in Leaders in the Science of Fashion (LISOF) where he spent some years before obtaining a Bachelor of Arts in Fashion Design and Business Management.
Though Rich's mother had wanted him to secure a professional job, the young man's interest and enthusiasm for fashion kept pushing him towards making his dream of becoming a great fashion designer a reality.
Today, the celebrity designer who was born on the 14th of December 1993, is a force to reckon with in matters of fashion and new styles.
The Celebrity Entrepreneur Launched His Fashion Brand In 2014
Rich Mnisi's journey to greatness began in the year 2014 when he established his business under the name OATH Studio. After some time, he decided to change the name of his fashion line to his name – RICH MNISI. In the same year, his career got the needed boost after he won the African Fashion International Young Designer Award.
Rich Mnisi would go ahead to exhibit his fashion collection at the Design Indaba Expo the following year. His first trans-seasonal collection captioned Xingelengele was subsequently showcased in the year 2017.
One interesting thing about the entrepreneur and his brand is that he showcases and tells the African culture through his fashion works. Basically, Rich Mnisi as a brand is a mixture of art, modern music, and nature. Their outfits bear a close resemblance to African culture and history.
Rich's understanding of the needs and desires of modern fashionistas is conveyed through every fabulous piece. Over the years, he has worked with/on several high-budget jobs for well-known individuals and brands. He is popular outside South Africa and has dressed the likes of Naomi Campbell and Beyoncé.
The entrepreneur deals in both menswear and womenswear, all of which popularize the African culture. His most recent fashion collection was titled Alkebulan. In 2019, he won the Emerging Designer of the Year Award by Essence publication which was presented to him at Essence's inaugural Best in Black Fashion Awards.
He Built His Wealth Through His Fashion Brand
Rich Mnisi's fashion contest victory was instrumental in his career growth and expansion. Not only did it give his growing career the needed attention and boost, but it also paved way for him to travel to places to promote his business.
As the saying goes, hard work does not go unnoticed. Mnisi is being noticed by the big shots for his great talent as a designer. In 2018, the young designer styled Beyonce during her visits to South Africa for the Global Citizen Concert. He has also partnered with many big fashion names and appeared on a handful of fashion top magazines and issues such as; Vogue, ELLE, Financial Times, Dazed and Confused, Mail and Guardian, Vogue Italia, High Snobiety, BBC, WWD, Hunger, and more.
Rich Mnisi has done well and is still doing well for himself through his business channels. Some sources pegged his net worth at $3 million while some others place his net worth somewhere between $700,000 and $1,500,000.
How Expensive Are Rich Mnisi's Designs?
Rich Mnisi designs are popular in South Africa and across its shores. They are generally known for their high-quality products that range from hats to shirts and tops of different colors, styles, and designs. Rich Mnisi is considered a fast-growing luxury brand, as it meets the standards required to be classified as such. It's relatively exclusive, expensive, and favored by several celebrities.
Rich Mnisi's products can be remarkably pricey, depending on what a buyer wants. If you want to check prices for Rich Mnisi, you can go to their website. Below, however, is the price list of their collections, which can also be found in their shops.
 The Antenna – R 2,399.00
Thunder – R 1,799.00
Animal Farm – R 3,199.00
The Pride Tote – R 5,999.00
Azania CSS.01 – R 31,999.00
Catty Bucket – R 1,299.00
My First Tattoo – R 999.00
2 types of Boys – R 3,799.00
Venomous eWallet – R 999.00
Azania CSS.03 – R 12,999.00
Veins of my City Trouser – R 3,799.00
Azania CSS.02 – R 19,199.00
Compass – R 2,099.00
Mother – R 2,899.00
A Bloody Bucket – R 1,299.00
In my bag – R 3,999.00
Veins of my City Tube – R 1,999.00
Frequency – R 1,899.00
The Witching Hour – R 12,999.00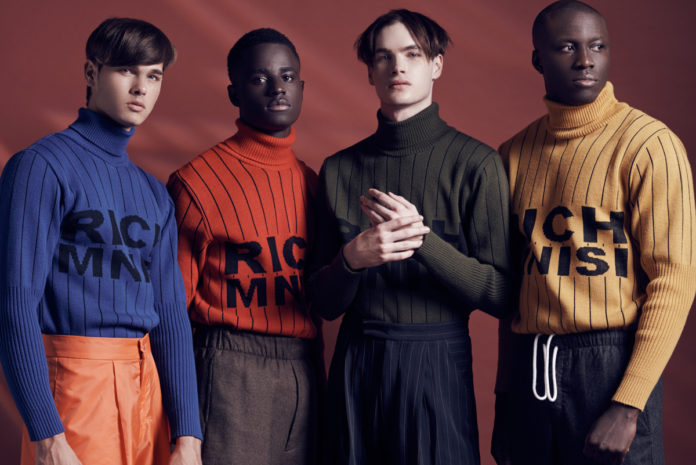 Veins of my City Pleated Skirt – R 3,199.00
The New Classic – R 1,999.00
Forces – R 1,799.00
Dlamini – R 1,299.00
On The Highway – R 1,199.00
2 Types of Girls – R 4,999.00
Tectonica – R 7,999.00
Rich's income from these designs contributes immensely to his net worth.
Rich Mnisi Has Since Branched Out
Rich Mnisi recently added face masks production to his fashion business. They started producing face masks after the outbreak of the novel coronavirus, popularly known as covid-9.
The South African young businessman also owns a furniture company which he named after his great-grandmother. He announced his partnership with Southern Guild in 2019, after which the group launched his new furniture pieces titled Nwa-Mulamula: Alkebulan.
He Keeps A Low-profile On His Personal Life
The Johannesburg-born fashion is a force to reckon with, as well as a voice within the local fashion scene. He also boasts an impressive net worth, which he gradually built over the years.
Unfortunately, little or nothing is known about his life outside the fashion world. There is no available information about his house, the cars he drives, or any expensive gadgets he owns.
In late 2020, news broke out that Mnisi teamed up with Volvo Car South Africa to design a special vehicle – the XC40. The Rich Mnisi customized car model was in celebration of Volvo's new #HiddenGem campaign.