Hlomla Dandala is undoubtedly one of South Africa's most loved actors, but his love life is nothing to be admired. Married and divorced twice, he has been at the center of cheating cases a couple of times, finding himself both as the victim and perpetrator at different times.
The Jacob's Cross actor was first married to Candy Litchfield for 9 years before it came to an end in a rather dramatic manner, even for a man in the world of make-belief. Next, he got married to Brendah Nyakudya, but the marriage came to an end in a similar manner. This time around, he was alleged to be at the receiving end.
Quick Profile Of Hlomla Dandala
Name: Hlomla Dandala
Date of birth: 22 September 1974
Age: 49 years old
Profession: Actor
Ex-Wives: Candy Litchfield, Brendah Nyakudya – Dandala
Kids: 5, including Ziyanda Dandala, Sam Dandala, and Tao Dandala
The First Marriage Of Hlomla Dandala Lasted 9 Years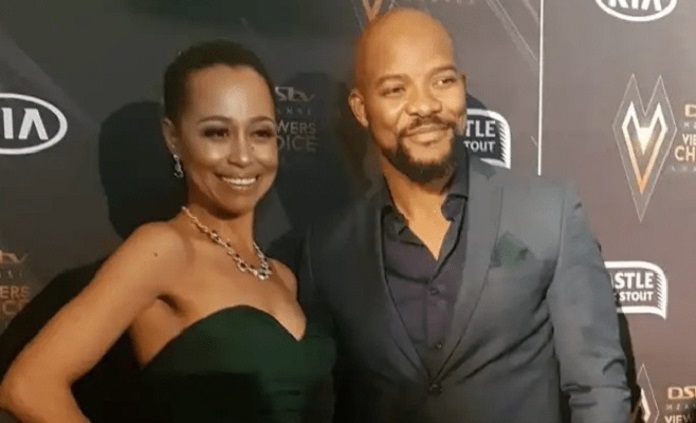 Without an iota of doubt, Hlomla Dandala is a good-looking man who has captured the attention of both men and women. The actor decided in 2001 that he would want to spend the rest of his life with Candy Litchfield, famous as Miss Candy, who is herself, a good-looking woman.
Former Miss Swaziland 1992, Candy also works as a TV presenter on Channel O from 1997 to 2003. Although how the two met has not been revealed, it is guessed that it was thanks to their works in the media. She would later continue working on e.TV as a presenter of Lotto from 2004 to 2006. At a point, she was also a presenter of the M-Net reality competition Idols in 2002.
While it is not known how the former beauty queen and the hunk actor met, it is also not known for how long they dated before they finally got married in December 2000. Initially, the marriage between the beautiful couple seems like one made in heaven and thought to last a very long time, but only a few years later, it emerged that there was trouble in their paradise.
It was later reported that the couple's problem was relating to cheating allegations against the actor, but they worked to fix the union. This was not to be as they finally decided to get a divorce in 2009. The former beauty queen was given custody of their child while they worked out a visitation plan for the actor.
The Marriage Came To An End Amid Cheating Allegations
As stated, when the news first broke that the couple's marriage was not going well, it was reported that the reason for the cracks was that Hlomla Dandala was cheating on his wife. However, after the divorce, the actor insisted that the marriage came to an end because, like all other divorces, he couldn't reach a common ground with his then-wife.
The actor was accused of having four kids with three different women while still with his wife. It was reported that the actor had a child with former Miss City Press, Nkele Motsomi, another child with air hostess Sisanda Gqirhana, and the last with magazine employee Brendah Nyakudya who will later become his wife.
Amid the cheating allegations, Dandala maintained that he did not cheat on his wife, claiming that they had not been together for six years before the official divorce, and in those years, she was not his wife. He insisted it meant he was free to follow other women, which he did.
His Second Marriage was with Brendah Dandala
When he was getting divorced from his first wife, the actor revealed that he was already seeing another woman he said was not only the light of his life but also a great mother to their kids. Although he refused to say her name initially, he stated that the kids were cool with her and even asked him if they could start calling her mum.
Although not much was known about the private life of Brendah before the actor came to be a part of it, it is known that she is a writer and a life coach. The second marriage of the actor did not last very long before it also followed a similar path as the first when it ended in 2019.
According to reports, the marriage cracks had already started showing since 2018 when they first parted ways but decided to come back and try working on the marriage, but this did not work out well. So she allegedly asked him to pack out in August 2019.
The Divorce Was Also Linked To Cheating Allegations
It looks like Finally chiskop has won his girl. I guess Brenda Nyakudya & Hlomla Dandala are supposedly going through with the divorce. pic.twitter.com/CJXaZx29oR

— Man's NOT Barry Roux  (@AdvoBarryRoux) November 22, 2019
The actor took to his Instagram to take a bash at his then-wife, accusing her of having an affair with someone else. In the social media outburst, the actor asked what was meant to happen if a stranger came into one's home and had an intimate affair with one's wife while one's kids were still at home, knowing you were the husband, before going on to publicize such photos on social media.
Next, he made another post asking what happens if someone comes into one's home and shares your bed with your wife. Hlomla Dandala targeted the question at someone with the handle, @chiskop. He accused the man of taking his wife on a holiday one weekend, leaving his sick daughter. The actor also took the pain of posting the picture of his estranged wife, Brendah Nyakudya-Dandala, and the man she cheated on him with, who Tweeps decided to call Jan Van Riebeek.
Rather than sympathy, many attacked him, asking for the motive behind sharing his plight on social media after being accused of cheating on his first wife, costing him the marriage. Some alleged the actor was not telling the real truth behind what happened as they were already living separate lives before Brendah had the alleged affair. The truth behind the claims and counterclaims remain with the couple.
Hlomla Dandala Is A Father To Five Children
Dandala has been so much of a busy man through the years when it comes to having kids. The actor is a father of 5 children with four different women. It is easy for people to question his loyalty to the different women in his life, including his first wife, but hardly can anyone question his loyalty to his kids.
His kids are spread between his first wife, Candy, his second wife, Brendah, as well as Nkele Motsomi and Sisanda Gqirhana. The kids' names have not been made public except for three; Ziyanda Dandala, whose mother is Candy, Sam Dandala, and Tao Dandala.
He has a blog where he documents his journey as a father to all his kids, having them all under the same roof. However, he has not posted on the platform for a while now. According to him, it doesn't matter what happens between him and the mother of all his kids, and it wasn't going to affect his relationship with his children.
Is He Trying To Get Back To His First Wife?
Since his second marriage came to an end, there have been no reports about him starting any relationship with anyone else at the moment. However, he left everyone second-guessing his real intentions when he celebrated what would have been his 20th wedding anniversary had he remained with his first wife, Cindy.
After sharing a photo of their marriage with the caption, "Today, 20years ago," many were left confused, wondering if he was trying to start a path that would lead him back to his first wife. Although there were those, including colleagues and friends, that congratulated him, others that attacked him.
The actor did not reply to those who asked if they were back together, leaving everyone to keep guessing.