Manaka Ranaka (born 6 April 1979) is a renowned South African actress, TV Personality, and a singer who is famous for her role in one of South Africa's top soap opera "Generations".
In the series, she portrays the role of Lucy Diale, the mother of Namhla Diale. Having started her career in the year 1999, the actress has been active in the SA entertainment industry for over two decades and counting. She can also be remembered for her roles in other notable movies like Isidingo, Rythym City, and Stokvel, etc.
Although she has become a household name in the South African entertainment industry, Ranaka Manaka hasn't shared much about herself. As a result, fans have been itching to know more about their favorite screen star. That said, we have gathered all the interesting facts you need to know about Ranaka below.
Who is Ranaka Manaka and How Old is She?
Manaka was born on April 6, 1979, with the birth sign, Aries. She was raised in Soweto, Johannesburg in the Gauteng province of South Africa. While nothing much is known about her parents, we do know that Ranaka grew up along with four siblings; two sisters – Dineo and Mpumi Ranaka, as well as two brothers – Ranaka Ranaka and Mzingisi Ranaka.
Ranaka graduated from Dinwiddie High School, situated at Germiston, Gauteng, South Africa. There is no much info regarding her university education, including when she graduated and the certificate she obtained. During her high school days, Ranaka participated in several plays and dramas. She appeared in plays such as Drumstruck, Torong, and On My Birthday.
Ranaka's Career and What She is Known For
Soon after she completed her education, Ranaka Manaka kicked off her acting career at the turn of the millennium. Her first film appearance was in Isidingo, the SABC3 soap opera where she portrayed the role of Nandipha. However, she left the show when she discovered she was pregnant. In 2002, she was seen in SABC1's drama, Gaz'lam. There, she played the recurring role of Portia from 2002 to 2005.
In 2003, she joined the cast of the SABC2 sitcom, Stokvel, where she played the role of Loreta Khumalo. Ranaka appeared in all eight seasons of the show until it ended in 2012. She also starred as Nozuko in the SABC1 TV drama series Tshisa from 2006 to 2009. In 2007, she was seen in Home Affairs and later in the same year, she starred in Society, playing the role of Ayanda from 2007 to 2010. Following her exceptional performances, Manaka won the Golden Horn for Best Actress in a TV Comedy at the 2007 SAFTAs.
Recently, Ranaka Manaka was seen playing the role of Zanele Kgaditse in e.tv's soap opera Rhythm City in 2012. Thereafter, she featured in Dineo's Diary: Mogul in the Making (from 2012-2014). In 2013, she played Buhle Cele in the soap opera Zabalaza. The following year, she joined the cast of Generations, where she has been playing the role of Lucy Diale to date.
Her Family Life, Husband, and Kids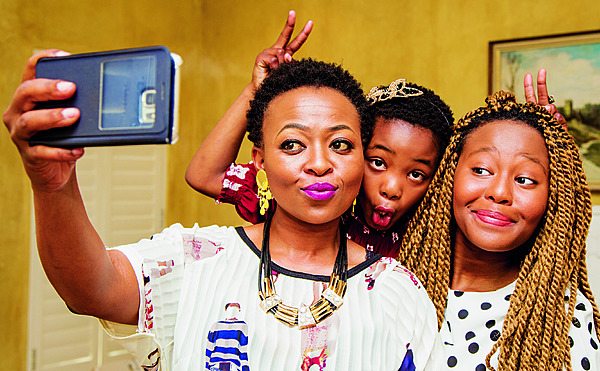 The outstanding actress has been dating Thabo Monareng for a long time and both might as well be regarded as a couple. According to her, Monareng is one guy she doesn't want to give up on. Although Manaka has not been officially married, she is a mother of two daughters, Kagiso and Lesedi, born of two different fathers.
During an interview, the actress said she has no qualms raising her kids as a single mom, thanks to a "wonderful support system". She also disclosed that her absent baby daddies are never a fussy topic between her and her daughters. It might seem awkward to learn that Manaka is willing to escort her daughters to the club when they become adults, but the cool mom said she wants them to experience it first with her.
Is Ranaka Manaka Dead or Alive?
The actress got involved in a fatal accident on December 4, 2015. Although she survived the accident, her car knocked down and killed an 18-year-old schoolgirl, Milicent Mbonani. Speaking out for the first time after the accident, the actress said the tragic incident was her most painful experience. According to her, "It was so painful watching another woman crying because her child was lying on the ground dead. I wanted to comfort her, but I knew I couldn't."
Manaka said she later learned the girl, Millicent was one of her biggest fans and had pictures of the 'Generation' actress on her phone. She said, "I couldn't help but think that I accidentally killed somebody who loved me." She added that one day she hoped to be able to comfort the girl's family like she so wanted to on the night of the accident. In her statement, Manaka said she needed to give the family some space and not be a constant reminder. "I just want to be there for them," she said.
Other Facts You Didn't Know About Ranaka Manaka
1. Ranaka Manaka revealed during one of her interviews that she hates wearing underwire bras because makes her uncomfortable and admitted taking them off in public if they start to irritate her.
2. She received several hate tweets from fans when she took on the role of Lucy in the soapie, 'Generation.'
3. While people had once questioned her sexuality due to her tomboy nature, Manaka said she is definitely not a lesbian. The actress said she "chilled with guys for such a long time that even when a girl with a nice body walked by, she "would appreciate it."
4. She revealed that at some point in her life she kissed girls to test her sexuality, but didn't like the experience.
5. The single mother of two was also a rebellious teenager who was often involved in fights, but that changed when she entered the entertainment industry.
6. Ranaka Manaka is so inspired by her parents who's been married for forty years and so, even without marriage experience, she feels completely prepared to find love; someone she can share the rest of her life with.