Rain South Africa provides 4G and 5G data deals, packages, and plans. The data plan a user subscribes to will depend on the type of Rain SIM card they have. Rain is the first network provider to launch 5G in South Africa, and as a result of their fast network services, many South Africans are now using Rain for data. 4G was fast, but 5G is faster, and no one wants to snooze on it.
As a Rain subscriber, the type of data package or plan you buy should depend on your data needs. Thankfully, rain has many data deals to accommodate different types of users. For those who can measure the amount of data they need per month, there are limited packages, and for heavy data users, there are unlimited data packages.
Rain Data Packages
With Rain unlimited data packages, users have access to unlimited data without having to sign contract deals. They offer three packages for 5G and three packages for 4G/4G LTE. Please note that you must have a 5G-enabled Rain SIM and device to be able to enjoy the fast internet access that comes with using 5G.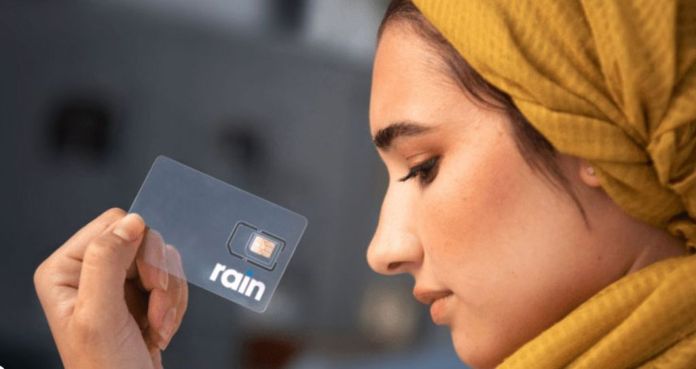 The different data plans come at different prices and have different pros and cons. It is important that you understand all of the advantages and disadvantages of each plan before subscribing to the plan that suits your needs and preferences. Here are the different rain data packages that you can choose from.
Rain 5G Data Packages
Rain prides itself on being the first 5G network provider. The network launched its 5G operations in September 2019. MTN and Vodacom also offer a 5G internet connection, but Rain still prides itself on being the best.
All Rain 5G data packages and offers are unlimited and are contract-free. So you don't have to sign any contract, subscribe to it, and enjoy unlimited data supply.
Unlimited Home 5G Basic – R499
This is the cheapest and most affordable Rain 5G data plan. And it comes with a free router, and you also don't have to pay any extra delivery fee. Here are some of the other benefits that come with this package:
25 Mbps download speed
HD video streaming (720p)
Unlimited home WiFi
Plug and play
25 Mbps download speed may seem fast, but it is not as fast as other Rain 5G packages. So if you want faster internet access, this may not be your preferred choice.
Also, if you like to stream with better quality, you may want to consider other 5G plans. However, if this is what you can afford, then that's fine, seeing that it is faster than 4G. Please note that this plan is valid for a month.
Unlimited Home 5G Standard – R699
This plan is more expensive than the basic plan but may be worth it, seeing that it has more pros than the Basic plan discussed above. This offer comes with free delivery and a free 5G indoor router. It also doesn't require signing any contract. Here are the other benefits of this plan:
50 Mbps download speed
Unlimited home WiFi
Full HD video streaming (1080p)
Simple plug and play
Optimized for rain network only.
This plan is faster for downloading and better for streaming with better quality. However, it is more expensive. You will have to renew your subscription monthly.
Unlimited Home 5G Premium – R999
This is Rain's most expensive 5G data package. Like other plans, it comes with a free-to-use 5G router that is simple to use, free delivery, and no contract. But, this is what makes this plan the most expensive:
Ultra-fast 5G download speed
Multiple HD streams
Full HD streaming
Unlimited home WiFi
If 50 Mph download speed is too slow for you, then Rain's ultra-fast 5G download speed should do it for you. Like other plans, this plan is valid for a month, after which you will have to renew.
Rain 4G Data Packages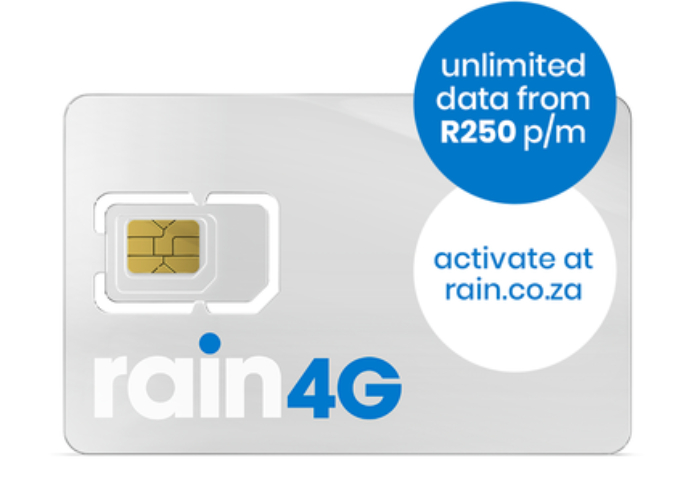 5G may be faster, but 4G is fast as well, and if what you have is a 4G enabling device and SIM card, then buying any of the Rain 4G data packages will be a great idea. These packages come at different prices and offer. They are cheaper than 5G offers and do not come with a free router.  Here they are:
Unlimited 4G for any device – R479
This is the most expensive 4G data plan from Rain. The offers that come with it are not as good as the 5G basic plan, but considering that it is 4G and less expensive, it is arguably worth the price. Here are the offers that come with this plan:
Unlimited data
Download speed of 10Mbps
It can be used on any 4G enabling device
The major con of this package is that you can only stream videos at 360p. Not everyone likes to watch videos using one of the lowest resolutions. However, if you don't mind, then this package may be perfect for you.
Unlimited 4G for Phones – R299
This is one of the lowest data plans from Rain. It is best for those who wish to use their data for one device only and have no plans for hot-spotting others. Here are the offers this package comes with:
Unlimited data
360p streaming
Allows Data call only
This data plan will not be a good idea if you intend to hotspot from your personal computer with your phone. However, you should enjoy a fast internet connection.
19 Hours Unlimited off-peak for any device – R250
The speed and video quality that Subscribers of this plan will be able to use will depend on network load and ain's network management policy. Here are the offers that come with this package:
Daily 19 hours of unlimited off-peak data
Off-peak (11 pm – 6 pm the next day)
R50 per gig during peak periods which is from 6 pm – 11 pm
This package is a great idea if you don't need unlimited data for 24 hrs every day.
Rain Unlimited Data Packages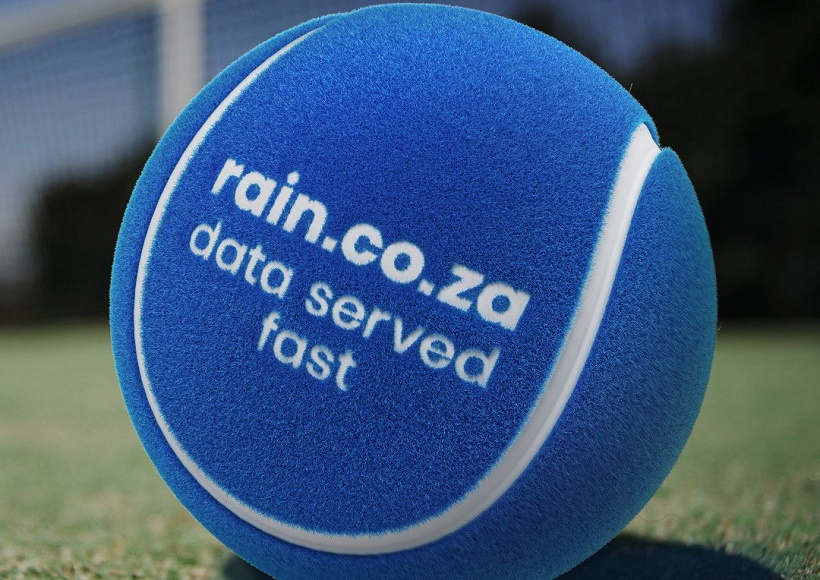 Practically all of Rain's data packages are unlimited. Here is a rundown of all the packages
5G Unlimited packages
Unlimited home 5G basic
Unlimited home 5G standard
Unlimited home 5G premium
4G Unlimited Packages
Unlimited 4G for any device
Unlimited 4G for any device
19 hours unlimited off-peak for any device
Rain Data Prices
Rain Data Packages range from R250 to R479 for 4G data and R499 to R999 for 5G. Here is a breakdown of all the packages and their prices
Package
Price
5G
Unlimited home 5G basic
R499
Unlimited home 5G standard
R699
Unlimited home 5G premium
R999
4G
Unlimited 4G for any device
R479
Unlimited 4G for any device
R299
19 hours unlimited off-peak for any device
R250
How To Buy Rain Data Packages
To buy any of the Rain Data packages, you would first need to buy a Rain SIM card. You purchase this SIM card on the official rain website, Mr. D Food, or Takealot. You can also choose whether you want to pick up the SIM card from a click store or you want it delivered to your doorstep.
After purchasing a SIM card, here is how to choose a data plan:
Visit the official rain website
Click on the menu bar
Click on activate SIM
Create an account
Choose a plan and verify your SIM
Register payment details
RICA
You can now enjoy unlimited data and special offers depending on your plan and the SIM card you bought.
How To Upgrade Rain Data Plan
You don't necessarily have to continue with the data plan you choose when activating your SIM. Here is how to upgrade or downgrade your data plan:
Sign in to your my rain account
Click on manage
Select the plan you wish to switch to
Follow the prompts to complete the process
You will receive an email to tell you whether or not it was successful