Qiniso Van Damme is the daughter of Dr. Lynette Sibongile Masuku and Hugo Van Damme, and she has two siblings. She is currently dating a fellow Bachelorette reality star named Garez Ehret whom she met on the show and ended up choosing over all the men she came across.
Reality TV shows are one of the numerous platforms people become overnight sensations. Through shows like Bachelorette SA, a lot of people made their dreams come true and also won the hearts of viewers through their personalities and behavior. Qiniso Van Damme was not known in the public space until she stormed the show and warmed her way into the hearts of Bachelorette SA viewers.
Right now, she is a household name and someone who commands a great deal of respect and admiration everywhere she is seen. It took Damme more than hard work to get to the top of the game; she invested her best and also made the right decisions.
Summary of Qiniso Van Damme's Profile
Full name: Qiniso Van Damme
Gender: Female
Date of birth: May 25, 1993
Qiniso Van Damme's Age: 73 years old
Nationality: South African
Zodiac Sign: Gemini
Sexual Orientation: Straight
Religion: Christianity
Marital Status: Dating
Qiniso Van Damme's Boyfriend: Garez Ehret
Qiniso Van Damme's Parents: Dr. Lynette Sibongile Masuku and Hugo Van Damme
Siblings: Phumzile Van Damme (sister)
Qiniso Van Damme's Height in Inches: 5 feet 11 inches
Qiniso Van Damme's Height in Centimetres: 180cm
Famous for: Appearing on The Bachelorette SA
Qiniso Van Damme's Instagram: @qinisovandamme
Twitter: @qinisovandamme
Facebook: Qiniso Van Damme
Qiniso Van Damme Was Born And Raised In South Africa
Qiniso Van Damme was actually born in Cape Town, South Africa on May 25, 1993. She is the daughter of Dr. Lynette Sibongile Masuku and Hugo Van Damme. She was raised together with her siblings in her place of birth and also completed her basic educational levels in South Africa.
Currently, she is doing her Master's program at the University of Cape Town. She is studying Anthropology and also holds a degree in Social Science. Qiniso is a model and talented actress, It is not known exactly when she launched both careers but we can confirm that she models for a Cape Town and Johannesburg agency called My Friend Ned. The agency basically scouts for new and untapped talent from the streets.
The anthropologist was with the agency before she became famous. As an actress, she hasn't done much work but hopes are high that she would definitely bring her acting talent to bear in top projects in the industry in no distant time.
She Became A Media Sensation Through The Show Bachelorette SA
Qiniso's first attempt to find love on television failed after things didn't work out between her and Marc Buckner in The Bachelor SA. She would learn some lessons and also get herself more prepared to find a decent man when another opportunity comes. The opportunity eventually came when she made it to the Bachelorette SA.
The reality show provided her a platform to meet men of various personalities and also gain an overwhelming fan base. Qiinso was shown great support and she kept viewers glued to the TV throughout the shooting of the program.
The Capetonian, at the final Rose Ceremony, had to make the hardest decision of her life as she had to choose between two men – cricketer Henk (Swazi) and Gareth "Gaz" Ehret whom she found suitable and loving on the show.
In the long run, Qiniton chose Gaz, a handsome South African youth with loads of potential. The model's popularity has continued to balloon since her appearance on the show and eventual emergence as South Africa's first Bachelorette.
For her, it's such a great feeling to know that she is loved and deeply cared for by many people. She said she would forever be grateful for her love journey and all the moments she passed through to get to this point in her life.
She Was Born Into A Reputable Family
Damme is blessed with a wonderful family who continually shows her love in everything she does. In fact, she considers herself blessed to be surrounded by them as they have proved to be a huge blessing to her right from day one.
The Bachelorette SA star has a sister and a brother. Her parents are Hugo Van Damme and Dr Lynette Sibongile Masuku, as mentioned earlier. Unfortunately, information about her brother is difficult to come by – the year, date, the city he was born, as well as his educational qualifications, occupation, and whereabouts, are not open to public scrutiny.
Hugo Van Damme
Not much is known about Qiniso's biological father. However, reports have it that he is Belgian with both Swazi and Zulu heritage. Hugo adopted Qiniso's sister (Phumzile) after she lost her father. From that time, he has continued to show her great love and care.
Qiniso's dad is not popularly known within the public space. This explains why information about his occupation, personal life, and whereabouts, is scarce.
Dr Lynette Sibongile Masuku
Sibongile is the mother of Qiniso. She was married to a high school teacher called Elroy Mayisela until his death. The particular year she met and subsequently got married to Hugo is not known to the public.
Masuku moved in with her daughter Phumzile into her new home after her second marriage. She has successfully managed to run her home peacefully without any sort of scandal.
She is one woman who has gone the extra mile to see that her daughters are as successful. She is their greatest supporter and a huge inspiration to them, including in their journey to stardom.
Dr. Lynette currently lectures at Sol Plaatjie University. She basically teaches students Heritage Studies.
Phumzile Van Damme
The most famous of the Damme family, Phumzile was born on July 20, 1983, in Manzini, Swaziland to Elroy Mayisela and Dr. Lynette Sibongile Masuku. She currently works as a consultant on Misinformation, Communications Strategy, and Digital Rights following her exit from the political world.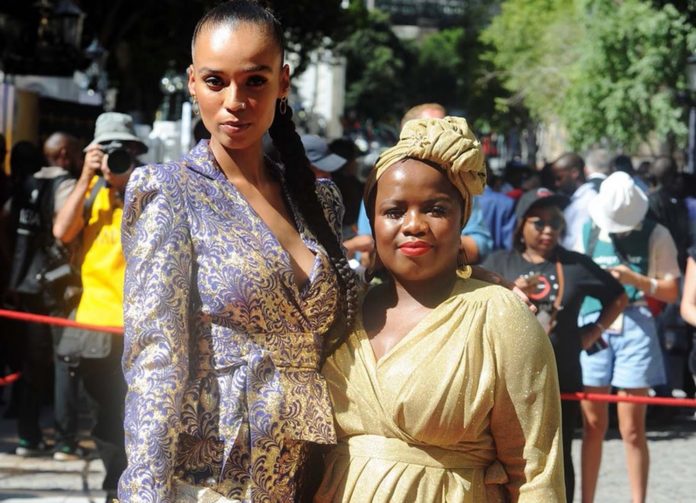 Damme was the youngest when she was elected into the Parliament of South Africa in the year 2014. She served under the opposition party, the Democratic Alliance (DA). She resigned as a DA member of the National Assembly on May 21, 2021.
Before then, she served as National Assembly Whip from 30 May 2019  to 20 May 2021, as the National Spokesperson of the Democratic Alliance from May 6 2014 to 14 February 2018, and as Shadow Minister of Communications from October 3, 2015, to 5 December 2020.
'She leaves with a great track record' – SA weighs in on Phumzile Van Damme's DA resignation https://t.co/NyqpB8sSW3

— Phumzile Van Damme (@zilevandamme) May 21, 2021
The former MP literally looks out for Qiniso as an older sister would. They share a special kind of bond and are best of friends. Both siblings are successful in their own rights – Phumzile is respected and more popular within the political world while Qiniso is easily recognized in the entertainment industry.
Qiniso Is Currently In A Relationship With A Show Mate Gaz
Qiniso Van Damme is dating a fellow Bachelorette reality star called Garez Ehret. The two met on the show and she ended up choosing him over all the men she came across the show. At some point on the show, she had to choose between Gareth and cricketer Henk.
After taking her on a date and also got a chance to meet her family, they seemed to have liked Henk but decided to allow Qiniso to make her choice between the two men herself. The model, in the long run, told Henk that she can't be with him even though he was one of those she admired.
Qiniso ended up giving the rose to Gareth at the final rose ceremony while he in return gave her a Jack Friedman ring as a symbol of his love. The actress shared that she knew from the onset that Ehret was the right man for her but that she wasn't so sure.
The lovebirds have continued to love each other the more since the show came to an end. At first, they kept their relationship away from the public because they weren't allowed to be seen in public immediately after the show. Right now, the actress and her fiance have made their relationship public and have been to several places together.
The duo is doing great and has been hanging out with each other's families. Their fans are hopeful that they would announce plans for their big day anytime soon.
Who Is Gareth Gaz Ehret?
He is a South African digital marketer best known for appearing on the South African reality TV show, the Bachelorette SA. Ehret is currently in a flourishing relationship with Qiniso Van Damme, whom he met on the show.
Further information about his background and personal life is not available for public consumption right now.
Does Qiniso Van Damme Have A Baby?
No. Speculations about the actress having a baby spread across several platforms online after she was seen with a baby bump. The actress has however come out to address the rumor. The baby bump was from a movie she starred in and it was made with silicone.
Qiniso hasn't given birth to a child in the past neither is she pregnant at the time of writing.