Prophet Walter Magaya is a popular Zimbabwean religious leader who is best known as the founder and senior pastor of Prophetic Healing Deliverance Ministries (P.H.D). 
Prophet Magaya is one of the young and flashy religious leaders in Zimbabwe to have gained prominence during the country's economic crisis. He has been able to attract a huge number of followers thanks to his promises of miracle healing and miracle money – a situation where money finds its way into the pockets of those present at church. Here is a look at the life of the prophet, including details about his ministry, family, and a few other facts.
Summary of Prophet Magaya's Biography
Full name: Walter Magaya
Nickname: Prophet Magaya
Gender: Male
Date of birth: 6th November, 1983
Prophet Magaya'sAge:40 years old
Ethnicity: Black
Nationality: Zimbabwean
Zodiac Sign: Gemini
Sexual Orientation: Straight
Religion: Christianity
Marital Status: Married
Prophet Magaya's Wife: Tendai Katsiga-Magaya
Prophet Magaya'sChildren: Walter Jnr. and Yadah Makanaka
Prophet Magaya's Instagram: Prophet Walter Magaya
Who is Prophet Magaya?
The prophet was born Walter Magaya on the 6th of November, 1983 in the district of Mhondoro-Ngezi, Mashonaland West Province, Zimbabwe. He was, however, reportedly raised in Chitungwiza, some kilometers away from Harare.
According to reports, Prophet Magaya was originally a member of the Catholic church. He belonged to the denomination's Charismatic group known as Blood of the Lamb Christian Community (BLCC) but, however, left after many years to form his own ministry.
He started his ministry in 2012 and has since then launched a number of other businesses. Along with his church, which owns a TV channel – Yadah TV – where videos of his sermons and miracles are broadcasted, Magaya owns a construction company called Planet Africa.
Like almost every other thing associated with the man, the construction company seems to be constantly embroiled in controversy. It has been alleged by the Zimbabwean press that Planet Africa has received undue favors as a result of an improper relationship between the prophet and the Minister of Local Government, Public Works, and National Housing, Saviour Kasukuwere. In July 2016, Minister Kasukuwere was accused of giving land which had been reserved for Zanu-PF youths to Planet Africa as a result of their aforementioned relationship.
What is His Relationship with T. B. Joshua
Prophet W. Magaya, Yadah Tv Partners and PHD Ministries wishes and say, "Happy Birthday Grand-Pa Prophet T.B Joshua " pic.twitter.com/egJo8PgtX2

— Prophet Walter Magaya (@prophetw_magaya) June 12, 2020
Prophet Magaya founded his own ministry following a visit to Nigeria and a life-changing encounter with the founder of The Synagogue Church of all Nations (SCOAN), T.B Joshua. As the story goes, Magaya was anointed by the Nigerian pastor who blessed him with the God-given mandate of starting his own church back home and winning souls. This is exactly what the prophet ended up doing as he founded Prophetic Healing Deliverance Ministries and quickly became a force to reckon with in his country.
Upon his return, Prophet Magaya gained so much attention as he began performing miracles and making prophecies. The first notable miracle he performed was on a blind man identified as Mr. Nyandoro, who had been blind for about 3 years. After the prophet prayed and restored his sight, Magaya began attracting thousands of people from in and outside of Zimbabwe.
On the 7th of November 2014, he set the record for having the largest congregation in the history of Zimbabwe when over 350,000 people were in attendance for an all-night prayer session themed "Night of Turnaround 3: All Night Prayer".
Another incident that brought him so much attention was when he supposedly converted popular Zimbabwean pole dancer Beverly Sanda, something that many people, including Bev's manager and her rival and fellow pole dancer Zoey, believed to be a stunt.
To convert her, Magaya promised to open a business for her and in March 2014, P.H.D Ministries opened a clothing store for the pole dancer. Many criticized this move by the prophet, calling it a marketing strategy. Since that time, however, many celebrities and politicians in the country have found themselves attending the church.
Details of His Family
Prophet Magaya resides in the Zimbabwean capital city of Harare with his wife, Tendai Katsiga-Magaya, who is said to be a banker by profession. She is popularly known as 'Mama Magaya' and prophetess because like her husband, Tendai also preaches the word of God.
Together, the couple has two children; sons Walter Jnr. and Yadah Makanaka. Not much is known about the boys and it is not clear if they would be following in the footsteps of their father.
See Also: South African Pastors and 10 Times They Did Very Crazy Things
Other Facts about Prophet Magaya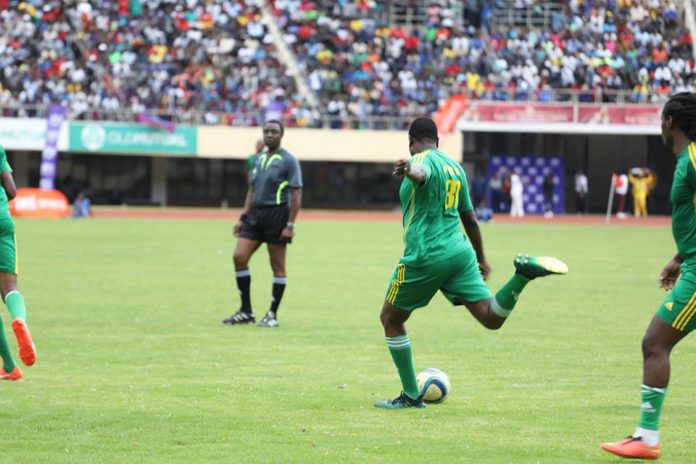 1. The prophet is an avid soccer fan, having played in his younger years. On the 13th of May, 2015, when Zimbabwe's football organization failed to raise sufficient funds to pay for the national soccer team to travel to South Africa for the Council of Southern Africa Football Associations (COSAFA) games, Magaya donated $56,000 to the team. He also prayed for them at his church as well. He has since that time continued to sponsor the side whenever they were in need.
2. Prophet Magaya has claimed to have a herbal cure for HIV. This claim and his attempt to sell the drug earned him a trip to the courthouse as he was charged for contravening the Medicines Control Act by selling an unapproved drug. Another questionable item being sold by the prophet is a lipstick he claimed could improve blood pressure.