The job of a pilot ranks among the most distinguished and respected careers in South Africa and fortunately, it is also a well-remunerated role. The country's aviation industry has grown from strength to strength and contributes billions of dollars to the economy each year. It also provides tens of thousands of jobs and now attracts an avalanche of international airlines, in addition to the local ones. This fact means that there is a veritable career opportunity for people who aspire to be pilots and they also stand to make impressive money.
While South African pilots may not earn enough to dethrone the likes of Jeff Bezos as the richest man in the world, they will certainly earn a paycheck that will leave them, and perhaps their family, quite well-off in their active days, as well as their retirement. Bear in mind though that the salary that one will earn as a pilot differs due to a wide range of reasons, including years of experience, the type of aircraft one flies, and the industry they find themselves in. It is guaranteed though that once you gain experience in the career, you will end up in the topmost echelons.
Requirements to Become a Pilot in South Africa
Student Pilot License and Private Pilot License
Believe it or not, you do not need a university degree to study to be a pilot. In fact, some flight training schools do not even insist that you must have a matric to join. You are however required to go through many hours of flight training and theoretical study. The first step towards that training and theoretical study is to clock the age of 16. If you are a foreigner, that age requirement goes up to 18. Once you satisfy this requirement, the next step is to scout out the flying school (also known as Approved Training Organization) that is suitable for you.
When you register with the institution, they will help you apply for your student pilot license (SPL). To be granted this license, you must provide a certificate of identity, as well as a valid class 1 or class 2 medical certificate. Of course, it goes without saying that you must have fulfilled the minimum age requirement. Once you have your Student Pilot License in the bag, you can now start training towards your first pilot license known as the Private Pilot License. If you scale that hurdle, then the next step is to start working towards a Commercial Pilot License.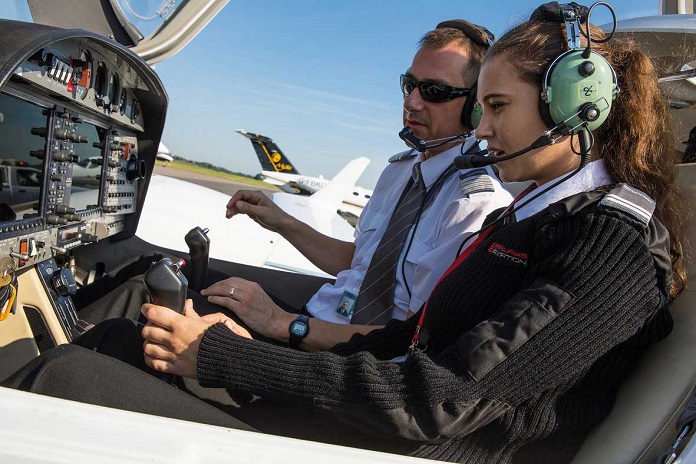 Commercial Pilot License and Airline Transport Pilot License
A CPL requires 200 hours of flight time. You will also be required to understudy and pass courses such as air law, general radio, instruments, general navigation, meteorology, human performance, and aircraft technical and general. Other requirements to obtain a CPL include night rating, general radio license, and class 1 medical certificate. Once you get your CPL, you can now pilot an aircraft and be remunerated for your work. You can also start working towards your Airline Transport Pilot License (ATPL), the highest license in civil aviation.
To apply for the ATPL, you must be at least 21 years old, hold a Class 1 medical certificate, hold a General Radio Telephony certificate, and hold a valid CPL. You are also required to have completed, within the previous 60 months, a multi-crew cooperation course at an approved ATO. It is also important to complete the SACAA ATPL theory examinations, covering a wide range of relevant subjects. Flight training of up to 1500 hours is also required. This includes 500 hours as PICUS (Pilot-in-Command Under Supervision), 200 hours of cross-country flight time, of which 100 hours may be as co-pilot or PICUS, 75 hours of instrument time, and 100 hours of night flight time as PIC or co-pilot.
Our pilots are some of the best trained in the industry. #FLYSAA pic.twitter.com/mCOCLLIOLL

— SouthAfricanAirways (@flySAA_US) June 28, 2018
How Much Do Pilots Earn in South Africa?
The average salary of a pilot in South Africa is pegged at R579, 562 per annum. A breakdown of this figure shows that pilots at the early stage of their careers, that is 1 – 4 years, earn the lowest at R511, 343 per annum. This includes their tips, bonuses, and overtime pay. By the time a pilot accumulates 5 to 9 years in his career, his average annual compensation will climb by about 7% to settle at R555, 000. An experienced airline pilot, copilot, or flight engineer (payscale) with 10 to 19 years of experience will earn about R850, 000 in total annual compensation. By the time such a pilot now makes it to about 20 years and above in the industry, he or she can easily pocket R1.25 million rand as his annual compensation.
Going by the above, it is obvious that seniority is one key factor in a pilot's compensation. Another factor that can influence a pilot's salary is the versatility of experience. A pilot who has flown different types of aircraft is more likely to receive a better offer than one whose flying experience is limited in scope. A commercial pilot's salary can also depend on the industry he works in as some industries pay better than others. For instance, pilots who work for cargo companies typically make more than their counterparts who fly passengers. Different industries such as medical transport services and private charter services also have their varying pay scale.
Another thing that can affect a pilot's salary is the type of aircraft they fly. The rule of thumb is that the larger the aircraft, the higher the yearly salary. Senior and experienced pilots typically get the choice of what aircraft to fly, meaning that they stand to make more money. Finally, the aviation industry values seniority and consistency and as such, the longer the years you spend with a particular airline, the higher the pay they will give you. That pay may even end up being higher than someone who has more years in the industry but only joined that particular airline recently.
Honoring all the amazing women on this National Women's Day!

Keep your dreams big and aspirations high 🙌#flysafair #womensday #womensday2021 #womeninaviation #southafrica #fortheloveofflying pic.twitter.com/oAUZodhZDC

— FlySafair (@FlySafair) August 9, 2021
Airlines With the Highest Pilot's Salary in South Africa
Domestic Airlines
South African Express: R521k to R2m est. (range), R1.03m (average)
British Airways: R330k to R2m est. (range), R734, 619 (average)
Airlink: R240k to R1m est. (range), R602, 615 (average)
Comair: R195k to R2m (range), R568, 265 (average)
FlySafair: R190k to R1m est. (range), R500, 339 (average)
Safair: R190K to R580K est. (range), R500, 339 (average)
South African Airways: R129k to R2m est. (range), R498, 765 (average)
Mango Airlines: R141k to R1m est. (range), R444, 695 (average)
International Airlines
Delta Airlines: $54,017 to $526,312
Qatar Airways: $173,975 to $187,844
Qantas Airlines: $52,455 to $102,813
Virgin Atlantic Airways Ltd: $45,500 to $79800
Turkish Airlines: $9206
Thai Airways: $4870 to $7397