It was a shocking experience for the fashion world when iconic designer Gianni Versace was gunned down in front of his estate in July 1997.
Versace was assassinated by a gun-wielding serial killer Andrew Cunanan who also murdered some other personalities. Subsequently, the shocking assassination of the renowned fashion designer gets to be recreated for the American Crime Story series.
Filming for Versace: American Crime Story is underway on location at the same Miami Beach mansion where Versace was shot.
On the set of the anthological series, Edgar Ramirez completely transformed into Gianni Versace for the role. Edgar stars as the season's ceremonial character and his resemblance to Versace is very striking. Ricky Martin will star as Versace's longtime partner Antonio D'Amico.
In a disturbing scene, actor Darren Criss was pictured on Tuesday, wielding a gun as the serial killer Andrew Cunanan. The picture shows the moment he gunned down the fashion icon. The scene was recreated on the actual steps of the mansion where the lifeless body of Versace was found 20 years ago.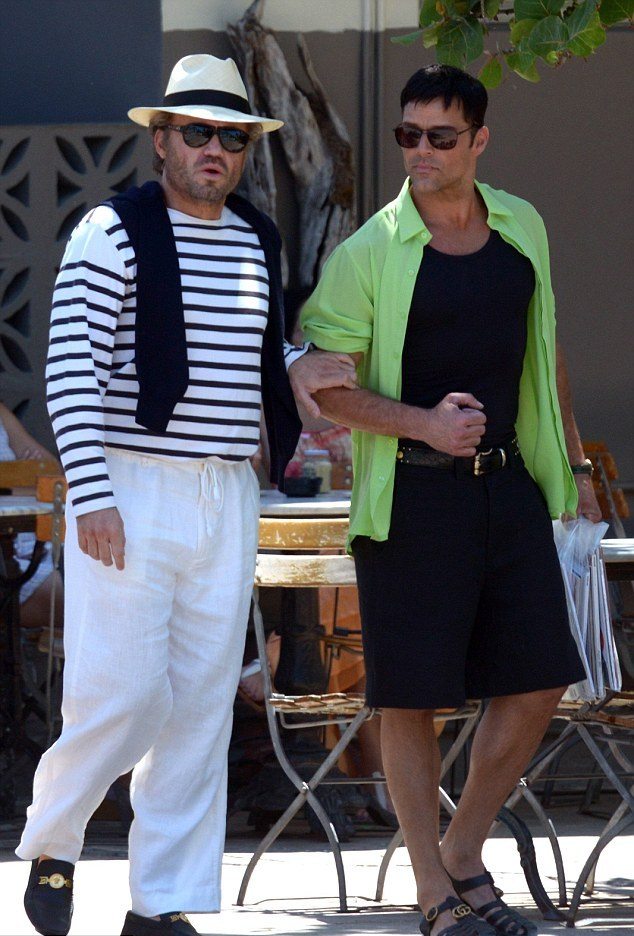 Other cast members include Penelope Cruz who will play Versace's sister Donatella Versace and Max Greenfield whose role has not been revealed yet.
The 10-episode season of the series will perhaps, track the three-month killing spree leading up to Versace's murder on the steps of his home.
Subsequently, it is expected to conclude with Cunanan's suicide in Miami in July 1997, eight days after murdering Versace.
Cunanan reportedly shot himself in the right temple in the upstairs bedroom of a Miami houseboat. He used the same gun he used in killing some of his victims including Versace.
Gianni Versace Brief Bio, Age
Giovanni Versace was born on December 2, 1946, in Reggio Calabria, Italy, to an Italian father and a dressmaker mother Francesca Versace. He had three siblings – Santo Versace (his elder brother) Donatella Versace (his younger sister). He had an older sister, Tina Versace, who passed away as a result of an improperly treated tetanus infection.
Versace attended Liceo Classico Tommaso Campanella, where he majored in Latin and ancient Greek, without completing the course.
Growing up, he loved fashion. He would later begin his apprenticeship at his mother's sewing business. At age 26, he moved to Milan to work in fashion design.
In 1973, he launched the designer of "Byblos", a successful Genny's youthful line. Versace later launched another experimental line for Genny, called "Complice" in 1977.
Inspired and encouraged by his previous success, Versace went on to unveil his first signature collection for women at the Palazzo della Permanente Art Museum of Milan.
Quick Facts about the iconic designer
Openly gay Gianni Versace was very close to so many celebrities including, Eric Clapton, Diana, Princess of Wales, Naomi Campbell, Duran Duran, Madonna, Elton John, Cher, Sting, and many others.
The Italian designer and the founder of Versace was one of the first designers to connect fashion to the music sphere.
To date, his fashion house still produces accessories, fragrances, make-up, home furnishings, clothes, customized outfits for theatre and films.
Antonio D'Amico, Versace's partner of fifteen years was one of the first people to find his lifeless body after he was shot by Cunanan in 1997.
His killer was responsible for the deaths of four men in the United States when he gunned down 50-year-old Versace, who was his fifth and final victim.
Prior to his shocking death, the Italian designer was diagnosed with cancer of the ear.
Before his passing, Versace was a caring uncle to Santo's two children, (Francesca and Antonio) and Donatella's two children (Allegra and Daniel).
Gianni Versace was buried in his family vault at Moltrasio cemetery near Lake Como. This was after his body was cremated and his ashes returned to his family's estate near Cernobbio, Italy.
The famous fashion designer's funeral service, which held at Milan Cathedral, was attended by over 2,000 people, including Princess of Wales, Diana, who died just a month later.
Before his death, his company's assets valued at $500 million. Today, it has an estimated net worth of $1.7 billion.
Read Also: Interesting Facts About Craig Lucas: The Voice SA Season Two Winner
Warning: Graphic Content
Here are some of the behind the scene photos.